Isaac "Little Jakey" Jacobs raced his way into history.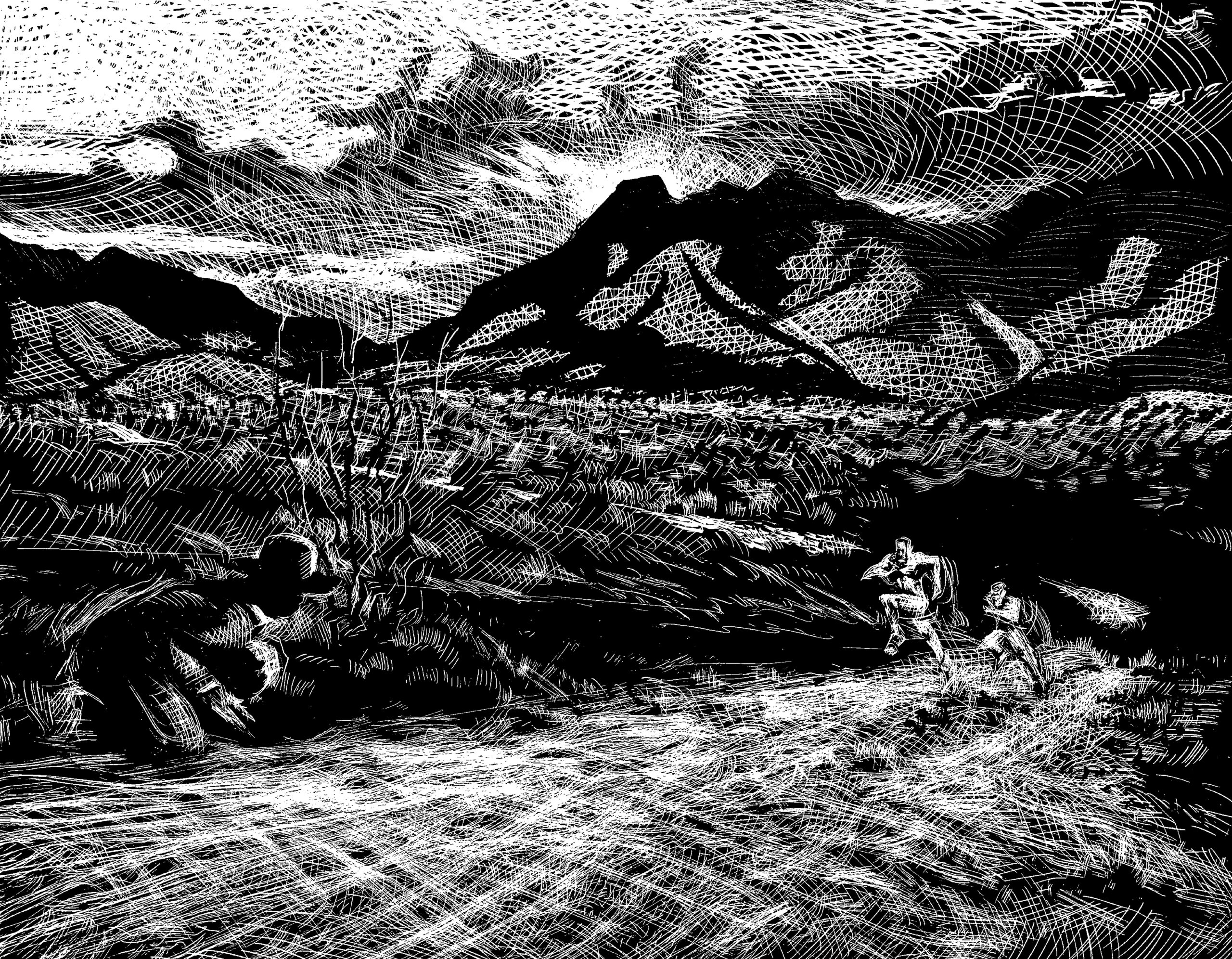 Tombstone, Arizona, is known for many things, but I'd bet you've never heard of its naked chef! Oh, yes, Isaac "Little Jakey" Jacobs was quite a character, so it's fitting he lived in a town that was full of them. Jacobs was a 27-year-old Russian whose catering skills were well-known, and in 1880, he ran a lunch counter at the Oriental Saloon where he served fresh fish, oysters, lobster, crab and shrimp from San Francisco. 
No, he didn't cook naked, but he did race that way! It was about 3:30 p.m. on November 11, 1880, when Jacobs and tobacconist Isaac Levi met on the Dragoon Road to compete against each other in a 50-yard foot race—in the buff! The Tombstone Epitaph reported that "the race was for a French dinner for five at 'Jakey's,' though it is intimated that a large bundle changed hands besides. At the time stated, both appeared and presented a very gallant appearance, stripped as they were to the buff, 'Jakey's' costume consisting of a diamond pin and a pair of running shoes."
Jacobs was leading at the 30-foot mark, until he stopped to pick up a four-bit coin on the street that someone had intentionally left. Despite the distraction, Jacobs claimed he lost because he wasn't in shape, but demanded a second chance.
A year later, when the Maison Doree opened in the Cosmopolitan Hotel, George Marks hired Jacobs to run the kitchen. One of his many duties was to procure meat, so he placed an ad in the local paper soliciting wild game. Jacobs's appeal to the public worked, and shortly thereafter he was preparing delicious meals for his patrons and did so until December 1881. In January 1882 he opened his own restaurant on Fourth Street, where he once served George Hearst, the father of William Randolph Hearst, when he toured the mines in southern Arizona.  Jacobs also created a "culinary triumph" after one of Tombstone's baseball games in 1882. The dignitaries in attendance were invited to the Cochise Club and then dined at Jakey's where they enjoyed fresh fish from Guaymas, Sonora, Mexico, oysters from the East and wild game from the nearby mountains.
In May 1882, Jacobs opened the Grand Restaurant housed in the new front addition of the Grand Hotel at 422 Allen. It was originally designed as a store, so it was spacious and had high ceilings that made it feel bright and airy. It contained six elegant private dining rooms, a public dining hall with four tables and a family dining hall. The Tombstone Epitaph wrote, "The fact that Jacobs has taken the dining room to the Grand is an assurance to the public that Tombstone is fast to have an eating house worthy of the town. 'Jakey' is the boss caterer of Arizona, 'don't you forget it.'"

Jacobs created a window display sporting a fountain filled with rocks, plants and fish. Window borders of plants also surrounded the centerpiece of wild game, fish and choice cuts of meat to tempt walkers-by.
Jacobs also participated in another foot race during the firemen's parade in June, but no mention was made of clothing. He also lost this race to none other than Johnny Behan. While Jacobs was wildly successful, he left the Grand at the end of 1882. He got married in 1883, moved to Prescott, Arizona, and then Denver, Colorado. He came back to Tombstone, where he ran another chop house in 1885 and by 1891, he was running the new Maison Doree. 
Try your hand at this historic recipe, and remember, clothing is always a good idea when cooking!
Roast Quail
6 quail
Butter, softened
1 cup flour
½ teaspoon salt
¼ teaspoon black pepper
Wash the quail inside and out and pat dry. Close the bird by tying the legs together.
Rub butter over the birds and set aside. Combine flour, salt and pepper in a shallow pan. Dredge the birds in the flour to coat evenly. Place in a roasting pan and bake uncovered at 350 degrees for 25 minutes or until done.
Baste occasionally with the butter. 
This recipe was adapted from California's
Sacramento Daily-Record Union, March 5, 1881.