Escape to America's favorite heritage railway towns from coast to coast for adventure and fun for all ages.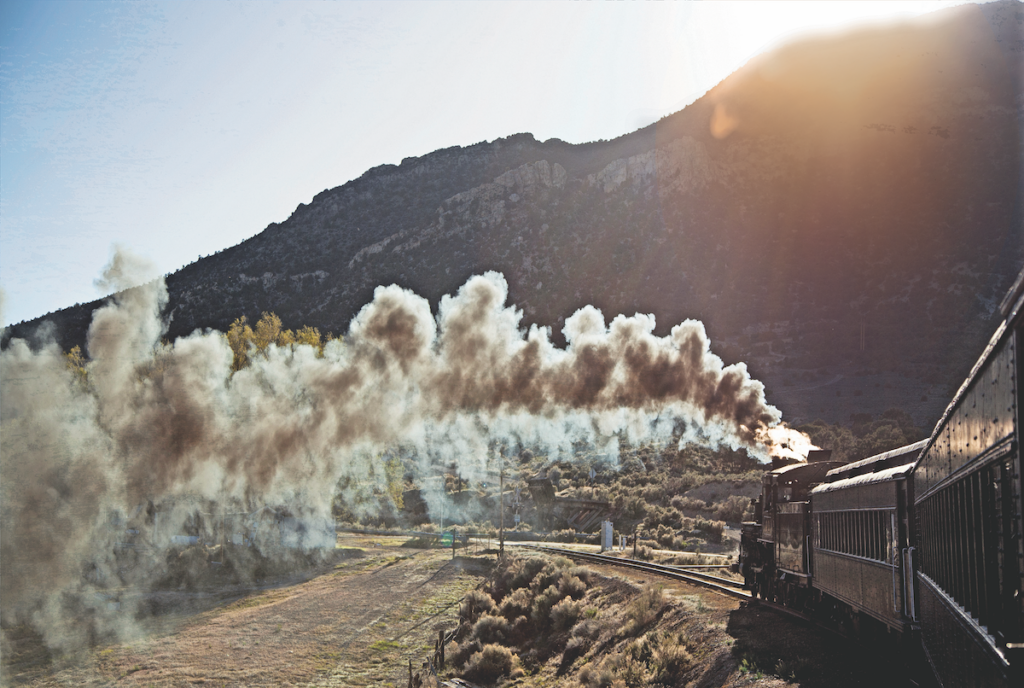 Amtrak serves 500 American towns and 30 million passengers in a good year. However, it does not provide service to Grand Canyon, Durango and Silverton, Colorado, or have a night train to view starry skies above Great Basin National Park near Ely, Nevada. 
To see the true West by rail, it's best to hop aboard one of the many heritage railroads that take slow rides across some of the nation's most scenic routes. Ride through the giant redwoods in California's Santa Cruz Mountains or ponder a Wild West Murder Mystery on a Texas train out of Austin. Dine in luxury on a "Chew Choo" train in Montana. 
True West has played train master in featuring a dozen of the West's best heritage railroads. These rail entrepreneurs are entertaining their passengers and preserving a vital facet of American history that settled the West.
Williams, Arizona
The first train to Grand Canyon arrived at the South Rim in 1901—18 years before the big ditch became a national park. Passenger trains to the park were discontinued in 1968. But Grand Canyon Railway revived service from Williams to the South Rim in 1990.
The rail service keeps an estimated 70,000 cars annually out of the national park, reducing traffic congestion and stress for those travelers who opt to ride the train.
GC Railway's 65-mile trip across pinyon-juniper terrain takes 2 hours, 15 minutes and offers views of the San Francisco Peaks, Bill Williams and Kendrick mountains. Western entertainers stroll through the rail cars during the trip. Passengers have a choice of six different cars and levels of service. 
The train stops at Grand Canyon's 1910 depot, one of America's oldest log depots. It's a short walk to the South Rim, El Tovar and Bright Angel hotels. 

Passengers have three hours to eat lunch and walk along the Rim or take a short hike into the canyon before the return trip to Williams. They can also opt for an overnight stay in the park.  
GC Railway features a steam engine on the first Saturday of each month from March to September and a Polar Express at year's end.
Historic Lodging: Red Garter Inn with four rooms in the 1897 Tetzlaff Building, which housed a bordello and St. Elmo Saloon; Grand Canyon Hotel, established in 1891, one of Arizona's oldest inns
Good Eats: Pine Country Restaurant, serving good breakfasts, lunches and homemade pies; Red Raven, a casual fine-dining restaurant, open from 4 to 9 p.m. 
Museums: Arizona State Railroad Museum with train cars and outdoor exhibits at the depot and in town; Pete's Route 66 Gas Station Museum, a restored filling station with vintage cars and gas pumps
Art Gallery: The Gallery featuring local artists who create everything from jewelry and pottery to kaleidoscopes and Route 66 photography
Day Trips: Bearizona, a drive-thru wildlife park with walking paths past traditional zoo enclosures; hiking on Bill Williams Mountain; exploring Route 66
Springdale, Arkansas
The Arkansas & Missouri Railroad has been operating for more than 30 years, carrying freight and passengers. Travelers have a choice of three scenic routes riding in restored coaches from the 1920s to '50s.
An eight-hour round trip covers 134 miles from Springdale to Van Buren with a three-hour layover in historic Van Buren. 
The Van Buren to Win-slow route and Springdale to Winslow trip both cover 70 miles in three hours traveling through the Boston Mountains, the 1,700-foot Winslow Tunnel and over three trestles.
The Silver Feather Premium seating option allows travelers to ride in a dome car with expansive views.
The railroad's 1917 Biloxi Blues coach was used in the Neil Simon film of the same name. 
Historic Lodging: The Inn at the Mill, a modern hotel adjacent to the historic Johnson Mill, built in 1835; the Inn at Carnal, a women's dorm when it opened in 1905, and overlooking the University of Arkansas campus
Good Eats: Wright's Barbecue in the nearby town of Johnson; Susan's Family Restaurant featuring a chicken and waffle breakfast; and the Marketplace Grill with a menu of sandwiches, burgers, tacos, salads and steaks
Museums: Shiloh Museum of Ozark History, Ozark Highlands Nature Center and Crystal Bridges Museum of American Art in Bentonville
Art Galleries: Art Ventures and the Ed Cooley Gallery in Rogers, Arkansas
Day Trips: Fort Smith National Historic Site and Eureka Springs in the Ozark Mountains, known for its historic district and well-preserved Victorian structures
Felton, California
The Santa Cruz Big Trees & Pacific Railroad has two trip options from Roaring Camp in Felton. A steam locomotive on a narrow-gauge track travels through redwood groves up to the top of Bear Mountain. It's a 75-minute round trip.
The 1890 steam locomotive was a workhorse engine used to haul redwood trees from Roaring Camp. 
The other route is the Santa Cruz Beach Train that runs from Roaring Camp to the beach in Santa Cruz. Passengers can board at either end. 
That trip on a standard-gauge track runs through the Henry Cowell Redwoods State Park and through the San Lorenzo River Gorge. It's a one-hour trip each way.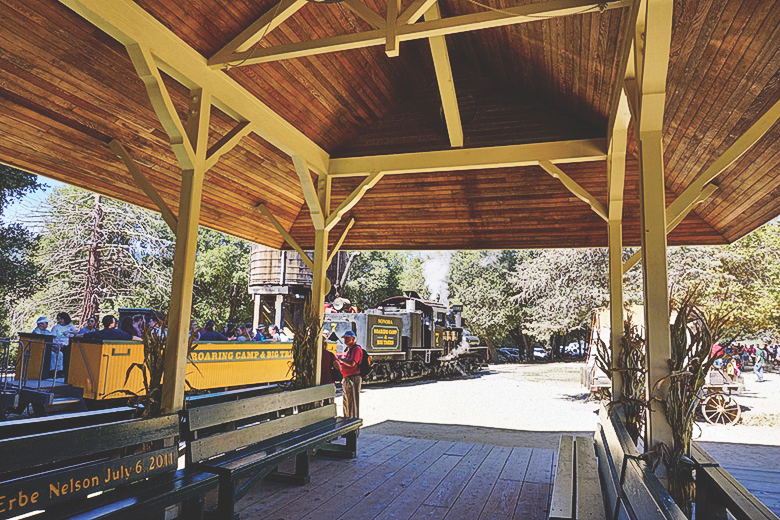 Historic Lodging: Fern River Resort, established in 1929 but with added modern cabins and amenities in recent years; Brookdale Lodge in the Santa Cruz Mountains, with its own tattoo parlor, game room and diner
Good Eats: Cowboy Bar & Grill, serving barbecue, burgers, steaks and salads; Monty's Log Cabin, touted in an online review as a "very charming rustic dive bar" 
Museums: Big Fort Discovery Museum, San Lorenzo Valley Museum and 1892 Felton Covered Bridge
Art Galleries: Santa Cruz Mountains Art Center and Scavenge Art
Day Trips: Santa Cruz Beach Boardwalk's amusement park with two National Historic Landmarks: the 1924 Giant Dipper wooden roller coaster and the 1911 Looff Carousel; Henry Cowell Redwoods State Park
Durango, Colorado
Anyone who has seen the 1969 Western Butch Cassidy and the Sundance Kid has seen the Durango & Silverton Narrow Gauge Railroad. It's an exhilarating ride on a 45-mile trip through the San Juan Mountains and Animas Canyon between Durango and Silverton.
Maybe it's not as exciting as the two bandits—Butch and Sundance—jumping from car to car atop the train, but the scenery in the San Juan Mountains will certainly take your breath away, especially in Silverton at an elevation of 9,300 feet.
It's a three-and-a-half-hour trip each way with a two-hour layover to explore Silverton. There are four classes of service, from open-air cars to luxury coaches. The D&S uses both steam and diesel locomotives. 
Travelers can opt for a quicker bus ride on one leg of the trip.
Rail enthusiasts can also indulge their inner Casey Jones by signing up for a ride in the locomotive to witness the work of the engineer and fireman. 
The D&S Narrow Gauge Railroad operates out of its 1882 Durango depot.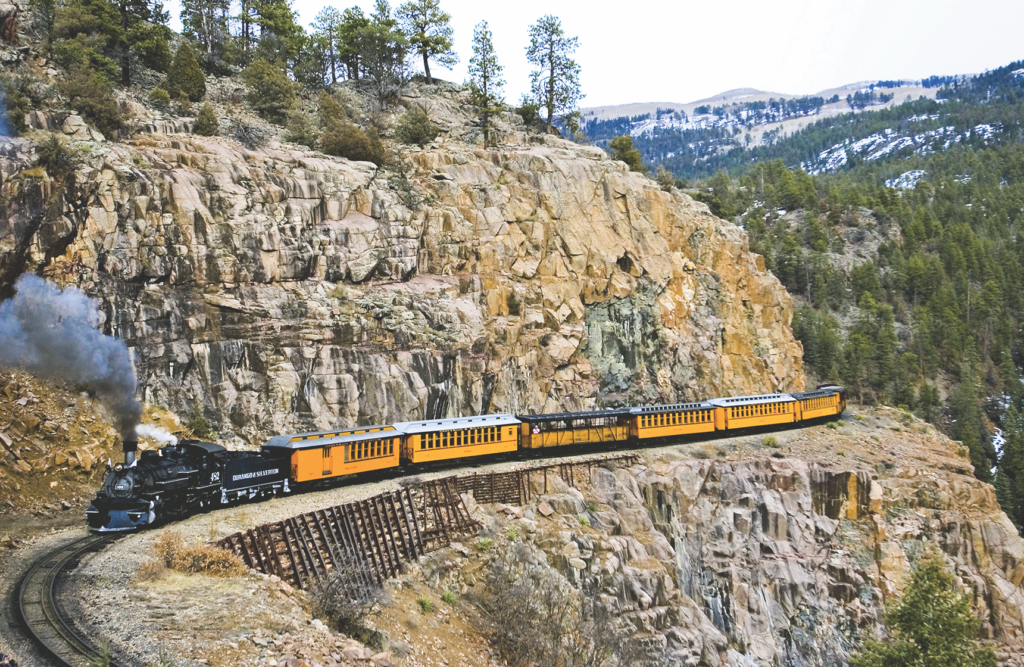 Historic Lodging: The Victorian-era General Palmer Hotel established in 1898; the 1887 Strater Hotel with 88 rooms; the charming1892 Rochester Hotel. All are within a short walk from the D&SNGR depot. In Silverton: the 1883 Grand Imperial Hotel, restored in 2016
Good Eats: Carver Brewing Co., which has served rail passengers and locals for 40 years; vittles and fiddles at the Bar D Chuckwagon with after-dinner cowboy music; Derailed Pour House with a good Happy Hour and an eclectic dinner menu; plus two locations of Serious Texas Bar-B-Q
Museums: The D&SNGR Railroad Museum, Animas Museum and Southern Ute Cultural Center
Art Galleries: Sorrell Sky Gallery, Scenic Aperture Gallery
Day Trips: Mesa Verde National Park and white-water rafting on the Animas River
Georgetown, Colorado
 The Georgetown Loop Railroad, a narrow-gauge track, was completed in 1884 with tourists flocking to the mining town west of Denver. At one time the railroad operated seven trains per day. It shut down at the beginning of World War II. 
The Georgetown train was revived as a scenic railway in 1984 and once again lured travelers to the Rockies. The 75-minute scenic trip travels from Georgetown to Silver Plume on a twisting route that crosses Devil's Gate High Bridge. Passengers can board at the depot in either town. 
They can also opt for tours of the Lebanon Silver Mine or the Lebanon Extension Mine. The train ride and mine tour take two and a half hours and are only offered from April to September. 
The Georgetown Loop operates steam locomotives from late May to early October.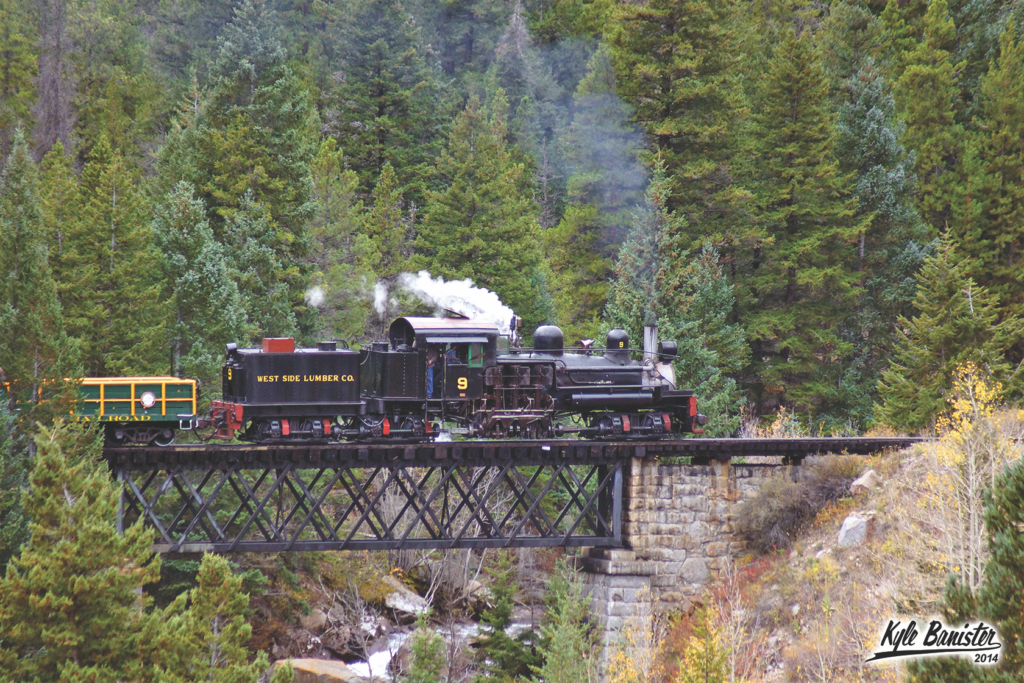 Historic Lodging: Georgetown Mountain Inn, Silver Lake Lodge and Hotel Chateau Chamonix, a lodge with a "Touch of Europe"
Good Eats: Coopers on the Creek, Alpine Restaurant & Bar and the End of the Line Ice Cream Parlor
Museums: Hotel de Paris, Georgetown Museum and Hamill House Museum
Art Galleries: Georgetown Gallery and Grizzly Creek Gallery
Day Trips: Panning for gold or a 25-mile scenic drive to the casino in Central City
Leadville, Colorado
What better way to see two of Colorado's tallest peaks—Mount Massive and Mount Elbert—than aboard the Leadville Colorado & Southern Railroad?
Leadville is the highest incorporated town in North America at 10,152 feet. The LC&SRR route is 1,000 feet above the Arkansas River Valley. That opens up spectacular views of Mount Massive at 14,429 feet and Mount Elbert, 14,439.
It's a relaxing two-and-a-half-hour ride through wild terrain in the San Isabel National Forest. Passengers can reserve a table in the heated lounge car, where an attendant serves snacks, beer, wine and other drinks. 
Historic Lodging: The 1886 Delaware Hotel; the 1879 Twin Lakes Inn & Saloon, which previously was a stage stop and brothel; also, the Majestic Bed & Breakfast in an 1880s Victorian home.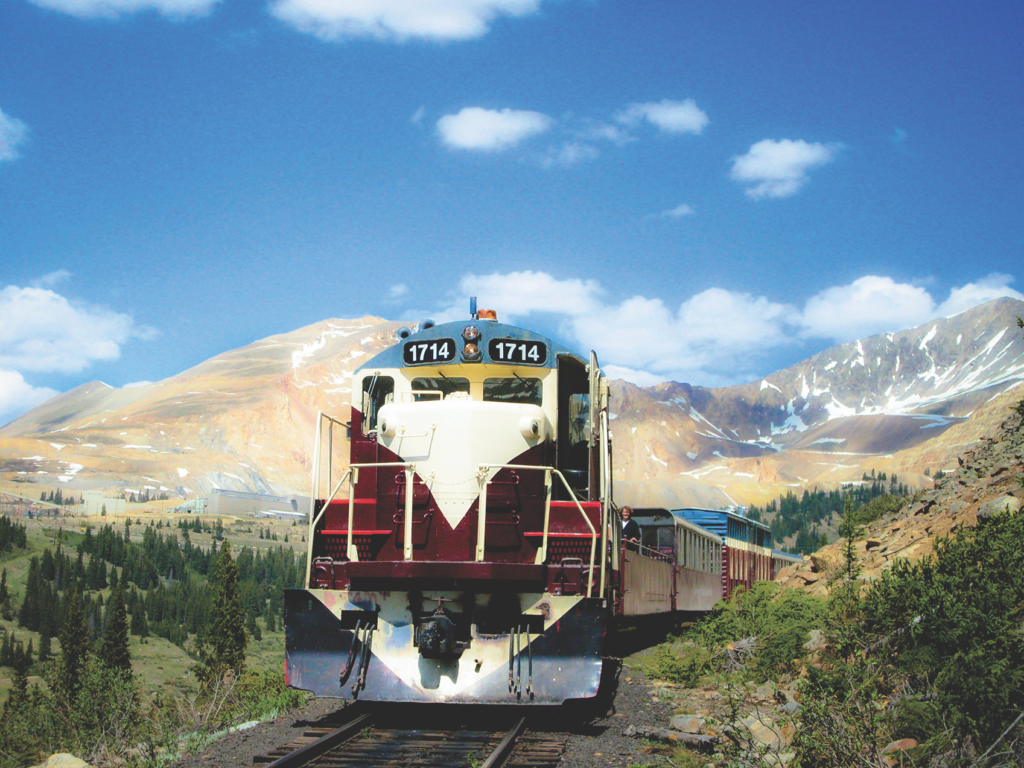 Good Eats: Quincy Steak & Spirits; Casa Bianca; and High Mountain Pies, which serves its spicy Crocodile Pizza with a barbecue base, mozzarella, cream cheese, jalapeños and bacon
Museums: National Mining Hall of Fame, Heritage Museum and the 1879 Tabor Opera House
Art Gallery: Harperrose Studios, a collective featuring the work of several dozen artists
Day Trips: Twin Lakes and Mount Ebert
Abilene, Kansas
It was a big deal in 1867 when the railroad reached Abilene, which became a boomtown for shipping Texas cattle from its stockyards to eastern markets. That only lasted about four years, but the former cowtown still has its Abilene & Smoky Valley Railroad.
 The heritage railroad, now in its 30th year, makes regular runs and dinner trains on a 10-mile route to the nearby town of Enterprise. 
The A&SV operates on track originally laid by the Chicago, Rock Island & Pacific Railroad. Passengers board the A&SV train in the restored 1887 Rock Island Depot. 
The steam locomotive for this route was built by the Baldwin Locomotive Works in 1919 for the Atchison, Topeka & Santa Fe Railroad. Santa Fe No. 3415 hauled passenger trains until 1954 and then was sidelined for decades in Abilene's Eisenhower Park.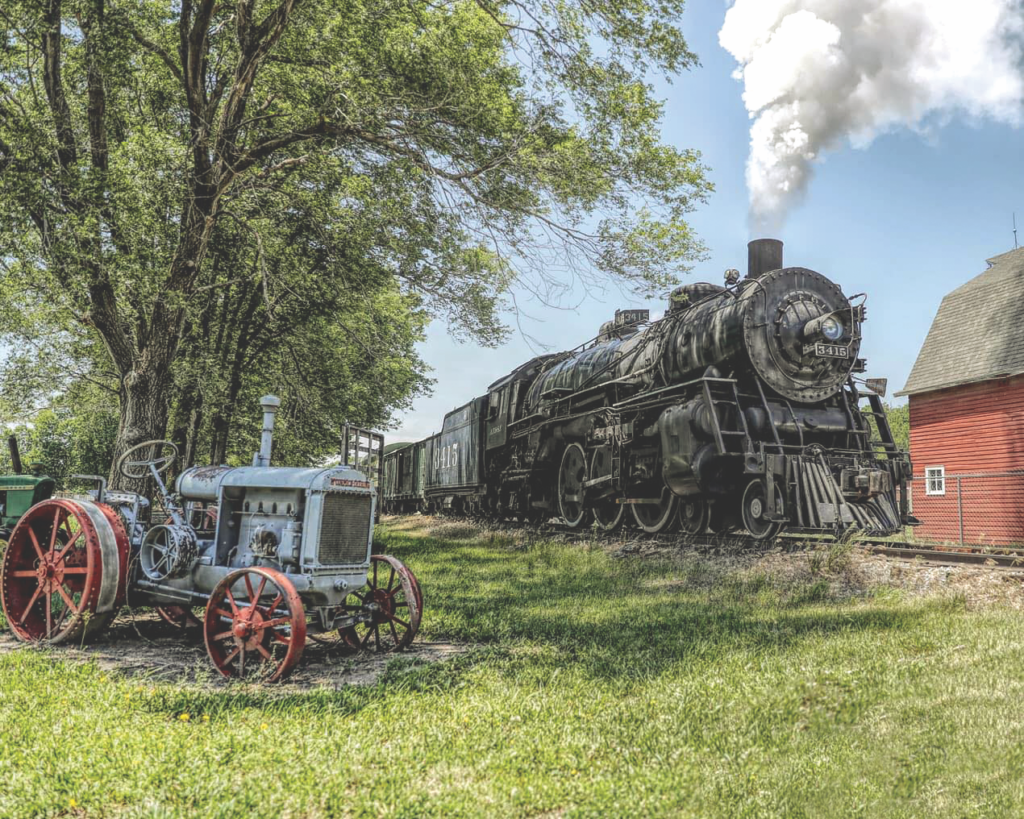 Historic Lodging: Victorian Inn Bed & Breakfast; Engle House Bed & Breakfast, which is on the National Register of Historic Places 
Good Eats: Hitching Post Restaurant and Saloon, Joe Snuffy's Old Fashioned Grill 
Museums: Dwight D. Eisenhower Presidential Library and Museum, Dickinson County Heritage Center and Greyhound Hall of Fame
Art Gallery: Jeffcoat Photography Studio Museum
Day Trips: Old Abilene Town and Seelye Mansion
Lewiston, Montana
The Charlie Russell Chew Choo is a dinner train. Get it? 
Of course it honors the legacy of Western artist Charles Marion Russell (1864-1926), whose studio was in Great Falls. 
The dinner train boards at Kingston Junction, about 15 minutes northwest of Lewiston. Passengers travel in 1950s vintage coaches to Denton following the route of the former Chicago, Milwaukee, St. Paul & Pacific Railroad. 
The round trip covers 56 miles in four and a half hours. The scenery includes the prairies, ranches and mountains of the Judith Basin. The Chew Choo passes over three historic trestles and through a tunnel.
Western musicians and saloon girls entertain passengers during the excursion. Dinner is a savory brisket with drinks and dessert. A vegetarian option is available.
A North Pole Adventure train is offered during the Christmas holiday season.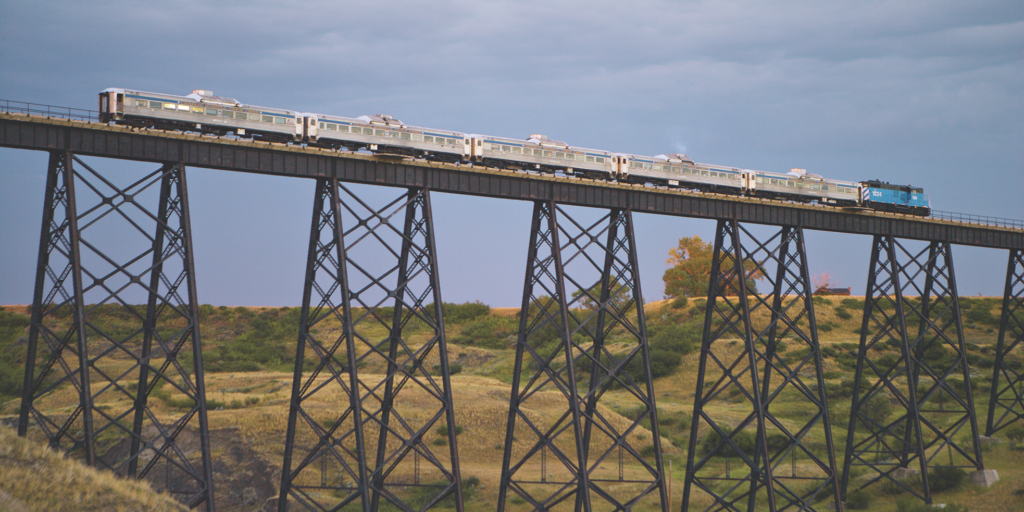 Historic Lodging: Yogo Inn, named after the Yogo sapphire, which is mined in Central Montana; The Calvert Hotel, offering historic charm with modern amenities; Montana Bunkhouse, a two-bedroom cabin that was former schoolhouse
Good Eats: The Central Feed Grilling Co., a steakhouse in an historic mercantile building serving wine and craft beer; 406 Café, serving breakfast and lunch; the Mint Bar & Grill
Museums: C. M. Russell Museum in Great Falls and the Central Montana Historical Museum
Art Galleries: Moccasin Mountain Art & Gifts and the Clint Loomis Studio
Day Trips: Fort Benton and its Lewis and Clark Memorial, the Upper Missouri River Breaks National Monument
Ely, Nevada
Nevada Northern Railway has an abundance of options for riding the rails. On the Excursion Train, travelers ride in coaches or an open-air car on a 90-minute run to the Ruth Mine. They can travel in a vintage locomotive with an engineer or even take control of the throttle, brakes and whistle. 
Groups can pile into the caboose on the Nevada Northern. The Wild West Limited is powered by a century-old steam locomotive and features a cast of cowboys and outlaws involved in theatrical banditry. 
A special Star Train takes passengers out to view the night sky with "Dark Rangers" from Great Basin National Park explaining the constellations. 
Nevada Northern's Sunset, Stars and Champagne train rides into the sunset as passengers sip champagne and returns under pitch-black starry skies. 
Be sure to allow enough time to tour the train-yard exhibits of the Northern Nevada Railway Museum. It's an open-air museum that includes a series of shops for blacksmiths, carpenters, electricians, machinists and the engine house where locomotives are kept. 
Ely is also home to the Big 4 Ranch, which claims to be the oldest bar and brothel in Nevada, dating back to the 1880s.

Historic Lodging: Hotel Nevada & Gambling Hall, a six-story downtown building that opened in 1929
Good Eats: Cell Block Restaurant, Nardi's Homestyle Restaurant and Shooters Bar & Grill
Museums: Northern Railway Museum and White Pine Public Museum
Art Gallery: Ely Art Bank
Day Trips: Ward Charcoal Ovens State Historic Park and the Cherry Creek Mining District
Austin, Texas
The Austin Steam Train Association operates with Southern Pacific 786, a steam locomotive, and a 1960 diesel locomotive formerly used by the Santa Fe Railway. There's a choice of nine restored passenger coaches.
The trains operate on weekends from three depots—Cedar Park, Bertram and Burnet. The Hill Country Flyer departs from Cedar Park on a 66-mile round trip of six and a half hours with a two-hour layover in Burnet. It travels through Texas Hill Country northwest of Austin and over trestles at the South San Gabriel River and Short Creek Canyon. 
A Wild West Murder Mystery train also travels from the Cedar Park depot at night with a performance by Austin's Hideout Theater. Boxed meals, beer and wine are available for purchase on the two-and-a-half-hour trip. 
Historic Lodging: Driskill Hotel, established in 1886; the 1900 Hotel Ella, formerly a residence; and Austin Motel, a 1938 property with a memorable neon sign.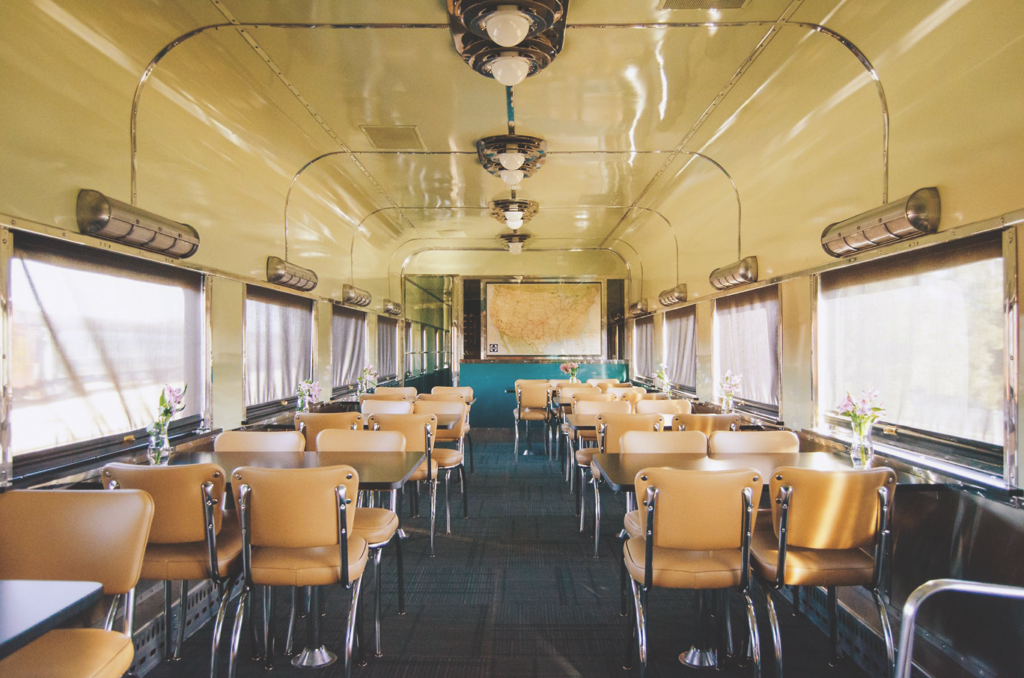 Good Eats:  Matt's El Rancho, Country Line on the Hill with its Texas barbecue and Hoover's Cooking, a soul food joint featuring Southern specialties like pork chops, fried catfish and crawfish etouffee
Museums: Bullock State History Museum and George Washington Carver Museum
Art Galleries: Austin Art Garage, Shelton Smith Collection and Cloud Tree Studios & Gallery
Day Trips: Luckenbach General Store, Lyndon B. Johnson State Park and National Historic Park
Grapevine, Texas
Passengers on the Grapevine Vintage Railroad have a choice of three trips: 
• The six-hour Cotton Belt route travels to the Fort Worth Stockyards with two hours to explore that historic district before returning to Grapevine.
• The Short Line trip is a 30-minute ride that's ideal for families with young children. 
• The Trinity River trip boards at the historic Stockyards Station in Fort Worth for a 45-minute ride that crosses the West Fork of the Trinity River. 
Grapevine Vintage Railroad passengers ride in Victorian coaches from the 1920s. The trains run on weekends from March to December with special wine train events in the summer, and a North Pole Express from Thanksgiving to Christmas.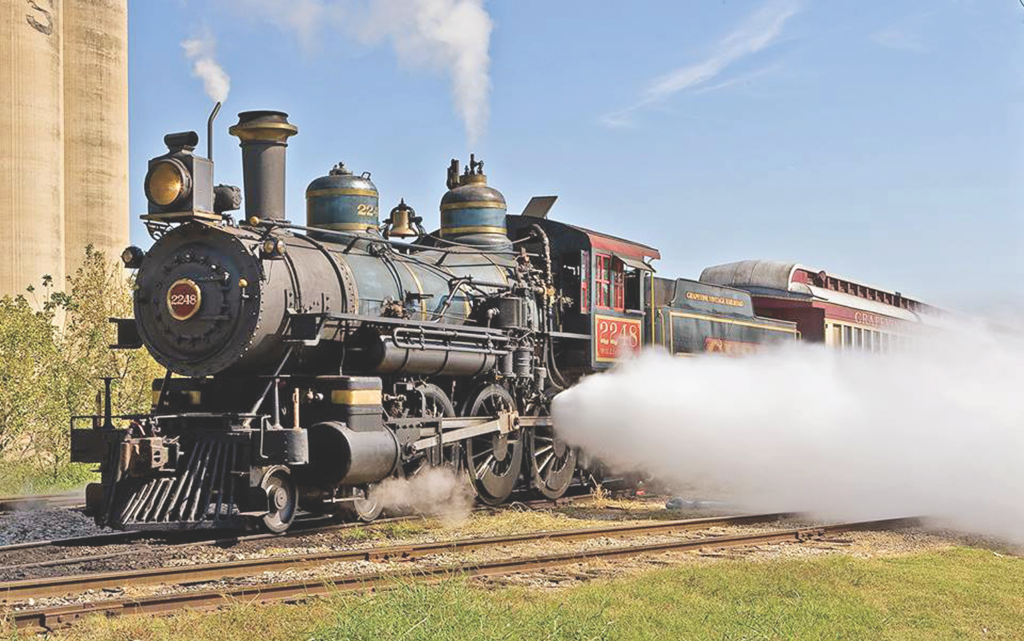 Historic Lodging: Gaylord Texan Hotel, Great Wolf Lodge and Hotel Drover in the historic Fort Worth Stockyards district
Good Eats: Tolbert's Restaurant & Chili Parlor, Cross Timbers Winery and Texas Star Dinner Theater
Museums: Grapevine Historical Museum, Nash Farm and Settlement to City Museums
Art Galleries: Great American West Gallery and Southwest Art Gallery
Day Trips: Fort Worth Stockyards and Amon Carter Museum of American Art, also in Fort Worth
Heber, Utah
The Rio Grande Western Railway was completed to Heber in 1899, and the last train rolled out of Heber's depot in 1968. But local citizens worked to keep the rail line in place. 
Nowadays the Heber Valley Railroad offers a choice of scenic excursions. The Deer Creek Express runs year-round on a 90-minute schedule, traveling along Deer Creek Reservoir with views of the Heber Valley and Wasatch Mountains. 
The Lakeside Limited is a 90-minute round trip to Decker Bay with views of majestic Mount Timpanogos. 
Heber Valley Railroad also offers special-event trains, including Wild West Days, Cinco de Mayo and a Military Appreciation Day.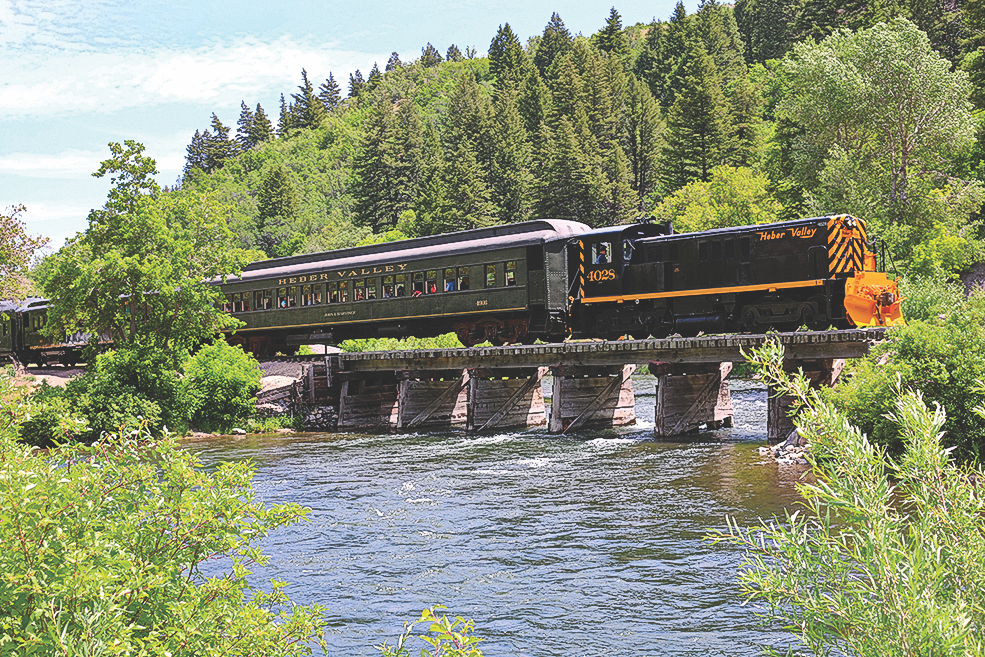 Historic Lodging: Heber Senator Bed & Breakfast and Homestead Resort
Good Eats: Goochy Goo BBQ and Back 40 Ranch House Grill
Museums: Daughters of Utah Pioneers Museum, Hutchings Museum/Institute in Lehi and the Heritage Ranch Museum
Art Galleries: Midway Art Gallery and Sundance Art Studio
Day Trips: Sundance Stables at Sundance Resort and Bridal Veil Falls in Provo Canyon
Peter Corbett has lived in the West for a half century and spent decades writing about it as an Arizona journalist. On the Road Arizona is his award-winning blog.