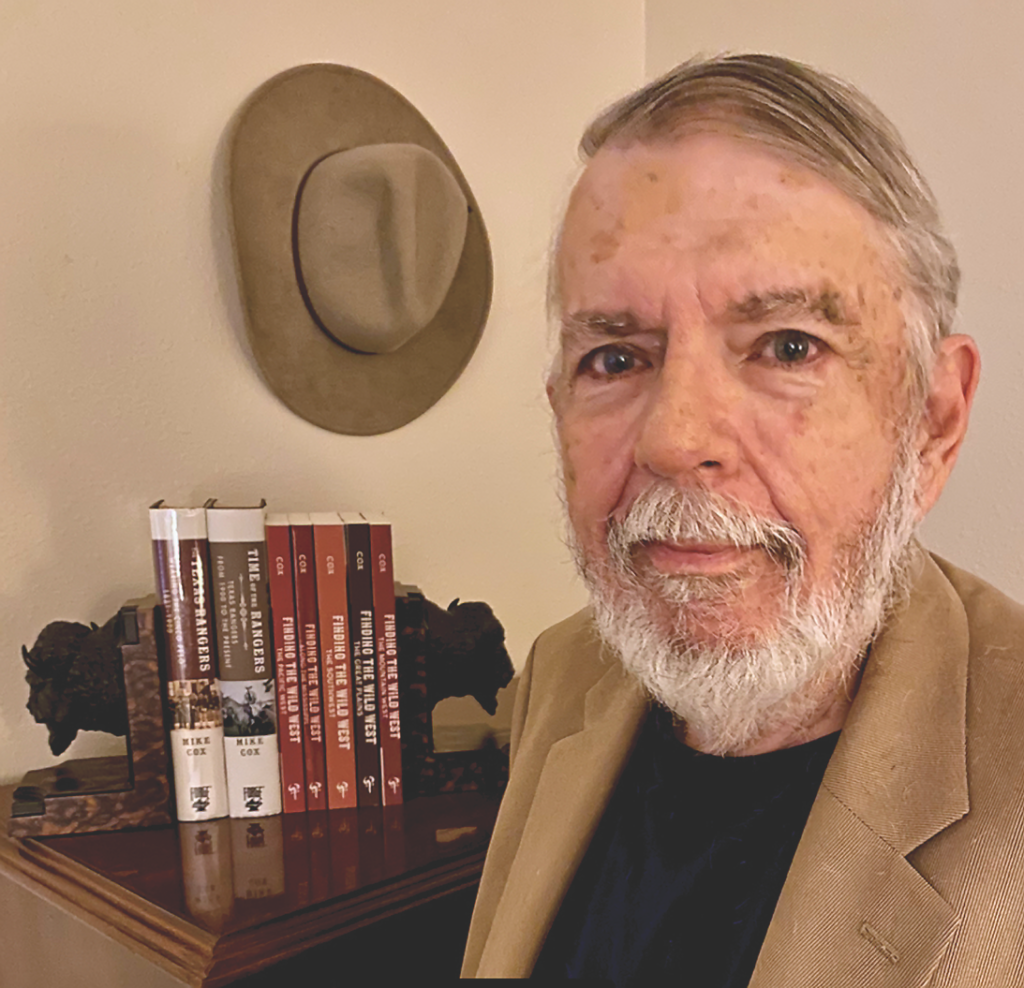 Journalist, Author, Historian
Mike Cox is the author of more than 40 nonfiction books—including five on the Texas Rangers. In 2022 he was listed in Marquis Who's Who in America. He received the A. C. Greene Award for lifetime achievement in 2011 and was a 2014 Will Rogers medal winner and Spur Award finalist for his book Cowboy Stuntman. He and his wife live in Wimberley, Texas.
I grew up in Austin, then a smallish capital and university community. When I retired in 2015, it was the nation's 11th-largest city. As soon as possible, my wife, Beverly, and I escaped to the scenic artist-and-writer-filled Hill Country town of Wimberley. 
My parents, as young newspaper reporters for competing dailies, "met cute" in a dead serious way—covering a sensational murder trial in Sweetwater, Texas. Within a year they eloped and married in Amarillo, where I was later born. I joke that I'm the product of two of man's more singular acts, one being murder.
Definitely not a jock, during my senior year of high school, I was editor of the student newspaper. But they didn't award letter jackets for that!
Being a journalist shaped my career as sure as Linotypes turned hot lead into type. Reporting taught me how to get information, process that information and make it readable, whether I felt like it or not. 
My granddad was a near-lifetime freelance writer. He'd been city editor of the old Fort Worth Press in the 1920s and early 1930s. Given his inky background, and my parents, I didn't know any better than to become a writer. 
Granddad (L. A. Wilke) knew noted rangers like Capt. John R. Hughes, Ira Aten, Tom Hickman and Frank Hamer. I grew up listening to his stories about them, which triggered my long-standing interest in Ranger history.
Captain Frank Hamer died when I was six, but decades later, I discovered that back in the day my 90-something barber had regularly cut Hamer's hair. The barber told me Hamer never sat with his back to the shop's window and wouldn't allow a hot towel over his face when he got a shave. 
As spokesman for the Texas Department of Public Safety I worked almost daily with the Texas Rangers and became friends with many of them. Being descended from an 1860s Ranger, I also was elected historian for the Former Texas Ranger Association. 
When I was a kid, my granddad took me to see old forts and ghost towns in Texas and New Mexico. Add those experiences to the influence of 1950s TV Westerns and movies, and I was branded early as an Old West aficionado. 
Old Fort Davis National Historic Site has been special to me since 1955 when it was still privately owned. I still have an old saddle cinch I found there. 
I'm a die-hard Texan, but now it has too many people. Fortunately, much of West Texas is still wide-open. Hopefully it'll stay that way.
Writing nonfiction has been my passion since ninth grade, when I sold my first magazine article. I hope to keep writing at least a book a year until I reach that metaphorical last chapter. 
Being inducted into the Texas Institute of Letters was one of my proudest moments. 
Early on, I aspired to achieve "rich, famous writer" status. Today, neither rich nor famous, I wouldn't have wanted any other life. As a word wrangler, I've enjoyed many adventures. In that sense, I am rich.  
I started collecting Texas books and ephemera in high school. I wish I could've afforded more back when now-rare books were more findable and cost way less.
What history has taught me…. I'm with the late award-winning Western novelist (and friend) Elmer Kelton in believing that we can't judge 19th-century history by 21st-century standards. For example, while the Texas Rangers were sometimes heavy-handed, ultimately, they did more good than wrong.