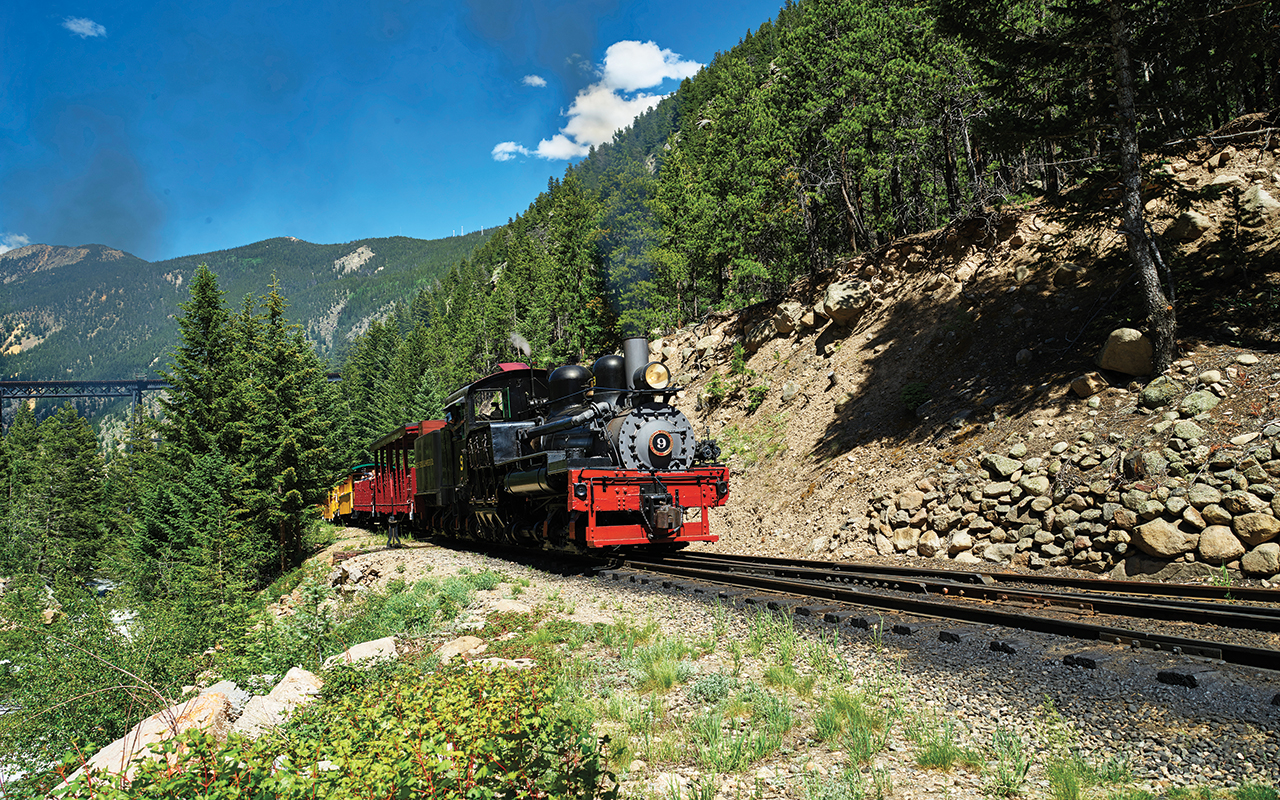 "All aboard!!" shouts the conductor. Do you remember the first time you heard those thrilling words before your first railroad adventure began? I do. It was at Union Station in Los Angeles in 1975, and my parents, my sister and I were departing on a cross-country Amtrak vacation from L.A. to Washington, D.C., via Chicago on the Southwest Limited. The adventure was a once-in-a-lifetime-trip, and I've been hooked on rail travel and trains ever since.
The next summer I rode on my first heritage railway, the Durango & Silverton Narrow Gauge Railroad. It was August of America's Bicentennial and I rode with a 125 fellow Orme Summer Camp campers and counselors. They were from all over the country and even the world, and we sat in awe in the cool, mountain morning hours as the steam train pulled us up the grade into the Animas River Canyon of the San Juan Mountains. There was still snow on the highest fourteeners and the ride through the narrow canyons, over high-trestle bridges clinging to cliffs over rushing streams of snowmelt, remain thrilling and unforgettable moments. Arriving in the old mining town of Silverton, it seemed as if we had stepped back a century, or living an old Western movie. I've never forgotten either of those rail trips, and whenever I have had the opportunity to take a train trip with my family—and share the thrill and power of the locomotive, the leisure of the shared adventure and the beauty of nature as it passes outside the window—I've done so. And I highly recommend you consider doing the same.
All across the Western United States heritage railways and railroad museums are reopening and ready for customers. Many of America's historic trains and rolling stock collections are in small towns, maintained by small businesses with dedicated owners, employees and volunteers working just the summer season. So, as we all are train lovers at True West, we hope you will include a heritage railway adventure and a tour of a railroad museum—or two or three—on your next venture out West!
Southwest & Pacific Coast
Austin Steam Train
From 1882 to 1986, the Austin and Northwestern Railroad operated regionally until its closure in 1986. Today, the Austin Steam Train Association operates the railway on the Austin Western Railroad as a heritage passenger line, offering family-friendly train trips including The Hill Country Flyer, Day Out with Thomas, Bertram Flyer and North Pole Flyer.
Train service on the popular Texas capital railway restarted on June 9 with passengers required to wear face masks, which can be purchased in the ASTA Concession Car. Seating has also been reduced by 50 percent for the 2020 season. Pre-ticketed passengers who do not feel well can exchange their ticket any time prior to their departure for another ride during the 2020 summer and fall seasons.
Cedar Park, TX • AustinSteamTrain.org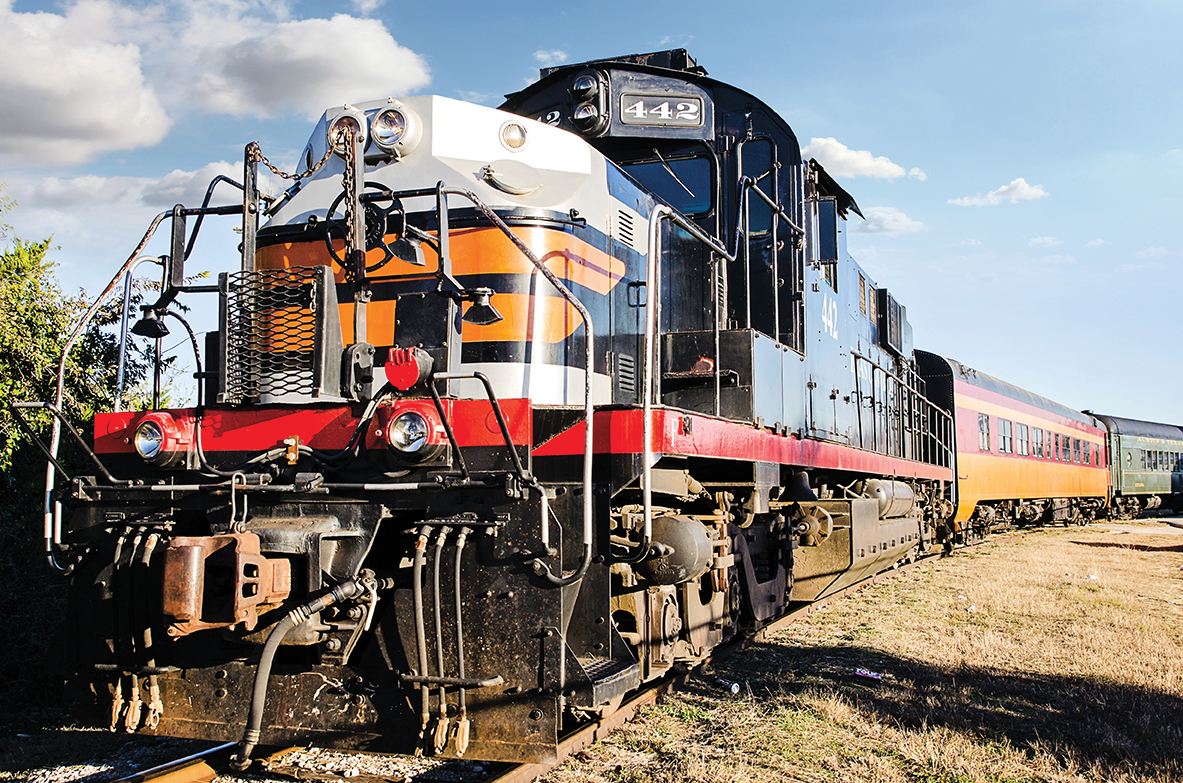 Cumbres & Toltec Scenic Railroad
The Denver & Rio Grande Western Railroad's San Juan Extension arrived in the Village of Chama in January 1881 and operated until the 1960s. Local boosters worked to save the most scenic section of the line between Chama, New Mexico, and Antonito, Colorado. The two states jointly bought the route, tracks and stations, opening the Cumbres & Toltec Scenic Railroad to passenger service.
The Cumbres & Toltec is scheduled to be open June 13 through October 18, 2020. Check regularly with the railway for announcements of schedule changes and special trains, including the Wildflower Botany, Dark Sky and Sunset Dinner trains.
Chama, NM and Antonito, CO • CumbresToltec.com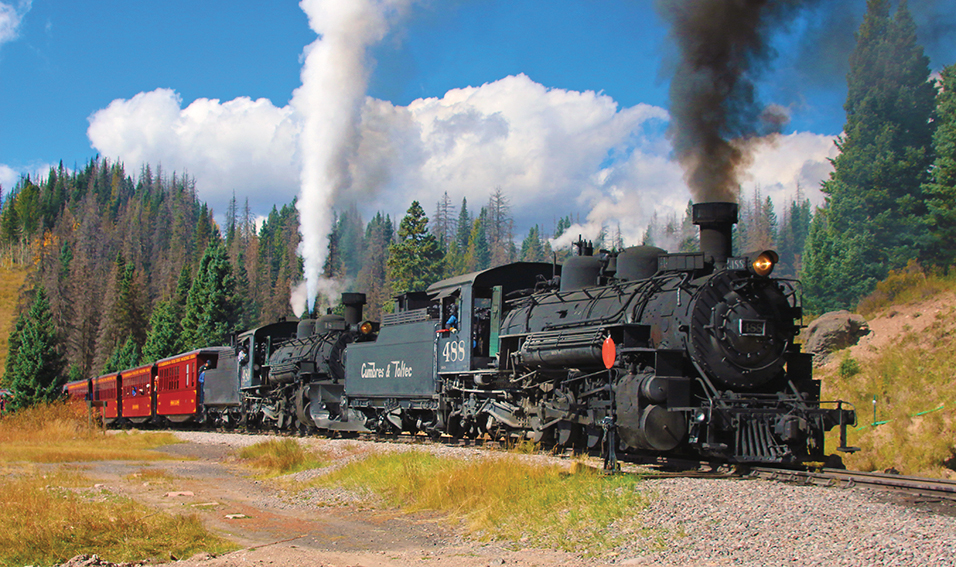 Grand Canyon Railway
On September 17, 1901, the Santa Fe Railway launched the Grand Canyon Railway from Williams to the Grand Canyon. The Grand Canyon line remained a favorite of tourists until automobile tourism led to its closure in 1968. Passenger service restarted in 1989 as the Grand Canyon Railway, with daily service to and from the national park, plus special packages and train events, such as Steam Saturdays the first Saturday of the month, May through October.
The railway, hotel and RV park reopened on June 15. Xanterra, which operates the railroad, is currently taking reservations for train excursions this summer and fall, as well as for the ever-popular wintertime Polar Express.
Williams, AZ • TheTrain.com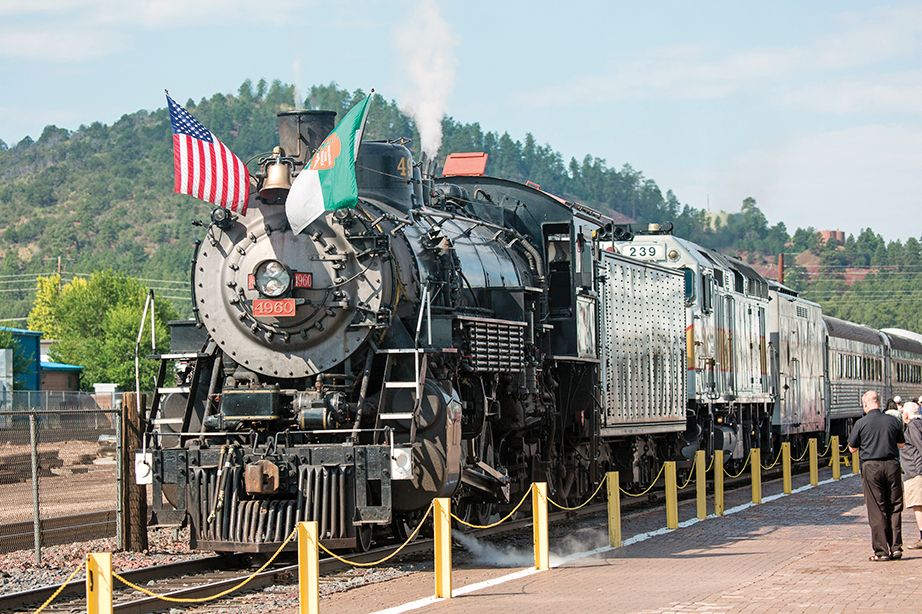 Nevada Northern Railway
Ely has been a mining town since gold was discovered there in 1878. After the early 1900s copper boom, the Nevada Northern Railway was built in 1905-'06. The National Historic Landmark railway usually operates passenger trains daily, January through June and September through December, except on Tuesdays and holidays. The Nevada Northern has exciting passenger car options, Saturday specialty trains, the Haunted Ghost Train, Santa's Reindeer Flyer and the Winter Steam Spectacular. The hands-on engineer training program is unique in the country.
Seasonal rail service restarted on May 29. Passengers are required to wear face masks inside any coach or building. Ticketing will be reduced to create state-required social distancing on the passenger train.
Ely, NV • NNRY.com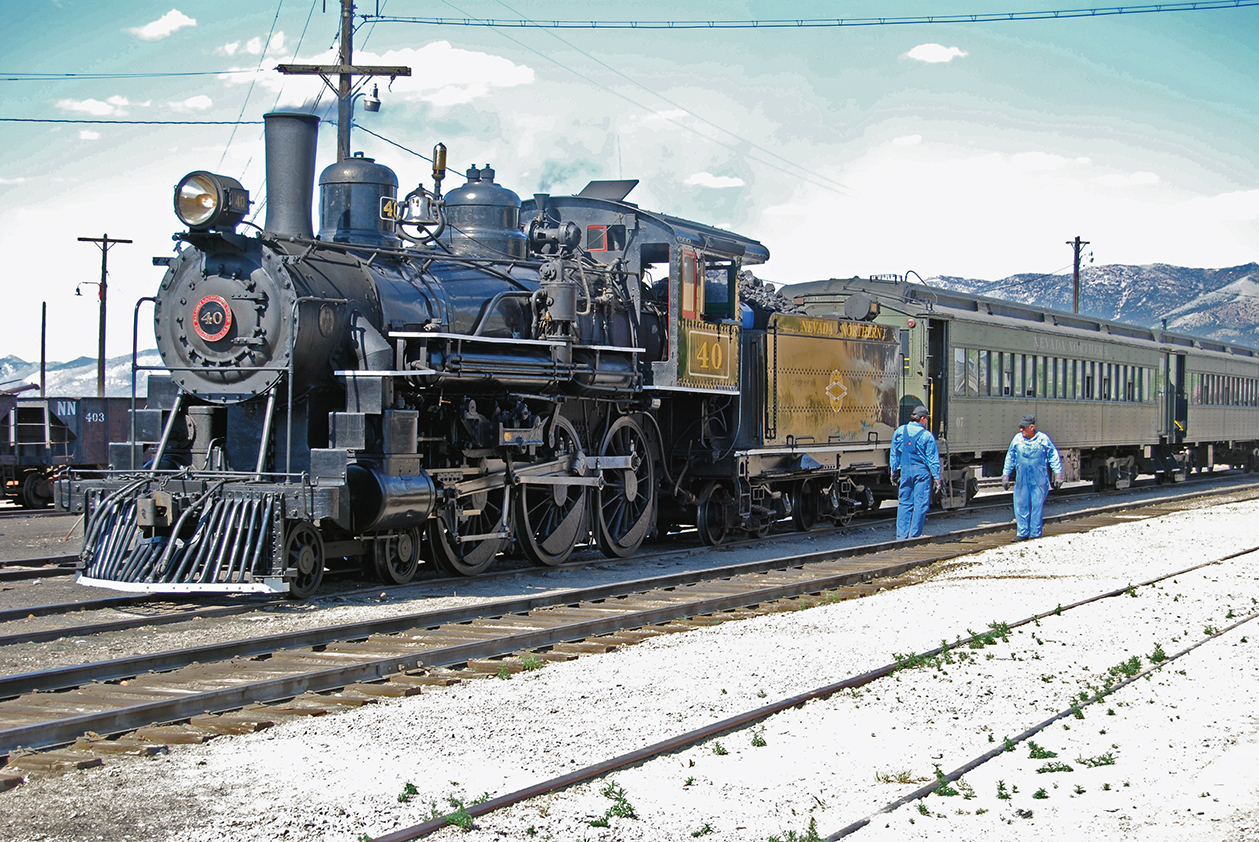 The Sacramento Southern Railroad
For 37 years, passengers have boarded the Sacramento Southern Railroad at the Old Sacramento depot. Tickets are purchased at the California State Railroad Museum, and riders can choose between closed coach cars, open-air gondolas and the first-class observation car. Either the Granite Rock No. 10 steam locomotive or one of the vintage diesel locomotives from the museum's collection will pull the excursion train.
Currently, the museum and associated facilities in Old Sacramento State Historic Park including the Sacramento Southern Railroad are closed because of the COVID-19 outbreak. Keep up to date with all California state park reopenings at Parks.Ca.gov.
Sacramento, CA • CaliforniaRailroad.Museum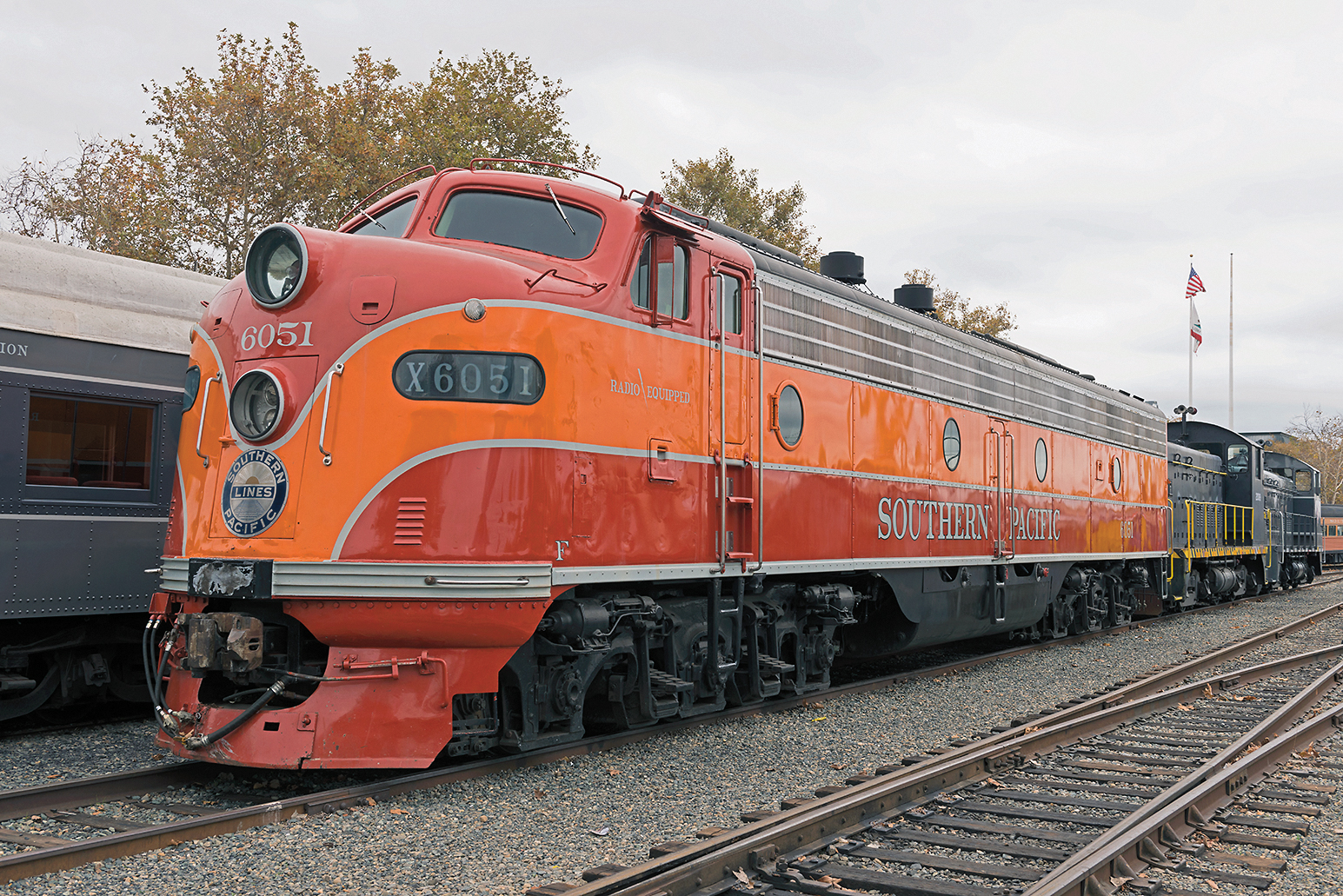 Skunk Train
The Mendocino Railway Company's Skunk Train is headquartered amid the redwoods of Fort Bragg, California. Modern-day travelers on the "Redwood Route" will travel over the California Western Railroad line built as a logging train in 1885. Today, the Skunk Train offers two major passenger trains: the Pudding Creek Express from Fort Bragg and the Northspur  Flyer from Willits.
Currently, the Skunk Train has ceased all operations until further notice. Railbike trips have resumed for local residents, limited to six bikes per trip, observed social distancing of at least six feet and mandatory facial coverings.
Fort Bragg and Willits, CA • SkunkTrain.org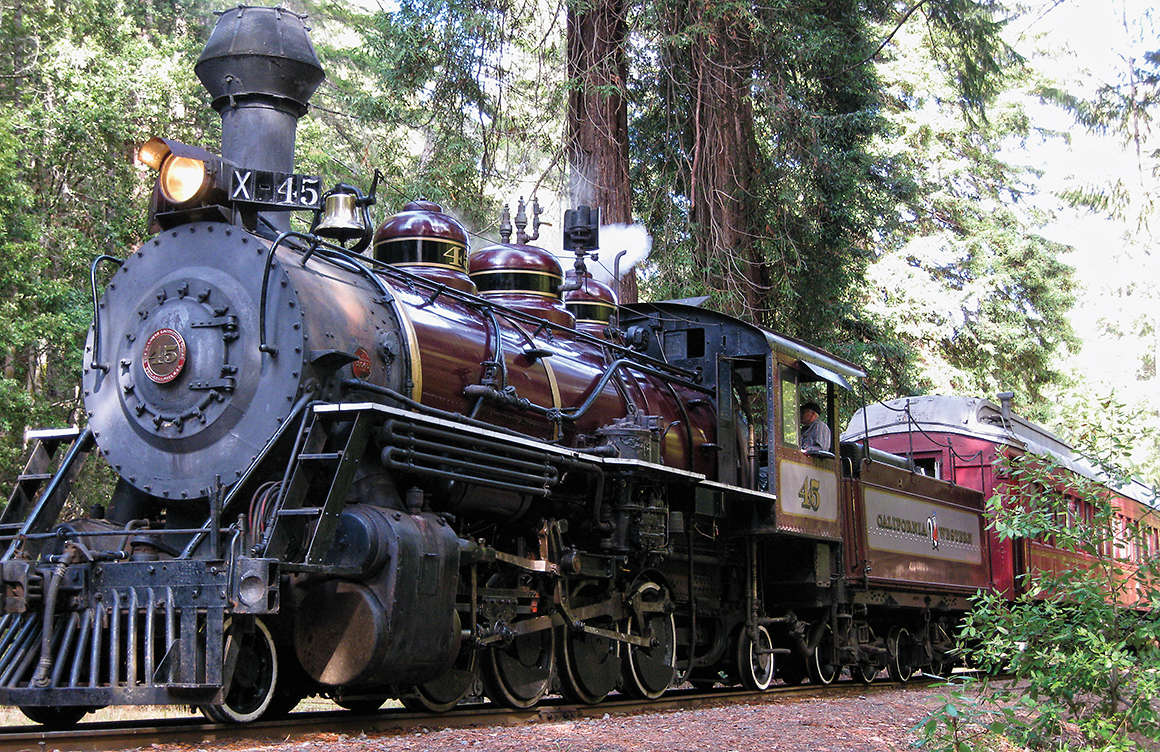 Virginia & Truckee Railroad
A true vestige of the original transcontinental railroad, the Virginia & Truckee Railroad was completed between the state capital, Carson City, and Virginia City in 1870, and by 1872 it was connected to the Central Pacific in Reno. In 1975, entrepreneur Robert Gray reopened the V&T and usually operates it as a tourist train between Memorial Day and October but, because of COVID-19, rail services have been suspended until June 20.
The popular railroad operates seven departures a day from Virginia City's original 1870 Depot to Gold Hill. Annual specialty train experiences still scheduled include Civil War Days & Battle, Pumpkin Patch, Day Out with Thomas and Candy Cane Express trains.
Virginia City and  Gold Hill, NV • VirginiaTruckee.com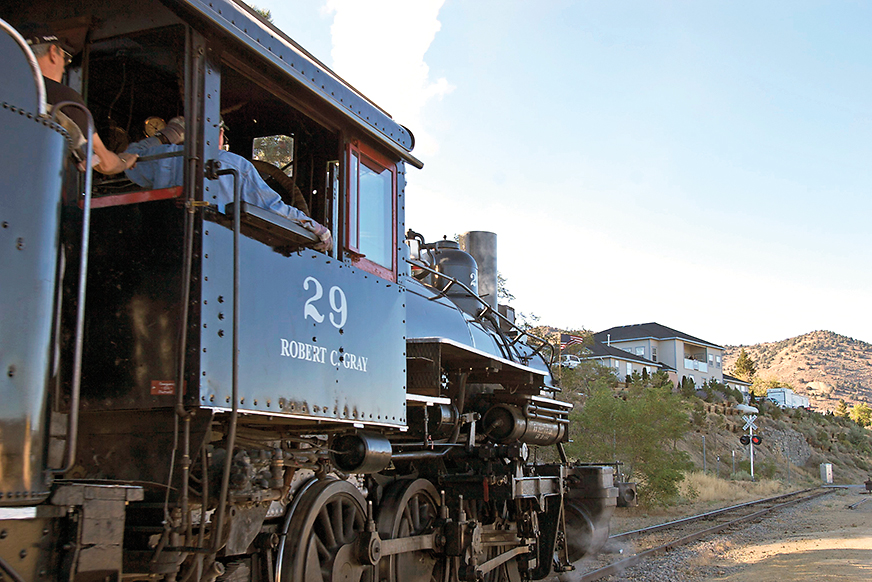 Rocky Mountains & Great Basin
Black Hills Central Railroad
Regular train service reached Hill City, South Dakota, in the 1890s. Over time, steam locomotives gave way to diesel-driven trains. Since 1957, steam train entrepreneurs William B. Heckman and Robert Freer's dream of the Black Hills Central Railroad's 1880 Train has been thrilling passengers every summer with both diesel and steam-driven trains.
In 2020, the railroad will operate its regular schedule from June 1 to October 11 and its Holiday Express from November 27 to December 27. Special trains scheduled during the summer months include the Wine Express, Oktoberfest, Steam Train Double Header and Old West Shootouts.
Hill City, SD • 1880Train.com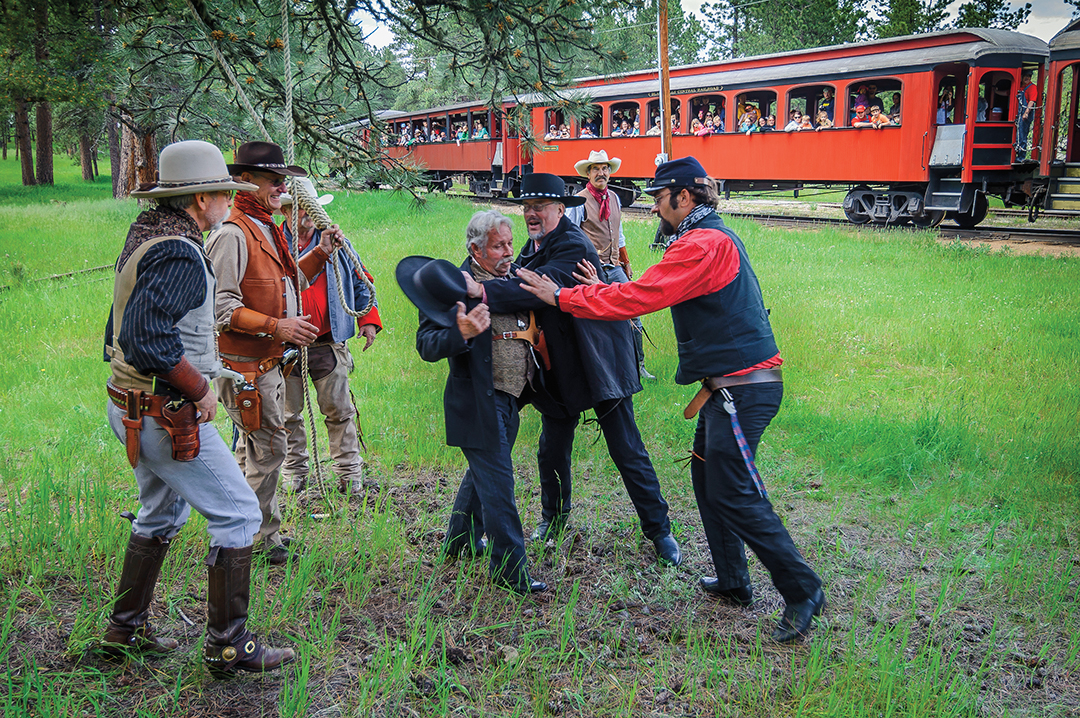 Charlie Russell Chew Choo
In most years, the Charlie Russell Chew Choo keeps the spirit of railroading in Montana alive with round-trip dinner train trips on a spur track from May to October and the popular North Pole Adventure in November and December. The train travels on tracks built in 1912-'13 between Lewistown and Great Falls.
In 2020, however, because of COVID-19, dinner trains have been canceled in May and June. The first dinner train will leave the Hanover Boarding Station on July 3, and will run three times every month until October 3. The North Pole Adventure trains kick off the holiday season on November 28 and will run Saturdays and Sundays through December 19.
Lewistown, MT • MontanaDinnerTrain.com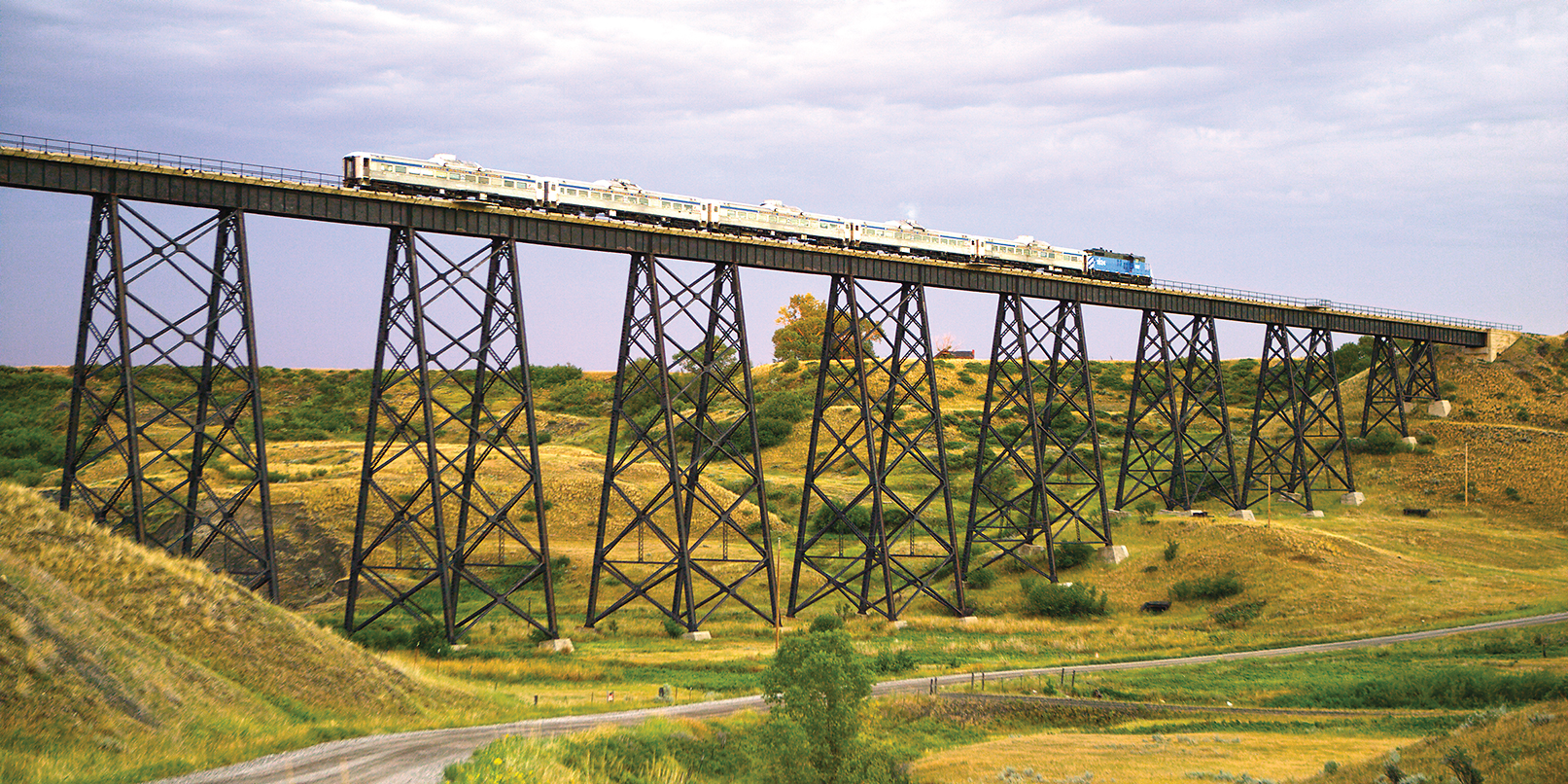 Durango & Silverton Narrow Gauge Railroad
The Denver & Rio Grande Western Railroad steamed into town on August 5, 1881, and in less than 11 months the tracks to Silverton had been completed. Since 1959 the Durango & Silverton Narrow Gauge Railroad has operated as a tourist train from May to October, with limited special trains in the winter and spring.
The Durango & Silverton Narrow Gauge Railroad has extended the dates of closure due to COVID-19 pandemic. All excursion and event trains have been annulled through early to mid-June, or until further notice. The Durango railroad depot, museum and gift shops also remain closed during this time.
Durango, CO • DurangoTrain.com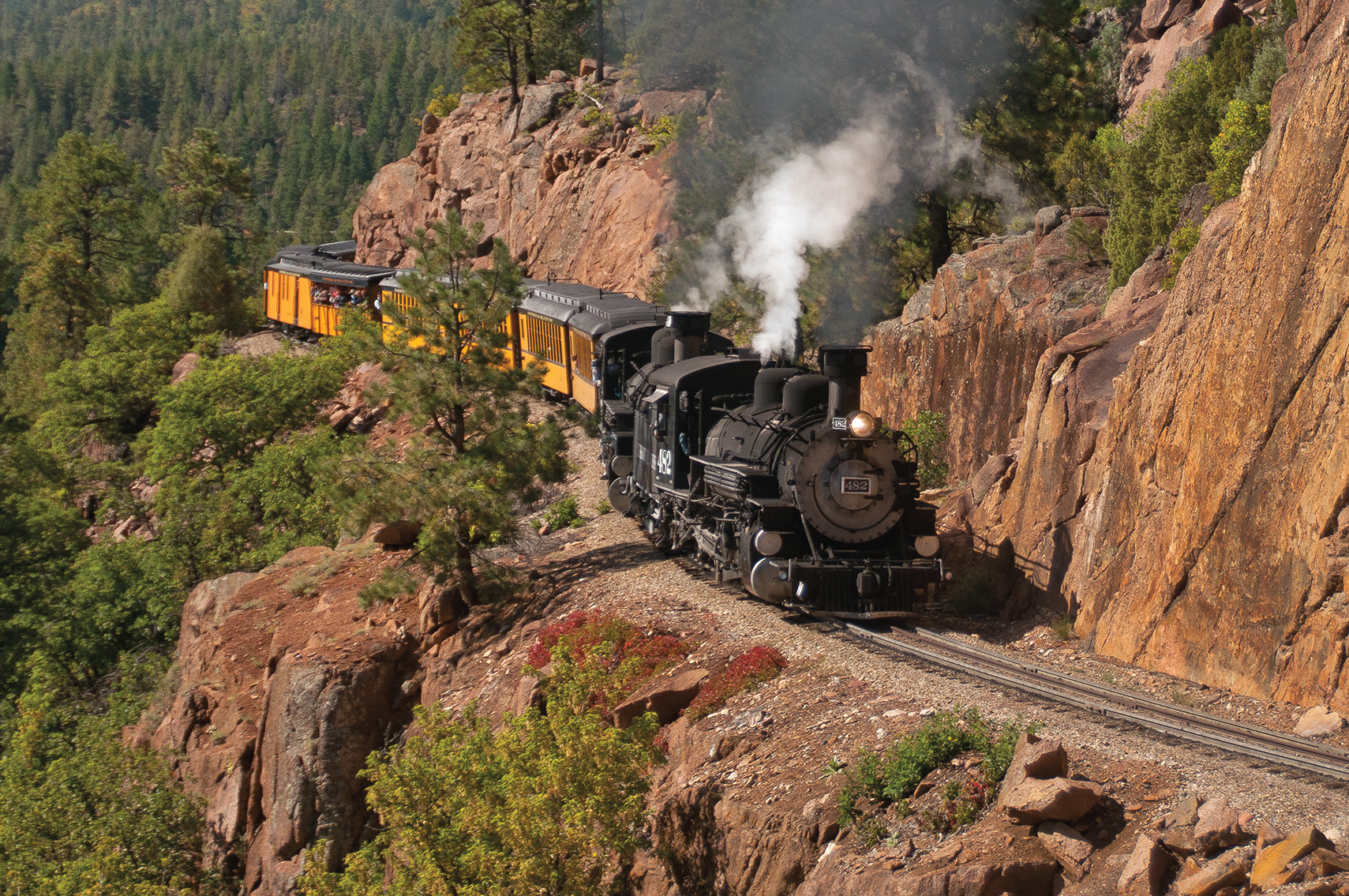 Georgetown Loop Railroad
In 1884, the engineering marvel, the Georgetown Loop, was completed as part of the Georgetown, Breckinridge and Leadville Railroad. While the silver economy did not sustain the construction of the line but to a few miles past Silver Plume, the line was rebuilt and restored in the 1970s and 1980s, and the Georgetown Loop Railroad & Mining Park is the centerpiece attraction of the historic town.
The Georgetown Loop is scheduled to operate every day from June 5 to October 15, with all cars for the start of the season open-air for passengers' safety and health. Special Oktoberfest Trains are scheduled for October 16 through 18 and 23 through 25, and Holiday Trains ready to run November 7 through January 3, 2021.
Georgetown, CO • GeorgetownLoopRR.com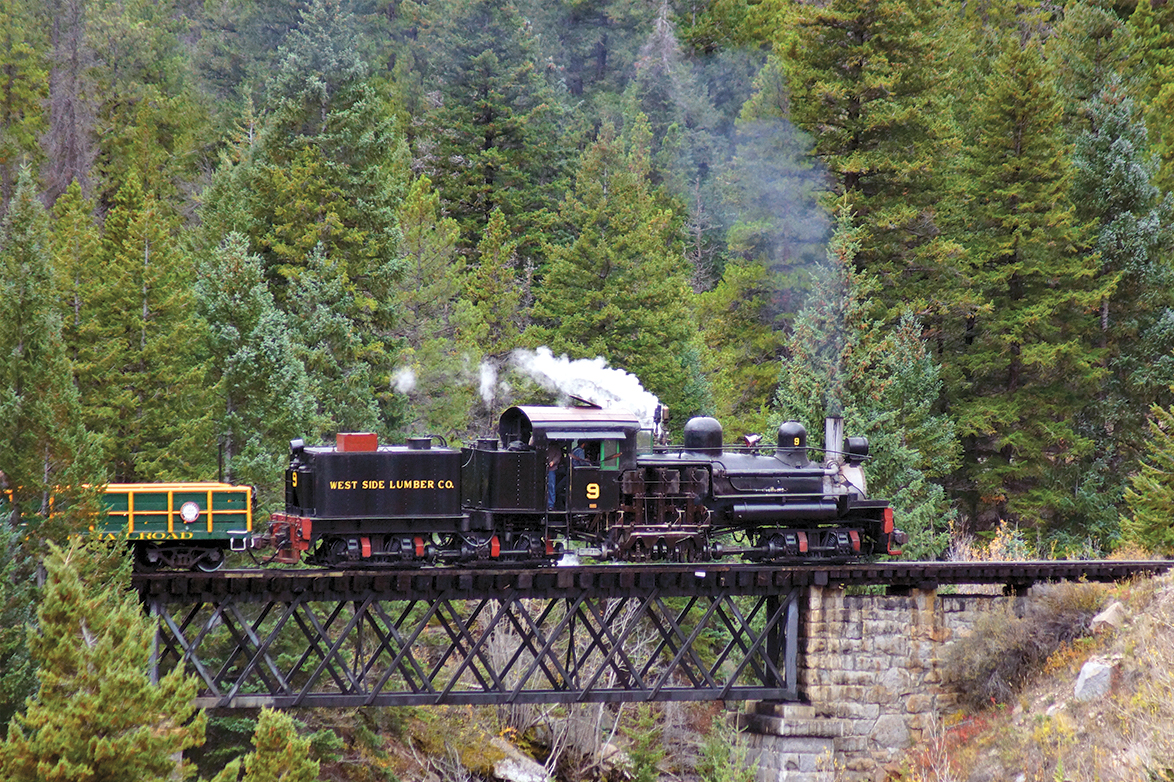 Heber Valley Railroad
The Rio Grande Western arrived in Heber City on September 21, 1899. In 1992, the Heber Valley Railroad was restored and began operating as a historic passenger rail line. The train service runs from mid-January to early November. Check with the railroad for specific times, dates and specialty trains.
Special rules for the 2020 season require visitors and passengers to wear a mask or face protection when in the depot, when boarding/deboarding the train, and any other times when social distancing is not possible. While on the train, when seated as a family/group, passengers may remove masks. Passengers should bring a mask or face covering, or purchase one for $1.
Heber Valley, UT • HeberValleyRR.org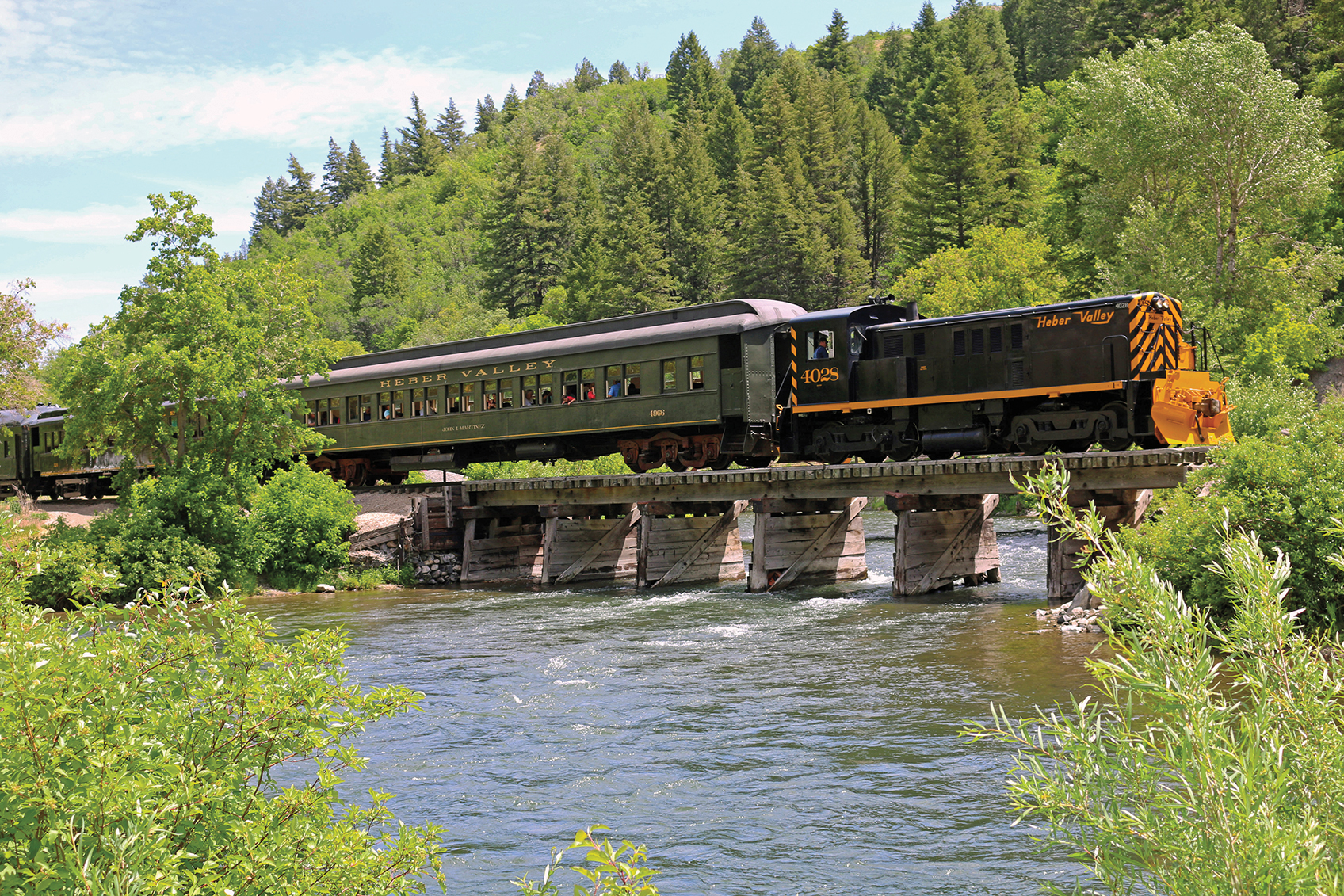 Leadville Colorado & Southern Railroad
Originally the Denver, South Park & Pacific and Colorado & Southern, the highest elevation railroad in the United States reached Leadville in 1880. The Colorado & Southern continued to operate regularly to and from Leadville until 1981. Since 1988, the Leadville Colorado & Southern Railroad has been thrilling passengers on its two-and-a-half-hour journey through the San Isabel National Forest in sight of the state's two highest peaks.
The Leadville Train, with its open-air cars, opened on May 23 and, until further notice, will operate until November 1. When inquiring about schedules and ticket purchases, ask about Wildflower, Fall Weekend and BBQ special trains.
Leadville, CO • Leadville-Train.com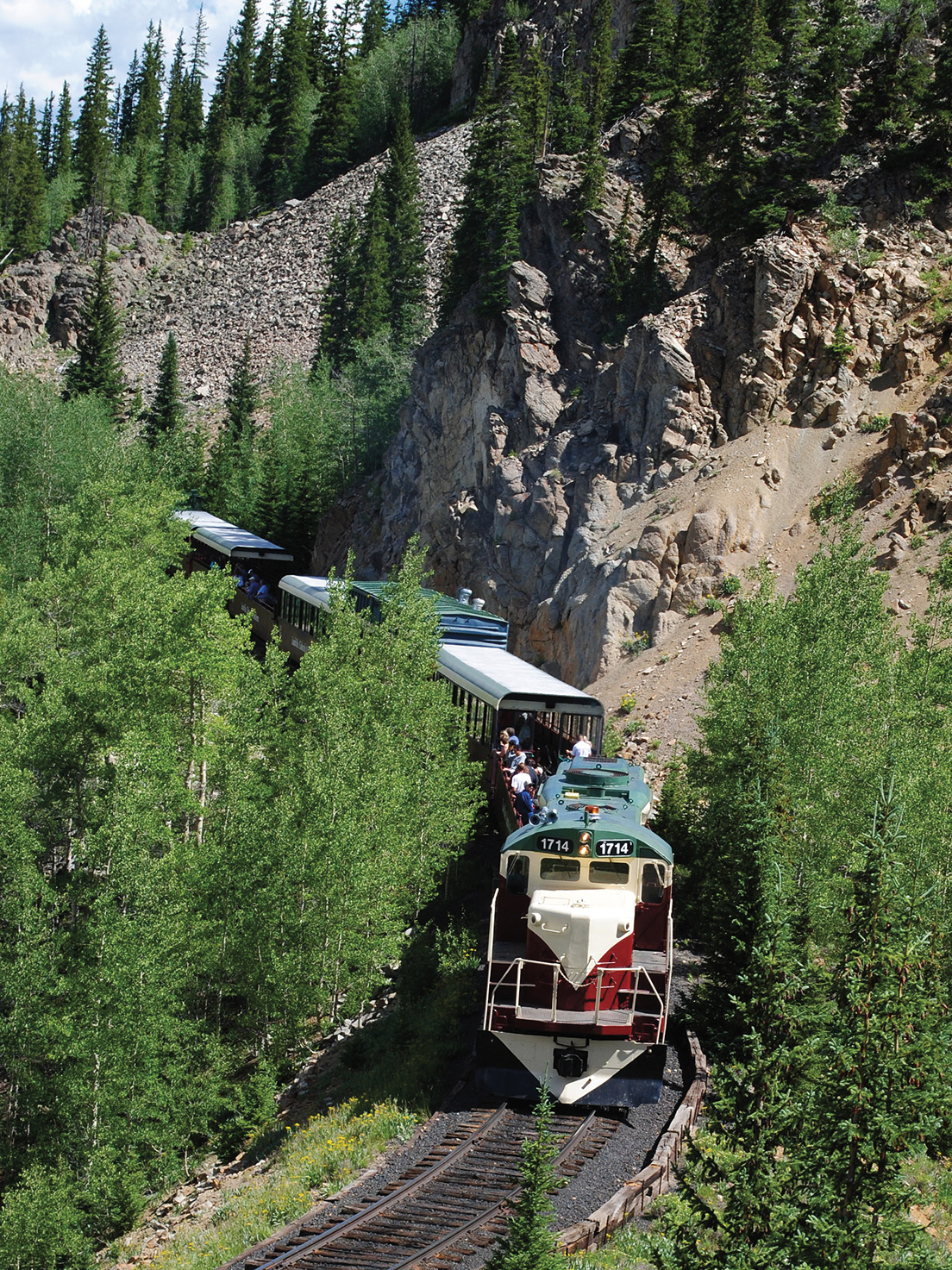 Midwest & South
Abilene & Smoky Valley Railroad
Timed to meet the first trail drives to Abilene, Kansas, the Kansas & Pacific Railroad first arrived in the cow town in 1867. The A&SVRR operates from May to October, with many exciting ride and tour opportunities for passengers, including steam-driven service on a limited basis, dinner trains and the Silver Flyer Railbus.
The popular passenger train service will operate on a modified schedule in 2020, with trains running at 10 a.m. and 2 p.m. Thursday, Friday and Saturday, and at 2 p.m. on Sunday. Face mask use is optional and left to the passengers' discretion. A third car is being added as needed to help with social distancing. The open-air cars are most popular.
Abilene, KS • ASVRR.org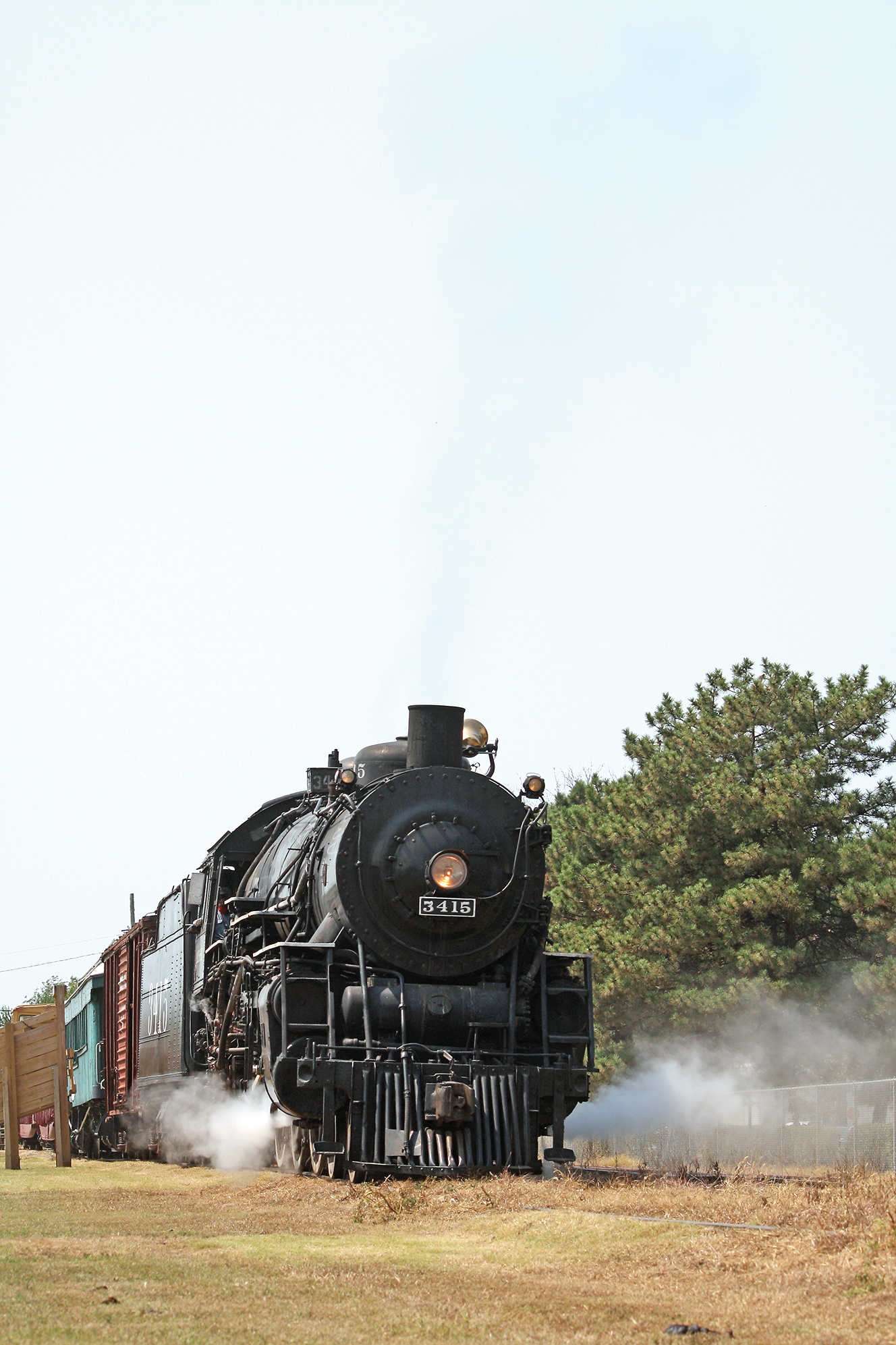 Arkansas & Missouri Railroad
The modern A&MRR started in 1986, primarily for freight service, but also as a popular passenger tourist line that keeps a regular, limited schedule from January to November. Its trips between Springdale and Van Buren, and Van Buren to Winslow, both take tourists through the beautiful Boston Range of the Ozarks.
The railroad will reopen on July 11 with a modified schedule: on Saturdays the Springdale to Van Buren train departs at 8 a.m. and the Van Buren to Winslow train will leave at 11 a.m.; on Sundays the Springdale to Winslow train will leave the station at 1 p.m. Passengers are required to wear face masks. Check the A&MRR website and Facebook page regularly for updates on schedules and specialty trains for the fall season.
Springdale, AR • AMRailroad.com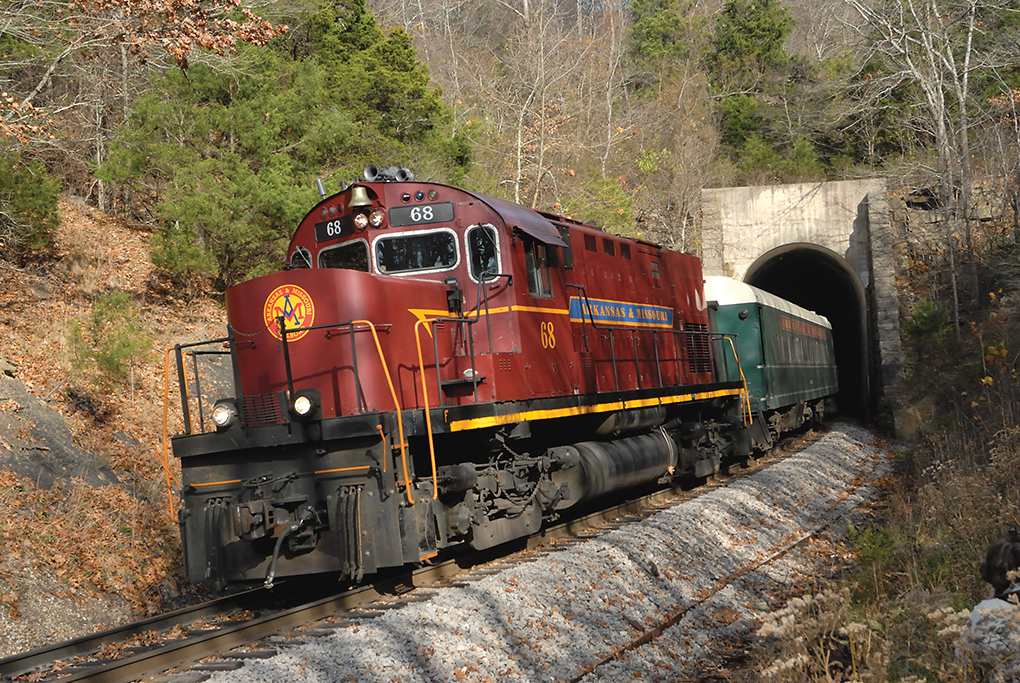 Great Smoky Mountains Railroad
When the Murphy Branch of the Western North Carolina Railroad was built in 1894 it changed the lives of generations of residents of Western North Carolina. Passenger service ran until 1948, and freight trains ceased in 1985. Heritage passenger rail service began in 1998 and has remained one of the most popular rail lines in the region.
Regular passenger train operations, the museum and gift shop reopened on June 4. First Class service is suspended until August 1. All reservations must be booked prior to arrival. Social distancing of six feet between seating and in public areas is required. Face coverings must be worn in the parking lot, in Bryson City Depot and throughout your visit and train ride.
Bryson City, NC • GSMR.com
Editor's Note: Due to the ongoing situation with COVID‑19, all historic railways are operating with a modified schedule. Always check the railroad's website for the latest information on train schedules and changes in regional pandemic restrictions.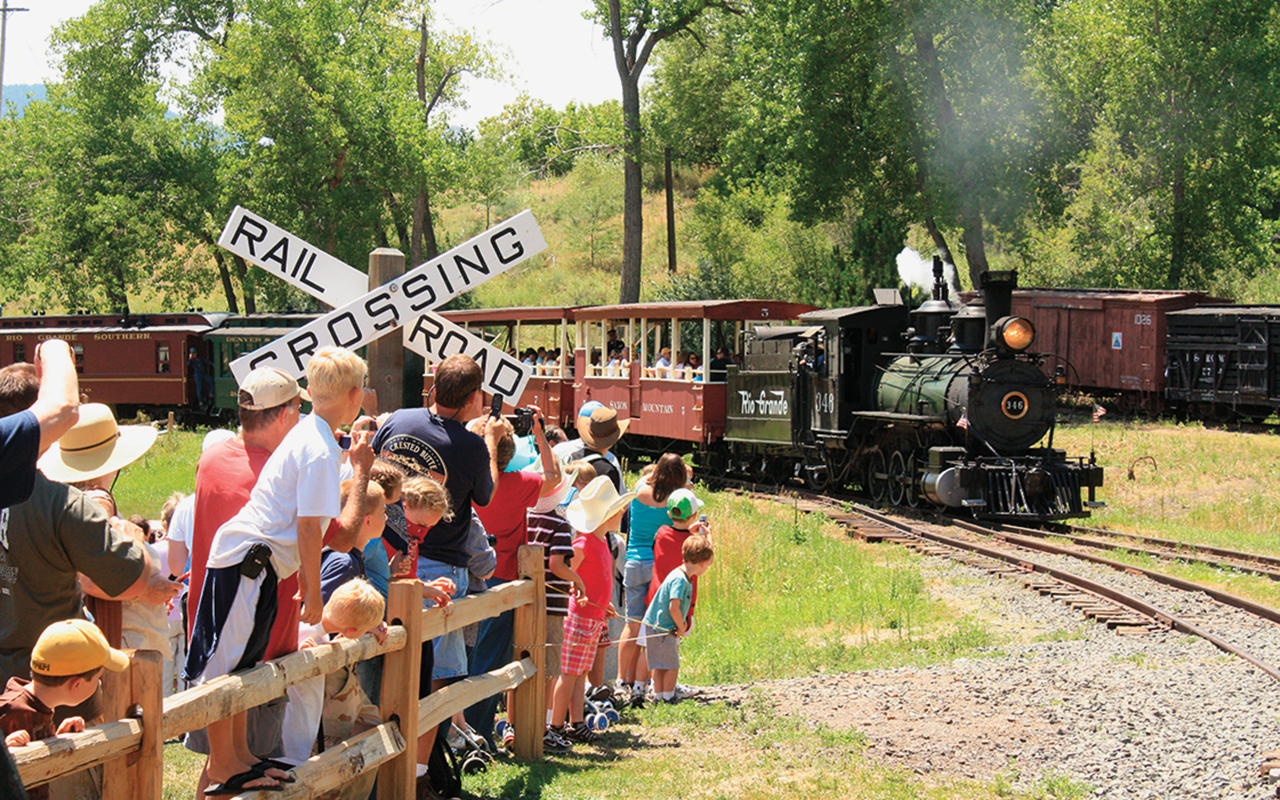 R
ailroad M
useums
Fortunately for railroad enthusiasts, the Western U.S. is home to a wonderful world of railroad museums. Schedule a visit to a local rail museum and discover the rich heritage and diversity of railway history in our country.
Southern Arizona Transportation Museum
Tucson, AZ • TucsonHistoricDepot.com
California State Railroad Museum
Sacramento, CA • CSRMF.org
Colorado Railroad Museum
Golden, CO • ColoradoRailroadMuseum.org
Union Pacific Railroad Museum
Council Bluffs, IA • UPRRMuseum.org
Great Overland Station
Topeka, KS • GreatOverlandStation.org
National Museum of Transportation
St. Louis, MO • TNMOT.org
Livingston Depot Center
Livingston, MT • LivingstonDepot.org
Durham Museum
Omaha, NE • DurhamMuseum.org
Golden Spike Tower & Visitors Center
North Platte, NE • GoldenSpikeTower.com
East Ely Railroad Depot Museum
Ely, NV • GreatBasinHeritage.org
Nevada State Railroad Museum
Carson City, NV • NSRM-Friends.org
Oklahoma Railway Museum
Oklahoma City, OK • OklahomaRailwayMuseum.org
Tennessee Valley Railroad Museum
Chattanooga, TN • TVRail.com
Galveston Railroad Museum
Galveston, TX • GalvestonRRMuseum.org
Museum of the American Railroad
Frisco, TX • MuseumOfTheAmericanRailroad.com
Golden Spike NHS
Brigham City, UT • NPS.gov
Union Station
Ogden, UT • TheUnionStation.org
Mt. Rainier Scenic Railroad and Museum
Elbe, WA • MRSR.com
Northern Pacific Railway Museum
Toppenish, WA • NPRYMuseum.org
Cheyenne Depot Museum, Cheyenne
Douglas Railroad Interpretive Center
Douglas, WY • ConverseCountyTourism.com
Laramie Historic Railroad Depot
Laramie, WY • LaramieDepot.org