The James-Younger Gang turns to train robbery.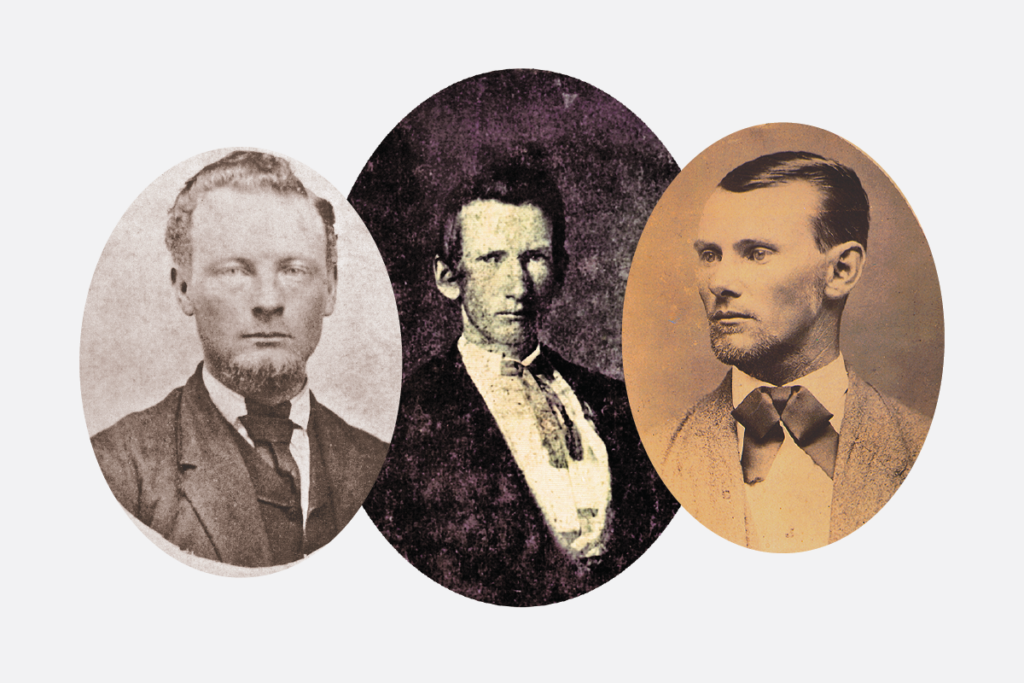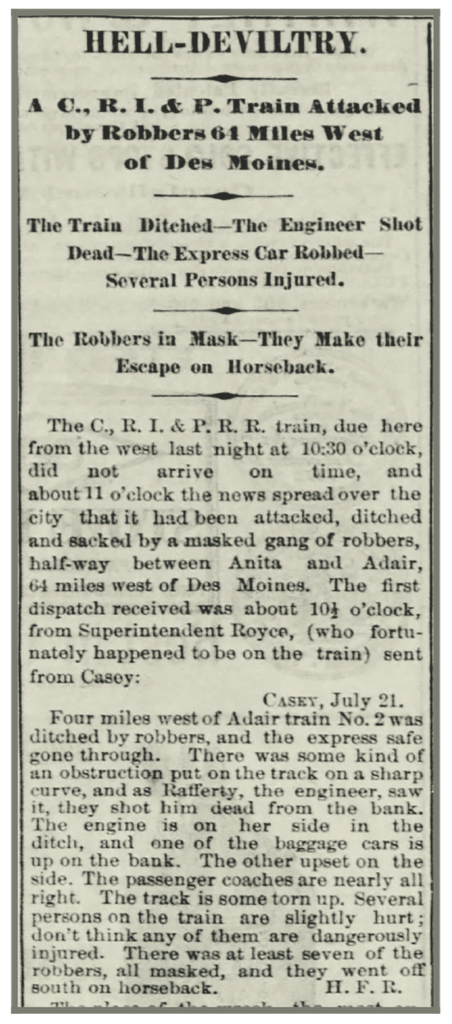 A half dozen men crouched next to the railroad tracks near Adair, Iowa, on July 21, 1873. The Rock Island train was slowing down for a big curve when the men dislodged the tracks.
What happened over the next few minutes would give the outlaws international fame.
They were the James-Younger Gang, and this was their first foray into train robbery. Why were they moving up from store and bank holdups? It's speculated that they thought they could get more loot—and that they wanted to strike back at the railroad barons.
Three of the cars (including the engine) tipped over when the tracks were pulled. The engineer was killed, and several others were hurt. But the robbers weren't concerned with that. The leader of the outfit pulled off his mask; descriptions make it clear that he was Jesse James. Two others were identified as Frank James and Cole Younger.
Jesse made his way to the express car while the others took money and valuables from the passengers. The overall take was $2,337—much less than they'd anticipated since the train was supposed to be carrying a large shipment of currency. But that money had been on another train that came through the previous evening.
There were other riches, however. The express car had a huge cache of gold bullion. There are two versions of this story. One, the bars were too heavy to carry off, so Jesse left them alone. Two, Jesse had no idea exactly what they were, so he ignored them.
If nothing else, the outlaws were efficient. The whole thing took only about 10 minutes. At the end of the incident, the James-Younger boys rode off into the darkness. The train crew went for help. 
It's not exactly clear where the outlaws got the idea of waiting for the train to slow, then dislodging the tracks. But ex-Confederates had done the same thing eight years earlier at North Bend, Ohio—and it's likely that Jesse James was aware of that holdup.
The Adair rob-bery made the James-Younger Gang international celebrities. The Kansas City Star cov-ered the event, and the story was picked up by papers around the world. That must have pleased Jesse, who liked the publicity (even
as he denied that he and the boys were involved in any of their robberies).
Over the next eight years, the outlaws would rob several more trains. Most of them were more successful, financially, than the Adair job. But Adair was the one that got that ball rolling—and the one that brought the James-Younger Gang international attention.