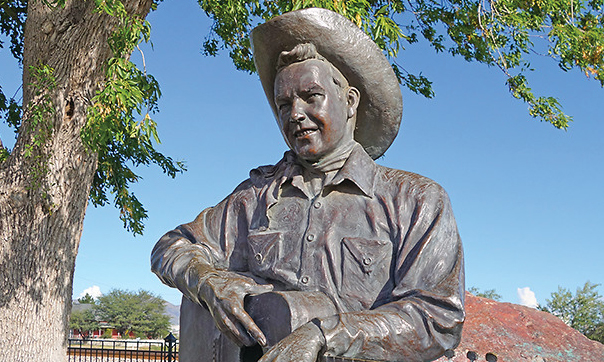 Rex Allen said his heart would always belong to his hometown of Willcox, Arizona, and he wasn't kidding. A replica of a human heart was included in a larger-than-life statue of the "favorite son"—and when Allen died in 1999, his ashes were spread around the monument that stands across the street from the Rex Allen "Arizona Cowboy" Museum & Willcox Cowboy Hall of Fame.
The museum is in one of Willcox's oldest commercial buildings, built in the early 1890s of adobe—one of the few intact adobes still standing in the Railroad Avenue Historic District. A former saloon, the museum now honors not only "The Arizona Cowboy," who grew up here, but the men and women who ranched this area when Willcox was the largest rail shipping center of range cattle in the U.S., earning it the title of Cattle Capital of the World.
But it's clear the town's heart belongs to the kid who graduated from Willcox High School and was then known as Elvie "Rex" Allen. He wrote one of his first songs at 14, and played with his musical father while
in school, then branched out to become a popular "singing cowboy."
"God gave me a good voice and that voice has been good to me," he once said. While John Wayne told him, "If I could hear the voice of God, it would sound like you."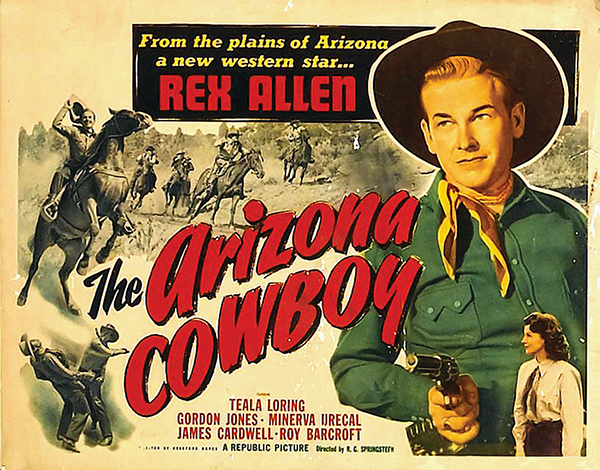 Rex Allen appeared in 19 Western movies, making America's last singing Western in 1954. He then went on, with that great voice, to narrate over 150 Walt Disney pictures and television shows, earning him the title "The Voice of the West."
The museum includes a full array of memorabilia from Allen's life, including dozens of movie posters that demonstrate the artistic splendor of these advertisements.
E. Pierre Brehm, who runs the museum with help from volunteers, was a good friend of Allen's. He loves telling stories about his multi-talented friend, including a secret Allen shared with no one else. "The Arizona Cowboy was his first starring role," Brehm recounts, noting its movie poster over his head. "Rex told me he so hated that film that if he had the money, he'd buy and burn every copy. I never told him it is one of my favorites."
Ironically, Allen's eldest son, Rex Jr. (Chico) wrote the words and music to Arizona's state song "Arizona."
Allen's beloved horse, KoKo, had his own destination with fame, Brehm tells. "Koko was supposed to be Dale Evans' horse, a stallion like Trigger. But she got Buttermilk instead and Rex got KoKo." Labeled "the most beautiful horse in the world," Koko (1940-1967) co-starred in 30 motion pictures and traveled over a half-million miles with Rex in the U.S. and Canada. The horse is buried at the monument.
The museum attracts visitors from throughout the nation and some foreign countries, its guest book shows. It's busiest every October during Rex Allen Days, started in 1951 as a benefit for the local hospital, and still raising money for charities, including scholarships for Willcox High School graduates.
The museum, at 150 N. Railroad Ave., Willcox, Arizona, 85643, is open Monday, 10 a.m. to 1 p.m. with live music, Tuesday through Saturday, 11 a.m. to 3 p.m.; closed Sundays and all major holidays.  For more information, see RexAllenMuseum.org or call 520-384-4583.
Jana Bommersbach has earned recognition as Arizona's Journalist of the Year and won an Emmy and two Lifetime Achievement Awards. She cowrote the Emmy-winning Outrageous Arizona and has written two true crime books, a children's book and the historical novel Cattle Kate.