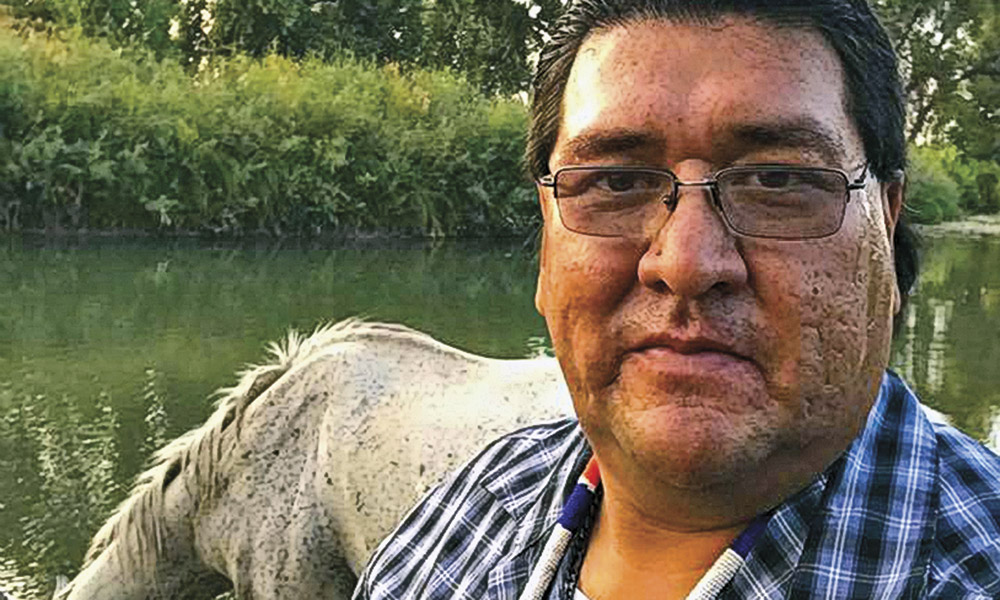 A former cabinet head of Crow Homeland Security for Crow Agency, Montana, Alden Big Man Jr. earned his Ph.D. in the History department at University of New Mexico.
His research focuses on Plains Indian Tribes, and he is working on a biography about George Custer's Crow scout Curly. As director of the Crow Tribe's Water Resources Department, which broke ground in 2012, he oversees the rehabilitation of the Crow reservation irrigation system.
The Lone Ranger and Tonto Fistfight in Heaven. The humor Sherman captures throughout the book is representative of the way Indians living on reservations cope with poverty.
Custer represents my youth. I remember re-enacting the battle with my friends at Little Bighorn Battlefield. I was always Curly, while others opted to be Sioux or Cheyenne Warriors. We always took along a kid we really didn't like. You can easily guess who he was in our re-enactments.   
Don't get me started on John Wayne's horsemanship skills. I would sure hate to be the horse that tries to keep a good balance under him, while he jerks the reins, flips his rifle and hoots and hollers as he chases down bad guys!
The best Western ever is Smoke Signals! I guarantee, many natives had to drive an old clunker backwards to make it home when we ran our transmission into the ground. My longest trek driving backwards to get home was about four miles. A few days later, I found myself under the car, changing out the transmission. I was only about 13 years old.   
A great actor I admire is Gary Farmer, especially in his role as Philbert in Powwow Highway. Farmer shows humor, desperation, a strong belief system and a commitment to family, which are all traits carried by Indians. We all have that one Philbert who hangs around the sweat or powwows.
History has taught me that we all have a story to tell. I have done many interviews among native communities. Unfortunately, white visitors who come to reservations usually communicate with the only white guy living on the reservation, rather than approach one of the 14,000 members of the tribe.   
The worst thing you can say to me is, "You have no family!" The Crow clan system ensures we always have mothers and fathers. During the height of the inter-tribal warfare period, many children were orphaned when Crows were killed during war with Lakota Sioux, Blackfeet and other surrounding tribes. But the system made sure they had mothers and fathers.
I wish people knew more about Crow Fair. This New Year's celebration, held every third weekend in August, showcases roughly 1,300 tipis and a daily morning parade of hundreds of participants in their finest traditional regalia. This year's fair is the centennial anniversary, and, as always, will include some "Tipi Creeping."
If I could have dinner with anyone, that person would be Chief Dan George, while he lays atop the burial scaffold and waits for his death. A great actor, he looked like an American Indian, unlike Johnny Depp or the infamous "Crying Indian," Iron Eyes Cody.
The funniest thing a white person said to me is that she took new faculty members at the tribal college to lunch to give them a "thorough overview of the Crow people." I thought to myself, "I speak the language, participate in many of the cultural events and still learn about my people on a daily basis, and here is this woman who can explain to non-Indians the history and culture of the Crow in 60 minutes," minus the time she is chewing and eating her food!   
"Do you Indians still live in tipis?" is what 10 percent of people asked me while I worked as a fishing guide on the Big Horn River during my undergrad years. My response was always, "Yes. Keep a watchful eye on the banks because the wilder members of the tribe might shoot at you with bow and arrows, and count coup."
https://truewestmagazine.com/hopis-capture-eagles/