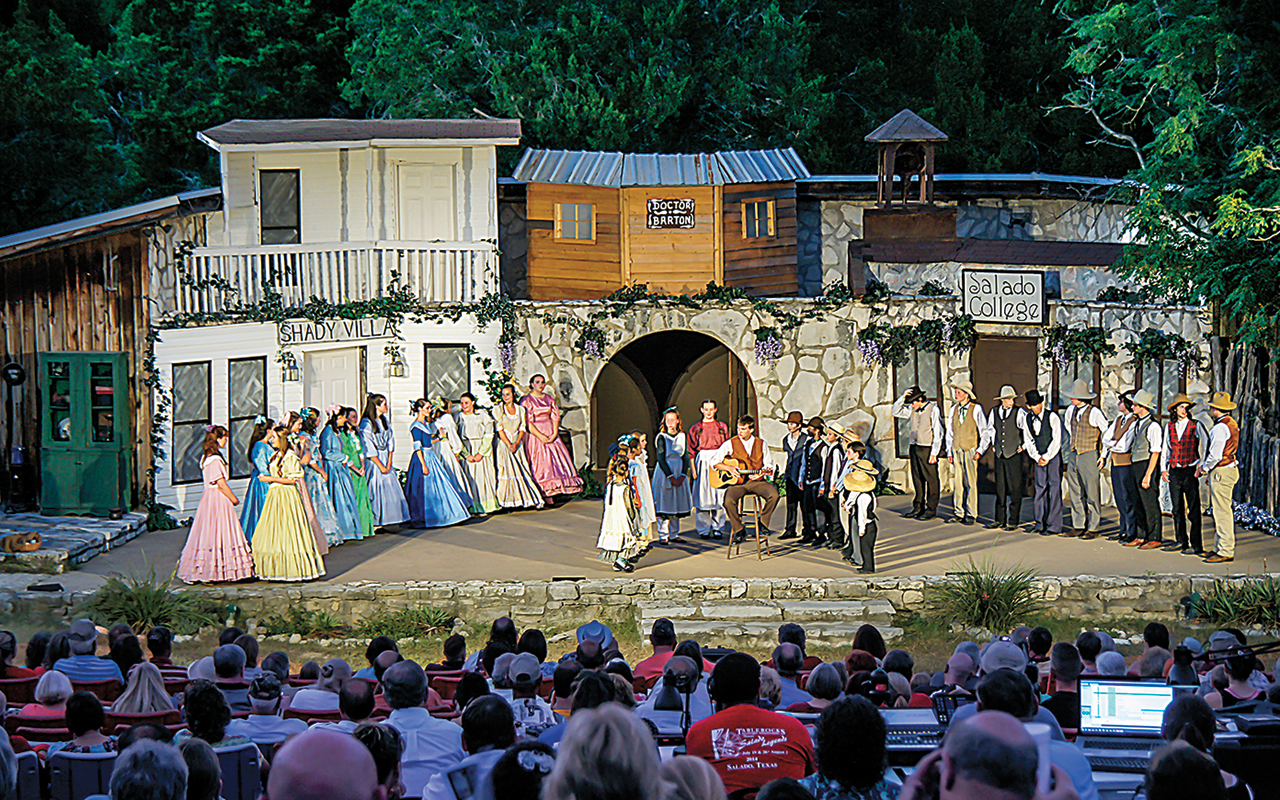 ART SHOWS
"Hold Your Horses" at Phippen Art Museum
Prescott, AZ, August 1-September 20: Horse lovers, art enthusiasts and Western art collectors will be enthralled with this annual exhibition and sale titled "Hold Your Horses!"
928-778-1385 • PhippenArtMuseum.org
America's Horse in Art
Amarillo, TX, August 15-October 17: This benefit sale of horses depicted in pencil, paintings and sculptures, features a signature piece by Kathryn Leitner.
806-376-5181 • AQHA.com
FAIRS
Elko County Fair & Horse Races
Elko, NV, August 28-September 7: This year, the Elko County Fair celebrates its 100th anniversary. With several different events and a variety of entertainment; there's something for everyone to enjoy at the fair.
775-738-3616 • ElkoCountyFair.com
HERITAGE FESTIVALS
Longmire Days
Buffalo, WY, July 16-19: Robert Taylor and actors from the hit series Longmire gather to celebrate cowboy culture and Old West heritage.
307-684-5544 • BuffaloWY.com
Oregon Trail Days
Gering, NE, July 13-16: A kickoff barbecue, old-fashioned parades and live music are just some of the highlights of the annual weekend celebration of the pioneers who settled western Nebraska.
308-632-2133 • OregonTrailDays.com
Laramie Jubilee Days
Laramie, WY, July 4-12: Wyoming's hometown honors the Western lifestyle with a kid's horse show, PRCA rodeo, parade and carnival.
800-445-5303 • VisitLaramie.org
National Day of the American Cowboy
Bandera, TX, July 25-26: Honor cowboys at this dinner and concert under the stars, on the Frontier Times Museum grounds.
830-796-3864 • BanderaCowboyCapital.com
Buffalo Bill Days
Golden, CO, July 23-26: The four-day event honors the Wild West showman with a "100 Years in Golden" theme parade, concerts and Wild West activities.
303-279-3342 • BuffaloBillDays.com
Cowboy Way Jubilee
San Angelo, TX, July 23-26: A three-day event presents "Everything Cowboy" with Western music, Western films and TV shows and Hollywood celebrities.
580-768-5559 • CowboyWayJubilee.com
Sturgis Motorcycle Rally
Sturgis, SD, August 7-16: Five hundred thousand riders and concert fanatics converge in the Black Hills to attend this annual South Dakota event, now in its 80th year.
605-720-0800 • SturgisMotorcycleRally.com
Annual Doc Holli-Days
Tombstone, AZ, August 7-9: Help celebrate the life and legend of Doc Holliday in Tombstone to experience the town like you never have before.
520-457-9317 • TombstoneChamber.com
Chama Days
Chama, NM: August 7-9: The three-day event includes a double elimination softball tournament, two-day rodeo event, parade and dances.
800-477-0149 • NewMexico.org
MUSIC
Viva Big Bend Music Festival
Alpine, Marfa, Fort Davis and Marathon, TX, July 23-26: More than 50 bands in 10 venues perform Texas music in desert mountain landscapes or against peculiarities such as the Marfa lights.
432-729-4772 (Marfa County Tourism) • VivaBigBend.com
Round Barn Rendezvous
Arcadia, OK, August 9: Come by this iconic Route 66 stop as local artists fill the Round Barn with the sound of acoustic music in a free live concert in a unique setting—a hayloft on the second floor of the barn.
405-833-1350 • ArcadiaRoundBarn.com
POETRY GATHERINGS
Arizona Cowboy Poets Gathering
Prescott, AZ: August 6-8: For nearly 33 years the gathering has been a featured event with a mission to perpetuate and preserve the culture, traditions and history of cowboy poetry and music.
On June 2 the 2020 event was canceled due to COVID-19 health restrictions and is being rescheduled for 2021.
928-713-6323 • AZCowboyPoets.org
POWWOWS
First Peoples POW WOW & Dance
Sheridan, WY, July 10: On the lawn of the Sheridan Inn, American Indian dancers and drum teams perform traditional ceremonies.
307-673-7121 • SheridanWyo.org
RE-ENACTMENTS
John Wesley Hardin Secret Society
El Paso, TX, August 15: John Wesley Hardin's death in 1895 is re-enacted at historic Concordia Cemetery, where the gunfighter is buried.
915-842-8200 • ConcordiaCemetery.org
RENDEZVOUS
Green River Rendezvous
Pinedale, WY, July 9-12: This 1833 mountain man encampment honors rendezvous culture with fur trade lectures and a pageant.
307-367-4136 • VisitPinedale.org
RODEOS
Prescott Frontier Days / World's Oldest Rodeo
Prescott, AZ, June-July 5: The 133rd annual World's Oldest Rodeo takes place at the Prescott Rodeo Grounds. Since 1888, this traditional event has occurred annually over the 4th of July weekend with eight breathtaking performances.
866-407-6336 • WorldsOldestRodeo.com
The Days of '76
Deadwood, SD, July 21-25: The Days of '76, which also includes parades on historic Main Street, has been a staple each summer in Deadwood for 98 years.
605-578-1657 • DaysOf76.com
Silver State Stampede
Elko, NV; July 10-12: The oldest rodeo in Nevada has grown into a multi-faceted event, showcasing the best of rodeo and ranch cowboys alike.
800-248-3556 • SilverStateStampede.com
National Little Britches Rodeo
Guthrie, OK, July 7-12: Cheer on youth rodeo contestants as they compete to win the roughly $300,000 in awards and college scholarships.
719-389-0333 • NLBRA.com
Cattlemen's Days
Gunnison, CO, July 3-12: This PRCA rodeo offers horse and livestock shows, a carnival and live cowboy music and poetry.
970-596-0149 • CattlemensDays.com
Chief Joseph Days Rodeo
Joseph, OR, July 21-26: This PRCA rodeo offers traditional American Indian dances, a bucking horse stampede and a friendship feast.
541-432-1015 • ChiefJosephDays.com
TWMag.com: View Western events on our website.