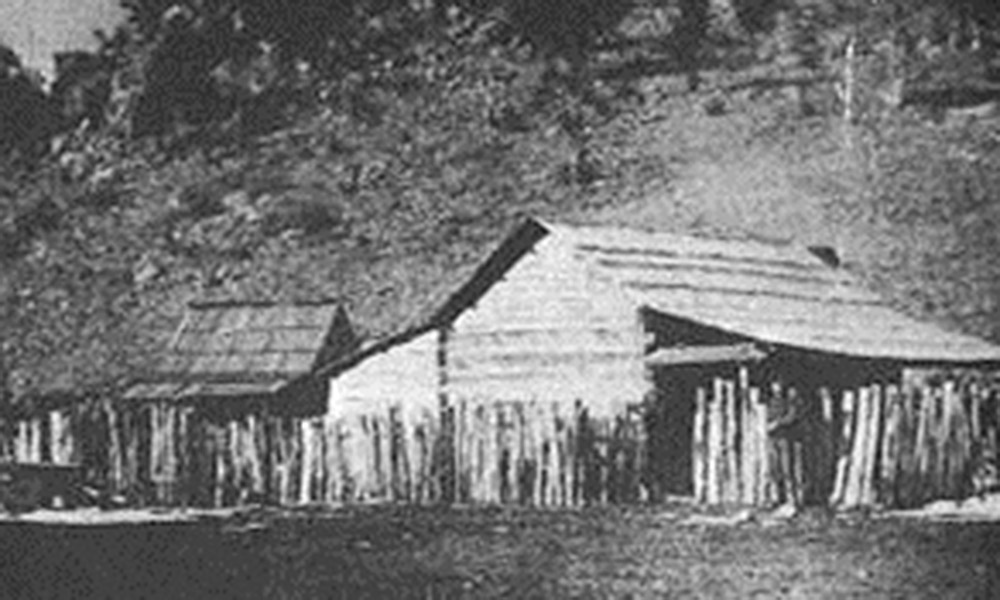 Mart "Old Man" Blevins and his family arrived in the Pleasant Valley area from Texas around 1886. He and his sons, John, Charlie, Hamp and Sam Houston quickly hooked up with members of the Graham faction and a few Hash Knife cowboys who were supplementing their income by pilfering livestock from their employer, the Aztec Land and Cattle Company.
Another of Mart's boys, Andy Blevins, using the alias Andy Cooper, had already gained a reputation as a desperado in Texas and like many outlaws in the Lone Star State he sought greener pastures when he got crosswise with the Texas Rangers.
Andy Cooper quickly saw the lucrative opportunities in the business of stealing livestock in Arizona and encouraged his father to bring the rest of his family and join him.  They arrived in 1886 and after muscling a Mormon family off their land, set up their operations at Canyon Creek.
Old Man Blevins, who was only 47, also had a fondness for acquiring good horseflesh without paying for it and probably thought the change of scenery would do him and his family good. It turned out to be a bad business decision for them all.
Soon they were driving stolen horses from Utah and Colorado to their ranch, 75 miles south of Holbrook.
More fuel was thrown on the fire in February 1887, when Bill Jacobs, a friend of the Tewksbury's drove a flock of sheep into Pleasant Valley. It didn't take cattlemen long to retaliate. A sheepherder was killed, his body riddled with bullets and according to some accounts, he was beheaded.
In July, Mart Blevins rode off from the Canyon Creek ranch on the trail of some horse thieves and was never seen again. A few days later, Hamp Blevins, along with three Hash Knife cowboys, John Paine, Tom Tucker, Bob Carrington and Bob Glaspie were out searching for Hamp's father. They met Cowhand, Will C. Barnes at Dry Lake, about thirty miles south of Holbrook and mentioned they were headed for Pleasant Valley to "start a little war of our own."
On the ninth of August, they arrived at the Newton (old Middleton) Ranch, located on Wilson Creek at the eastern part of Pleasant Valley.  The ranch was the scene of a battle with Apaches a few years earlier and had been abandoned by the Middleton family and was now occupied by George Wilson.  Inside, Jim Roberts, Joe Boyer, Jim and Ed Tewksbury were sitting down to dinner when the riders approached. The boys, still sitting on their horses asked to be invited in for a meal.
"We aren't keeping a boarding house," Jim Tewksbury told them, "especially for the likes of you."
John Paine had a reputation as a bad hombre with a real mean streak who loved to fight. He'd been hired by a big outfit to beat up on small ranchers and shipmen in the area and enjoyed it. Tom Tucker was mostly looking for adventure. Glaspie was more stupid than mean and was easily led by killers like Paine. Not much is known about Bob Carrington.
Hamp Blevins drew his pistol and started firing, drawing a fusillade of fire from inside the cabin.  The first volley of gunfire Jim Roberts dropped Paine with a shot between the eyes. Another shot tore off the top of Blevins head. Both toppled to the ground with fatal wounds. Then Tucker went down with a bullet in the chest. Bob Glaspie took a bullet in the right leg. Carrington's clothes were perforated but he managed to escape being hit. None of the Tewksbury's were hurt. It's likely the Tewksbury's and Roberts were using the latest rapid-firing Winchester Model 1886 .45-90 rifles. As one old timer opined, "it was like shooting a cannon."
Tucker, badly wounded, managed to ride away but later fell from his saddle. Along the way he was attacked by a mama bear and her two cubs.  By the time he reached a ranch the chest wound was covered with maggots and that probably saved his life as maggots eat only dead flesh, thus preventing gangrene from setting in.
Glaspie was wounded in the leg, the bullet passing through the cantle of his saddle and exiting through his buttocks. During the fight his horse was also shot out from under him.  He managed to make his way on foot back to the Blevins ranch on Canyon Creek three days later.
The nefarious little war party, off to start a little war of their own, was fully routed.
Immediately following the battle, the defenders inside the cabin saw another large party approaching.  They quickly made ready for another siege. When the riders were close enough, Roberts saw they were Apaches, armed and painted for war. But when they saw the carnage one of them cried "Chinde," an Apache word for ghosts. Fearing the presence of evil, or, the deadly aim of the shooters inside, they quickly turned tail and rode off.
Jim Roberts and the Tewksbury's decided not to press their luck any further and they too rode off.
That evening members of the Graham faction returned to bury the bodies and before leaving burned the cabin to the ground.
https://truewestmagazine.com/last-man-standing/