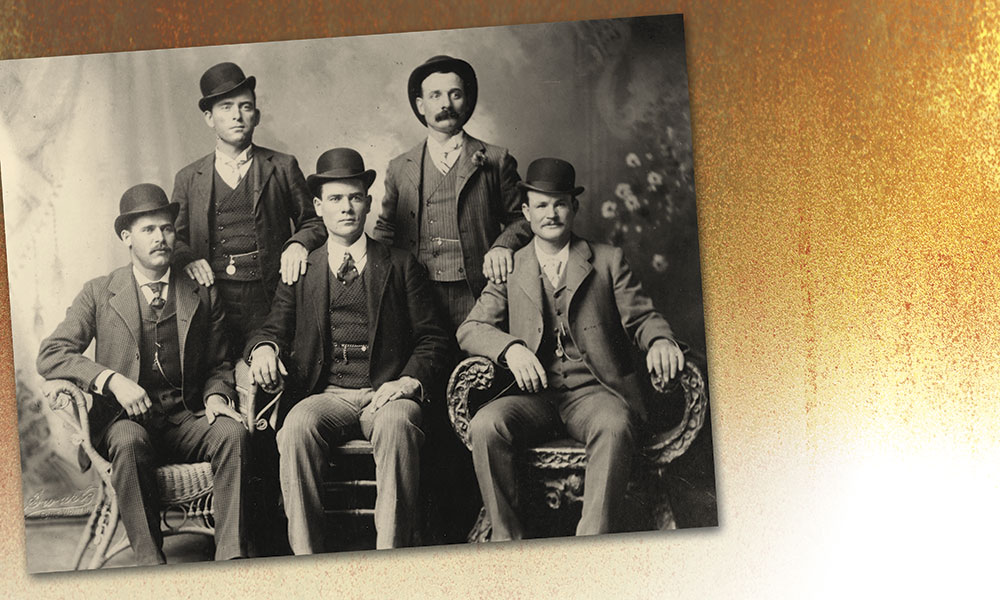 A charter subscriber to this magazine, which first hit newsstands in 1953, Robert G. McCubbin has been collecting original photographs ever since.
He bought his first photograph, of "Black Jack" Ketchum, in the same year (for $50). Over the past 65 years, he has amassed the largest collection of Old West outlaw and lawman photographs in the world.
Here, for your viewing pleasure, are his favorite 65 from his collection, which extends beyond to cover all the pioneers who blazed trails on the frontier.

Courageous Comanche Jack
(Opposite page) Simpson "Comanche Jack" Stilwell was better known in his own time, but he never reached the heights of other celebrity scouts "Buffalo Bill" Cody or "Wild Bill" Hickok.
Stilwell famously slipped through American Indian lines at the 1868 Battle of Beecher Island and walked through cactus needles to get a rescue crew. He stands (left) with James N. Jones (far left), a fellow scout at Fort Sill in Indian Territory in this circa 1874 cabinet card by W.P. Bliss.

Buckshot Bill
Bill Doolin became Oklahoma Territory's most notorious outlaw, beginning his life of crime with the Dalton Gang and missing out on death during the Coffeyville shoot-out. This 1896 cabinet card by W.B. Dougherty of Guthrie, Oklahoma Territory, shows Doolin's body riddled by buckshot, courtesy of Deputy U.S. Marshal Heck Thomas.

Drover to Murderer
John Wesley Hardin is shown at age 18, from his personal photograph album, having finished his cattle drive up the Chisholm Trail to Abilene, Kansas, in 1871. His path had been bloody. While on the cattle trail, he killed four Mexicans.
In Abilene, his murder spree continued. While staying at the American House Hotel, he shot a man in the next room, possibly for snoring too loudly. By the time he died in 1895, he killed between 27 to 42 men.

Pinkerton Cowboy Detectives
This albumen shows Pinkerton detectives on the trail of the Wild Bunch, around 1899-1900. Charlie Siringo (at left), a cowboy in Texas and New Mexico Territory,  became a lawman with the Pinkerton National Detective Agency in 1886 and wrote a book published in 1912 about his exploits, A Cowboy Detective.
On the back of this photo, Siringo made a notation identifying his partner as William B. Sayers (at right); Siringo protected his partner's identity in his book by calling him "W.O. Sayles."

Those No-Good Lawdogs
"…one often hears the expression, 'no good exists in, or can come from Oklahoma,'" The Guthrie Daily Leader reported in 1896, the same year U.S. Marshal Patrick S. Nagle replaced E.D. Nix.
With such distrust in the law, field deputies faced cuts. Those who survived included (front row, from left) Deputy U.S. Marshals Heck Thomas of Guthrie and Morris Robacker of Pawhuska; Robacker also served as Osage chief of police. Behind them are two Osage scouts: Spotted Dog Eater and Howling Wolf. In the back row sits clerk of Pawnee County district court John H. Havighorst and Assistant U.S. Attorney Roy Hoffman.
This undated cabinet card was taken at the Pawnee Gallery in Pawnee.

Law West of the Pecos
Roy Bean, shown in this circa 1895 cabinet card, famously proclaimed himself the "Law West of the Pecos" and dispensed frontier justice from a Texas saloon.

No Equal in Merciless Cruelty
Satanta wears a peace medal likely given at the signing of the Medicine Lodge Treaty in 1867 in this carte de visite dated August 18, 1868.
The New York Times, on November 9, 1867, wrote of the Kiowa chief: "Satanta…has no equal on the Plains in cunning or native diplomacy…in boldness, daring and merciless cruelty…." In 1871, he, Big Tree and Satank became the first American Indians tried for raids in a U.S. court, for attacking Henry Warren's wagon train.

Geronimo
Photographer A. Frank Randall is credited with taking the first photographs of Chiricahua Apache Medicine Man Geronimo, in 1884, at the San Carlos Reservation in Arizona Territory,  including this menacing one of Geronimo kneeling while holding an 1873 Springfield carbine.

When C.S. Fly Shot Geronimo
In March 1866, C.S. Fly, of Tombstone, Arizona Territory, followed U.S. Army Gen. George Crook just across the border into Mexico to negotiate a surrender with Geronimo and his Chiricahua Apache band.
When Fly whipped out his camera at the Cañon de los Embudos surrender site, he saved for posterity the only known images taken of American Indians during wartime.
Included in those was this photo, showing Chiricahua Apache men, women and children, with mounted men in the back row.

Custer's Last Photograph
One of the most recognizable names in the annals of the Old West, George Armstrong Custer sat for this cabinet card taken by William R. Howell in New York City in April 1876, two months before he was killed with his men at the Battle of the Little Bighorn.
A vain man, the U.S. military leader posed for more than 150 photographs during his lifetime, but this was from his final photo session.

"Buckskin Frank" Leslie?
McCubbin is known for collecting photographs with provenance, but he admits this one does not have a direct tie to the gunfighter to verify it is of "Buckskin Frank" Leslie. He believes it is him based on an authenticated headshot (see right).
Buckskin Frank earned infamy after killing Billy Claiborne, a survivor of the Gunfight Behind the O.K. Corral, in an 1882 gunfight outside the Oriental Saloon in Tombstone, Arizona Territory.

Billy the Kid's Killer
McCubbin's first original historical photograph was of Lincoln County Sheriff Pat Garrett, one of the most famous lawmen of the Old West because he killed the frontier's most famous outlaw, Billy the Kid, on July 14, 1881.
This portrait of Garrett was taken by James N. Furlough of Las Vegas around 1880-81, after the lawman arrested the Kid at Stinking Springs in New Mexico Territory on  December 23, 1880.

Tarantula Dancer
Lola Montez, shown in 1853, the year she arrived in California, became famous for her Tarantula Dance.
She captivated her spellbound audience with her suggestive dance, in which she revealed her petticoats while vigorously shaking her gown to rid herself of supposed spiders hiding in the folds.

Doc Holliday's Graduation Photo
At the age of 20, John Henry Holliday graduated from the Pennsylvania College of Dental Surgery, and this 1872 carte de visite of him taken then, by O.B. Morat, is one of two adult photos of the dentist who would become one of the West's most famous gunfighters, due to his role in Tombstone's Gunfight Behind the O.K. Corral. This photo was passed down through the family from Holliday's favorite cousin, Mattie.

New Mexico Territory Rustlers
These outlaw cowboys are identified only as "New Mexico Rustlers" on this circa 1880 cabinet card. Historians suspect the man standing could be John Kinney, who led a gang of horse thieves and cattle rustlers in New Mexico Territory during the 1870s-80s.

Texas Rangers
The first truly national and state police agency in America, the Texas Rangers date to the days of the Texas Republic, before its entry into the United States.
The Frontier Battalion consisted of six Texas Ranger companies, organized in 1874, and this excellent cabinet card shows Company F, circa 1885.

The First Gunfighter
Arguably the first and greatest gunfighter of the Old West, James Butler "Wild Bill"
 broke on the scene in an 1865 face-to-face duel against Dave Tutt—a gunfight so classic, it has become the prototype for almost every Hollywood gunfight ever filmed.
Hickok is shown with his cross-draw Navy Colt revolvers in this circa 1865 carte de visite by Charles Scholten of Springfield, Missouri.

Elusive Cowboy
The copyright issued for this John C.H. Grabill photograph taken in 1887 identifies this cowboy on horseback as "Fred Pierce, a noted cowboy of Wyoming."
Pierce has proven an elusive character, not found in 1880 or 1890 censuses for Wyoming, in period newspapers or associated with a brand in the Wyoming Territorial brand book.

Longhaired Lawman
While attempting to serve a warrant on horse thief Andy Cooper in Holbrook, Arizona Territory, Apache County Sheriff Commodore Perry Owens got in a shoot-out during which he killed three outlaws—Cooper, along with brothers Samuel Blevins and John Blevins—and wounded a fourth Blevins brother, John.
Less than a year later, in 1888,  Emma Albright photographed the longhaired lawman in Albuquerque, New Mexico Territory.

Bashful Bat
Many folks hard pressed to name a famous Old Westerner would find the name "Wyatt Earp" on their lips, and that may all be thanks to Bat Masterson (left).
A former U.S. Army scout who gained renown as a tough sheriff, Masterson worked with and greatly admired Wyatt. He told President Teddy Roosevelt that only Wyatt could tell the real story of the Old West, which press aide Stuart Lake overheard.
Lake sought out Wyatt and wrote the highly fictionalized 1931 biography that turned Wyatt into a legend.
Some of the first-person accounts as a gunfighter, buffalo hunter and lawman Lake attributed to Wyatt were actually Masterson's own experiences.

Mixed-Blood Frontiersman
The identity of the man in this circa 1850s portrait is unknown. The extremely rare daguerreotype shows the mixed-blood frontiersman, likely Métis, armed with a knife and tomahawk.

Mixed-Blood Mountain Man
One of the earliest photographs taken of a fur trapper, this circa 1850s daguerreotype of James P. Beckwourth appeared in his biography, first published in 1856.
Born in Virginia in 1778 as the son of a slave mother and Irish overseer, he roamed the West from 1824 until his death in 1866.

Rare Buffalo Hunter Photo
Despite the prevalence of buffalo hunts during the Old West era, surprisingly few photographs of buffalo hunters are known to exist.
This circa 1880 cabinet card shows one with his Sharps rifle, taken by Payne & Stockdorf of Leadville, Colorado.

Captured Northfield Robbers
One of the most sensational robberies in the history of the Old West was the attempted bank robbery in Northfield, Minnesota, by the James-Younger Gang.
Typical of photographs taken of captured and dead outlaws, this 1876 carte de visite by Ira E. Sumner would have been sold by the thousands, but is rare today.

Falling for Fallon
Semantha (or Samantha) Fallon owned the San Jose House hotel and a millinery shop in Tombstone, Arizona Territory.
Shown in this circa 1879 cabinet card by C.S. Fly, Fallon was reportedly a girlfriend of Tombstone founder Ed Schieffelin, but ended up tying the knot with Zachary Taylor, on December 14, 1880.

The Apache in the Three-Piece Suit
At the March 1886 talks between Gen. George Crook and Geronimo, photographer C.S. Fly captured for posterity an Apache wearing a natty three-piece suit.
Either C.S. or his wife identified the man as the Apache Kid, a claim backed up by William Sparks, who knew the warrior scout, although historian Granville Stuart claimed, "This is not the Kid."

Texas Desperado is No More
"John Wesley Hardin, the noted Texas desperado, is no more," announced the death notice after Constable John Selman killed Hardin inside the Acme Saloon in El Paso, Texas, in 1895. 

Last Photo of Butch and Sundance
The last-known photograph of Butch Cassidy and the Sundance Kid is this circa 1907 image, in the Bolivian Andes, showing Butch Cassidy astride his mule and the Sundance Kid tending his.

Cattle King
This portrait of cattle king John Simpson Chisum appeared in 1907's The Story of the Outlaw by Emerson Hough.
Engaged in the cattle business since 1854, Chisum would, in 1866-67, form a partnership with Charles Goodnight and Oliver Loving to drive herds of cattle to New Mexico Territory.
His ranch became a sanctuary for Billy the Kid and other Regulators during the Lincoln County War.

Apache Kid
Compare this headshot of the Apache Kid to the alleged photograph of him on the opposite page. Erwin Baer, of Arizona Territory, is attributed as the photographer for this image.

One of the Midnight Men
The Kentucky-born John W. Poe spent his 1870s in Texas, first as a buffalo hunter and then as a lawman.
In 1881, the Canadian River Cattle Association hired the 31 year old as a detective to hunt down Billy the Kid and his gang.
He delivered the goods, accompanying Sheriff Pat Garrett on his final Fort Sumner journey, on the night of July 14, that left the Kid dead.

James Brothers' Tutor
William Clarke Quantrill is known for leading his Quantrill's Raiders on brutal guerrilla attacks against Union troops during the Civil War. The Union got the better of him, killing the leader in May 1865, during one of the last engagements of the Civil War.
His tutelage, however, made a lasting mark on two of his men, Frank and Jesse James, who applied his lessons on the outlaw trail.

New Mexico's Most Famous Lawman?
Pat Garrett may be the name that comes to mind for some folks out there, but ask a Hispanic New Mexican, and the answer is usually "Elfego Baca." He deserves more recognition too.
Garrett's claim to fame was killing an outlaw in a darkened room. Baca's was holding off roughly 80 white cowboys and surviving an estimated 4,000 rounds of gunfire and even some dynamite.
The atrocities in Socorro stopped after he walked away, unscathed, from that 1884 gunfight.

"Hands Up!"
Ezra Allen Miner, better known as Bill, served jail time in the states first for horse theft and later for a stagecoach robbery. After he got out in 1880, the robber renewed his bandit ways and picked up the nickname "Grey Fox."
In 1904,  he pulled off the first successful train robbery in Canada. Popular lore claims Miner coined the command, "Hands up!"

Badman Brooks
A lawman turned bad goes Billy Brooks's story. He worked as a marshal in Newton, Kansas, and then in Dodge City, but left town after some questionable shooting incidents. When he switched gears to drive a stagecoach for Southwestern Stage Co. in 1874, the company lost a mail contract, and Brooks was out of work.
He teamed up with others to steal the rival company's stock so that his company could get back the contract. Brooks got caught, and an angry mob hanged him on July 29.

The Outlaw Who Started the Collection
As a youngster, McCubbin began his photograph collection by purchasing a print of "Black Jack" Ketchum for $50; he later bought this original photograph of the outlaw.
Tom "Black Jack" Ketchum is shown here after he was captured and his right arm amputated, and shortly before he was hanged in 1901 for attempted train robbery.
The citizens of New Mexico Territory were so mad at the daring of train robbers that they made Ketchum pay with his life, marking him as the only person who suffered capital punishment for "felonious assault upon a railway train," a law later deemed unconstitutional.

California Gold Miner
Images from the California Gold Rush are among the most sought-after photos of the Old West. Even studio shots of the miners, like this one, are popular. "You can scarcely form any conception what a dirty business this gold digging is and of the mode of life which a miner is compelled to lead," one prospector wrote home. "We all live more like brutes than humans."
The Fake Mrs. Wyatt Earp
The most famous photograph of Wyatt Earp's wife Josie (above) probably does not depict her. This lady in a see-through silk garment appeared on the cover of Glenn Boyer's 1976 book, I Married Wyatt Earp.
He claimed the image was taken around 1880, but the photogravure appears to date to 1914, the year it was given a copyright under the title "Kaloma."

Crippled Chief of Scouts
Apache Wars authority Dan Thrapp immortalized Al Sieber in his 1964 biography, Al Sieber: Chief of Scouts. The German-born fighter served as chief of scouts for Gen. George Crook during the Apache Wars and ended up crippled after a shooting incident in 1887 involving the Apache Kid.

Not the Chief You Think
"'Mangas,' Chief of Warm Spring Apaches" is a label that has confused some people into thinking this photo is of Mangas Coloradas, who many historians regard as one of the most important American Indian leaders of the 19th century. Yet this photo is actually of his son and namesake, taken by A. Frank Randall, around 1884 -86.
The Smithsonian also owns an albumen print of this, from Gen. Nelson A. Miles's personal collection.

Santa Fe Trail Traders
Opened in 1821 by Missouri trader William Becknell, the storied Santa Fe Trail was the first international pathway connecting the Mexican province of New Mexico with the western frontier of the United States.
The above busy street scene of Santa Fe traders personifies all those countless traders, soldiers, settlers and freight wagon caravans that made their way to Santa Fe. By the early 1880s, though, the advent of the railroad made this well-worn trail obsolete.

Slaughter's Cowboys
Considered the best group photograph of real working cowboys, this circa 1885 cabinet card was taken by Charles S. Baker and Eli Johnston of Douglas, Arizona Territory. The cowboys worked for  "Texas John" Slaughter on the San Bernardino Ranch near Douglas.

Roping on the American Stage
John Burwell Omohundro Jr. was better known as Texas Jack, for his years driving cattle up the Chisholm Trail.
He went on to act in plays with scouts he met during the Indian Wars, "Wild Bill" Hickok and "Buffalo Bill" Cody. He is credited as the first performer to introduce roping acts to the American stage.
In 1877, Texas Jack organized his own show, the Texas Jack Combination. He died of pneumonia, a month shy of turning 34, while visiting Leadville, Colorado.
His old pal, Buffalo Bill, noticed in 1908 that Texas Jack's grave had fallen into disrepair and commissioned a granite grave marker. He made an error in his good deed; he mistakenly listed Texas Jack's age as 39.

Notorious Hispanic Outlaw
Photographed circa 1865, Tiburcio Vasquez is probably the American West's most notorious Hispanic outlaw, given his roughly 20 years of crimes that included stage holdups, robberies and rustling.
A newspaper reporter, George Beers of the San Francisco Chronicle, shot and wounded the outlaw in 1874, and Vasquez hanged from the gallows in San Jose, California, the next year.
Triumvirate in Old West Photographs
Among the most sought-after collectibles of Old West outlaws and lawmen are original photographs, autographs and relics documented as having belonged to them. This cabinet card of Ben Thompson fits all three. Even more exciting, the card is tied to another Old West gunfighter—Thompson inscribed it to his pal, John King Fisher, on the day both of them were killed. Inscribed by one, and with the blood of the other.

The Genuine Cow Boy Captured Alive
Titled "The Genuine Cow Boy Captured Alive," this 1880s cabinet card shows "Cottonwood Charlie" Nebo (at left) with Nicholas Janis, a French-American homesteader in Nebraska Territory and a descendant (or possibly brother) of Joseph Antoine, an interpreter at Fort Laramie in Wyoming Territory.
Nebo drifted into the Texas Panhandle cattle trade at the age of 27, in 1869, and, for 40 years, drove herds of cattle in New Mexico Territory, Dakota Territory and all over the West; he died in Oregon in 1926.

Sharpshooter Celebrity
Pointing his Model 1888 Remington, with another slipped in his waistband, Peter Bogardus was born into a famous sharpshooting family.
Under his father, billed as "Captain Bogardus," he and his brothers Eugene, Edward and Henry performed shooting acts for Buffalo Bill's Wild West.

Savage Scalp Hunter
Forty-Niners or former Texas Rangers found a profitable enterprise in the human scalp industry. Between 1835 and 1885, in Mexico alone, the government paid private armies to provide protection against marauding Apaches and Comanches.
Scalp hunters, like the mercenary shown above, got paid  based on the victim's age and sex: $100 for a warrior's scalp; $50 for a squaw's scalp; and $25 for the scalp of a child under the age of 14.

Bullwhacker Bottom Dweller
This bullwhacker holding his whip in the circa 1850s photograph exemplifies those men—and sometimes women—who kept their freight wagons moving by cracking their bullwhips at their yoked oxen.
Rough, resolute and stubborn, these teamsters bolstered the economy by hauling goods by wagon in the pre-railroad days, yet rated on the lowest rung of the social ladder.

Bowdre's Blood-Stained Photo
This blood-stained 1878 carte de visite of Charles Bowdre with his wife, Manuela, was taken from Bowdre's body when Lincoln County Sheriff Pat Garrett and his posse shot him at Stinking Springs on December 23, 1880; Garrett captured Billy the Kid during this same shoot-out. 

Armed for Death
Accused unfairly of killing a deputy U.S. marshal in 1887, Ned Christie was killed by a posse in 1892. The lawmen tied his body to a door and posed with their Cherokee trophy in another photograph. 

Bounty Hunter in Jail
Tom Horn went down in the pages of history as an Apache Wars scout and packer, a prize-winning steer roper, a Pinkerton operative and a stock detective—or, more accurately, a bounty hunter—during Wyoming's range wars.
He got caught shooting 14-year-old Willie Nickell (he likely mistook the teenager for his father, Kels), and this 1903 print by W.G. Walker shows Horn making horsehair riatas from his jail cell in Cheyenne while awaiting his hanging.
Birth of an Outlaw
Jesse James got his hands bloody in 1864, at the age of 17, when he and his brother Frank joined Confederate rebels in killing any Union soldiers they could fight.
He wouldn't live to see the age of 35. He was betrayed by one of his own gang members, Robert Ford, who shot Jesse in the back of the head inside his own home, on April 3, 1882.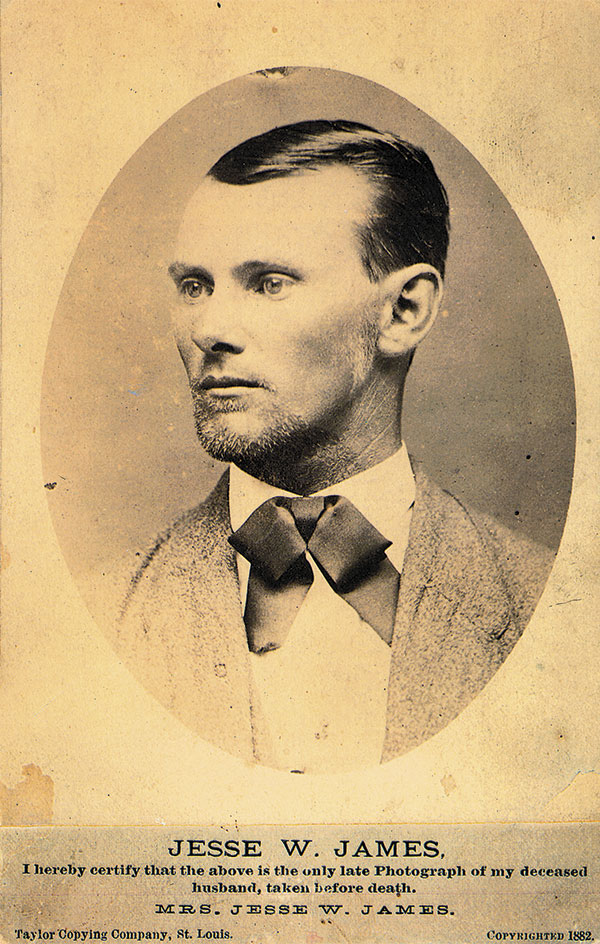 The cabinet card, above, was taken in Nebraska City, Nebraska, circa 1875, and issued by Taylor's Copying Company in St. Louis, Missouri, after Jesse's sensational murder.

The Bandit Queen
Born in 1848, Myra Maebelle Shirley became better known as the outlaw Belle Starr. She consorted with the Younger Gang and married outlaws Jim Reed and Sam Starr.
In this 1886 cabinet card by Roeder Brothers of Fort Smith, Arkansas, Belle sits sidesaddle next to Deputy U.S. Marshal Benjamin Tyner Hughes.
The lawman arrested her at Younger's Bend in May 1886 and was bringing her to  Fort Smith for arraignment on a theft charge. She escaped conviction, but her life as the "bandit queen" abruptly ended when her husband Sam died in a gunfight that December 17.

Calamity Jane in Buckskins
Martha "Calamity Jane" Canary did wear dresses like other frontier women out West. But this 1895 cabinet card by Henry Robinson Locke & Charles F. Peterson, taken in Deadwood, South Dakota, is how most remember her: in buckskins.
She claimed to have scouted for the U.S. Army, but was probably nothing more than a camp follower. She so successfully inserted herself into "Wild Bill" Hickok's narrative that she ended up buried next to the gunfighter.

New Direction for True West
When McCubbin located this never-before-published photograph of "Buffalo Bill" Cody, this prized image became the cover of the January 2000 issue, titled "New Owners and a New Direction for True West!"
Taken in the early 1870s, the photograph was published in that issue with this caption: "Youthful, cocky and clear-eyed, Cody seems to dare the world to give him his best shot."
Mystery Death
Johnny Ringo's death has become a part of Arizona Territory lore. Did the Tombstone gunfighter die by his own hand in 1882, or was he murdered?  Wyatt Earp and "Buckskin Frank" Leslie are among those who claimed to be his assassin.
A copy of the original photograph tipped in a book written by Johnny Ringo's mother, The Journal of Mrs. Mary Ringo, and owned by Mary's grandson, the shown image is far sharper than any other that has surfaced of Johnny; Texas historian Chuck Parsons says, "You can count the whiskers in his moustache."
Outlaw Reality Star
Real-life robber Henry Starr played himself in a re-creation of bank robberies in the 1919 silent film, A Debtor to the Law.
A member of the Starr family of criminals, he was distantly related to Belle Starr's husband Sam. He famously gained a pardon from President Teddy Roosevelt, after he helped disarm Crawford "Cherokee Bill" Goldsby during an attempted prison outbreak, only to return to bank robbery and end up back in jail.
He made the movie the year he got out. Acting did not take hold; he died while robbing a bank in 1921.

Deadwood's Civilizer
Seth Bullock's family owned this photograph of the first sheriff of Deadwood, Dakota Territory. He and Sol Star moved to the gold rush town in 1876 to set up a hardware store. Bullock brought law to the rowdy mining camp after Jack McCall murdered "Wild Bill" Hickok on August 2, the day after Bullock arrived in town.

Doolin's Captor
Famous for his single-handed capture of Bill Doolin in 1895, Bill Tilghman is shown years earlier, when he took part in the bloodless 1883 Dodge City War in Kansas.

Death to the West
Richard "Little Dick" West, who robbed banks with Bill Doolin's gang and bungled up train robberies with Al Jennings's gang, met his end on April 13, 1898, when a posse headed by Deputy U.S. Marshals Bill Tilghman and Heck Thomas shot him dead outside Guthrie, Oklahoma Territory.

Caught in the Crossfire
Born in Texas in 1853, 100 years before our magazine was first published, John King Fisher worked as a cowboy, served time for horse theft and ended up the leader of an outlaw gang aimed at killing Mexican bandits.
On March 11, 1884, while watching a play with his gunfighter friend Ben Thompson, Fisher got caught in the crossfire between Thompson and those feuding with him over his killing of a popular theatre owner in San Antonio. Neither made it out alive.

The Sioux and the Showman
In 1885, William Notman took a series of photographs in his studio in Montreal, Canada, of Sitting Bull and "Buffalo Bill" Cody, including this one. The Sioux leader had agreed to join the Wild West showman for a four-month tour with Buffalo Bill's Wild West.

Free at Last
Kidnapped from his family in Arizona Territory by the Apaches at the age of 12, Felix Telles may not seem the ideal candidate for a good story about the Apache Wars, but he emerged a warrior and joined the U.S. Army's Apache scouts, serving during 1874 and 1878, and earning his nickname, Mickey Free.
He lived out his life as an Apache, on the White Mountain Apache reservation, before dying in 1914. This circa 1888 color studio shot may have been taken by Daniel Francis Mitchell and Erwin Baer of Prescott.