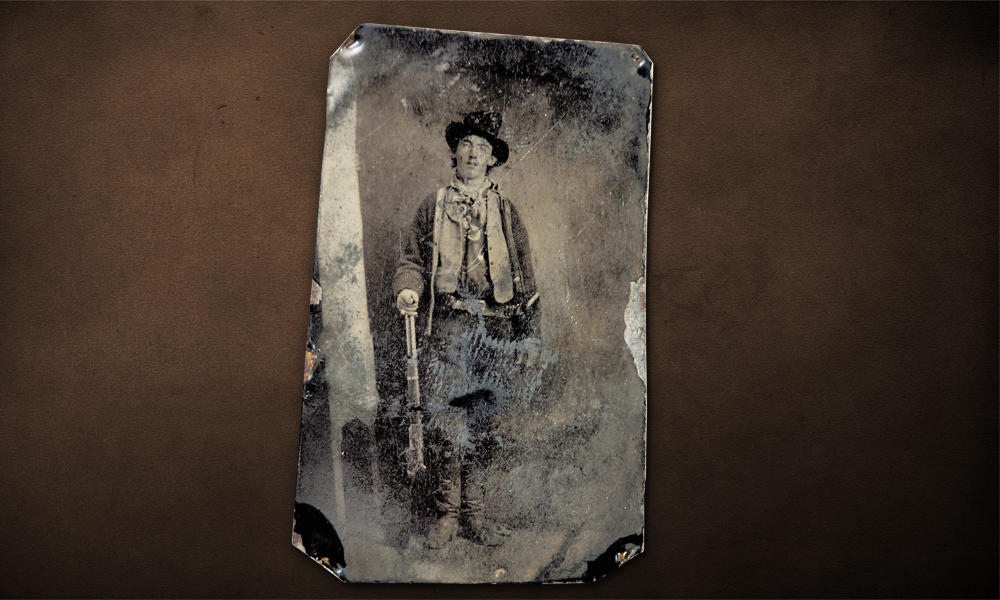 When "Old Hosstail" Joe Austell Small founded True West Magazine 65 years ago, in 1953, he could not foresee that his pictorial publication dedicated to the history of the American West would itself become a collectible. Many, including President Dwight Eisenhower and his gold-bound set, kept their issues to re-read.
This year's True Westerner, and the magazine's publisher emeritus, Robert G. McCubbin first got bit by the collecting bug because he loved to read and wanted to own the books, not return them to the library. His book collection began with the Hardy Boys, and his most prized book is a rare 25-cent novel published in 1889 that put Belle Starr on the map—Belle Starr, the Bandit Queen or the Female Jesse James.
His love of reading led McCubbin to discover True West—he's a charter subscriber—and he became intrigued about all these real-life pioneers he was reading about, particularly those with ties to his native state of Oklahoma. From there, he developed a passion for collecting outlaw and lawman photographs.
"My first original photograph was a cabinet card of Pat Garrett, given to me by his son Jarvis," he says. "It made me aware of what an 'original' photo is and made me want more."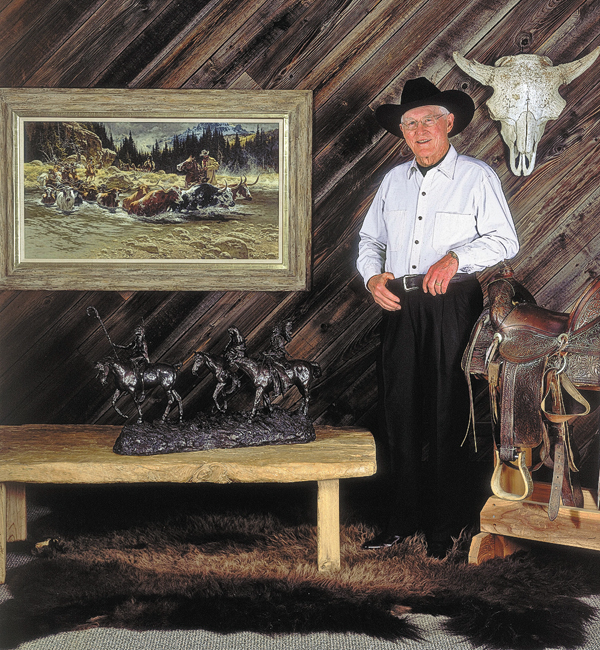 McCubbin's favorite historical photograph is the "Fort Worth Five" photo of the Wild Bunch because it not only features five of the American West's most famous outlaws, it also became a part of history itself when a Pinkerton detective saw the photograph hanging in a Texas photographer's gallery. What luck! Before long, wanted posters featuring mugshots from the photograph circulated the West.
The collectible that got away from McCubbin is the original Billy the Kid tintype, the only known image of the outlaw. Art collector William Koch successfully bid a cool $2 million for the 25-cent tintype at Brian Lebel's Old West Auction in 2011.
Koch says his love of collecting the West began with his father, who made sure his four sons worked summer jobs on the family's cattle ranches. A former feeder trail for cattle herded along the Great Western to Dodge City, Kansas, is where the family's trail starts in the U.S., when their grandfather emigrated from the Netherlands and, in 1890, ended up in Quanah, Texas, where he took charge of the ranch town's weekly newspaper.
Koch added the rare tintype to a Wild West collection that included Gen. George Custer's rifle, Bob Dalton's six-shooter, Frederic Remington's cowboy bronzes and C.M. Russell paintings. Although we know that he owned the top three Russells in private hands as of 2004, we don't know if, the next year, he purchased Piegans, which broke the world auction record for the artist when the 1918 oil hammered down at $5 million at the Coeur d'Alene Art Auction.
Another avid Western art collector built a museum to house his collection! In 1949, Ed Trumble founded a greeting card company, Leanin' Tree, in Boulder, Colorado, and his passion for American West art led to his Leanin' Tree Museum. Now 93 years old, Ed Trumble is letting go of his museum collection, which will be auctioned off by the Scottsdale Art Auction in Arizona this January 19-20, so the next generation can give the artworks loving care in a new home as he has for all these years. "Many of these works will be offered for sale for the first time," auction publicist Janell Grady says.
The hundreds of artworks will include original paintings that became legendary Leanin' Tree greeting cards, as well as scenes of Western life by noted Cowboy Artists of America painters Charlie Dye, Joe Beeler and Melvin Warren, among other nostalgic views and elegant sculptures.
You don't have to live on Billionaire's Row to collect the American West. Those lucky few may grab some of the top prized and rarest collectibles to preserve and make sure they are not lost to history, yet the rest of us can grab valuable items off the auction block too. Just take a cue from one schoolboy who attended an auction at Christie's New York on June 15, 2017, selling from the collection of Eric C. Caren, who has earned this year's honor as the Best Western History Collector. Dressed in his school uniform, this young boy underbid the room and took home rare collectibles that included one tied to explorers Meriwether Lewis and William Clark.
The year 2018 is already shaping up to offer collectors some incredible opportunities to own a piece of history. Along with the Leanin' Tree auction, January will bring an auction known to many in the past as "High Noon" that is now part of Brian Lebel's Old West Auction house. On January 20, the auction block in Mesa, Arizona, will highlight a beaded hide outfit owned by Geronimo's treasured nephew and chosen successor, Asa Daklugie.
Even in Geronimo's day, folks recognized the value of his signature and mementos. Because of these early-day collectors and others who saved pioneer relics, out of respect and appreciation for the history they conveyed, we all get the chance to experience and own a remnant of the Wild West.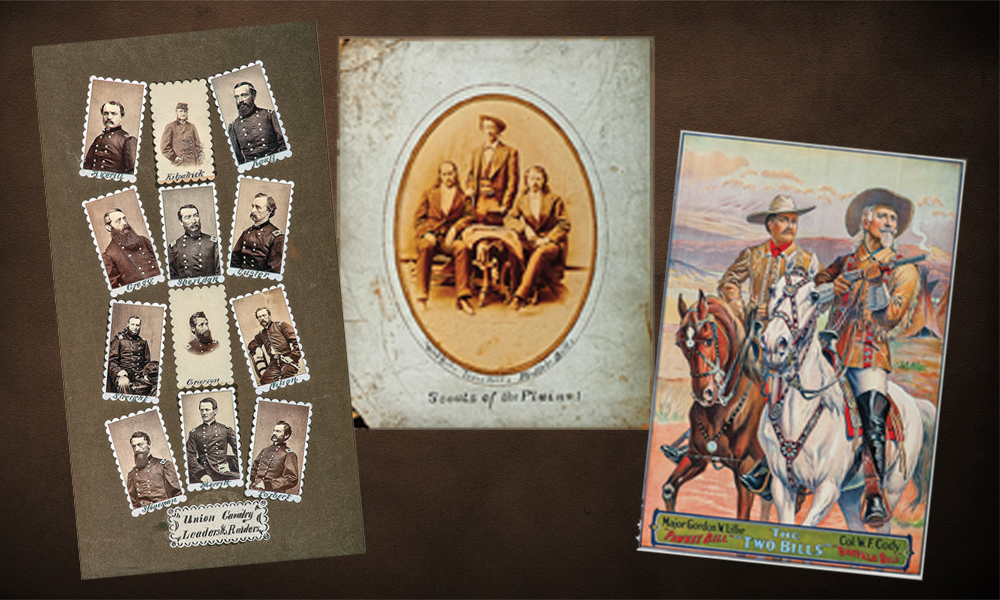 Best Old West Collectibles Auction
Cowan's Auctions, Cincinnati, OH
In this highly competitive category, Wes Cowan's auction house took the lead in 2017, showcasing some pretty impressive offerings. The historical photographs appeals to lovers of Old West history, and last year saw a shocking sale of photographs when a Wounded Knee photograph album hammered down at $22,000.
Cowan's particularly shined last year by highlighting two incredible American history collections: antique firearms expert Norman Flayderman's American history collectibles and Eric C. Caren's Paper Americana. 
The year also saw the debut of its first prehistoric art auction. Cowan's continued commitment to American history shines particularly in its selection of Old West collectibles.
Readers' Choice:
Heritage Auctions, Dallas, TX
Best Old West Art Auction
Christie's, New York City, NY
Christie's is world renown for offering incredible Old West artworks in its American art auctions.
Its prestige among collectors hit a new high in 2017, when four charging gunslingers on horseback galloped off with a new worldwide auction record for artist Frederic Remington.
Coming Through the Rye, a bronze cherished by U.S. Presidents, sold for a $9.8 million bid and is one of eight cast before Remington destroyed his model.
Readers' Choice:
Scottsdale Art Auction, Scottsdale, AZ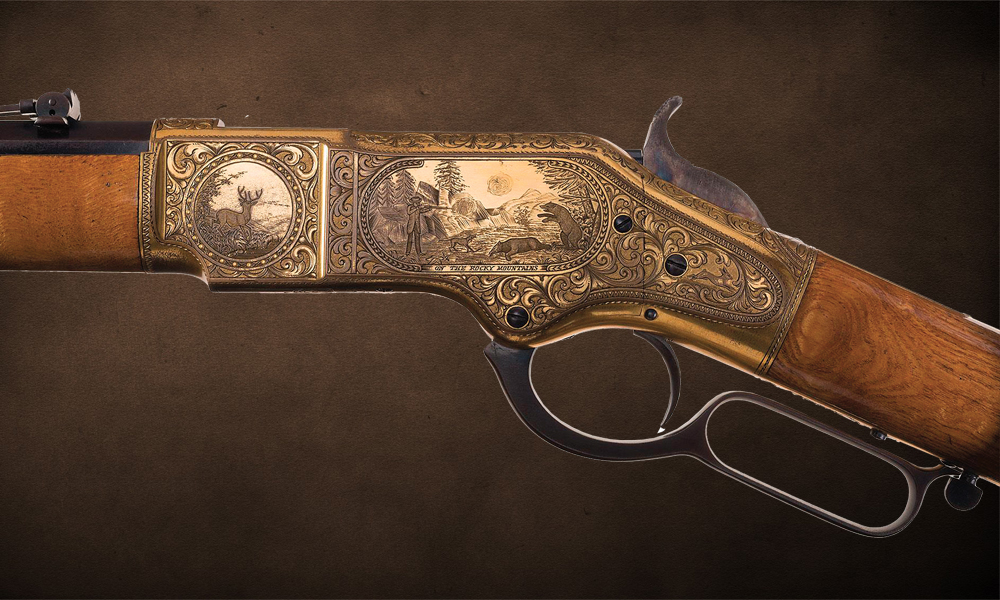 Best Old West Firearms Auction
Rock Island Auction, Rock Island, IL
The firearms world knows collector Robert M. Lee. The conservationist famously headed a 1980 scientific expedition into China that resulted in the "rediscovery" of the Marco Polo sheep, but firearms aficionados know him for his fine collection of antique firearms, featured prominently at the Metropolitan Museum of Art, and for coauthoring, with R.L. Wilson, the five-book series The Art of the Gun, along with Magnificent Colts.
Since the 88 year old's death on January 28, 2016, collectors could find his weapons on the auction block, and on May 6, 2017, Rock Island Auction made one of its top firearms auction sales to date.
A Model 1866 deluxe Winchester lever action rifle, serial number 79862, which the auction house reported as the "only known factory-engraved panel scene piece by [John] Ulrich that is placed with a figured maple stock," hammered down at $520,000. Dubbed as "On the Rocky Mountains" for its engraved bear hunting and mule deer scenes, the rifle is a treasure in the firearms collecting arena. 
Readers' Choice:
(Tie) James D. Julia, Fairfield, ME, and Brian Lebel's Old West Auction, Mesa, AZ
Best Western Art Collection
Sid Richardson Museum, Fort Worth, TX
Born in Athens, Texas, in 1891, collector Sid Richardson preferred action-oriented Western art, such as Charles M. Russell's 1917 oil, Buffalo Bill's Duel with Yellowhand.
When the lifelong bachelor died in 1959, he left behind a foundation that continued his philanthropic efforts.
The Fort Worth museum opened in Sundance Square in 1982, and the free art museum offers everyone the chance to view incredible Western art that include works by Oscar E. Berninghaus, Frank Tenney Johnson and Charles Schreyvogel.
Readers' Choice:
(Tie) Panhandle-Plains Historical Museum, Canyon, TX, and Stark Museum of Art, Orange, TX
Best American Indian Collection
Plains Indian Museum, Cody, WY
If you had to pick one month to visit the  Plains Indian Museum at the Buffalo Bill Center of the West, June is the best time. Every June, the museum  hosts dancers, drum groups and artists from Northern Plains tribes in a powwow celebrating cultural traditions and histories.
The museum's newest offering, though, can be enjoyed online. Generous funding from the Brown Foundation of Houston, Texas, added an interactive Plains Indian Map to the museum. The map shows more than 45 Indian cultures and their movements across the Plains over 230 years.
Readers' Choice:
Heard Museum, Phoenix, AZ
Best Pioneer History Collection
Panhandle-Plains Historical Museum, Canyon, TX
This Texas museum highlights artifacts tied to all the varied pioneers who occupied and built the frontier West. A top prize in its collection is a shield likely acquired by a Comanche from a Spanish soldier at the battle of Yellow House Canyon near Lubbock.
The Comanche covered the original Spanish decorations with a piece of bison hide, marking this shield as the oldest known Comanche-Spanish hybrid artifact.
In 2017, the museum utilized its collection of weapons, uniforms and photographs to tell the stories of various soldiers from the Panhandle-Plains region who served in WWI.
Visitors also experienced the pioneer era in the museum's rebuilt Pioneer Town; the museum demolished the original one built in 1969 and built a new town that allows for interactive activities that include tapping out a telegraph message at the depot.
Readers' Choice:
Sharlot Hall Museum, Prescott, AZ
Best Western Collectibles Gallery
Cowboy Legacy Gallery, Scottsdale, AZ
After touring the collectibles highlighted at Western Spirit: Scottsdale's Museum of the West, you may want to head around the corner to feast your eyes on artifacts of the 1840s through the 1940s that you could bring home with you.
Bill Welch has lent his expertise on Old West history to shoppers ever since he opened the store in 1966. Step back in time to view the shop's high-end saddles, bits, spurs, chaps and cowboy art.     
Readers' Choice:
R.C. Gorman Navajo Gallery, Santa Fe, NM
Best Treasure Hunting Device
AT Max Metal Detector by Garrett Metal Detectors, Garland, TX
The professional Old West treasure hunter now has a device that utilizes wireless technology to enhance detection depth.
You can cut the cord with Garrett's wireless, all-terrain AT Max metal detector that is six times faster than Bluetooth speed and guarantees zero interference from other wireless devices.
This innovative seeker of treasure honors founder Dr. Charles L. Garrett, who grew his 1964 garage business into the worldwide leader in metal detection technology.
Readers' Choice:
TreasureMaster by White's Electronics, Sweet Home, OR
Best Western Painter
C.M. Russell (1864-1926)
Known as the master cowboy artist, C.M. Russell painted his greatest masterpieces in a rustic log cabin studio that the C.M. Russell Museum in Great Falls, Montana, extensively restored and reopened in 2017, with a gallery addition.
On the eve of that reopening, biographer John Taliaferro told KRTV in Montana: "Charlie Russell was the master; he was the father of Western art. Every Western artist who's come since has paid homage to him, so this is a holy site we're in. And so what Great Falls has, no other place in the country has."
The art and life of Russell was also celebrated in 2017 at the Gilcrease Museum in Tulsa, Oklahoma, with talks that ranged from discussing the artist's life in California (by Byron Price, director of the C.M. Russell Center for the Study of Art of the American West at the University of Oklahoma) and Charlie's wife, Nancy, who memorialized her husband by working to conserve the C.M. Russell house and studio that first opened to the public in 1930—the first museum dedicated to Western art in the United States (by Michael Duchemin, executive director at Briscoe Western Art Museum in San Antonio, Texas).
Readers' Choice:
A.R. Mitchell (1889-1977)
Best Western Painter (Living)
Glenna Goodacre
After nearly 50 years of sculpting, Glenna Goodacre retired, which ushered in the auction of her personal collection in 2017—Arizona's Scottsdale Art Auction broke the artist record, when the top bid, $350,000, went to her six-foot-tall bronze Puddle Jumpers. The second-highest bid, $95,000, went to a bronze celebrating an iconic Western woman for which Goodacre is most known among collectors: Sacagawea and Jean Baptiste.
The artist created the sculpture in 2001, after the U.S. Mint accepted her coin relief pattern for the $1 golden coin featuring Lewis and Clark Expedition guide Sacagawea carrying her infant son Jean Baptiste on her back.
The artist retired with a bang at the auction, selling her art for nearly $1.15 million. Her accomplishments are beautifully expressed in her own words, in a book edited by Daniel R. Anthony, Glenna Goodacre: Sculpture.
Readers' Choice:
(Tie) Sherry Blanchard Stuart, Scottsdale, AZ, and Andy Thomas, Carthage, MO
Best Western Art Gallery
Whitney Western Art Museum,
Cody, WY
As part of the Buffalo Bill Center of the West's 100th anniversary celebration in 2017, the Whitney Western Art Museum showcased an impressive gallery of 19th-century masters, including a symposium on Western American sculpture in June.
Even more, guests viewed glimpses of the creative process through studio collections of personal objects owned by Frederic Remington, Alexander Phimister Proctor and Joseph Henry Sharp.
Folks in London are going to get a chance to view the gallery's most treasured works, thanks to ZCZ Films, which visited in 2017 to film for a three-part series that will share wide-ranging achievements of American art.
The crew's main focus was Remington's iconic Coming Through the Rye sculpture, the same gravity-defying work that brought Christie's auction house a Best of the West honor this year, but a different cast gifted by Barbara S. Leggett.
Readers' Choice:
C.M. Russell Museum, Great Falls, MT
Best Western Museum
Buffalo Bill Center of the West, Cody, WY
The Buffalo Bill Memorial Association formed a century ago, on the eve of the death of Wild West showman William F. "Buffalo Bill" Cody.
The group's educational mission grew into a complex of five museums and a research library dedicated to sharing the culture and history of the American West.
The center celebrated its 100th anniversary in 2017 by sharing images and tidbits about all the folks who turned the center into the incredible anchor of Western history it has become today.
Readers' Choice:
Western Spirit: Scottsdale's Museum of the West, Scottsdale, AZ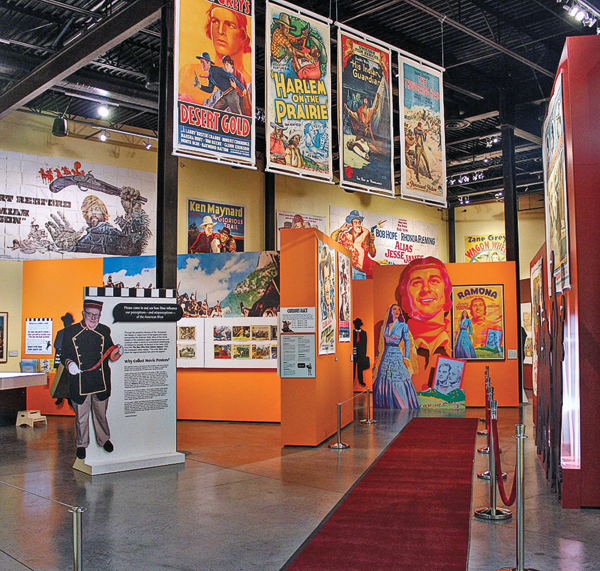 Best Western Art Collector
Rennard Strickland
The Osage and Cherokee expert on American Indian law Rennard Strickland sold his collection of Western film images and illustrations to ASU and Western Spirit: Scottsdale's Museum of the West in November 2016, and, ever since, his collection has revealed particular insights into this popular genre of American film.
Dating from the early 1900s, the posters, lobby cards, film stills, press books and movies help dispel stereotypes and misconceptions of Indians. Largely forgotten and nearly wiped out, Indians found a resurgence in the advent of Westerns. Part of the American narrative again, Indians were first sidekicks and then started to become main characters during the 1960s and 1970s.
Scholars and researchers were granted access to the collection starting in 2017. Western film historian Charlie LeSueur says Rennard's 5,000-piece collection "outshines any film poster collection out there," including those held at the Autry Museum of the American West and the Academy of Motion Picture Arts and Sciences.
Exhibit closes September 30, 2018: ScottsdaleMuseumWest.org
Best Western History Collector
Eric C. Caren
Eric C. Caren began collecting when he was five—the typical schoolboy favorites of baseball cards, stamps and coins. A fan of baseball sports hero Babe Ruth, 11-year-old Caren rescued a 1913 newspaper featuring the future New York Yankees outfielder. His first purchase was an 18th-century newspaper, bought for $4.95, and the collecting began: photographs, manuscripts, newspapers, letters, diaries.
His goal is to collect paper ephemera that relates to major events in American and world history. Acknowledged as one of the largest private collections of Paper Americana in the United States, his documents revealing how history unfolds on paper showed up in 2017 at Christie's and Cowan's auctions. Notable lots included two tied to George Custer: an on-the-spot account of the discovery of his body after the Battle of the  Little Big Horn (Christie's) and a Mathew Brady maquette that included Custer among a group of Union Cavalry leaders and raiders (Cowan's).
Caren has been selling off a portion of his collectibles because he wants to invest in new material. He carefully chose the auction items by making sure he still kept something for every major event in history. Caren's endless collection is a true tribute of love for American history.