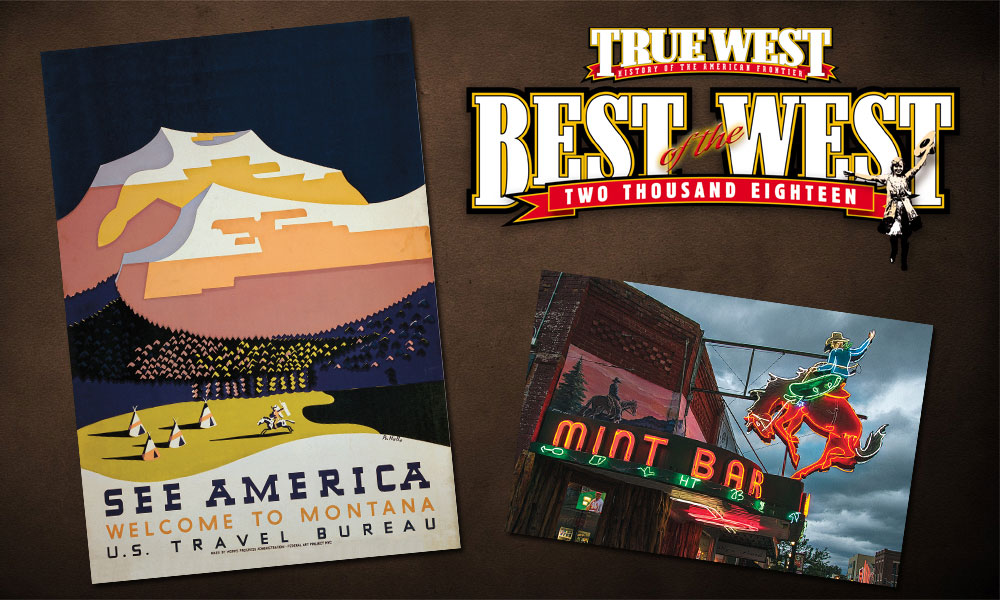 Driving across the endless grasslands and cultivated fields of the prairie and plains of Iowa, Nebraska, Kansas and Colorado to the Rocky Mountains, a traveler can let his or her imagination wander and wonder about the days gone by, when the Great Plains were home to millions of bison. Driving between Oakley, Kansas, and Colorado Springs, Colorado, on U.S. Highway 40 and Colorado State Route 94, one can imagine great nomadic Comanche, Cheyenne and Kiowa people trailing the herds with the seasons. With Pike's Peak looming high above the peaks of the now-visible Rockies, the highway climbs up through the foothills into the mountains where byways, back roads and trails lead deep into the legendary, historic range. Without a doubt, adventure awaits those willing to take the road less traveled across the West.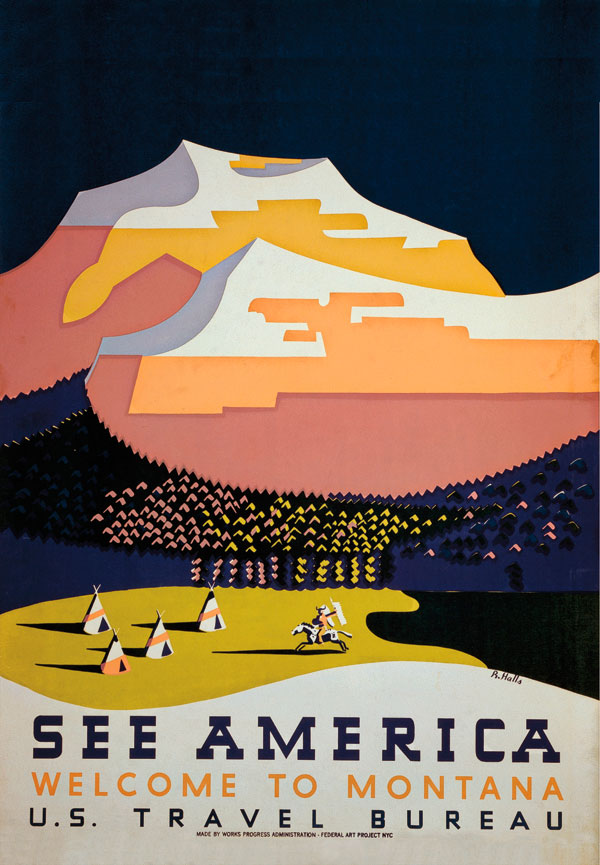 Since 1953, True West has honored the men and women in communities, large and small, across the Western United States who have dedicated themselves to preserving history and promoting travel to experience the West firsthand. In honor of our 65th anniversary, the editors of True West encourage readers to patronize our Best of the West travel partners and head out West. Take a drive down a blue highway into the heartland of small-town America. Park on Main Street, stroll along a town's historic avenues, visit its museums, explore nearby parks and monuments, dine at its local restaurants and spend the night in a historic hotel.
Best Place to Live Like an Old West Cowboy (Winter)
Fort Worth, TX
With over 232 days of sunshine and mild temperatures most of the winter months, Fort Worth is a great city for cowboys and cowgirls to hang their hats December to March.
A visit or an extended stay to Fort Worth should include tours of the Amon Carter and Sid Richardson museums and the famous Fort Worth Stockyards, as well as a few nights at the world-famous Fort Worth Stock Show and Rodeo, January 12 to February 3, 2018.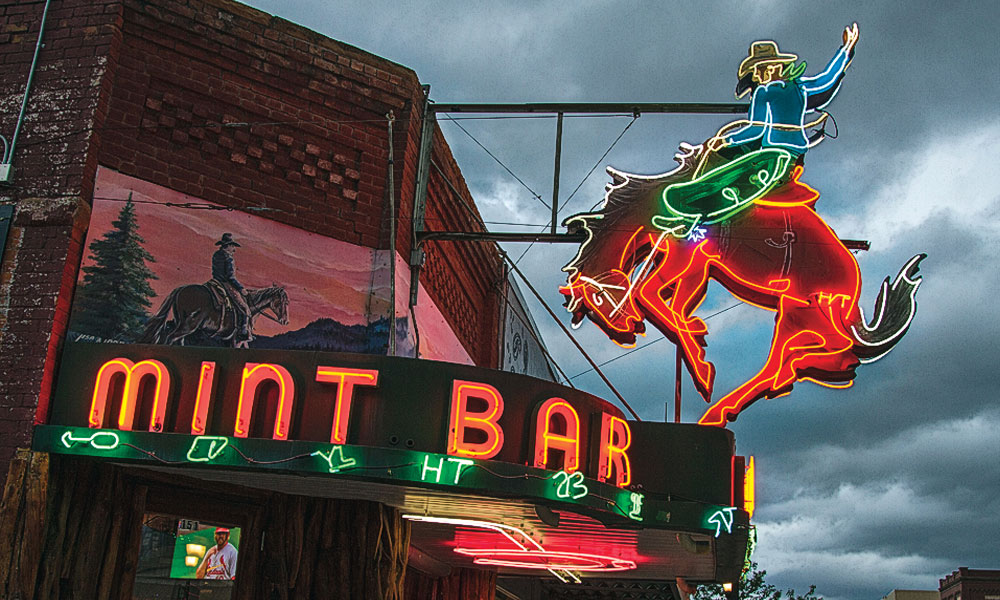 Readers' Choice:
Prescott, AZ
Best Place to Live Like an Old West Cowboy (Summer)
Sheridan, WY
In 1882 John D. Loucks founded Sheridan, which he named in honor of his commanding officer in the Civil War. The gateway city to the Big Horn Mountains and Little Big Horn country of Montana, Sheridan became an economic center for the bi-state region after the railroad arrived in 1892.
Today, visitors can stay at the fully restored Sheridan Inn, stroll historic downtown and tour the Brinton, Sheridan County and Bozeman Trail museums.
Readers' Choice:
Deadwood, SD
Best Old West Gunfighter Town
Tombstone, AZ
Discover legendary Tombstone, known internationally for its stormy and storied past, where walking the streets of Wyatt Earp and "Doc" Holliday and the infamous Gunfight Near the OK Corral is a unique step back into the Old West—a true encounter with history in "The Town Too Tough to Die."
Readers' Choice:
Dodge City, KS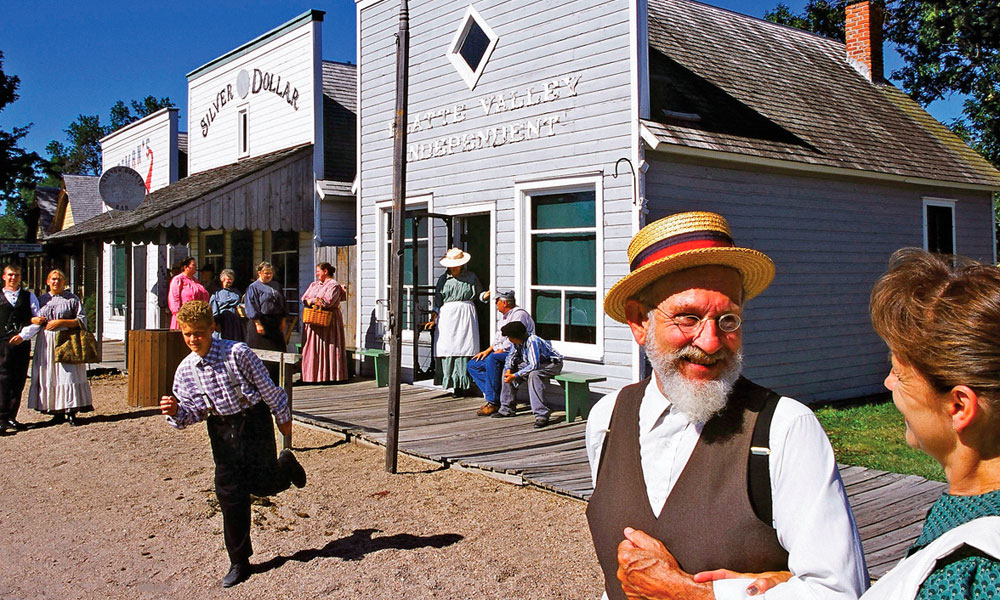 Best Preserved Pioneer Town Re-Created
Stuhr Museum of the Prairie Pioneer
Grand Island, NE
A hands-on living history experience tells the story of early town-building in Nebraska. For forty-plus years, the world-class educational center and outdoor living history museum, called a "crossroads in time," has given visitors an authentic glimpse of early prairie town life, while preserving and portraying the pioneers' inspiring stories.
Readers' Choice:
Old Tucson, Tucson, AZ
Best Old West Art Town
Scottsdale, AZ
A mecca of the testosterone-driven Western artwork that Santa Fe has abandoned, Old Town Scottsdale boasts galleries and a Museum of the West, returning to its roots as the place to see the best in Western art, bar none. And visit Guidon Books for the best books on Western art.
Readers' Choice:
Cody, WY
Best Town for Historic Entertainment
Bandera, TX
Ready to escape big-city Texas and rediscover the best of small-town life the cowboy way in the Lone Star State? Then pack your bags for Bandera and get ready for a good time.
Book a room at one of the local guest ranches, like the historic Flying L, enjoy a home-cooked meal at The Spanish Trail diner, tour the Frontier Times Museum and shop 'til you drop in Bandera's historic downtown, including the renowned Western Trail Antiques & Marketplace.
After the sun goes down in Bandera, visitors can enjoy themselves at numerous restaurants and venues with live country music and dancing. The 12th Annual 11th Street Cowboy Mardi Gras, February 1-3, 2018, is an event not to miss.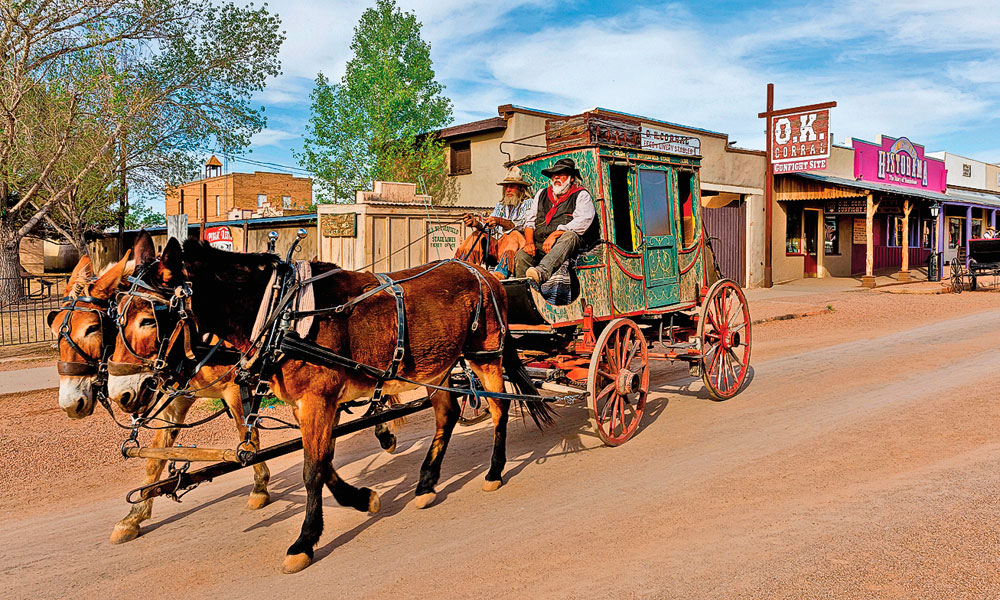 Readers' Choice:
Tombstone, AZ
Best Architecturally Preserved Western Town
Dubois, WY
Historic Dubois in the Wind River Valley might be a gateway city to Yellowstone, the Tetons and Jackson Hole, but locals will tell you that it is a destination city for anyone seeking a weekend away or an extended retreat from big-city life.
Butch Cassidy once ranched in the area, and legend has it he visited the town regularly and shopped at the historic Welty's General Store, built in downtown in 1899.
Visitors to Dubois will enjoy walking, shopping, dining and touring the city's center, much of which was built over a century ago, including the Dubois Museum, Cowboy Café, Tukadeka Traders and Horse Creek Station, Rustic Pine Tavern and Outlaw Saloon.
Readers' Choice:
Virginia City, MT
Best Historic Town Tour
Trail of Fame, Dodge City, KS
Sidewalk medallions and statues along Dodge City's Trail of Fame commemorate the city's famous and infamous denizens— and the actors who have portrayed them. Some celebrities have signed and left handprints in the concrete near their medallions. Pick up a map for the free walking tour at the information center.
Readers' Choice:
Legends of Laramie, Laramie, WY
Best Promotion of a Historic Place
Dodge City, KS
Visitors to Dodge City, Kansas, will quickly discover that the infamous frontier outpost is one of best in the West for Old West aficionados. From the Boot Hill Museum to the Dodge City Trail of Fame, tourists will love walking and exploring the historic town while staying at the Boot Hill Casino and Resort.
Readers' Choice:
Sheridan, WY
Best Old West Town to Live In
Tombstone, AZ
Tombstone is in Cochise County in southeastern Arizona within driving distance of multiple historic towns and sites, including Benson, Bisbee, Douglas, Sierra Vista and Wilcox.
"The town too tough to die," with its historically significant downtown, restaurants, saloons, shops, museums, hotels and annual Old West festivals, is the ideal Western town to live in if you want to live and breathe Western history 365 days of the year.
Readers' Choice:
Prescott, AZ
Best Historic Cemetery of the West
Boot Hill Cemetery, Dodge City, KS
Boot Hill Cemetery has not been an actual cemetery since 1879 (the hill had become too valuable as real estate to bury paupers). In 1947 the Dodge City Junior Rotary started a simple museum on the site and today it is home to the People of the Plains exhibit building and the award-winning Boot Hill Museum.
Visitors can walk through an area of re-created headstones and markers that tell about the men and women buried in the old graveyard.
Readers' Choice:
Concordia Cemetery, El Paso, TX
Best Preserved Historic Fort of the West
Bent's Old Fort, La Junta, CO
Bents' Old Fort National Historic Site on the Santa Fe Trail was originally built as a fur-trading post in 1833-34 by brothers Charles and William Bent with Ceran St. Vrain.
Today, the reconstructed fort draws visitors to enjoy living history activities and to hear National Park staffers and re-enactors tell its 150-year-old stories.
Readers' Choice:
Fort Laramie National Historic Site
Fort Laramie, WY
Best Historic Railroad of the West
Georgetown Loop Railroad
Georgetown, CO
Built in 1884, Colorado's Georgetown Loop Railroad is one of the engineering wonders of the Rocky Mountain state's historic narrow gauge rail lines.
Passengers will enjoy the thrill of riding on historic rolling stock pulled by a steam-driven locomotive across the new High Bridge.
Readers' Choice:
Tie: Cumbres & Toltec,
Chama, NM/Antonito, CO
Durango & Silverton Railroad
Durango/Silverton, CO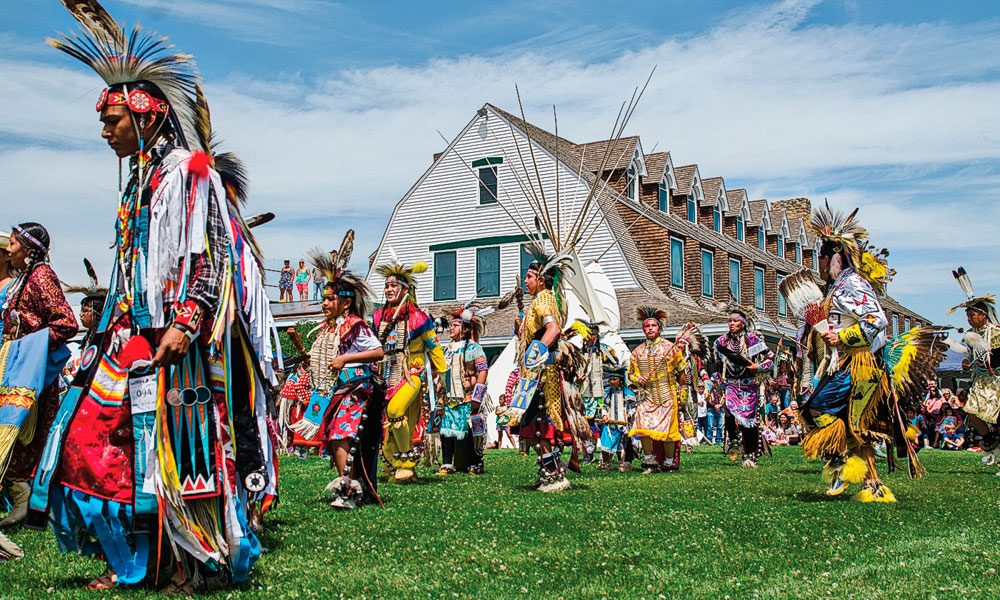 Best Preservation of a Historic Western Building
Sheridan Inn, Sheridan, WY
The end of the Johnson County War opened the door to expansion of tourism in Wyoming, including the opening of the Sheridan Inn in 1893.
A gathering place for travelers for decades, the inn was completely restored and reopened in 2013.
The Sheridan Inn is the perfect headquarters for exploring the Big Horn region of Wyoming and Montana, with 22 fully restored rooms and the renowned Open Range Restaurant on site.
Readers' Choice:
Strater Hotel, Durango, CO
Best Preserved Historic Trail
Oregon Trail, MO, KS, NE, WY, ID, OR, WA
The National Park Service, in conjunction with regional, state, local and volunteer organizations—including several museums—assists and collaborates in the maintenance of the Oregon National Historic Trail system in Missouri, Kansas, Nebraska, Wyoming, Idaho, Washington and Oregon.
In 2018, the 175th anniversary of the 2,170-plus-mile emigrant route through seven states will be honored in exhibits and events at museums and sites along the historic wagon road.
For details about events, check with local chambers, visitor centers, museums and the national park website.
Readers' Choice:
Chisholm Trail, TX, OK, KS
Best Preservation Effort of the West
Charles Goodnight House, Claude, TX
The 1887 Victorian-style Charles Goodnight House at the Charles Goodnight Historical Center, has recently been restored on its original site.
From the cattle baron's 268-foot second-floor sleeping porch, visitors can enjoy views of the countryside and the famous Goodnight bison herd, which is descended from the herd raised by Charles and Mary Ann Goodnight.
While on tour, don't miss the J. Evetts Haley Visitor and Education Center and its exhibits that offer interpretations of regional history.
Readers' Choice:
Mahaffie Stagecoach Stop & Farm Historic Site, Olathe, KS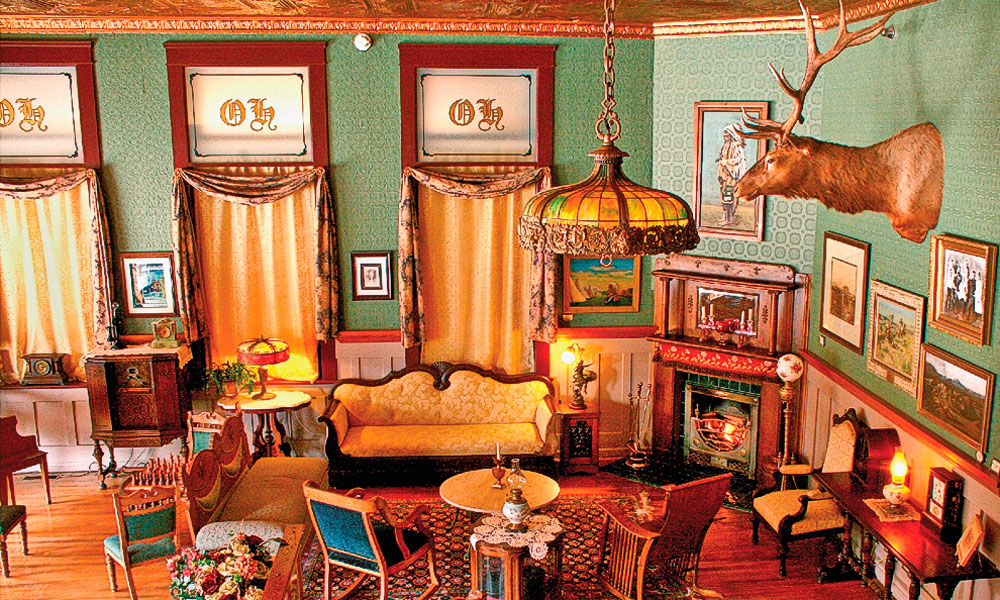 Best "Who Slept Here" Hotel
Occidental Hotel, Buffalo, WY
Visitors to Buffalo, Wyoming, should consider spending the night and dining at the Occidental Hotel, where Owen Wister may have written part of his famous novel, The Virginian.
Famous former guests of the historic hotel include Butch Cassidy, the Sundance Kid, Theodore Roosevelt, Calamity Jane, Tom Horn, Buffalo Bill Cody and Ernest Hemingway.
While in town, visit the Jim Gatchell Memorial Museum's exhibits that chronicle local history, including the Johnson County War.
Just outside town is the TA Ranch, a historic guest ranch that was the site of a major conflict during the cattle war.
Don't miss Longmire Days every July in celebration of writer Craig Johnson's Walt Longmire mystery novels and television series set in Big Horn Country.
Readers' Choice:
Glenwood Springs, CO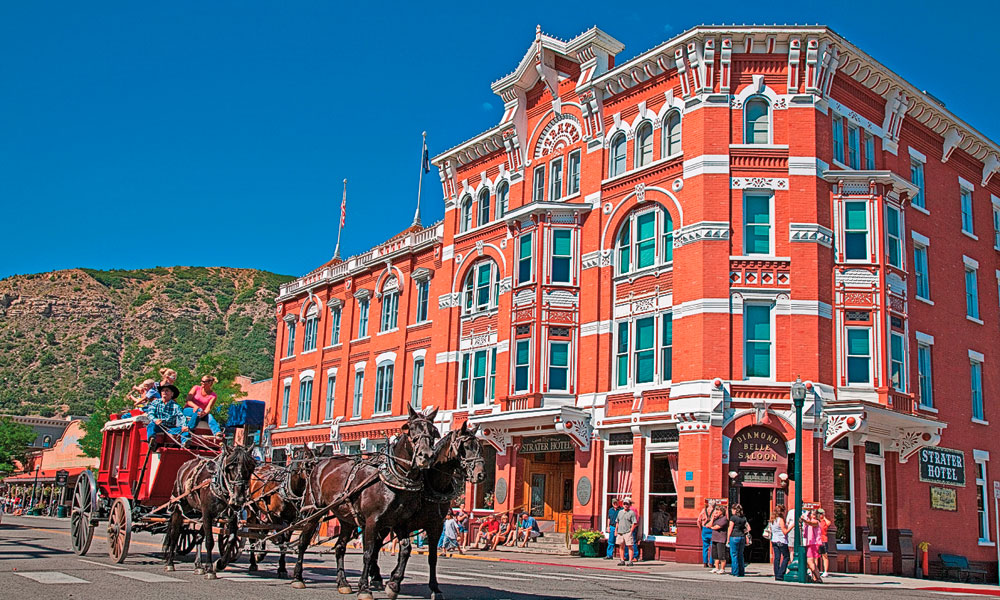 Best Heritage Hotel
Strater Hotel, Durango, CO
Located in the heart of the San Juan Mountains on the banks of the Animas River in southwestern Colorado, Durango is home to the Historic Strater Hotel, a Victorian-era inn built in 1887 in the downtown district.
The fully restored hotel is located within walking distance of the world-famous Durango-Silverton Narrow Gauge Railroad, which takes passengers on a breathtaking round-trip ride into history on the narrow-gauge railroad to Silverton and back.
When staying at the Strater Hotel, don't miss dining at the Mahogany Grill, enjoying libations at the hotel's two saloons and taking in a show at the world-famous Henry Strater Theatre.
Readers' Choice:
The Sheridan Inn, Sheridan, WY
Best Heritage Bed & Breakfast
A Cowboy's Dream Bed & Breakfast
Alamo, NV
"Enter as strangers, leave as friends" is the motto of A Cowboy's Dream Bed & Breakfast, in Alamo, Nevada.
Built and founded by Phyllis Frias in honor of her late-husband, Charles Frias, the bed and breakfast is no ordinary B&B, but a unique luxury destination with eight custom suites built in the spirit of the Old West.
Readers' Choice:
Concho Hills Guest Ranch, Magdelena, NM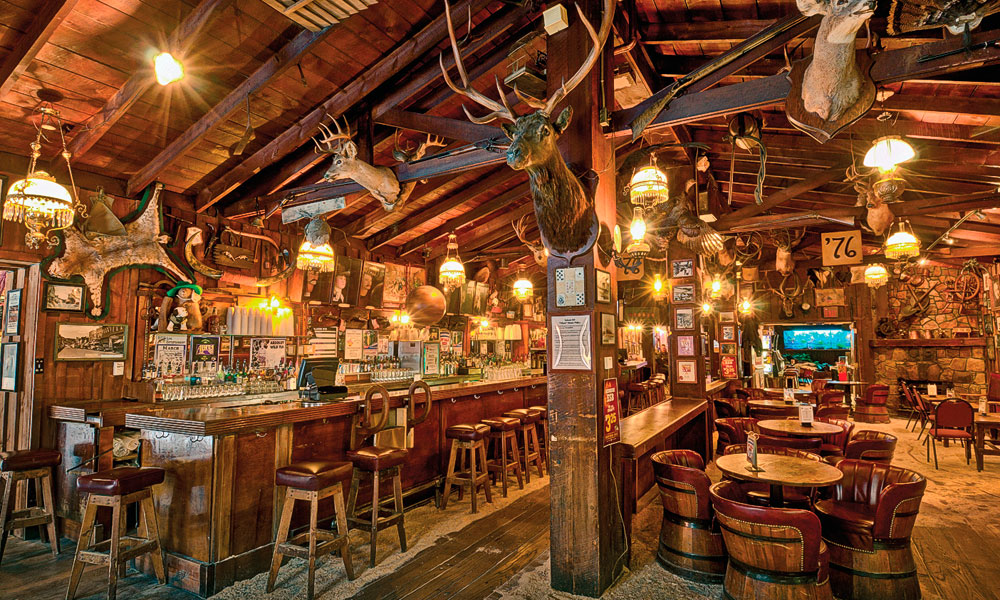 Best Historic Saloon of the West
Old Style Saloon #10, Deadwood, SD
Dedicated to preserving and promoting the legendary early years of Deadwood, the Saloon #10 at 657 Main Street is named after the original Nuttal & Mann's saloon where Wild Bill Hickok was shot and killed on August 2, 1876.
The No. 10 may be known as "the only museum in the world with a bar," but it also has the Deadwood Social Club on the second floor, an Italian-style steak restaurant.
Readers' Choice:
Big Nose Kate's, Tombstone, AZ
Best Historic Restaurant
The Palace Restaurant and Saloon Prescott, AZ
The legendary Palace Saloon history goes back to the 1870s and Prescott's earliest years as the Territorial capital of Arizona.
Located at 120 S. Montezuma, the world-renowned drinking and dancing (and one-time gambling) establishment was restored to its 1901 glory and converted into a family-style restaurant in 1996. It is a favorite gathering place for drinks and dinner throughout the year, but especially during the World's Oldest Rodeo Frontier Days every June and July.
A mural depicting the Steve McQueen film Junior Bonner, which was filmed in the Palace during the rodeo in 1971, graces the dining room's back wall.
Readers' Choice:
The Buckhorn Exchange, Denver, CO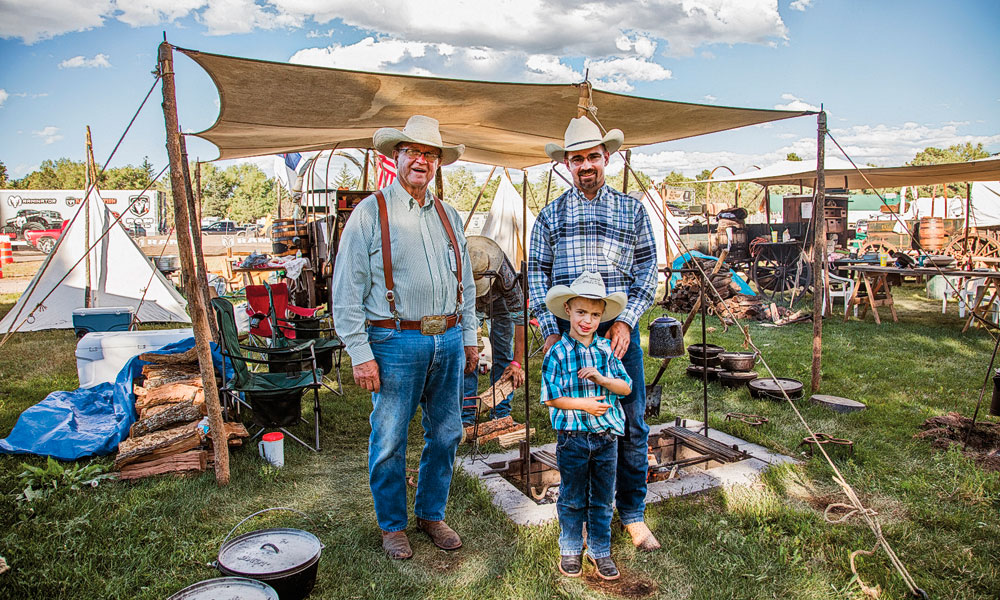 Best Chuckwagon Cook-Off
Cheyenne Frontier Days, Cheyenne, WY
A highlight of the world-famous annual Cheyenne Frontier Days—two weeks of events held every July—in Cheyenne, Wyoming, the Chuckwagon Cook Off celebrates the heritage of chuckwagon cooking on the open range and cattle drives that brought cattle from Texas to Wyoming.
The chuckwagon cooks hold demonstrations and tastings for four days leading up to the championship event.
Readers' Choice:
Chandler Chuck Wagon Cook-Off
Chandler, AZ
Best Chuckwagon Show & Supper
National Cowboy Symposium & Celebration, Lubbock, TX
The cowboy fun celebrating our Western heritage includes entertainment, poetry and storytelling, Western writers and authors, panels, film and movie seminars, a Youth Wild West Day, horse-handling demonstrations, a horse-themed parade, Native American Indian activities and presentations, the ever-popular Chuck Wagon Cookoff, and exhibits of Western artworks and merchandise.
Readers' Choice:
Big Horn Heritage Days, Sheridan, WY
Best Heritage Guest Ranch
Rancho de la Osa, Sasabe, AZ
Three centuries of history await discovery at Rancho de la Osa, a high-desert retreat just north of the Sonora, Mexico, border.
Located on a Spanish land grant, the guest ranch has on its site, according to ranch records, "the oldest continually used building that was built at the Indian village around 1720 by Jesuit missionaries who had traveled with Father Kino (Kino died in 1711)."
The ranch retreat has been popular with dignitaries, celebrities and politicians since noted archaeologist Louise Wetherill opened it in 1926. All-inclusive dude ranch packages include lodging, dining and horseback riding.
Readers' Choice:
Concho Hills Guest Ranch
Magdalena, NM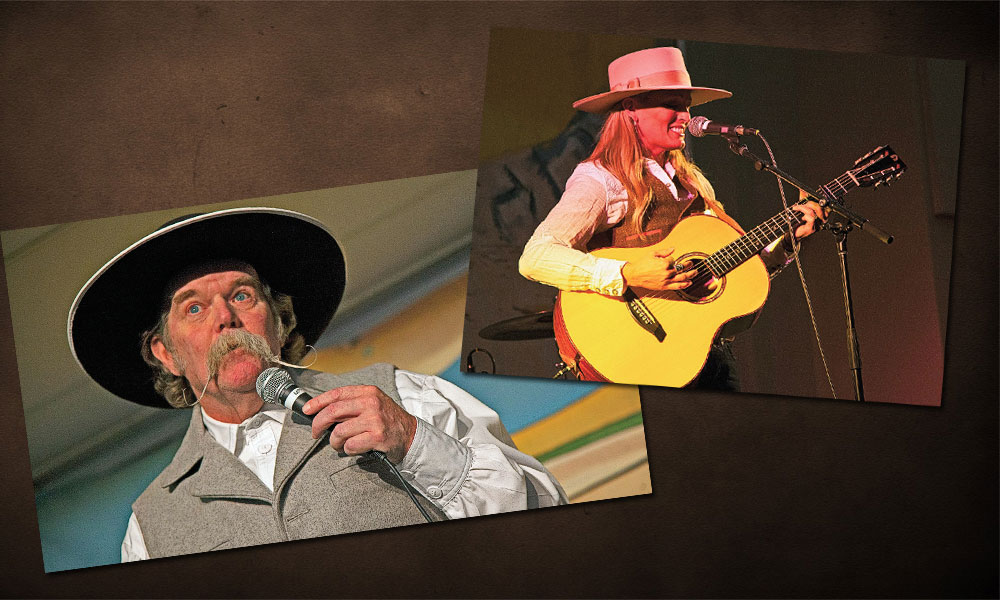 Best Cowboy Poetry Gathering
National Cowboy Poetry Gathering
Elko, NV
For three decades running, the international National Cowboy Poetry  Gathering and cultural festival has celebrated the poetry, music and traditional arts of the American West.
The 32nd National Cowboy Poetry Gathering, January 29-February 3, 2018, in Elko, NV, spotlights the flowing grasslands, vast open spaces and indigo skies of the Northern Plains.
Readers' Choice:
National Cowboy Symposium & Celebration, Lubbock, TX
Best Cowboy Music Gathering
Red Steagall Cowboy Gathering & Western Swing Festival, Fort Worth, TX
The gathering, celebrating 27 years, features a weekend of great events, including a wagon train and trail ride from Jacksboro, a trappings show, cowboy poetry, cowboy music, a youth poetry contest, youth fiddle competition, youth chuck wagon cook-off, Texas Trail of Fame, Cowboy Church, cowboy gospel concert and Western swing dances.
RedSteagallCowboyGathering.com
Readers' Choice:
Heber Valley Western Music & Cowboy Gathering, Heber City, UT
Best Old West Mounted Re-Enactment
Battle of Little Bighorn
Magdalena, NM
Near Garyowen, Montana, on the Crow Reservation, the Real Bird Family hosts a re-enactment of the Battle of the Little Big Horn. On June 24-26, watch American Indian braves and Cavalry troopers crash through the river, and battle along its banks, where some believe Custer was killed.
Readers' Choice:
Defeat of Jesse James Days, Northfield, MN
Best Old West Re-Enactment Group
Prescott Regulators & Their Shady Ladies, Prescott, AZ
Members of the Prescott Regulators & Their Shady Ladies, Inc., an all-volunteer nonprofit organization, are the "Official Old West Ambassadors" of historic Prescott.
They host the annual Shootout on Whiskey Row, participate in re-enactment events and parades throughout Arizona, donating all profits to locally based charities.
Readers' Choice:
Six Guns & Shady Ladies, El Paso, TX
Best Wild West Show
Whiskey Row Shootout, Prescott, AZ
For 12 years, the Prescott Regulators & Their Shady Ladies have hosted the  family-friendly Shootout on Whiskey Row.
The ever-popular weekend event coincides with the National Day of the Cowboy, the third Saturday of July. The all-volunteer organization donates its proceeds to charity.
Readers' Choice:
Buffalo Bill Wild West Show, Cody, WY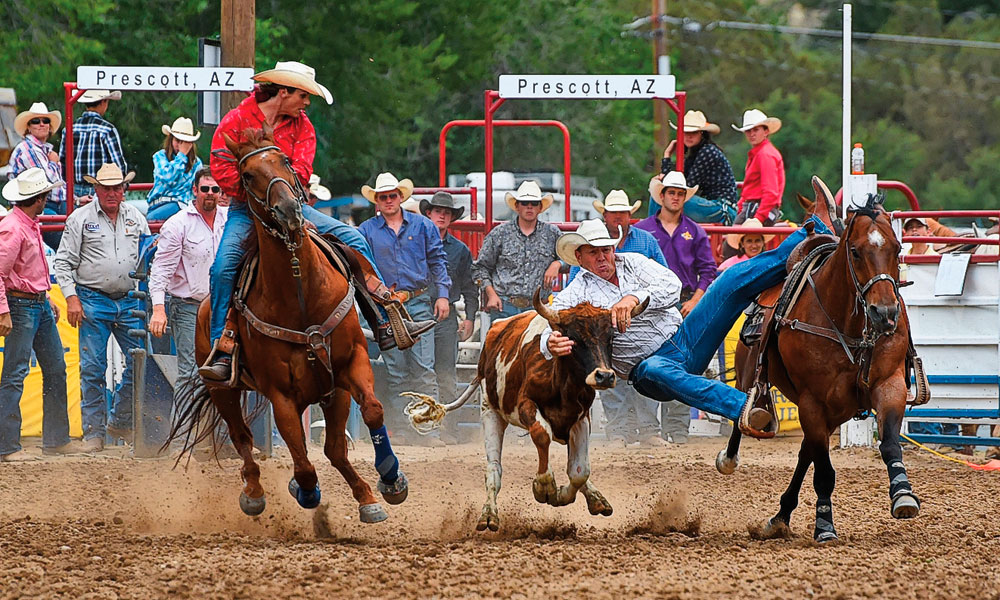 Best Historic Western Rodeo
The World's Oldest Rodeo, Prescott, AZ
Since July 4, 1888, the Prescott Frontier Days rodeo has been held over the Fourth of July weekend. The World's Oldest Rodeo will celebrate its 131st annual performance with eight shows from June 28 to July 4, 2018.
In conjunction with the rodeo, the always popular annual Prescott Frontier Days Parade is scheduled for 9 a.m. on Saturday, June 30, and the Rodeo Dance  the evenings of June 29-30.
Readers' Choice:
Pendleton Round-Up, Pendleton, OR