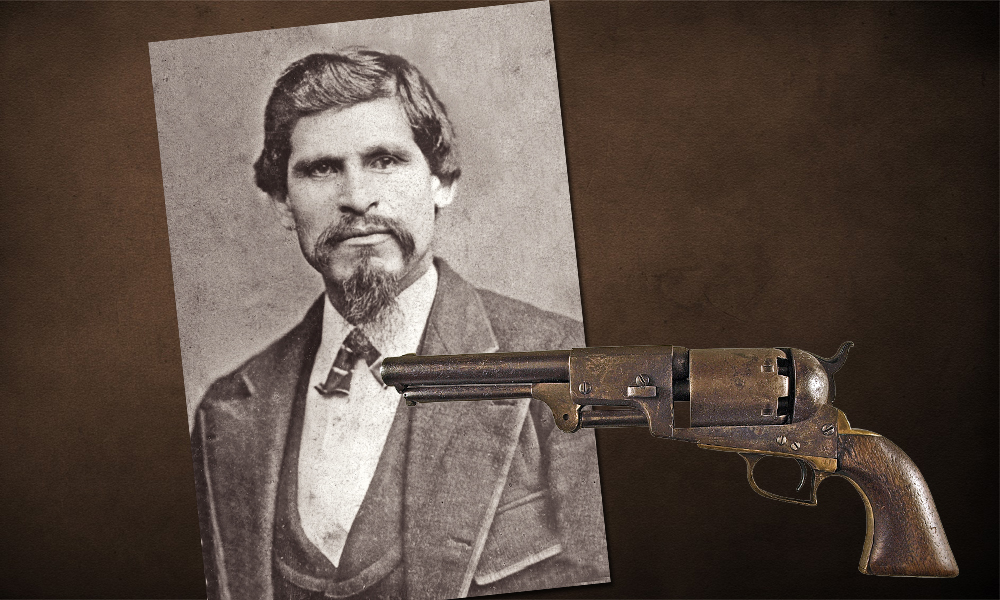 From its earliest issues 65 years ago, True West has consistently recognized the importance of firearms in taming the American West—covering the shootin' irons used by the good, the bad and the ugly.
I'm pleased to have been able to continue this tradition through my monthly columns and various features. Saddle up with me as we ride the back trails of my endeavors to keep these pages loaded with the latest facts of the "hardware" of the Old West.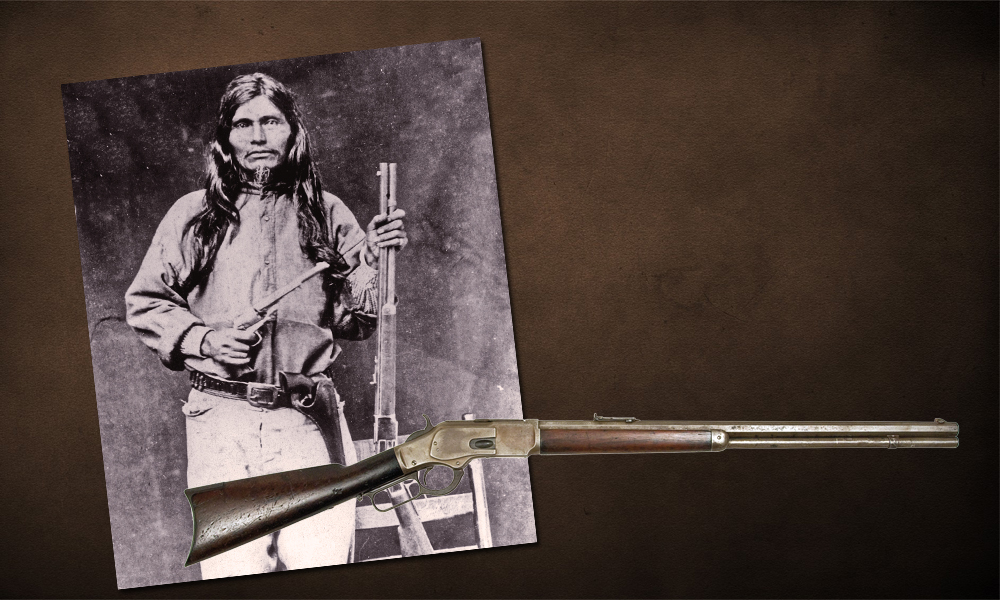 My first "Shooting from the Hip" writings back in the August/September 2003 issue revealed how, through the use of mirrors, and using live ammunition, a double-barreled shotgun and a .45 Colt revolver was fired—straight into the camera!
Since that initial column I have attempted to cover the many facets of Old West guns, gunleather, and related arms from the famous to the infamous, along with sharing tidbits of information that you may not have known about the most recognizable frontier-era guns. I've also inked about several smoke wagons that are perhaps somewhat unknown, including those representing the most successful designs to gimmicky guns whose design and function left much to be desired.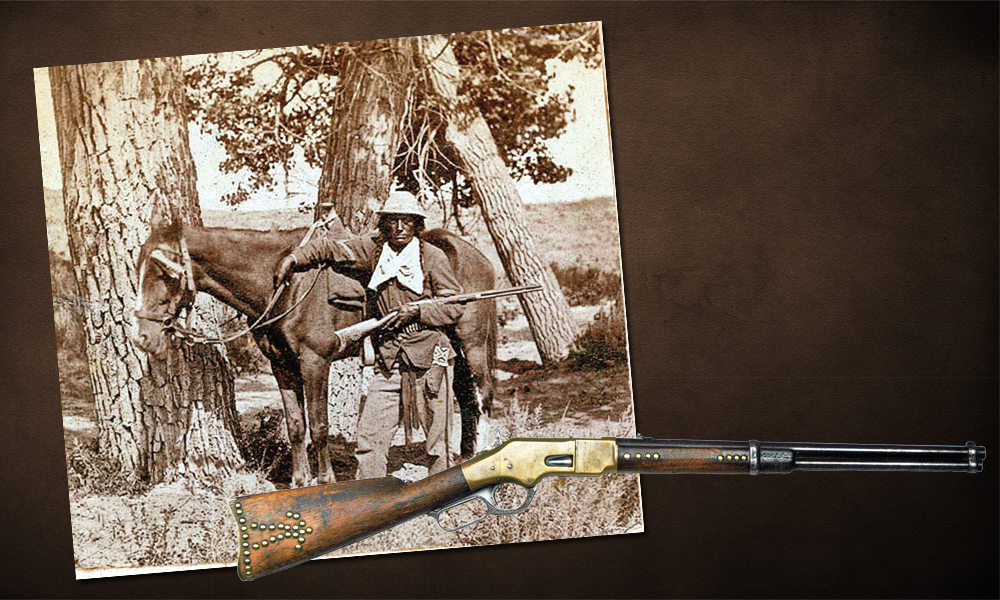 We've showcased firearms from the real West—and how to safely enjoy shooting some of them—along with those from the reel West. We've offered pieces on the actual guns of such colorful characters as Californio bandito Tiburcio Vasquez's Colt Dragoon (August 2011 issue), the April 2012 coverage of John Wesley Hardin's arsenal, and Frank James's last pistol (February 2017)—to name a few. We went to the movies, and looked at the guns used in such hit films as Hidalgo (March 2004), the classic 1950 film Winchester '73 (June 2006), and in the May 2011 issue, we visited the replica guns of the remake of True Grit. Speaking of true grit, we shared information on John Wayne's first silver screen six-gun in his 1930 oater The Big Trail, in the May 2016 issue.
Back in April 2014, Fess Parker's "Ol' Betsy," the flintlock actually used by the actor in the Disney movie and TV series about Davy Crockett, was featured. We've even shared interesting trivia about some of the famous movie guns yours truly played outlaw with in the DVD Western Vengeance Trail (January/February 2007).
This column has trekked beyond those arms that burn powder to cover edged weapons, such as Bowie knives (new and old: September 2013 and September 2014, respectively), Indian arms such as tomahawks and bows (June and October 2015, respectively), even tacked firearms (January 2015), while also relating stories of the use of frontier weaponry. For example, the August 2015 issue tells how a replica of the minuscule Remington-Elliot Single Shot Derringer saved the day for a modern-day undercover law-enforcement officer and put down a bad guy for keeps! More recently, in the April and September 2017 issues of True West, we told of the hardships of life on the buffalo range, and how frontier cavalrymen employed the 1873 Colt and the 1875 S&W Schofield six-guns.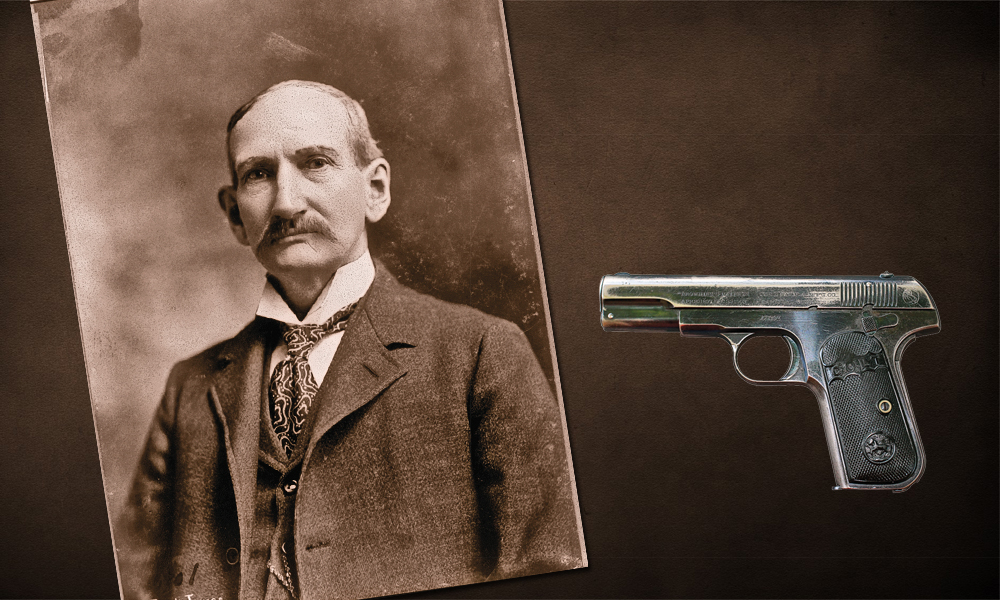 This column has also shown guns as art in unique uses, as in the likeness of the 1851 Navy Colt revolver decor used to embellish the Colt workmen's entrance to Hartford, Connecticut's Church of the Good Shepherd, built by Elizabeth Colt in honor of her late husband, Samuel Colt (April 2004).
I'm especially proud to have shared these stories with other True West readers and am grateful that the editors have given me an open range on which to write about the fascinating guns and gear of our frontier past. We've got lots more in store for you, so keep reading True West. We'll be shooting a lot more gun stories in your direction…and, rest assured, I'll be shooting from the hip!
Best Gunleather Artisan
John Bianchi Frontier Gunleather, Cathedral City, CA
For 55 years John Bianchi's holster designs and top quality craftsmanship have been considered the standard by which all gun leather is judged. Frontier Gunleather now offers its worldwide clients full custom-design service on products ranging from personal concealment holsters to full-size Western gun belts. A complete color catalog is available.
Readers' Choice:
Old West Reproductions, Florence, MT
Best Firearm Engraver
Jim Downing, The Gun Engraver Springfield, MO
For 35 years, Jim Downing has built an international reputation of excellence in hand work with his gravermeister tool on metal blades and firearm metals from his shop in the Commercial Street National Historic District of Springfield, Missouri.
Downing's philosophy of artisanship defines the excellence of the artisan's work: "The art of gun engraving will take a lifetime to master but I have time, patience and perseverance, and look forward to being an old-timer among this very elite group of artisans."
Readers' Choice:
A&A Engraving, Rapid City, SD
Best Cowboy Action Pistol
Taylor's Smokewagon, Winchester, VA
Taylor's & Co.'s exclusive second generation stagecoach-style, single-action revolver, The Smoke Wagon, has a blue finish with a case-hardened frame, and a thin, richly detailed, checkered grip for comfort and improved aim.
The Smoke Wagon is an exclusive, trademarked sidearm of the Winchester, Virginia, firearm company. The deluxe Smoke Wagon includes custom tuning, a custom hammer and base pin springs, a trigger pull set at three pounds, jig-cut, positive angles on all triggers and sears for crisp, reliable action, and a wire bolt spring.
Readers' Choice:
Ruger's Vaquero, Fairport, NY
Best Cowboy Action Rifle
Uberti's 1873 Winchester, Accokeek, MD
Known worldwide as "the rifle that won the West," the Winchester 1873 Rifle and Carbine is manufactured by Uberti in seven distinctive models, including an Uberti 1873 Carbine, Uberti 1873 Special Sporting Rifle, Uberti 1873 Trapper and Uberti 1873 Half Octagon Rifle.
Readers' Choice:
Marlin's 1895 Cowboy, Madison, NC
Best Action Shotgun
Cimarron Firearms' 1887 Lever Action Terminator, Fredericksburg, TX
Modeled after an original in the Cimarron Firearms private collection, the five-shot smoothbore 1887 Lever Action Terminator repeating shotgun first went on sale in the spring of 1888.
The shotgun quickly became a favorite of law-enforcement officers across the West. Today's Cimarron 1887 Lever Action Terminator is available in either a 22-, or 28-inch round blued barrel, a color case hardened receiver, in 12 gauge and capable of handling 2¾-inch shotshells.
Readers' Choice:
Century Arms' 1887 Lever Action Shotgun, Delray Beach, FL
Best Single Shot Rifle
Shiloh Sharps' 1874 Long Range Express, Big Timber, MT
The Shiloh Sharps 1874 Long Range Express is one of nine models of 1874 Shiloh Sharps rifle reproductions offered by the company. Every model can be customized individually, in several calibers, four grades of wood, multiple wood finishes, barrel length, weight and features—every minor detail and accessory a gun owner could want or imagine.
Readers' Choice:
Uberti's 1885 High Wall Rifle, Accokeek, MD
Best Commemorative Rifle
Navy Arms' 1873 Winchester, Martinsburg, WV
To celebrate its first century of excellence, the Buffalo Bill Center of the West is proud to partner with Navy Arms and Winchester Firearms to re-create the famed Winchester "Centennial Model" 1873 lever-action rifle.
Navy Arms—the company that launched the replica- firearms industry—worked with Winchester, the original maker, for the production of just 200 exhibition models and 1,000 presentation models.
One hundred percent of the profits from the sale of these two models will go to the mission of the Buffalo Bill Center of the West and the Cody Firearms Museum.
Readers' Choice:
Navy Arms' 1873 Winchester, Martinsburg, WV