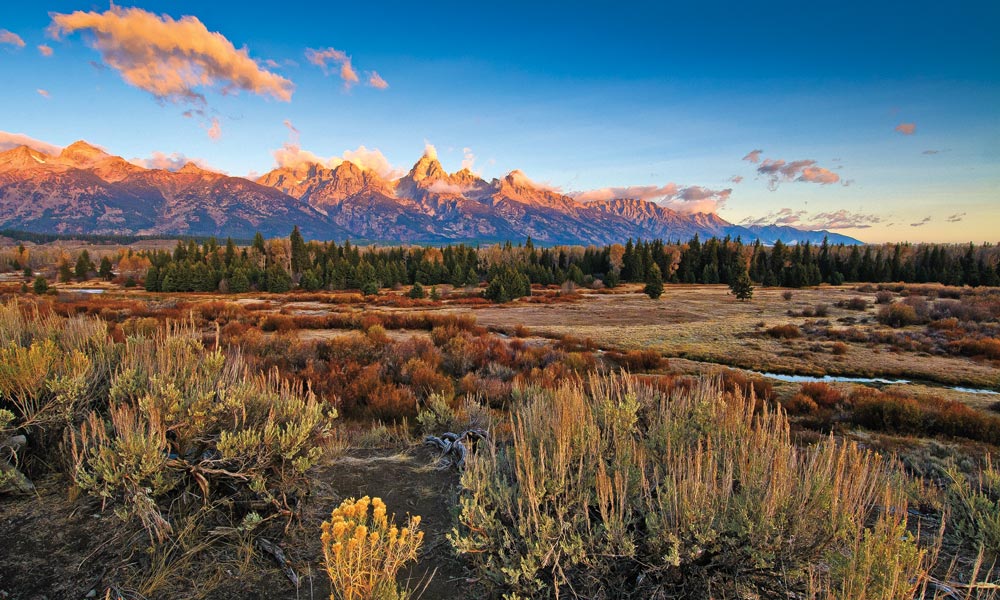 The West conjures images: sky-touching-earth horizons, uncharted wilderness, turbulent rivers, an unbounded Milky Way flung across the heavens. Howling coyotes, thundering bison herds, ferocious grizzly bears and ghostly antelope. Original inhabitants building Southwestern pueblos and perfecting plains horse-culture. Conquistadors and mountain men crossing blistering deserts, traversing icy mountain passes. Pioneers crossing the prairie. Cowboys driving herds to raucous cowtowns. Soldiers fighting Indians wanting to continue their lifestyle. Desperados, lawmen, gamblers, dancehall gals, homesteaders—all contribute to the patchwork quilt that is the West. There's more to learn, see and experience than one lifetime can hold. Here are 10 must-see destinations.
The Southwest's Four Corners 
At Four Corners, you can stand where Arizona, Colorado, Utah and New Mexico join. Located on the Colorado Plateau, this area abounds with fantastic geologic formations: canyons, mesas and buttes. A thousand years ago, ancestral puebloan people constructed towns on cliffs, along rivers and in canyons, only to abandon them after several hundred years. Dinetah, the Navajo ancestral homeland, was originally in the canyonlands of northwestern New Mexico.  The Navajo people abandoned Dinetah in the 1700s for the lands they currently hold, as the Utes disputed their territory and the Spanish applied pressure to change their culture. They learned sheep-herding, weaving and silver-smithing. Anglos arrived in the 1850s, building towns, farms and ranches.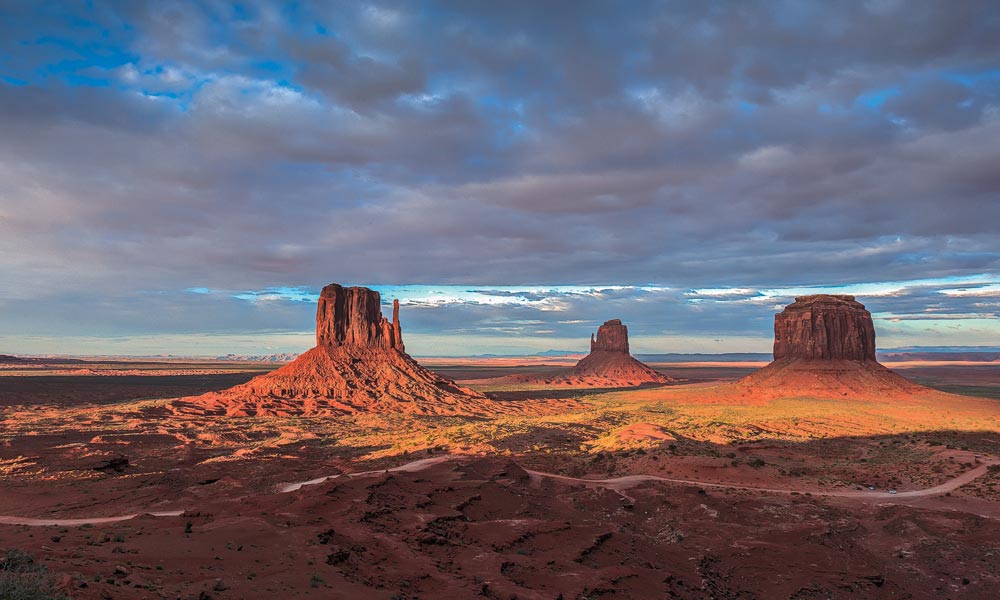 A range of activities awaits outdoor enthusiasts. Fly-fish the San Juan River, considered New Mexico's premiere trout stream. Or, downriver at Mexican Hat, Utah, raft through whitewater. Ride the train from Durango to Silverton, Colorado, through the San Juan Mountains. Hike in Canyonlands, Monument Valley or another national park or monument. Visit ancient ruins, Hovenweep National Monument, Utah, the cliff dwellings at Mesa Verde National Park, Colorado, or Aztec Ruins National Monument, New Mexico, with its reconstructed kiva. Examine tapestries and jewelry at Navajo Nation trading posts at Hogback, New Mexico, and Red Rock, Arizona.
Guide to the Four Corners
Plan Your Visit @ AmWest-Travel.com
Places to Visit Ganado, AZ: Hubbell Trading Post. Oljato-Monument Valley, AZ-UT: Monument Valley Navajo Tribal Park. Shonto, AZ: Navajo National Monument. Cortez, CO: Canyons of the Ancients, Cortez Cultural Heritage Center, Mesa Verde National Park. Durango, CO: Durango & Silverton Narrow Gauge Railroad & Museum. Aztec, NM: Aztec Ruins National Monument. Shiprock, NM: Shiprock Rock Formation. Moab, UT: Canyonlands National Park. San Juan County, UT: Hovenweep National Monument.
Lodging & Restaurants Kayenta, AZ: Wetherill Inn. Cortez, CO: Far View Lodge, Mesa Verde National Park. Durango, CO: The Strater Hotel. Farmington, NM: Irish Cantina, Los Hermanitos. Mexican Hat, UT: Old Bridge Grill Café, San Juan Inn. Oljato-Monument Valley, UT: Goulding's Lodge, The View Hotel.
Arizona's Cochise County
As large as Rhode Island and Connecticut combined, Cochise County in southeastern Arizona is named after the Apache leader. The Chiricahua, Dragoon and Whetstone mountain ranges bound desert and semi-arid grasslands. Coronado searched here in 1540 for the Seven Cities of Gold. In 1821, it became part of Mexico when it won its independence. The 1853 Gadsden Purchase ceded it to the United States. Led by Cochise, Mangas Coloradas, Victorio and Geronimo, the Apaches contested American encroachment on the land they'd claimed, and fought the U.S. Army from 1849 through 1886. Cochise County was lawless in the 1880s with rustling, holdups and murder.
In 1877, Ed Schieffelin prospected east of the San Pedro River. Friends said the only rock he would find was his own tombstone. He found silver ore and named the mining district Tombstone and the new boomtown received the same name. Here, the Clantons and McLaurys feuded with the Earps and Doc Holliday, erupting in a gunfight near
the O.K. Corral.
Tour Bisbee's underground Copper Queen Mine. Watch Tombstone's gunfight at the O.K. Corral re-enactment, wander through its courthouse, examine the Bird Cage Theater's artifacts. Visit frontier army posts, the museum at still-active Fort Huachuca built in 1877, near Sierra Vista, or hike to Fort Bowie's ruins built in 1862, near Willcox.
Guide to Cochise County
Plan Your Visit @ ExploreCochise.com
Places to Visit Benson: San Pedro Valley Arts & Historical Society, Singing Wind Bookshop. Bisbee: Bisbee Mining & Historical Museum. Douglas: Slaughter Ranch. Tombstone: Boothill Graveyard & Gift Shop, O.K. Corral and Historama, Tombstone Courthouse State Historic Park. Willcox: Rex Allen Arizona Cowboy Museum & Cowboy Hall of Fame, Chiricahua Regional Museum & Research Center.
Lodging & Restaurants Bisbee: Neariah's Mexican Restaurant. Douglas: Gadsden Hotel. Tombstone: Big Nose Kate's Saloon, Crystal Palace Saloon, Landmark Lookout Lodge, Tombstone Monument Ranch, Virgil's Corner Bed & Breakfast. Willcox: Big Tex BBQ Restaurant.
South Dakota's Black Hills
The Black Hills of South Dakota, sacred to the Lakota people and other plains tribes, rise from the prairie a dark island of rugged pine-covered mountains. The 1868 Fort Laramie Treaty guaranteed territory including the Black Hills exclusively for Indians, calling it the Great Sioux Reservation. In 1874, Lt.-Col. George Custer's Black Hills expedition discovered gold, launching a gold rush. Deadwood and other lawless mining camps flourished while highwaymen robbed stagecoaches and vigilante justice prevailed. Law and order was established as the hills rapidly became settled.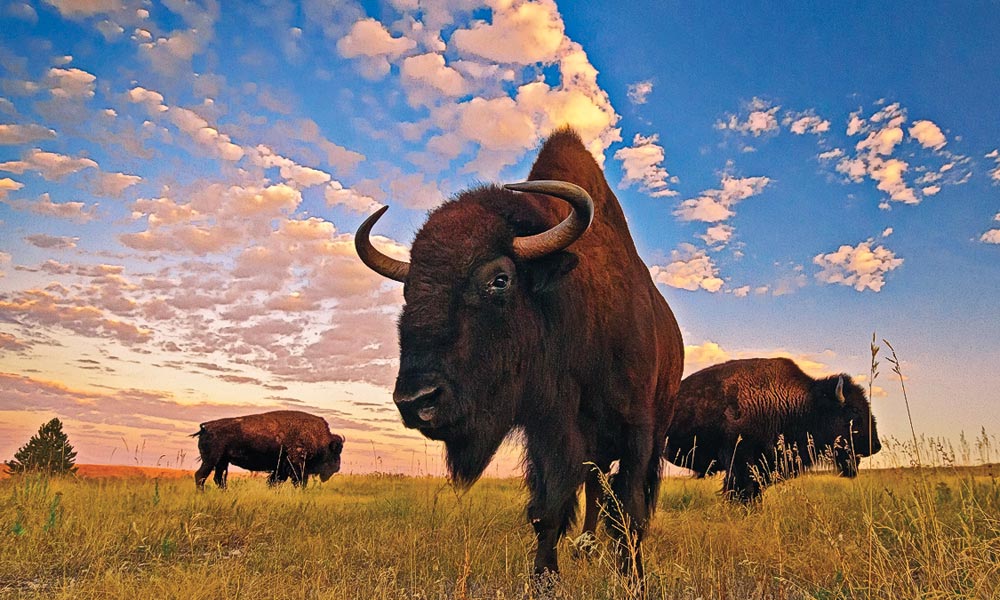 Today, enjoy the natural wonders of Custer State Park viewing free-roaming buffalo herds and other wildlife. Hike Black Elk (formerly Harney) Peak, the highest point east of the Rockies. Ride the 1880 train to enjoy the scenery between Hill City and Keystone. Roam the streets of Deadwood,  where Wild Bill met his demise and Calamity Jane went on sprees, and visit their graves at Mount Moriah Cemetery. Don't pass up Mount Rushmore, Shrine of Democracy and Crazy Horse Mountain's extensive Indian artifact display. Drive through Spearfish Canyon, site of Kevin Costner's Dances with Wolves' final scenes. Above all, find a solitary trail and walk in the forest.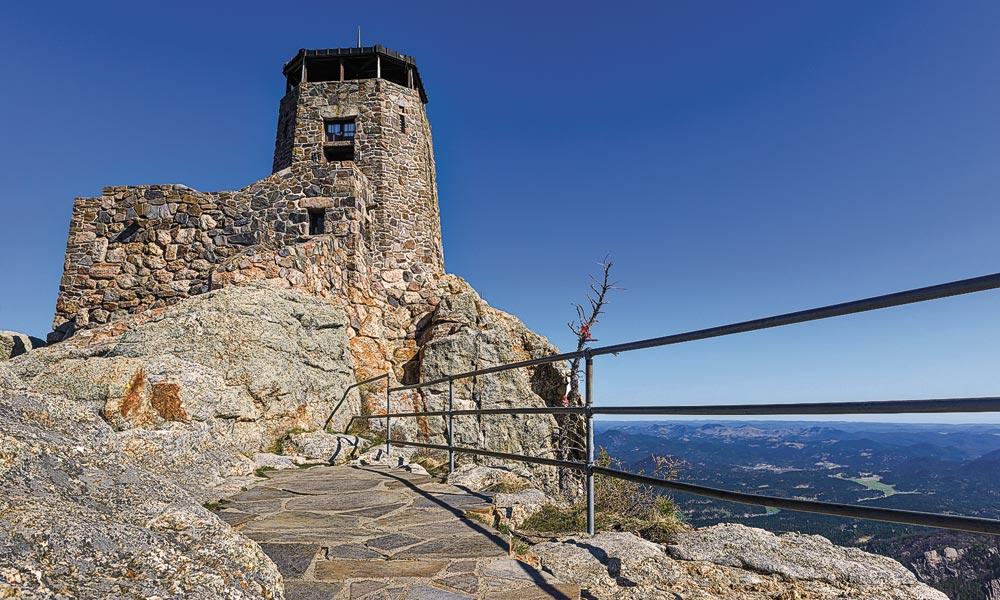 Guide to the Black Hills
Plan Your Visit @ BlackHillsBadlands.com
Places to Visit Crazy Horse: Crazy Horse Memorial. Custer: Custer State Park. Deadwood: Adams Museum, Days of 76 Museum, Mount Moriah Cemetery. Hermosa: 777 Bison Ranch. Hill City: 1880 Train/Black Hills Central Railroad, South Dakota State Railroad Museum. Hot Springs: Wind Cave National Park. Keystone: Mt. Rushmore National Memorial. Lead: Black Hills Mining Museum.
Lodging & Restaurants Cheyenne Crossing: Wickiup Cabins, Stage Stop Café. Custer: Black Hills Burger and Bun, Custer State Park. Deadwood: The Bullock Hotel, Oyster Bay, Saloon #10, Pump House. Hill City: Alpine Inn, Desperados Cowboy Restaurant. Lead: Spearfish Canyon Lodge, Latch String Inn, Stampmill Restaurant & Saloon.
Texas's Hill Country
Central Texas's Hill Country varies from rolling grasslands to oak forests, bisected by canyons, and refreshed with springs. Bluebonnets, Texas's state flower, abound during springtime. Apaches lived here when Spanish explorers entered in the 1700s and Comanches later swept in claiming the Hills. Texas became a Mexican province in 1821 as Americans began settling Hill Country. Texas rebelled in 1835, and in 1836, Santa Anna, Mexico's president, led an army in killing all Texan defenders in the Alamo, an old San Antonio mission. Their sacrifice bought time for Texas to win independence. In 1839, Austin was established as Texas's capital in the Hill Country and later became a Chisholm Trail destination. A large German population settled in the Hill County beginning in the 1840s. Comanche raids ended in the late-1870s and small farms and ranches thrived.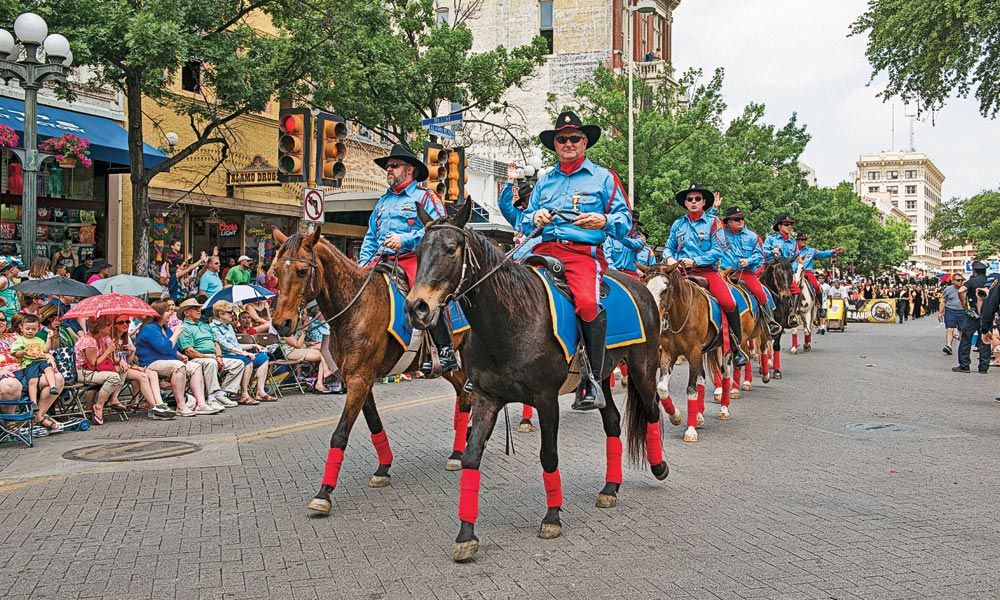 Hone your horsemanship in Kerrville and Bandera, "Cowboy Capital of the World," stay at a guest ranch, eat a chuck wagon dinner, enjoy a rodeo, or saunter into a honkytonk. View the Y.O. Ranch buffalo herd. Immerse yourself in New Braunfels and Fredericksburg's German culture. Roam Fort Concho, constructed in 1867. Visit Austin's Bullock Texas State History Museum. Enter the Alamo in San Antonio and stroll the River Walk. Author Bill Groneman recommends, "When you see Texas Longhorns in the country, take a minute and imagine you are back in the nineteenth century."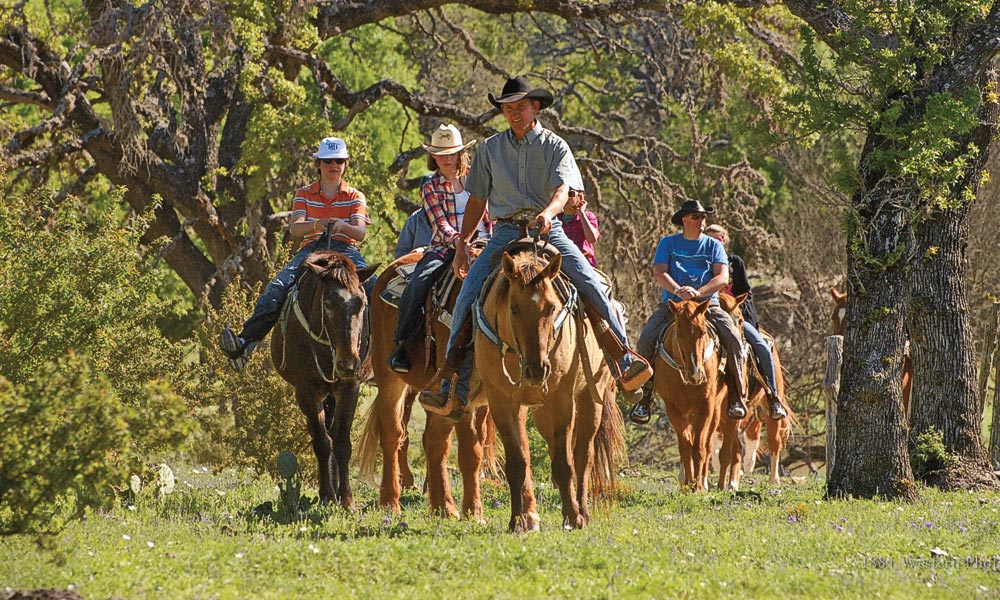 Guide to the Texas Hill Country
Plan Your Visit @ TravelTexas.com
Places to Visit Austin: Bullock Texas State History Museum, Texas State Capitol. Bandera: Frontier Times Museum. Fredericksburg: Texas Rangers Heritage Center. Kerrville: Museum of Western Art. Llano: Enchanted Rock State Park. New Braunfels: Gruene Historic District. San Antonio: The Alamo, Briscoe Western Art Museum, San Antonio Missions National Historical Park, The Witte Museum.
Lodging & Restaurants Austin: Driskill Hotel, Franklin Barbecue. Bandera: 11th Street Cowboy Bar, West 1077 Guest Ranch. Fredericksburg: Auslander Biergarten. Llano: Cooper's Old Time Pit Bar-B-Que. San Antonio: Buckhorn Saloon, Crockett Hotel, La Fonda on Main.
Oregon's Columbia River Gorge 
The Columbia River originates in British Columbia, snaking 1,200 miles south-
ward. Turning west to the Pacific Ocean, it cuts through the Cascades, creating the Columbia River Gorge and forming the Washington/Oregon border. Laced with waterfalls, the gorge is an 80-mile canyon in places 4,000 feet deep. Humans have salmon-fished and traded here thousands of years. Lewis and Clark's Corps of Discovery canoed the Gorge in 1805 and 1806. American and British fur companies competed here until the Oregon Treaty of 1846 stated it was United States soil. The 1830s and 1840s saw families heading for Oregon's Willamette Valley, traversing plains and mountains on the Oregon Trail and reaching the Colombia River Gorge where the Deschutes River enters. They traveled downriver to The Dalles, the end of the wagon trail. There pioneers built rafts to continue downriver, risking treacherous rapids. Later, steamboats plied the Columbia, railroads ran along it, and the government dammed it and built locks.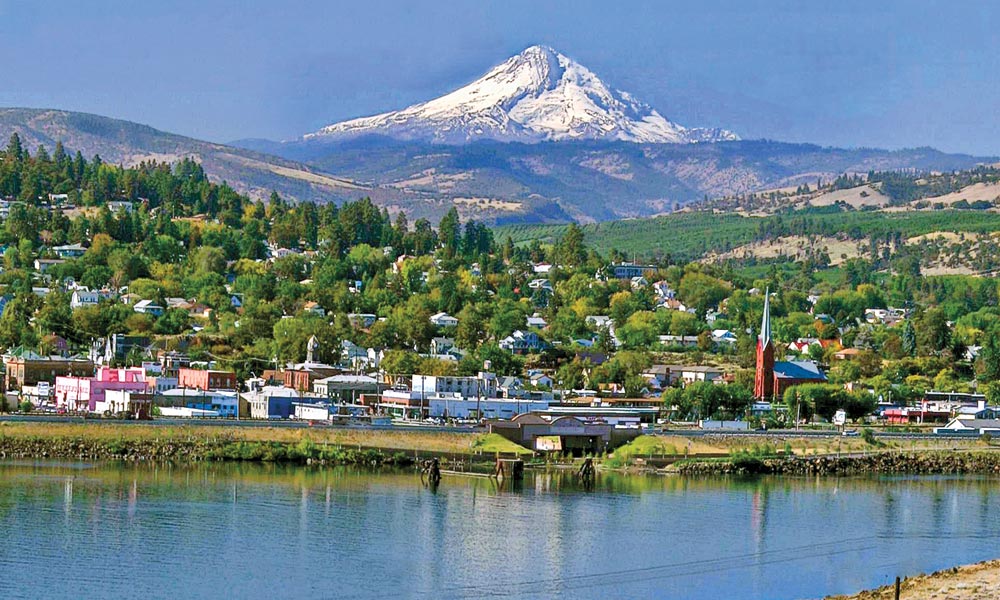 Camp, hike, horseback ride, tour wineries or book a day-cruise in the Gorge, a National Scenic Area. Interstate 84 runs through the Gorge, but choose a leisurely route on either the Washington or Oregon side. Examine petroglyphs at Columbia Hills Historical Park. Get a bird's-eye view atop Beacon Rock. Visit Fort Dalles Museum displaying artifacts from the Gorge's history. Tour the Columbia River Gorge Discovery Center.
Guide to the Columbia River Gorge
Plan Your Visit @ TravelOregon.com
Places to Visit The Dalles: Columbia Gorge Discovery Center & Museum, Fort Dalles Museum and Anderson Homestead. Mt. Hood: Mt. Hood Railroad. Oregon City: End of Oregon Trail Interpretive Center, McLoughlin House, Willamette Falls. Portland: Oregon Historical Society Museum, Oregon Maritime Museum. Troutdale: Historic Columbia River Highway (75 miles to The Dalles), Multnomah Falls.
Lodging & Restaurants Corbett: Multnomah Falls Lodge. The Dalles: Baldwin Saloon, Cousin's Country Inn. Government Camp: Timberline Lodge. Hood River: Columbia Gorge Hotel & Spa, Full Sail Brewing Co. Portland: Bridgeport Brewery & Brewpub, Huber's Café, Jake's Famous Crawfish, Sentinel Hotel.
Wyoming's Yellowstone Country
Yellowstone Country's amazing topo-graphy is matched only by its abundant wildlife. Ranging from Cody, Wyoming, to Yellowstone National Park through the Teton Mountains and Jackson Hole, Yellowstone Country can be described in one word: spectacular. Shoshoni, Crow, Blackfeet, Bannock and Gros Ventre lived here. Trapper John Colter entered the Yellowstone Park area in 1807. People called it "Colter's Hell." The Yellowstone Country became well-known to trappers, including Jim Bridger and Jedediah Smith. After several expeditions explored Yellowstone Country, Congress passed legislation in 1872, and President Ulysses Grant signed into law the creation of Yellowstone National Park, and in 1929, Congress created Grand Teton National Park.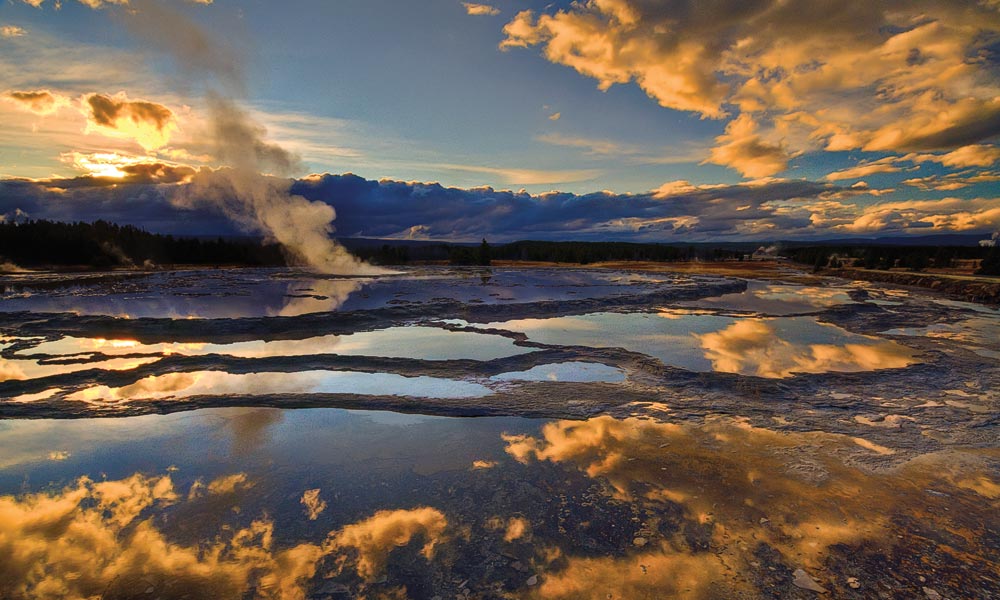 Buffalo Bill Cody recognized an opportunity and lent his name in partnership with an investor group who founded the town in 1895. Stroll through Buffalo Bill's Irma Hotel. Take in the Cody Nite Rodeo. Poke around Old Trail Town's original buildings. Immerse yourself in the Buffalo Bill Center of the West. Focus on Yellowstone National Park. Subterranean volcanic activity creates geysers, hot springs, and mud pots. View Old Faithful Geyser, the Falls of the Yellowstone, Monmouth Hot Springs, look for wildlife, being cautious of grizzly bears. Hike around Grand Teton National Park's Jenny Lake. North America's largest elk herd, 7,500 animals, winter-over at Jackson Hole's National Elk Refuge. Don't miss the elk antler arches at Jackson's Town Square.
Guide to Yellowstone Country
Plan Your Visit @ TravelWyoming.com
Places to Visit Cody: Buffalo Bill Center of the West, Cody Dug Up Gun Museum, Old Trail Town, Shoshone National Forest. Jackson: Grand Tetons National Park, Jackson Hole Museum,  Teton National Forest. Cody and Jackson: Yellowstone National Park.
Lodging & Restaurants Cody: Buffalo Bill's Irma Hotel, The Cody Cattle Company, Elephant Head Lodge, Rimrock Dude Ranch. Jackson: Flat Creek Ranch, Jenny Lake Lodge, Million Dollar Cowboy Bar, White Buffalo Club. Moose: Dornan's and Dornan's Chuckwagon. Yellowstone National Park: Old Faithful Lodge, Roosevelt Lodge Cabins.
California's Gold Country
Tectonic forces thrusting California's Sierra Nevada into massive peaks, created gold-bearing-quartz veins. Eroded gold concentrated in a 120-mile stretch of the western foothills, called The Mother Lode or Gold Country. Indians have lived in California for 10,000 years. Europeans explored its coastline in the 1500s. Spain claimed the Gold Country region as part of Alta California and it became a Mexico territory after the 1821 revolution. In February 1848, the Treaty of Guadalupe Hidalgo transferred California to the United States. In 1840, Mexico had permitted John Sutter to establish a colony at the Sacramento and American rivers confluence. On January 24, 1848, James Marshall, Sutter's foreman, found gold in a lumber mill's tailrace on the American River. The discovery of gold ignited a mass emigration that would reach 300,000 argonauts. Gold fever struck not only Americans, but also wealth-seekers from Mexico, South America, Australia, Europe and China. It was a new dream—free gold for the taking, and nothing like it had ever been seen. A person had the opportunity to become rich, and raucous boomtowns mushroomed to separate the miners from their gold.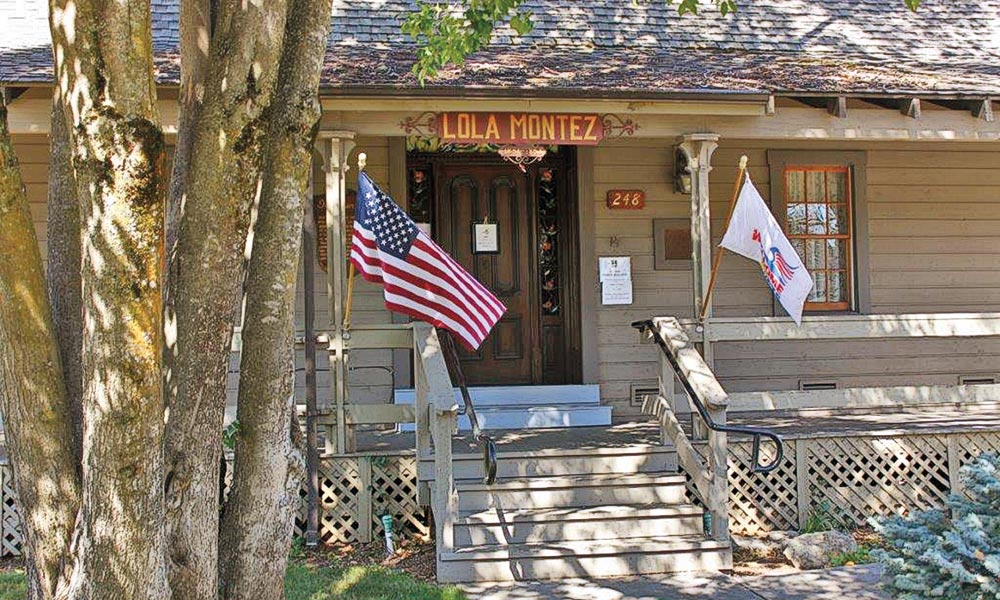 Step back in time at Sutter's Fort State Historic Park. Pan for gold at Marshall Gold Discovery State Park. While strolling Old Sacramento's streets, visit California State Railroad Museum, Delta King Riverboat, Wells Fargo History Museum and other historic sites. Immerse yourself in an 1850s gold rush town by touring Columbia State Historic Park.
Guide To Gold Country
Plan Your Visit @ VisitCalifornia.com
Places to Visit Angels Camp: Angels Camp Museum and Carriage House. Coloma: Marshall Gold Discovery State Historic Park. Columbia: Columbia State Historic Park. Grass Valley: Empire Mine State Historic Park, North Star Powerhouse Museum. Nevada City: Bourn House, Malakoff Diggins State Historic Park. Placerville: Hangtown's Gold Bug Park. Sacramento: California State Capitol, Old Town Sacramento, Sutter's Fort State Historic Park.
Lodging & Restaurants Angels Camp: Angels Creek Café. Coloma: Coloma Club. Columbia: City Hotel, Columbia Candy Kitchen, What Cheer Saloon. Grass Valley: Golden Gate Saloon, Pine Street Burgers. Nevada City: Broad Street Inn. Placerville: Cary House Hotel, Heyday Café.  Sacramento: Delta King Hotel, Pilothouse Restaurant, River City Saloon, Old Town Sacramento.
New Mexico's Lincoln County
Larger than the state of Delaware, New Mexico's Lincoln County covers varied
topography, from rangeland to mountains. Apaches, Utes and Comanches ranged here. Sparsely settled by Mexicans, it passed into American hands in 1848. Ranching outfits began using the rangeland as Lincoln, the county seat, prospered. Ranchers and businessmen vied for lucrative cattle contracts. Confrontations escalated between ranchers Alexander McSween and John Tunstall and Lincoln merchants John Riley and Jimmy Dolan known as "The House," resulting in Tunstall's murder by The House in February 1878. Seeking revenge, Tunstall employee Billy the Kid started killing the murderers—the beginning of the Lincoln County War.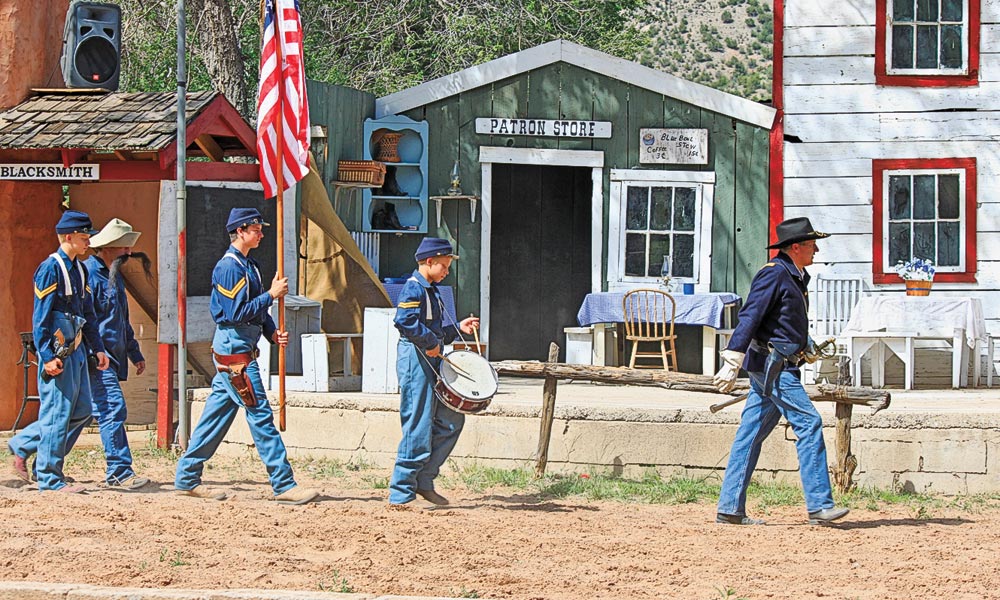 Drive the Billy the Kid Scenic Byway starting at its visitors center in Ruidoso Downs. While there, tour the Hubbard Museum of the American West and the Ruidoso River Museum, which displays Pat Garrett's badge and gun. Walk the streets of Lincoln where Billy the Kid and Pat Garrett trod. Explore its 17 historic structures including Lincoln County Courthouse, where Billy made his bloody escape. Visit during Old Lincoln Days in August as re-enactors re-create Lincoln's past. Tour Fort Stanton built in 1855 to control the Mescalero Apaches.
Guide to Lincoln County
Plan Your Visit @ BillyByway.com
Places to Visit Lincoln: Lincoln Historic Site. Fort Stanton: Fort Stanton Historic Site. Ruidoso: Hubbard Museum of the American West, Museum of the Horse, Ruidoso River Museum.
Lodging and Restaurants Lincoln: Dolan House, Ellis Store Country Inn, The Wortley Hotel. Ruidoso: Can't Stop Smokin, Hall of Flame Burgers, Inn of the Mountain Gods Resort & Casino, Shadow Mountain Lodge & Cabins,
Tina's Café.
Nevada's Comstock Country
Comstock Country, east of the Sierra Nevada, includes Lake Tahoe and the Virginia Range, which held extensive gold- and silver-bearing quartz veins. The Washoe and Northern Paiute people lived here when explorers and emigrants began crossing the Sierra on the California Trail. Prospectors found modest amounts of gold. In 1859, James Finney as well as four partners including Henry Comstock staked claims on Gold Hill. A bluish muck clogging their rockers plagued the partners. An assayer determined the muck was high-grade silver and the rush was on. Finney named the boomtown Virginia City then sold his Ophir Mine to George Hearst and his partners. America's first silver bonanza was called the Comstock Lode. By 1873, six more bonanzas were discovered. Comstock Lode profits created fortunes financing San Francisco development and New York's first skyscraper. It was in Virginia City that Territorial Enterprise journalist Samuel Clemens changed his name to Mark Twain.
Take the trolley through Virginia City's historic district, one of the country's largest. Tour a mine and ride the Virginia & Truckee Railroad. Visit Genoa City's Courthouse Museum and Mormon Station, founded in 1851. Tour the Nevada State Museum, formerly a United States Mint, in Carson City. Reno began as a settlement on the Truckee River in 1859. Stroll along its Riverwalk, one of America's foremost.
Guide to Comstock Country
Plan Your Visit @ TravelNevada.com
Places to Visit Carson City: Governor's Mansion, Nevada State Capitol Building, Nevada State Museum, Nevada State Railroad Museum. Dayton: Dayton Museum, Dayton State Park. Genoa: Genoa Courthouse Museum, Mormon Station State Park. Virginia City: Comstock History Center, Mark Twain Museum of Memories, Piper's Opera House, Virginia & Truckee Railroad.
Lodging & Restaurants: Carson City: Corley Ranch, Duke's Steakhouse. Dayton: Roadrunner Café. Genoa: Genoa Bar & Saloon, 1862 David Walley's Hot Springs & Spa. Virginia City: Gold Hill Hotel, Red Dog Saloon, Virginia City Inn.
Nebraska's Sand Hills
Nebraska's Sand Hills appear foreboding. Massive dunes frozen in time, an endless sea of grass, they cover a fourth of Nebraska bounded on the south by the North Platte River. Windblown sand formed the Sand Hills 5,000 years ago, and grass stabilized them 1,500 years ago. The Ogallala aquifer lies shallow beneath the surface, exposing itself as lakes and wetlands. Rivers run through the Hills—the Niobrara, Snake, Loup and Dismal. Sandhill cranes and other wildlife thrive. Plains tribes including the Lakotas hunted buffalo here. Settlers ignored the Sand Hills, thinking they were useless for agriculture until the 1870s, when ranchers began grazing cattle.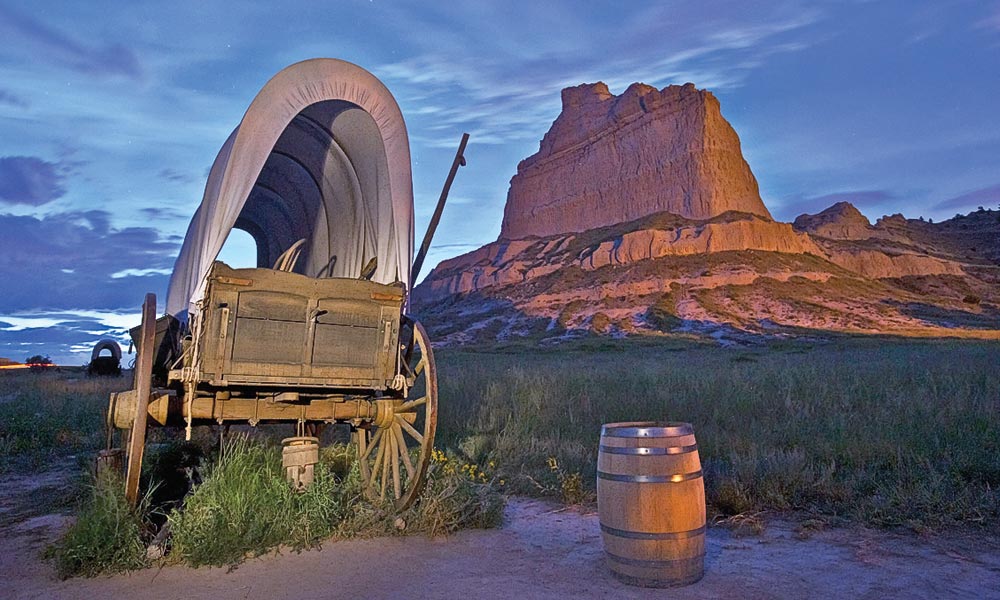 Leave the beaten path and take Nebraska Route 2, Sandhills Journey Scenic Byway, 272 miles between Grand Island and Alliance. Visit Grand Island's Stuhr Museum of the Prairie Pioneer and explore its 1890s town. Stop at Custer County's Museum in Broken Bow. Explore nineteen historic buildings at Dobby's Frontier Town in Alliance. Learn about the early fur trappers at the Museum of the Fur Trade, near Chadron, the site of James Bordeaux's trading post established in 1837. Visit Fort Robinson near Crawford, built in 1874, where Dull Knife's Northern Cheyenne people were interned. Here, Crazy Horse surrendered and was killed. Step back in time at Fort Hartsuff near Burwell. Built in 1874, the fort is well preserved.
Guide to the Sand Hills
Plan Your Visit @ VisitNebraska.com
Places to Visit Alliance: Knight Museum and Sandhills Center. Broken Bow: Custer County Museum. Burwell: Fort Hartsuff State Historical Park. Chadron: Mari Sandoz High Plains Heritage Center, Museum of the Fur Trade. Crawford: Fort Robinson State Park. Grand Island: Stuhr Museum of the Prairie Pioneer. Scottsbluff/Gering: Scotts Bluff National Monument. w Ogallala: Boothill Cemetery, Front Street. Valentine: Fort Niobrara National Wildlife Refuge, Niobrara National Scenic River.
Lodging & Restaurants Alliance: Ken and Dales. Burwell: Rowse's 1+1 Ranch. Chadron: Helen's Pancake & Steak House, Olde Main Street Inn. Crawford: Drifters Cookshack at High Plains Homestead, Fort Robinson State Park Lodge. Mullen: Double R Guest Ranch. Valentine: The Bunkhouse Restaurant & Saloon, Heartland Elk Guest Ranch.
Bill Markley author of Deadwood Dead Men, thanks his crack team of travel advisors: Stuart Rosebrook, Doug Hocking, Rod Timanus, Guy Brunt, Bill Groneman, Mike Pellerzi, Dave Pfahler, Chris Markley, Monty McCord, Chris Enss and Chad Coppess.