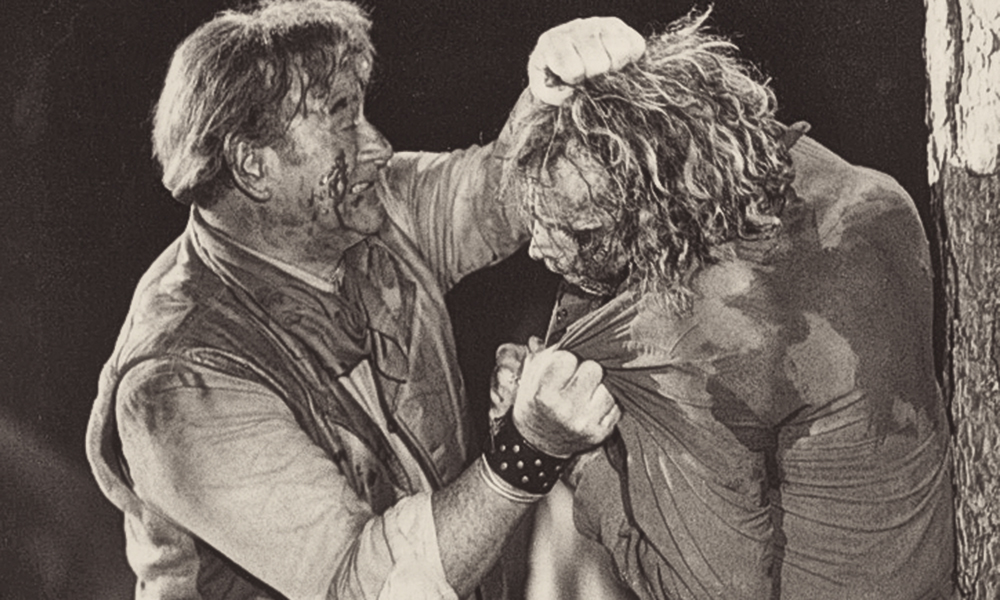 Who would've guessed that, in the last decade of his life, a lung lost to cancer, John "Duke" Wayne would star in a dozen films, three of them—1969's True Grit, 1972's The Cowboys and 1976's The Shootist—among the best of his career?
The premise of The Cowboys was refreshingly original: with all the able-bodied cowhands chasing a gold strike, an aging rancher (played by Wayne) hires a schoolhouse-full of boys to move his cattle to market.
Actor-turned-director Mark Rydell, of Lee Strasberg's famed Actors Studio, wasn't known as a Western filmmaker, but he'd already directed 10 Gunsmoke episodes for CBS. Fresh from the success of the 1969 Steve McQueen comedy The Reivers, he began reading an as-yet-unpublished novel, The Cowboys, by William Dale Jennings. Forty pages in, Rydell knew he wanted to film it.
Jennings was an unconventional Western author to say the least. Raised in Denver, Colorado, the playwright, novelist and decorated WWII soldier gained fame in 1952 by refusing to plead guilty to homosexual solicitation in a Los Angeles park; he's frequently cited as the "gay Rosa Parks."
When Rydell brought the property to Warner Bros., his heart was set on George C. Scott as rancher Wil Andersen, but the studio heads pleaded with him to consider Wayne. Rydell reluctantly flew to Durango in Mexico to meet with Wayne on the set of 1971's Big Jake.
"He was very conservative politically," Rydell says of Wayne, "and I was a liberal Jewish kid from the Bronx. We couldn't have been more polar opposites. But I found him to be one of the nicest guys I ever met."
For the screenplay, Rydell matched Jennings with Irving Ravetch and Harriet Frank Jr., the legendary husband-and-wife writing team from The Reivers. He also brought along Reivers composer John Williams and hired three-time Oscar-winning cinematographer Robert Surtees.
All the bad guys except the lead were stuntmen who knew how to ride, fight and die on camera. To keep Wayne out of his comfort zone, Rydell did not cast characters from Wayne's stock company (with the exception of Duke's friend Slim Pickens), but from the Actors Studio: Roscoe Lee Browne as the cook, Colleen Dewhurst as the madam, blacklist-victim Sarah Cunningham as Wil's wife.
For the lead villain, Bruce Dern was ideal—except he was acting for Douglas Trumbull's Sci-Fi film Silent Running.
"My first starring role," Dern tells True West. "My agent called me: 'You've got to have two days off next week because I have a role you must do. No one can know this. They're doing a movie where John Wayne's going to be killed, and you're going to be the guy that does it!'"
Trumbull shot miniatures for two days so Dern could get away to act in The Cowboys.
The biggest casting challenge was finding 11 boys to play the cowboys. In a stroke of genius, Rydell cast half actors and half rodeo kids. Actor-turned-stuntman Stephen Hudis, who played Charlie Schwartz, remembers, "Before we set foot on location, we had eight weeks of intense riding training. They would have acting classes, and we would help them out with that, and they would help us with the horseback."
Dern remembers Clay O'Brien, the smallest boy of the group, almost didn't make it into the film.
"John Wayne said, 'Well, you're too small, son,'" Dern recalls. "Clay, in that little voice, piped up, 'I can drop you, you big son of a bitch.' The kid twirled a rope three times, hooked his boots and dropped Wayne on his ass. 'Who's too small now?'"
Since then, O'Brien has won seven World Champion rodeo titles.
Stuntman Walter Scott was thrilled to act with Wayne, playing one of the cowhands who abandons him: "When [Wayne] says his line, I say, 'What do you expect? You work us like dogs, night and day and Christmas too.' He looks at the director, says, 'Is he gonna read that line that way?' I'm thinking, aw hell, he hates my acting. 'Because if he does, I'd hit him. You'd better move him over there.' And I just jumped across to where he was pointing, and we did the scene again."
The kids adored Wayne; Dern, not so much. But that was by design.
"When I got there," Dern says, "John Wayne said, 'I want you to do yourself and me a favor. Around the set, I want you to kick my ass in front of these little kids, so they're absolutely terrified of you.' He gave me the license to do that.
"The day we come to the scene where I shoot him, [Wayne] said to me, 'Ooh, are they going to hate you for this!' I said, 'Maybe, but in Berkeley, I'm a hero.'"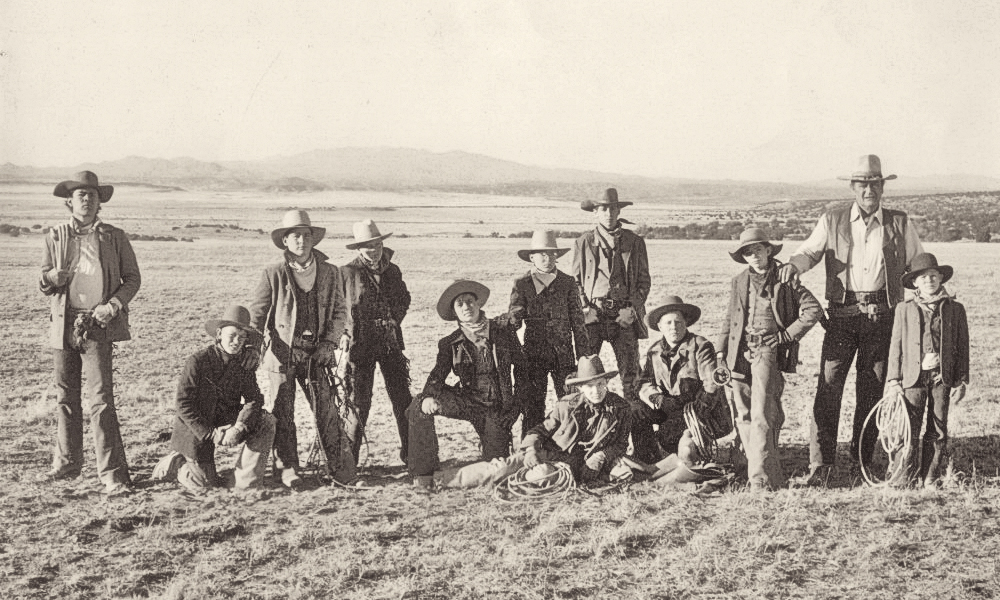 Ironically, Dern, the bully who terrorizes and almost drowns the kid with glasses played by Nicolas Beauvy in the movie, made friends with the actor. Beauvy, now a realtor, remembers, "I was a big sports fan and so was he, so even after the movie was finished, he'd invite me to Lakers games in Los Angeles. He is a great guy."
Looking back, men and boys-turned-men talk with amazement at how hard Wayne pushed himself, doing nearly all his own stunts, his own riding. Rydell and Wayne set the bar awfully high, and in grasping it, cast and crew did some of the finest work of their careers.
The Cowboys premiered at the tail end of the Western movie cycle that had continued uninterrupted since 1903's The Great Train Robbery. Dern concedes, "A lot of people will tell you that the reason they don't make them anymore is because Star Wars and Lord of the Rings, those are the Westerns to the kids now. But you and I know there's always a place for a Western. The stories are great, the times are great and, for the most part, it really happened."