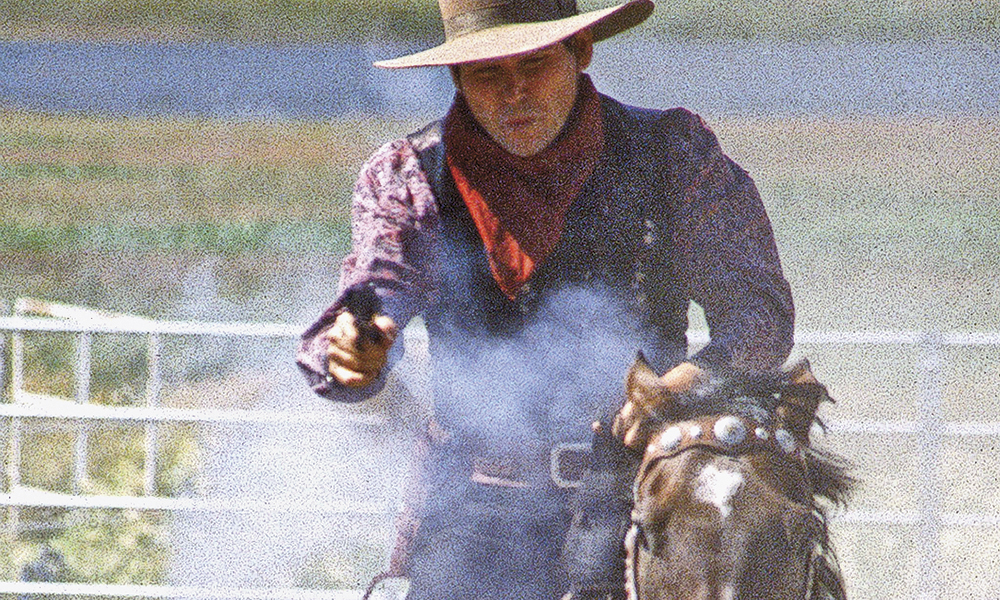 One of the most important aspects of handgun-shooting is having a proper grip. Too loose a hold causes the gun to jump or roll in your hand, not to mention the chances of a sloppy or weaving aim. Likewise, too tight a grip can cause your hand to tremble and move slightly, throwing your shot off target.
In Cowboy Action Shooting and Cowboy Mounted Shooting, handgun stocks must conform to strict rules, which do not allow for contemporary rubber or modern target grips. Traditional materials—wood, composition or "hard rubber," genuine or simulated mother of pearl or ivory, bone, stag and so on—are acceptable as long as the stocks conform to the original 19th-century shape and size, and have not been customized in such a way as to create a "target-type" stock.
It's fun to gussy up your handgun, and one way to change the appearance of your revolver or semi-auto pistol is by adding custom grips. Cosmetics aside, and regardless of the type of shooting you do, consider handles that offer a firm and comfortable fit in your hand.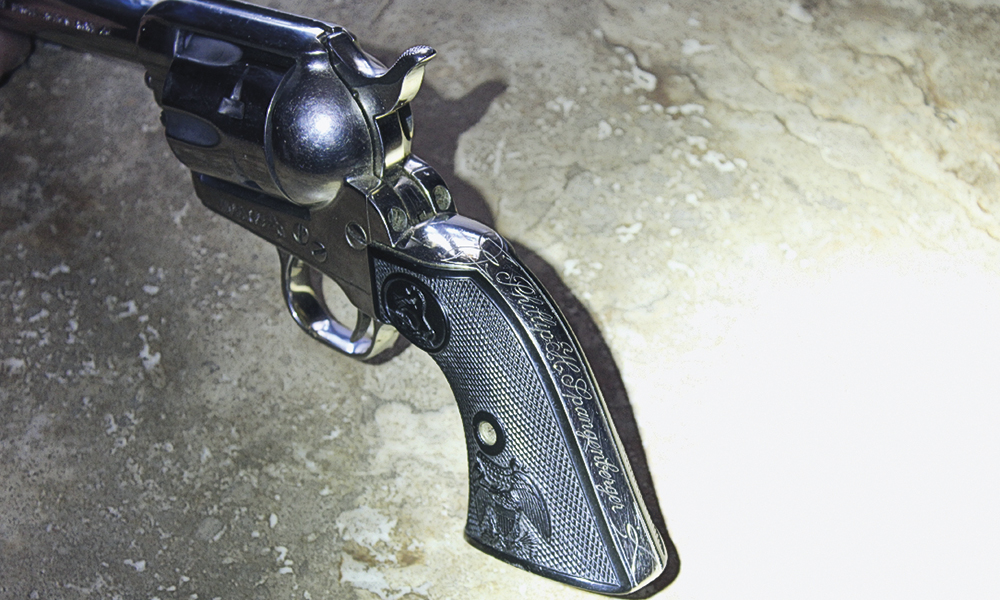 I love the look of plain pearl or ivory stocks on any Old West handgun. However when it comes to a working arm, grips without textured adornment, like carving, checkering or scrimshaw, have a smooth, sometimes slick hold that could roll or slip in your hand. This can happen not only when a gun is fired, but also when it is being drawn or otherwise handled, especially with sweaty hands. This is especially true with a revolver with a curved, rather than a straight handle (as on auto pistols).
Experience has shown that stocks best serve me when they are checkered, relief-carved or otherwise roughly textured. Being a traditionalist, I want a motif that is authentic, while not protruding so much as to forbid a firm grasp. Most of my working six-guns are adorned with ivory or faux ivory grips bearing early 1870s- and 1880s-style diamond checkering, the Mexican eagle, cactus and snake, the American eagle and shield, my initials in an intertwined monogram form, and other designs.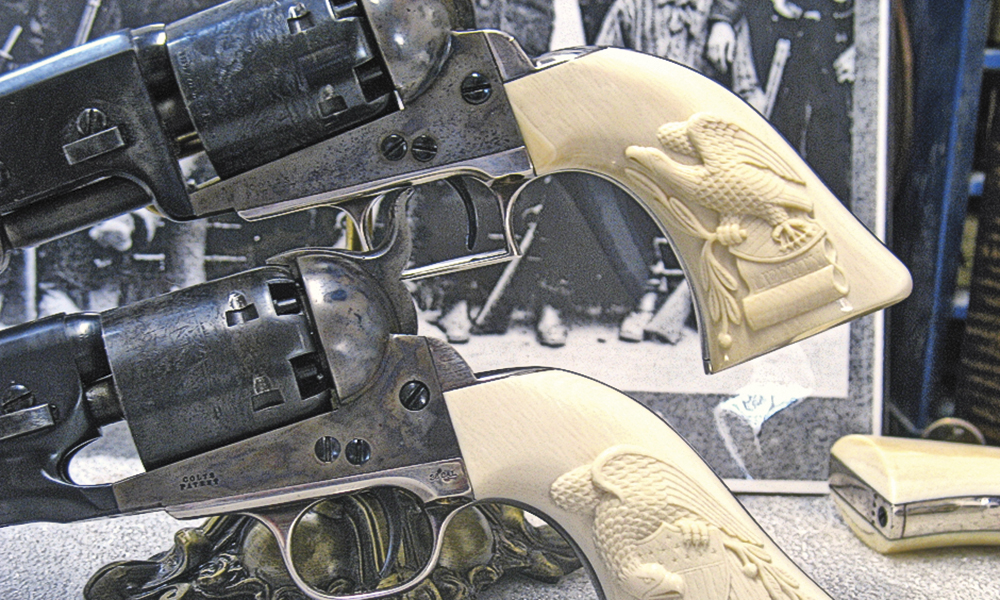 My two most-used six-shooters are a brace of nickel-plated, third generation 4¾-inch, .45 Colt Peacemakers, stocked with Colt's factory black composition, checkered eagle stocks. While some folks may consider them to be rather mundane, in this shooter's eyes they are quite handsome on a nickel-plated Colt—and they are authentic, having been introduced in 1882 and used until around 1893.
Well-figured, unadorned stocks of walnut, rosewood, ebony or other exotic woods certainly offer a handsome look, but the shooter should bear in mind that these smooth surfaces can be detrimental in competitive shooting, both on the range and in the mounted arena. If they work for you, then stick with them, although many shooters find that checkering and other textured surfaces allow them to get a better grip on their guns—especially the plow-handled "peacemaker-type" single actions.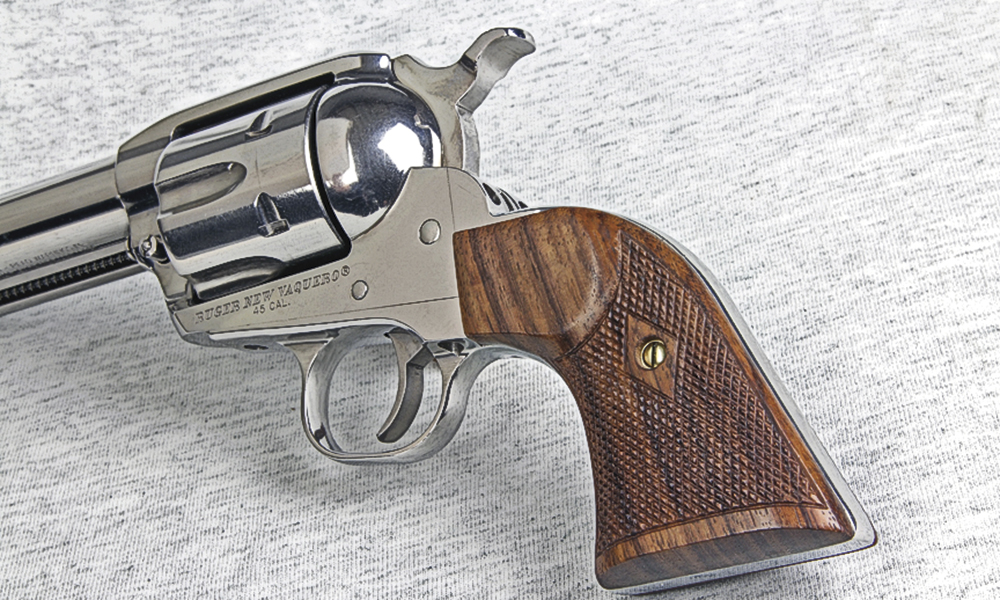 Although stag grips (American elk horn) are actually more representative of revolvers produced in the early 20th century, they do add character to any six-gun they are fitted to. Due to the irregular, often rough configuration of stag horn, along with their inherent thickness, these grips also offer a firm hold for serious shooting—especially for those with larger hands—while enhancing the looks of your shooting iron.
Several firms offer exotic woods, mother of pearl, stag and a variety of simulated materials that provide a handsome appearance as well as a firm grip for straighter shooting. Get a firm handgun grip and shoot straight!