The oil-enriched town preserves and celebrates its Western heritage.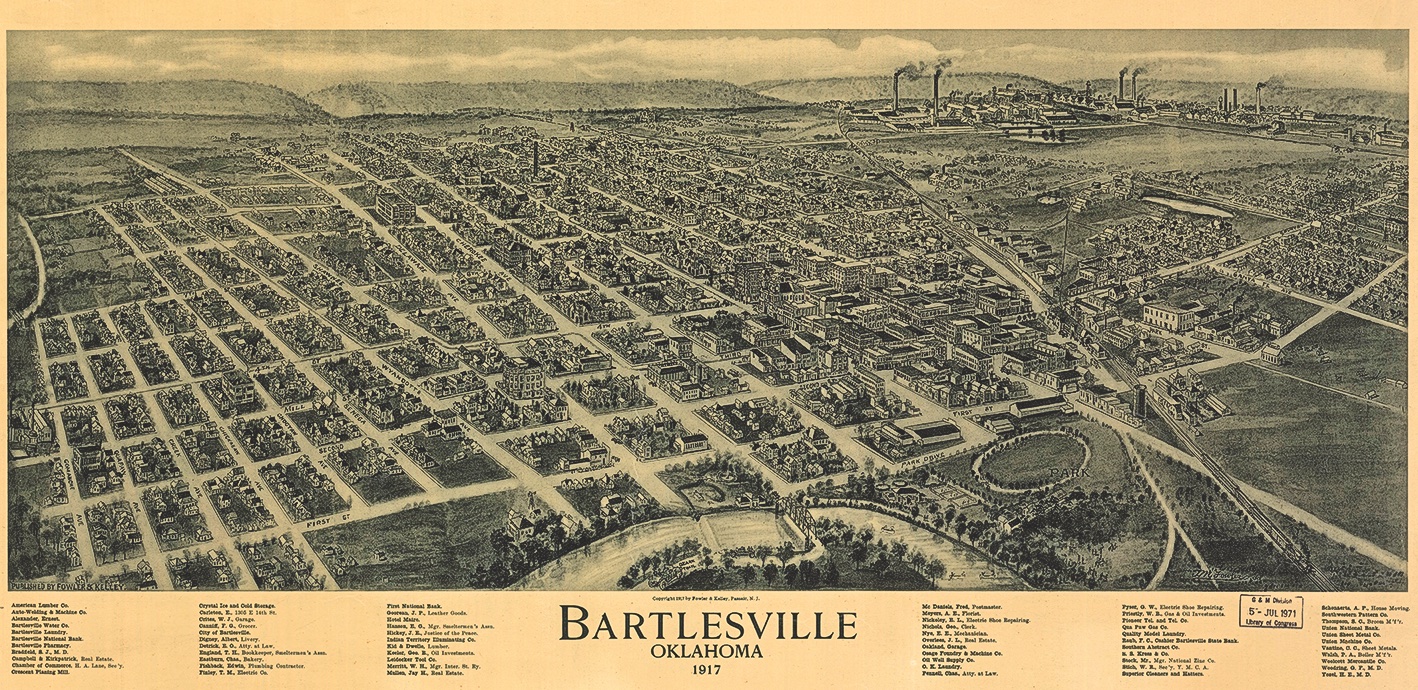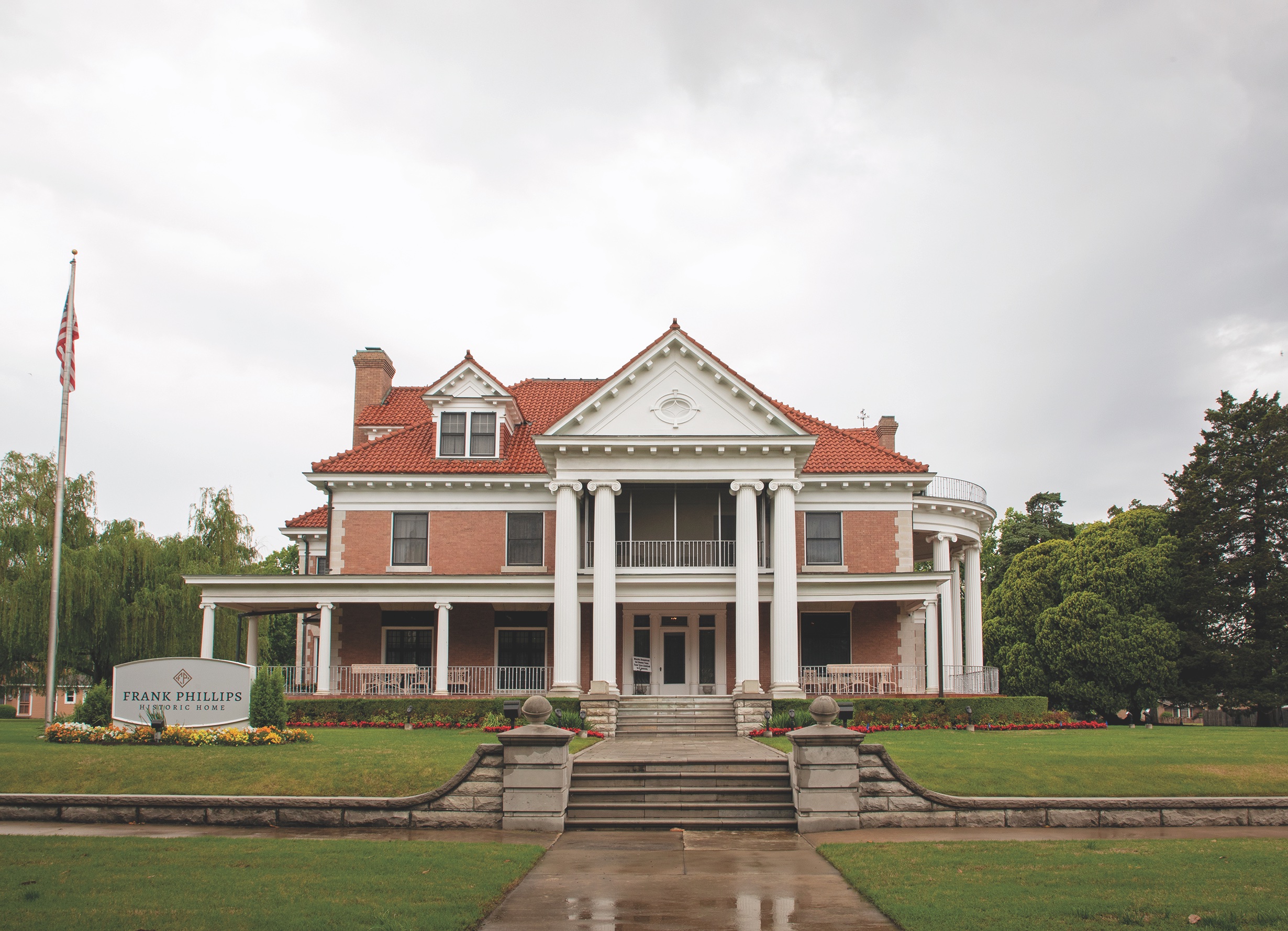 The 150,000 Boomers and Sooners who flooded into the Oklahoma Indian Territory starting in 1889 were seeking land.
The next big wave of frontier fortune-seekers were after oil—black gold—and, oh boy, did they find it. 
In April 1897, George Keeler and William Johnstone hit the first commercially successful oil well in the territory at Bartlesville with the Nellie Johnstone No. 1. It spouted 100,000 barrels of oil over 50 years. 
That gusher launched a boom in the Osage oil fields of the region. Oil patch camps named Wolco, Carter Nine and Whizbang popped up. In two decades, the Osage wells produced more wealth than all of the American gold rushes combined, according to the Oklahoma Historical Society.
A century later, Bartlesville visitors can see the city oil built in northeastern Oklahoma. It starts with a replica of the Nellie Johnstone oil derrick that erupts with gushing water from the Caney River.
"Until you see that [simulated] oil well erupt, if you're not from Oklahoma, you can't really grasp how big those operations were," said Maria Swindell Gus, a Bartlesville native and tourism bureau director. 
Attractions include the Woolaroc Museum and Wildlife Preserve, Tom Mix Museum and Pioneer Woman Mercantile.
Woolaroc—a mashup of "woods, lake and rocks"—started as a 1925 lodge for oilman Frank Phillips and his wife, Jane. It now includes a 50,000-square-foot museum and a preserve on 3,700 acres with buffalo, elk and longhorn cattle.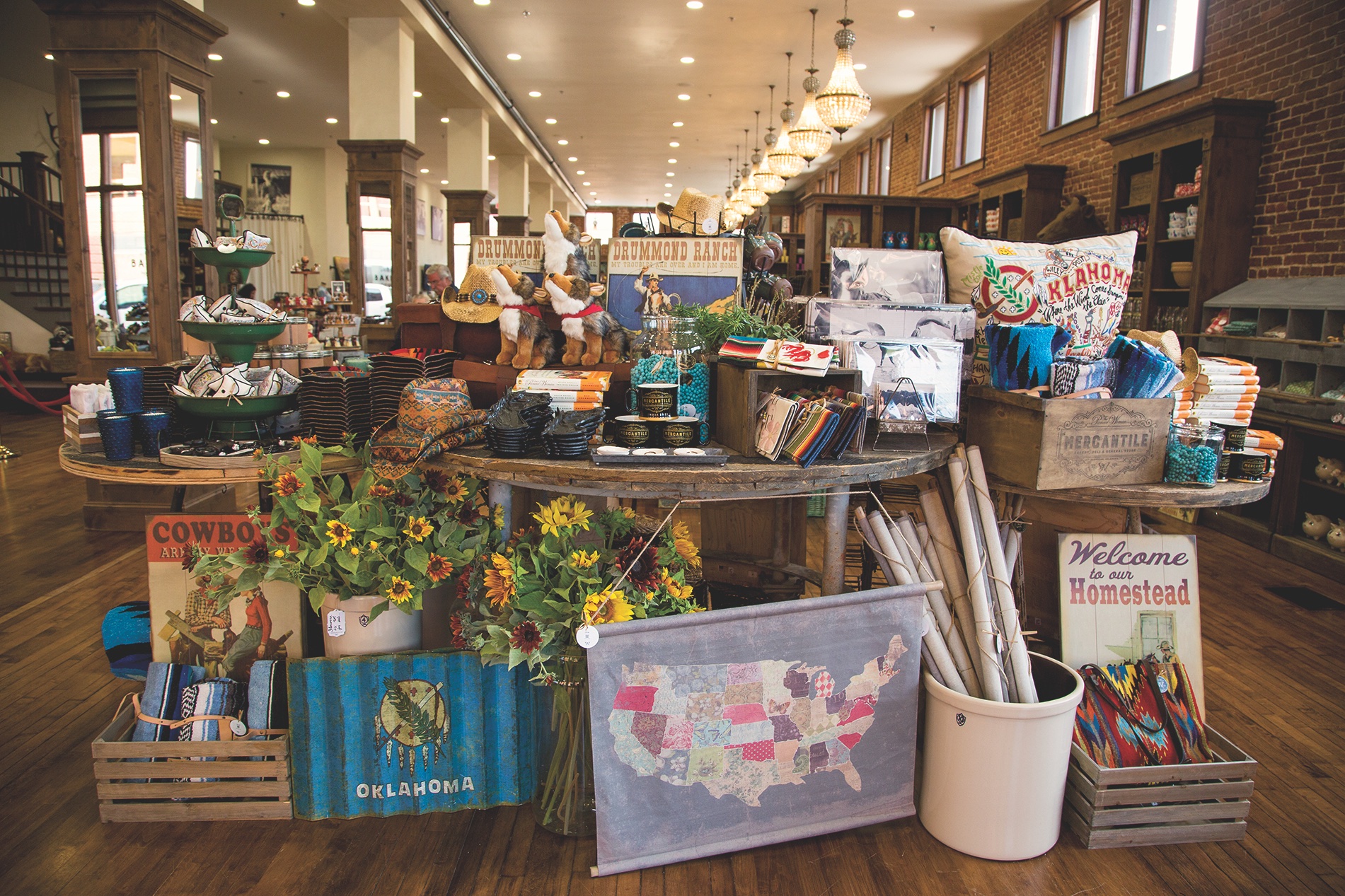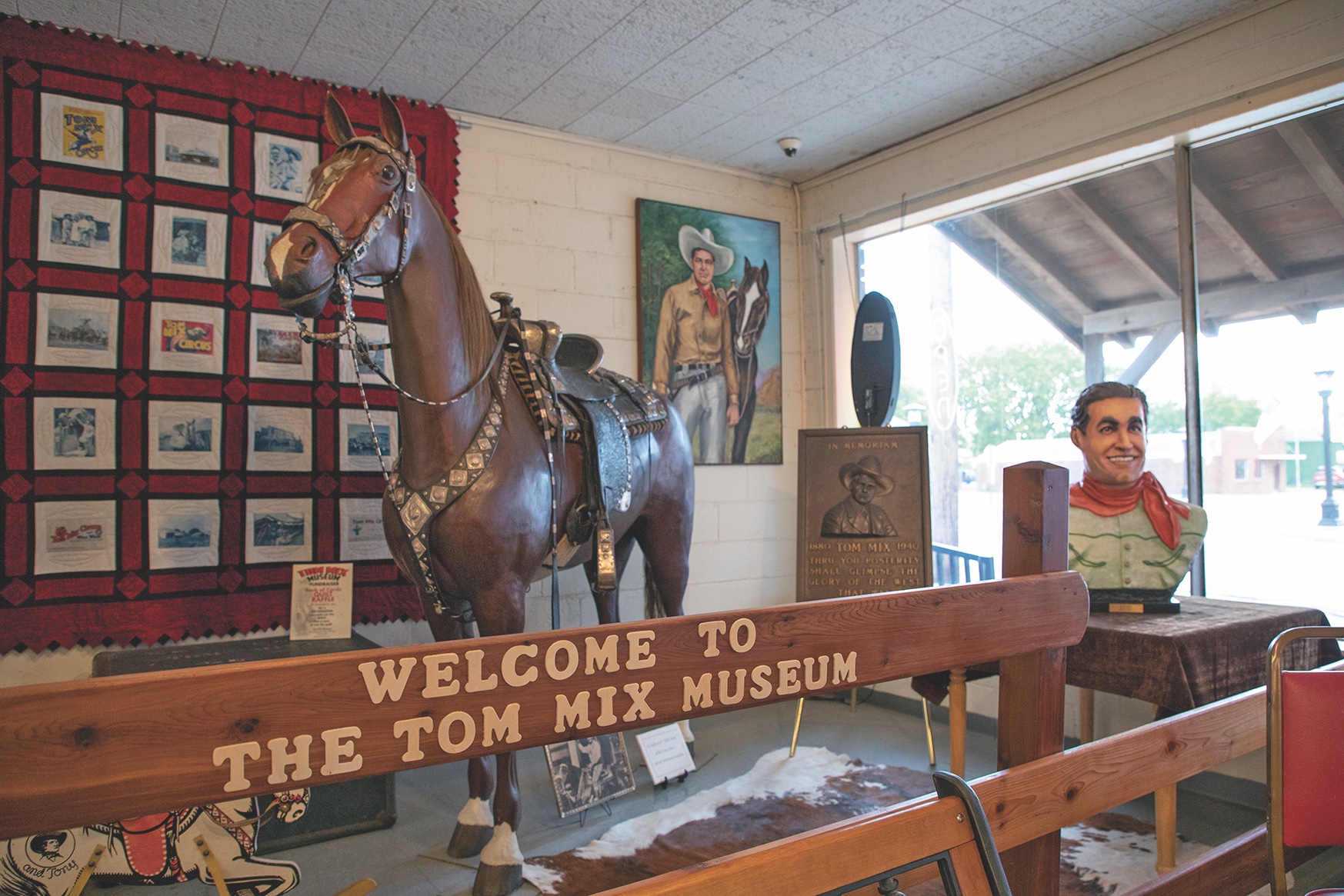 Phillips, a barber-turned-banker-and-oil-baron, founded Phillips Petroleum Co. in 1917 with his younger brother, Lee Eldas or L.E. The Phillips brothers built it into one of the world's largest independent oil companies. Their ventures included Phillips 66 gas stations. The first one opened in 1927 in Wichita, Kansas, with gas selling for 11 cents per gallon. 
Bob Fraser, CEO of the Frank Phillips Foundation, which operates Woolaroc, said Phillips wanted a place where he could entertain business clients away from his New York City office.
"Mr. Phillips made the comment several times that if he could get a man to Woolaroc, he could get him to sign any deal," Fraser said. "He signed a lot of deals at Woolaroc."
Phillips' collection of Western art features works by Frederic Remington, Charles M. Russell and Thomas Moran. A Colt firearms collection has some of the first revolving-cylinder weapons. 
Woolaroc is hosting an art exhibit and sale October 15-17. It features Cowboy Artists of America painter Grant Redden, Puget Sound sculptor Peregrine O'Gormley and artist Sherrie McGraw. The show runs through the end of 2021.
The foundation also oversees the 1909 Frank Phillips Mansion in Bartlesville, which is open for tours.
The Phillips Petroleum Co. has a museum in Bartlesville, and the Bartlesville Area History Museum is in the former 1913 Hotel Maire building downtown. 
The Tom Mix Museum in Dewey honors the "King of the Cowboys," a silent-screen superstar who made more than 300 films. Mix had roots in Oklahoma as a bartender in Guthrie, a Wild West show performer and a night marshal in Dewey. The museum's collection includes his personal possessions and film memorabilia. It even has the suitcase that reportedly delivered a fatal blow to his head in a one-car crash near Florence, Arizona, in 1940. 
Pawhuska, 30 minutes west of Bartlesville, is home to the Pioneer Woman Mercantile in a restored 1903 building. "The Merc" general store, cafe and bakery were developed by Food Network star Ree Drummond and her rancher husband, Ladd, who she refers to as the "Marlboro Man."
Bartlesville tourism director Gus said Ree Drummond traded her "black heels for tractor wheels" in returning to her hometown of Bartlesville from the big city.
"It's been huge for all of us," Gus said of the Pioneer Woman's impact on area tourism, especially as people return to traveling after the pandemic.
Tourists this fall may run into director Martin Scorsese who's filming in the area a screen adaptation of David Grann's book Killer of the Flower Moon: The Osage Murders and the Birth of the FBI. 
Peter Corbett moved West to Flagstaff in 1974 to attend Northern Arizona University, where he studied English and American Studies. He's been exploring Arizona and the West since then and had a 35-year career in Arizona journalism.
WHERE HISTORY MEETS THE HIGHWAY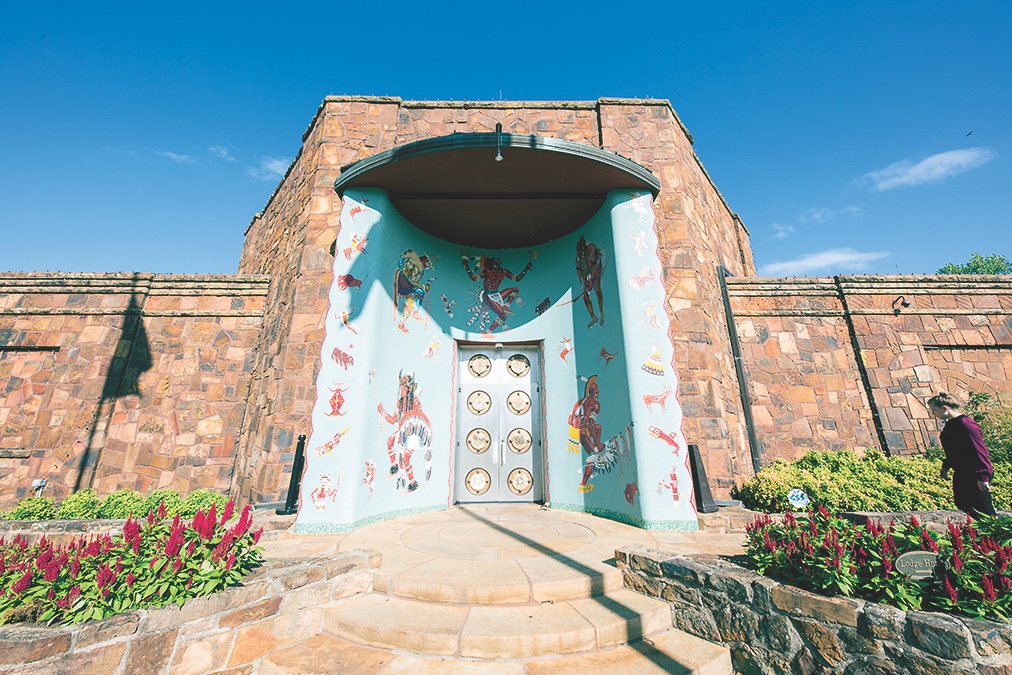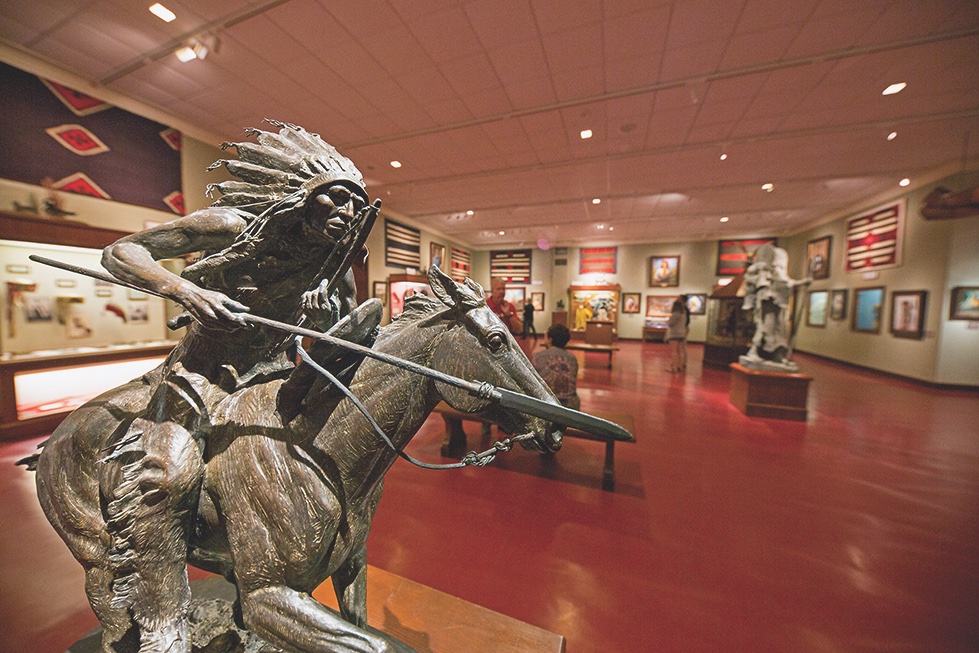 FIRST STOP
Plan your itinerary at the Bartlesville tourism bureau, 300 SE Adams Blvd. It's in the restored 1909 Union Depot.
VisitBartlesvillle.com
EXPLORE A RUSTIC LODGE AND PRESERVE
Woolaroc Museum and Wildlife Preserve was a retreat for oilman Frank Phillips in the Osage Hills west of Bartlesville.  
Woolaroc.org
SILENT SCREEN STAR REMEMBERED
The King of the Cowboys is honored at the Tom Mix Museum, 721 N. Delaware St., in Dewey. 
TomMixMuseum.com
FOOD FOR MY MEN, BEER FOR MY HORSES
Try the eats and libations at the Painted Horse Bar & Grill,110 SW Frank Phillips Blvd., Bartlesville.
Painted-Horse.com
WRIGHT LANDMARK TOWERS OVER BARTLESVILLE
Tour the Price Tower, a 19-story building designed by Frank Lloyd Wright that houses an inn, restaurant and art gallery.
VisitBartlesvillle.com