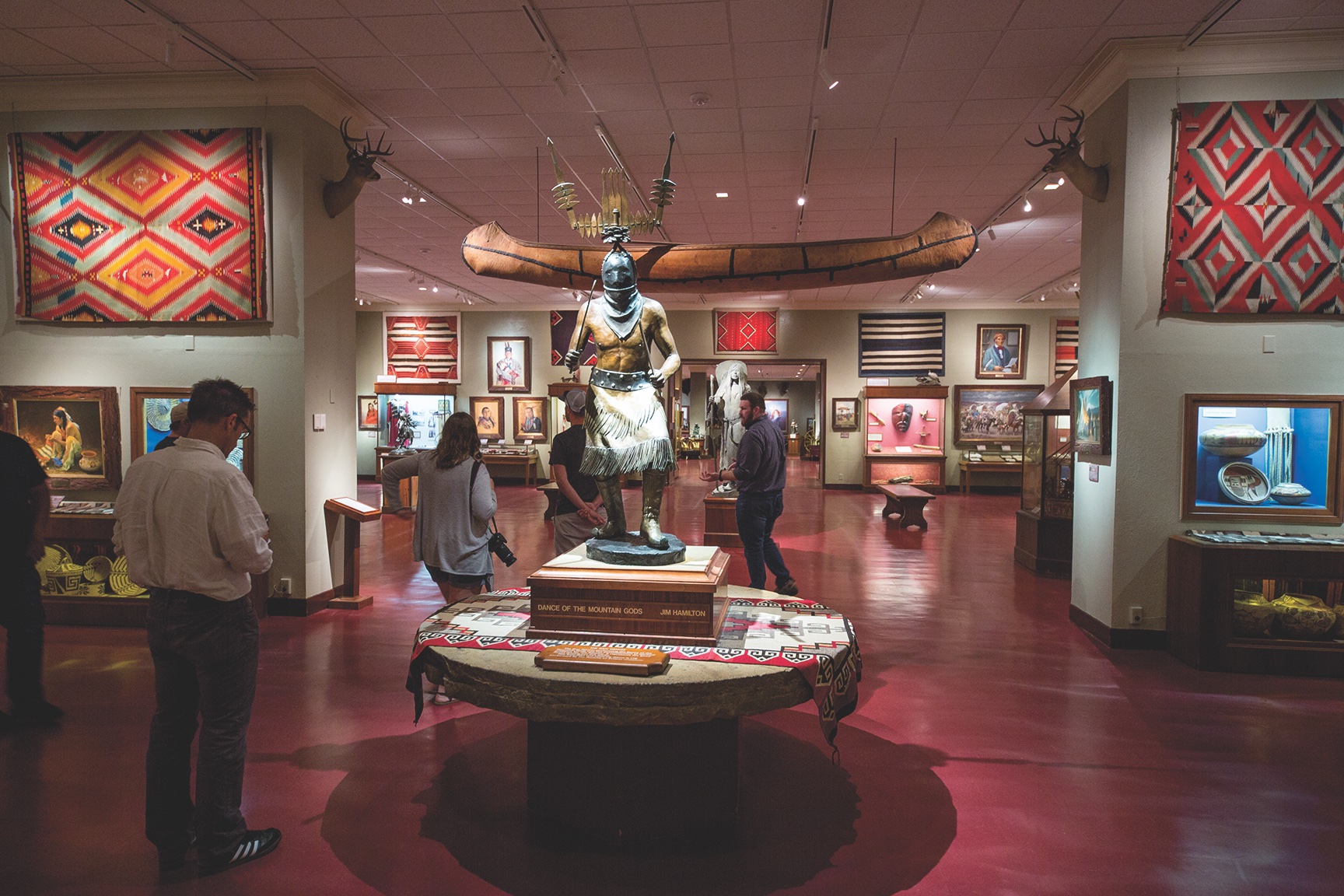 The Woolaroc Retrospective Exhibit and Sale
Bartlesville, OK, October 16-December 31
This year's show will feature William Acheff, Scott L. Christensen, Josh Elliott, Sherrie McGraw, Paul Moore, John Moyers, Peregrine O'Gormley, Grant Redden andnMatt Smith, all of whom are nationally recognized for their work. Lectures, a lodge lunch, and an opening night of the sale will be Saturday, October 16. For ticket and sponsor information, please call or visit the website. 
918-336-0307 • Woolaroc.org
Art Shows
TRADITIONAL COWBOY ARTS EXHIBITION & SALE
Oklahoma City, OK, October 1-2
This event is dedicated to preserving and promoting the skills of saddle-making, bit- and spur-making, silversmithing, rawhide braiding and the role of these traditional crafts in cowboy culture.
405-478-2250 • NationalCowboyMuseum.org
Film Festivals
LONE PINE FILM FESTIVAL
Lone Pine, CA, October 7-10
This festival celebrates and honors Western film and television history and heroes and heroines of the silver screen.
760-876-9103 • LonePineMuseum.org
Gun Shows
TEXAS GUN COLLECTORS ASSN. SHOW
Denton, TX, October 15-18
Held at Embassy Suites Hotel, this collectors' showcase offers historical firearms and edged weapons.
210-323-9519 • TGCA.org
Heritage Festivals
DALTON DEFENDER DAYS & COWBOY TRADE DAYS
Coffeyville, KS, October 1-2
Dalton Defenders Days celebrates that fateful day of October 5, 1892, when the Dalton Gang was defeated in Coffeyville. In addition, Cowboy Trade Days has been added to this popular annual event.
800-626-3357 • Coffeyville.com
REX ALLEN DAYS
Willcox, AZ, October 1-3
Western heroes are brought to life every October. Events include a parade, rodeo and fair, gun show, tractor-pull, concert, softball tournament, car show and more.
520-384-4626 • RexAllenDays.org
25TH ANNUAL TRAILING OF THE SHEEP FESTIVAL
Sun Valley, ID, October 6-10
The festival preserves the stories and history of Idaho sheep ranchers and herders, with entertainment and education for all ages about the production of local food and fiber that have sustained local economies for generations. 
208-720-0585 • TrailingOfTheSheep.org
HELLDORADO DAYS
Tombstone, AZ, October 15-17
Don't miss out on the most rip-roaring celebration in Tombstone. Helldorado Days are held every third Friday, Saturday and Sunday in October and consist of gunfight re-enactment shows, street entertainment, fashion shows and other entertainment. 
888-457-3929 • TombstoneHelldoradoDays.com
HAUNTED DOWNTOWN WALKING TOUR
Riverton, WY, October 16
Enjoy the history, stories and photos associated with many prominent buildings along a walking tour.
307-856-2665 • TravelWyoming.com
KERR COUNTY FAIR
Kerrville, TX, October 21-24
Head to this 1857 Texas Hill Country town for a prospect show, cook-off, bull rides, downtown parade and dances.
830-257-6833 • KerrCountyFair.com
FALL FOR HISTORY
Wallace, ID, October 30-31
A gala celebration of Wallace's history and its designation as entirely listed on the National Register of Historic Places includes speakers, historic home and museum tours, live theater re-enactments and more.
208-753-7151 • WallaceIdahoChamber.com
Historic Trains
GEORGETOWN LOOP RAILROAD OKTOBERFEST
Georgetown, CO, Weekends, October 15-24
Chug away on a scenic train trip that offers microbrew beer-tasting for adults and root beer for kids.
888-456-6777 • GeorgetownLoopRR.com
FALL FOLIAGE TRAIN
Baker City, OR, October 22-24
Photography and history fans take a ride on a vintage steam locomotive to capture the fall scenery.
541-894-2268 • SumpterValleyRailroad.org
WALK THROUGH HISTORY
El Paso, TX, October 16
Walk through the 1872 cemetery to learn the history of John Wesley Hardin, Buffalo Soldiers and other permanent residents.
915-842-8200 • ConcordiaCemetery.org
Music
WILD WEST SONGWRITERS FESTIVAL
Deadwood, SD: October 7-9
Twenty of the top songwriters and artists come to Deadwood to share their music and their stories. The festival features free informal performances during the days and ticketed concerts in the evenings.
605-578-1876 • Deadwood.com
COUNTRY THUNDER ARIZONA
Florence, AZ, October 14-17
For 23 years, Country Thunder has brought fans the best artists country music has to offer. The festival offers entertainment on multiple stages along with camping. This year's headlining acts will include Eric Church, Luke Combs, Old Dominion and Dustin Lynch.
866-388-0007 • CountryThunder.com 
RED STEAGALL COWBOY GATHERING & WESTERN SWING FESTIVAL
Fort Worth, TX, October 22-24
Enjoy Western Swing music, cowboy poetry, a chuckwagon cook-off and a rodeo—all at Fort Worth Stockyards.
817-444-5502 • RedSteagallCowboyGathering.com
Poetry Gatherings
DURANGO COWBOY POETRY GATHERING
Durango, CO, September 30-October 3
The gathering features The High Country Cowboys with many fine cowboy poets and musicians, plus a cowboy-poet train and parade.
970-749-2995 • DurangoCowboyPoetryGathering.org
Powwows
BLACK HILLS POWWOW & EXPO
Rapid City, SD, October 8-10
The preeminent Black Hills event is three days filled with American Indian singing, dancing, drum groups, art shows, hand games, athletic competitions and a variety of other events. 
(605) 341-0925 • BlackHillsPowwow.com