The Pawhuska, Oklahoma, center celebrates and honors the local hero's life and career.
Ben Johnson was cowboy to his core, and he is the only man to win both a World Champion Steer Roping title and an Oscar. His work as an arena cowboy and as a film cowboy is highlighted at the Ben Johnson Cowboy Museum in Pawhuska, Oklahoma. This museum opened just three years ago and is already garnering wide acclaim for its collection of Ben Johnson memorabilia and how it highlights other outstanding cowboys from Osage County, including 25 who were world champions.
The Johnson story starts with Ben Johnson Sr.—father of the film star—who was the 1922 World Champion steer roper. He was also the foreman of the Chapman-Barnard Ranch. Among the other top cowboys and horsemen represented in the displays and collections are Henry Grammer, 1916 steer roping champion; Tommy Marvin, 2015 National Cutting Horse Association World Champion; G. R. Carter, 10-time AQHA world champion jockey; and his uncle Barton Carter, the 1926 world champion steer roper. The saddle Barton Carter won at Madison Square Garden is on display.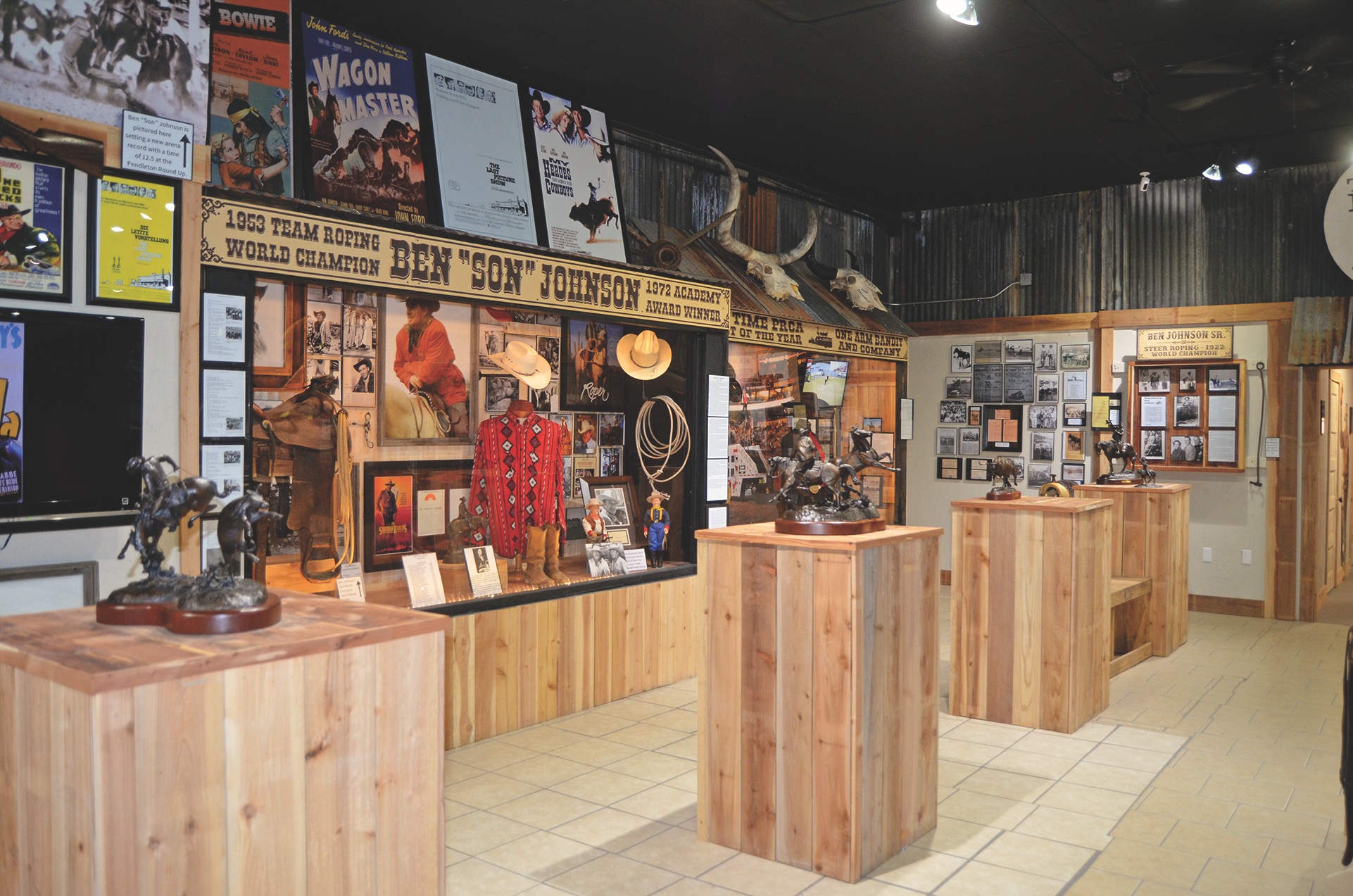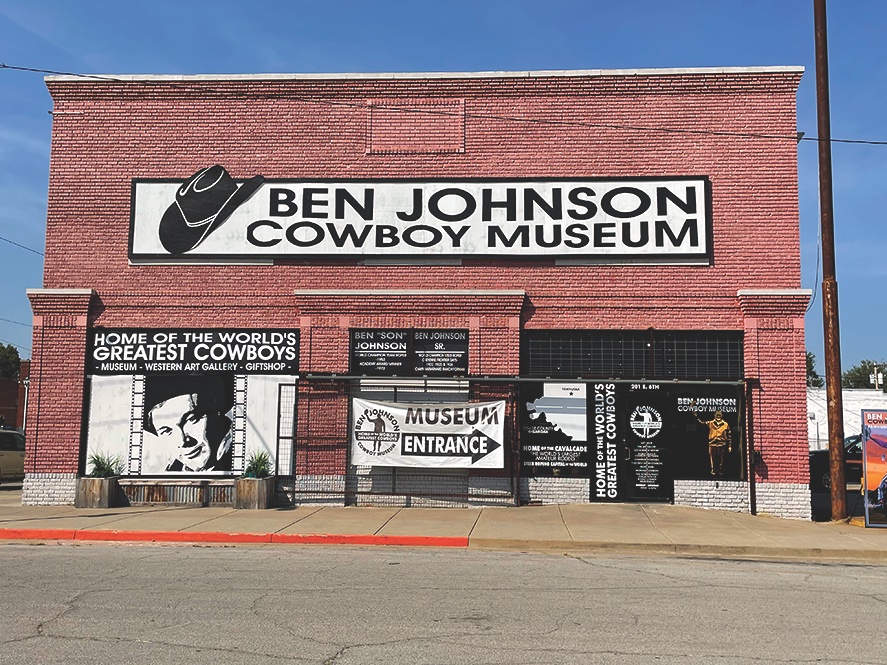 Other exhibits include a shirt that belonged to Casey Tibbs, and a collection of bits and spurs made by Oscar Crockett. The first Crockett blacksmith shop was in Pawhuska—just across the street from the present museum. While that shop was open only one year, a pair of spurs Crockett made while working at his first forge is part of the museum collection. 
The museum features large-scale movie posters from Ben Johnson's films, an area to watch clips from the films, an area to learn about his rodeo career and a place where visitors can climb on a horse mannequin and try their hand at roping a steer. 
The history of horse transportation is a signature exhibit depicted by a pickup with a stock rack and an accompanying video
that shows other ways horses have been transported—from riding them, leading them, using a wagon, hauling them in planes, on trains, in trucks and even a donkey riding in the back of a car.
Artwork displays include sculptures and paintings, along with the movie posters and ephemera. Featured artist is John B. Free. The museum has plans in the works for a heroic size sculpture of Ben Johnson that will eventually greet visitors to the museum. 
Every Thursday the museum hosts the podcast "Cowboys of the Osage," produced by Cody Garnett and Jim Snively as an opportunity to talk about historic ranches and with accomplished cowboys.
This museum has another film connection through Henry Grammer, the 1916 World's Finals Steer Roping Champion from Osage County, who is part of the storyline in David Grann's history Killers of the Flower Moon, which is now in production for Apple Studios. The film is being directed by Martin Scorsese, and stars Leonardo DiCaprio and Robert DeNiro. Playing Grammer, the rodeo champion and bootlegger, is Sturgill Simpson.   
Candy Moulton is this month's Renegade Roads columnist and a regular contributor to True West, the executive director of Western Writers of America and the executive director of the Wyoming Cowboy Hall of Fame.