Ben Johnson knew how to set a horse.
In our universe there are numerous classic cowboy stars, and then there is one true cowboy who also became a classic Western movie star and that would be Ben Johnson.
According to our editor Stuart Rosebrook, his father Jeb Rosebrook, who penned the screenplay, Junior Bonner, became good friends with Ben Johnson and Casey Tibbs during production in Prescott, Arizona, in 1971. They had a reunion at a rodeo in Tehachapi, California, in the late 1970s. Stuart remembers: "Every time Ben rode across the screen in any movie or television show, my father always pointed out to me his style of riding and would say enthusiasticaly 'Johnson was the greatest horseman in movie history.'" Without a doubt, he was right.
We recently asked our readers to tell us what makes Ben so wonderful, and we got over 600 responses. 
Here are just a few of the comments:
"No mistaking a real ranch-raised cowboy." —Jeanne Grimes
"He was a cowhand first and an actor second." —Kenneth LeBlanc
"Every movie he was in was better for it." —Rodney F. Beatte
"When you heard his voice, you knew it was going to be a great Western." —Rusty D'Amico
"Poetry in motion on horseback." —Preston Montfort
"If it was a good Western, he was in it." —Keith  and  Sandy Trott
"I asked him his advice for young people. He said, 'Always remember who you are, where you come from, and never drink your own bathwater.'" —Tom Ward
"Met him at a gig in Mesa at a Sunday brunchtime where he was signing autographs. I asked him how he was doing, and he replied, 'I'd rather be fishin'." —John Richard Kingsland
"In the late 90s, I did home sewing-machine repair, and I was called out to a home in the far East Valley by a gal in her 70s or 80s, and got her machine up and running. On the way out, I noticed her mantel was literally jammed with pictures of Ben Johnson. I remarked that she must be a super fan, and she said 'absolutely, I'm his biggest fan, he's my son!' I told her how much I admired his movies and skill and that I was one of his biggest fans as well! A week later, she called again to tell me she was still having some issues, and I headed out her way. When I got there, Ben was there! Her issue with her machine wasn't, she just wanted to give me a chance to meet him, and it was wonderful." —Chip Quinn
"Nobody set a horse better." —Steve Filmore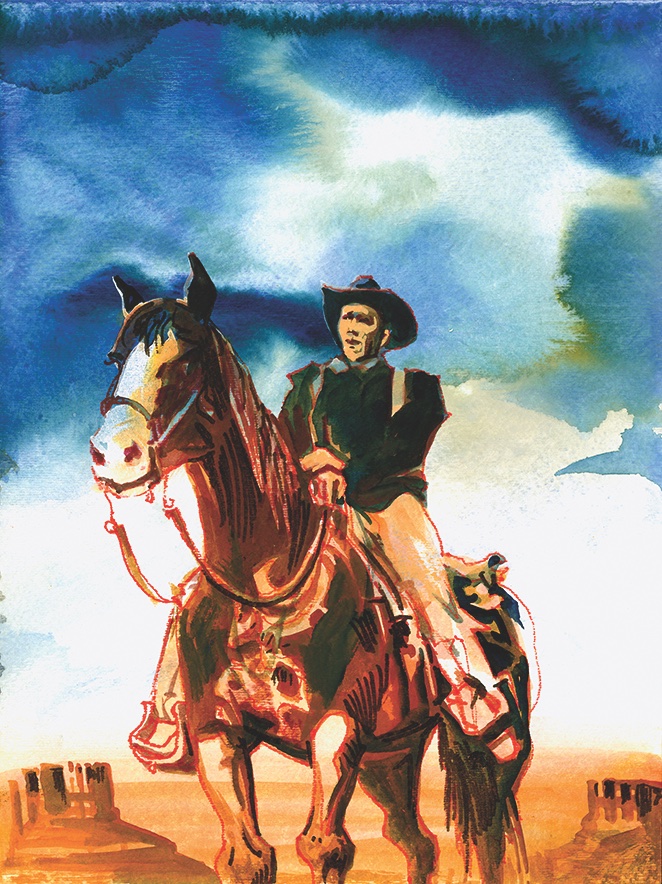 Ben had a self-deprecating style that endeared him to all of us who love the West.
"I'm not the best actor, but I'm great at playing Ben Johnson." —Ben Johnson
With all these accolades, perhaps the best quote goes to our featured interview on the last page of this issue:
"Ben Johnson is the epitome of honesty on film. He was brilliantly and simply, real."—C. Courtney Joyner