Thanks to replicas, you can have a spitting-image, working copy of some of the Old West's most colorful shootists' famous guns.
Talk about expensive! Original guns used by the famous and infamous personalities of the Old West have become coveted collectibles. If not already in museum collections, such arms can cost five, six and sometimes seven figures, making them impossible for anyone of average means to afford. 
In the Rock Island Auction Company's May 2021 auction, two notable 5½-inch barreled, 1873 Colt Peacemakers garnered hefty prices. A Colt Single Action (SA) used by the Dalton gang in the Coffeyville, Kansas, dual bank robbery sold for $138,000. And the last Colt SA personally ordered by frontier gunfighter W.B. "Bat" Masterson, hammered down at a whopping $488,750.
Recently, Bonhams of Los Angeles auctioned off the 7½-inch-barreled, Colt .44-40 SA, that Sheriff Pat Garrett used to kill Billy the Kid for an astounding $6,030,312. A Springfield Sporting Rifle, buried with James Butler "Wild Bill" Hickok, went for $425,312, Robert Olinger's shotgun went for $978,312, John Wesley Hardin's Smith & Wesson sold for $625,312 and another Bat Masterson Colt sold for $375,312. (For more details on this auction, see "Collecting the West," page 14). Obviously, purchasing an actual gun owned by a notable Western figure is out of the question for most of us.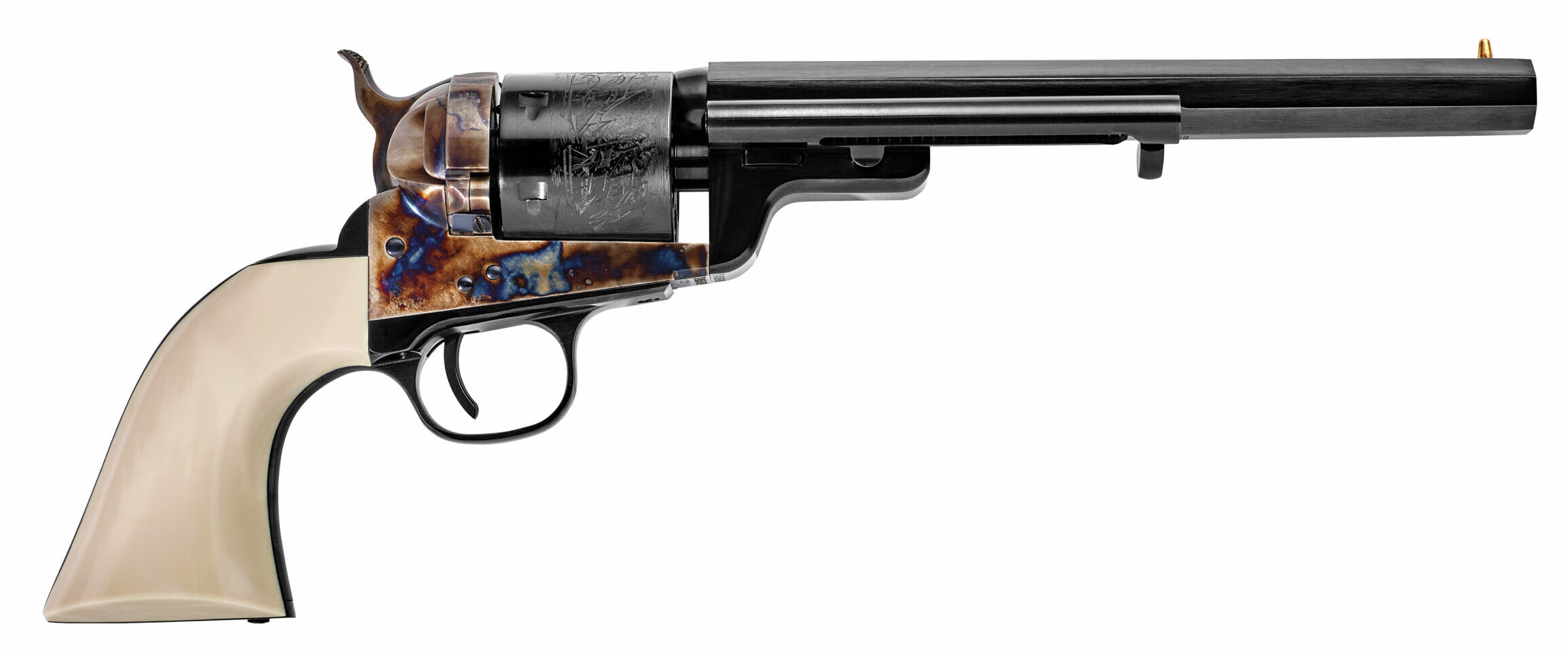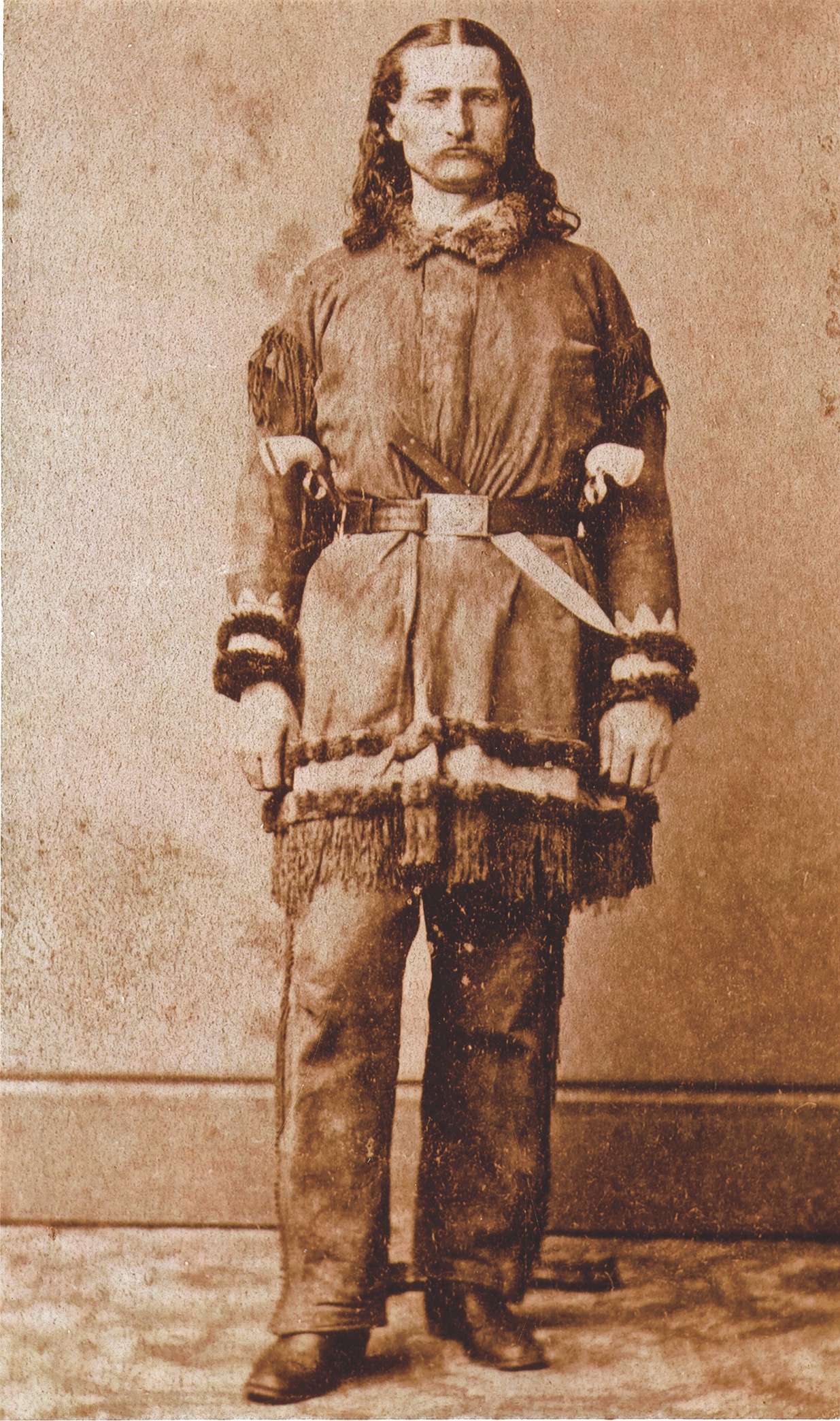 Thanks to the replica firearms industry, Italian-import clones of the actual "hardware" packed by Old West luminaries can be had at affordable prices, leading to in some cases, complete collections of replicas of their specific guns. These new/old guns look and operate like the originals, but fire modern factory smokeless ammunition, so they can be taken to the range or field and enjoyed like any other modern gun.
The following replica firearms are detailed copies of famous shooting irons used by the gunmen of the Wild West. For the sake of brevity, we'll focus strictly on metallic cartridge firearms.
A number of firearms companies offer historic reproduction firearms. Outfits like Taylor's & Company and Dixie Gun Works offer an extensive line of frontier-era revolvers, rifles and shotguns. C. Sharps Arms Co. custom builds 1874, 1875 and 1877 Sharps, 1885 High Wall, and Remington Hepburn rifles. Winchester offers new versions of its legendary 1866, 1873, 1886, 1892, 1894 and 1895 lever-action rifles, along with its 1885 single-shot High Wall rifle. And Marlin continues to turn out its long-popular Model 1894 and 1895 lever guns. Ruger, of course, produces its much-liked Vaquero single-action, peacemaker-styled revolver, with its traditional looks and modern internal workings. For this article we're focused on replicas of the actual guns toted by historical figures.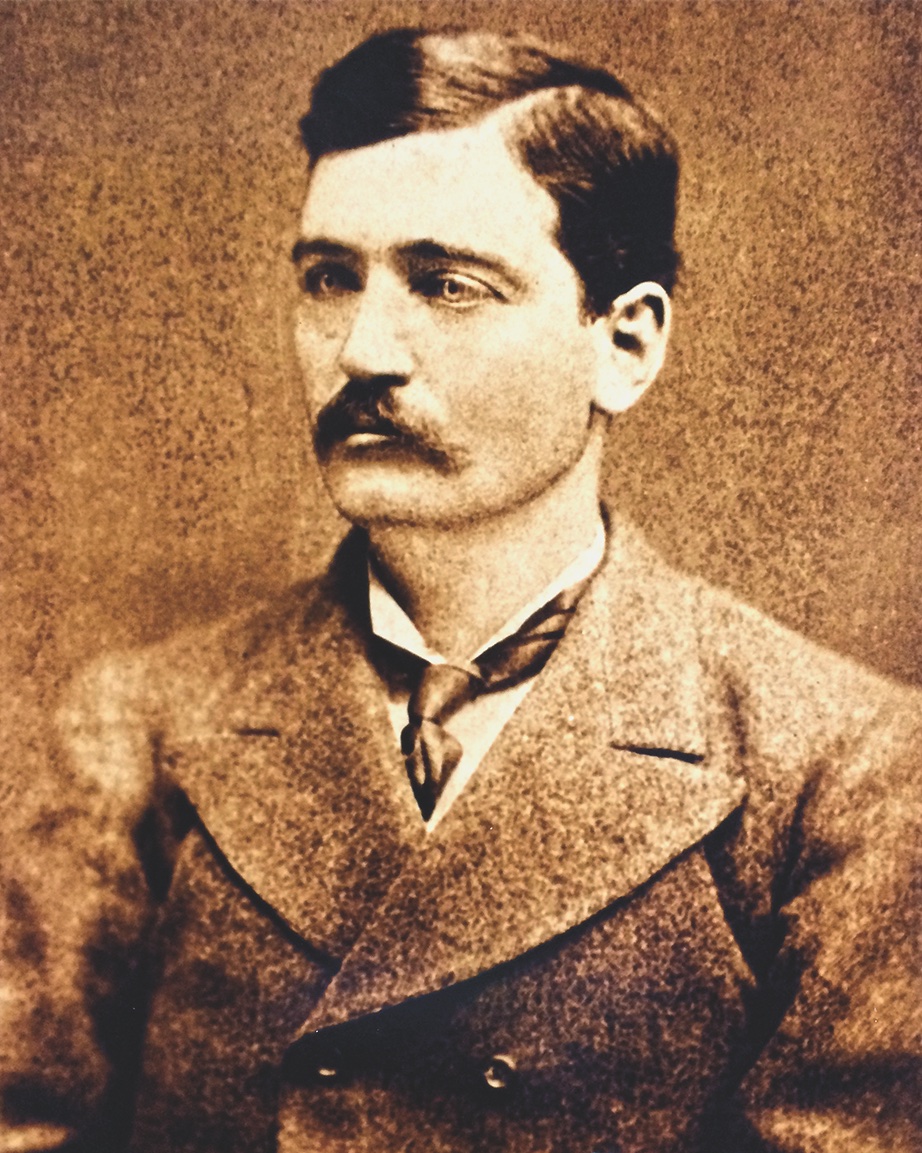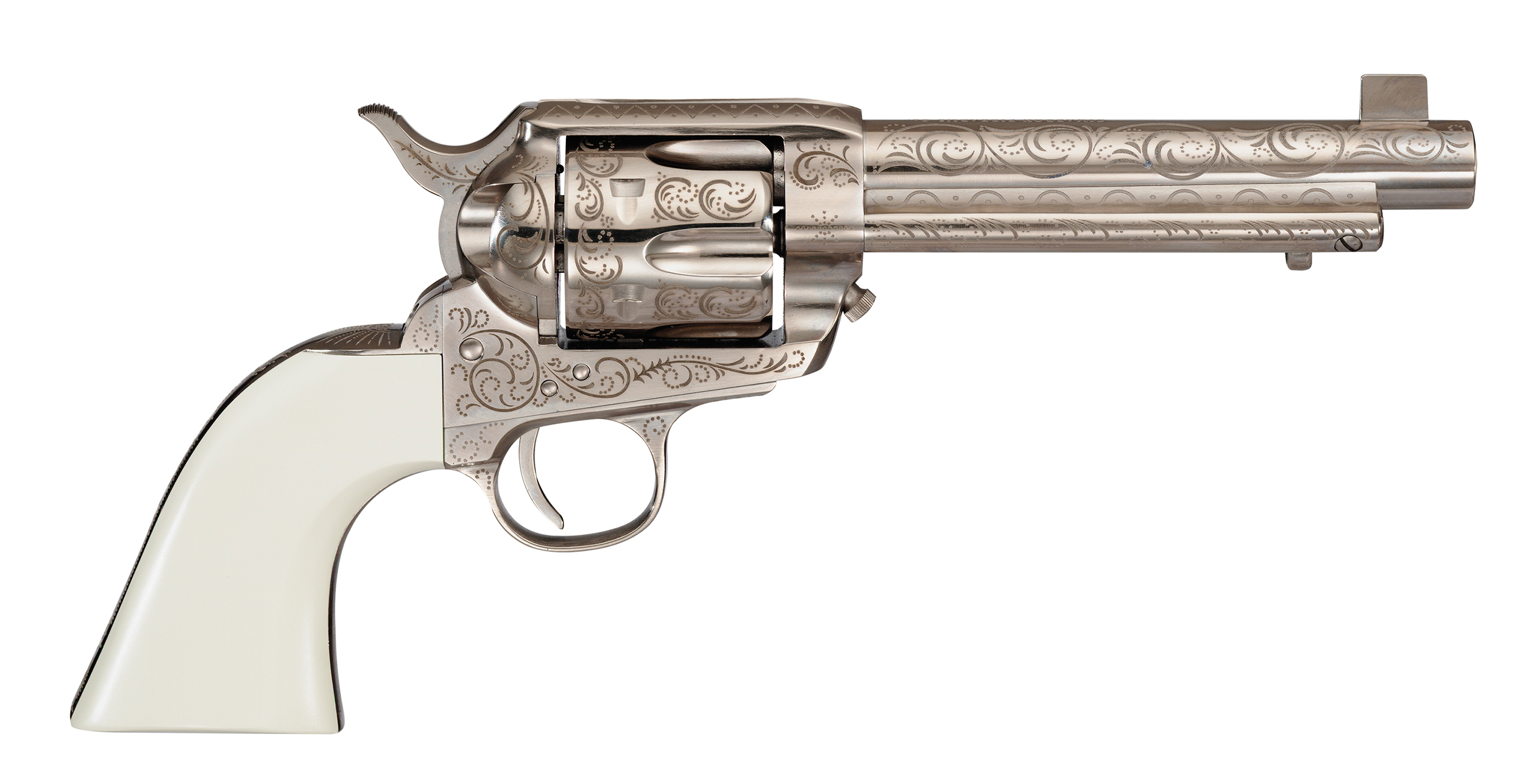 REVOLVERS
Cimarron Firearms has a few 1873 Colt
lookalikes designed to resemble the guns of legendary gunmen. They boast of laser engraving that is not as detailed as hand engraving, but neither is the price tag. Cimarron's "Bat Masterson" revolver is patterned after one of the famed lawman/army scout/gambler's Colts. This 5½-inch-barreled, nickeled six-shooter is an Old Model, pre-1896 black powder frame (handles .45 Colt factory smokeless ammo) like Bat's 1880s Peacemakers, and sports a 5½-inch barrel, a squared-off front sight blade, circular "bullseye" ejector head, simulated ivory stocks, and like the original, wears "W.B. Bat Masterson" engraved on the back strap. Cimarron's copy of cowboy president Teddy Roosevelt's 1880s nickeled, 7½-inch-barreled Colt with the "TR" monogram on faux ivory stocks is also offered with laser engraving, and is a real beauty.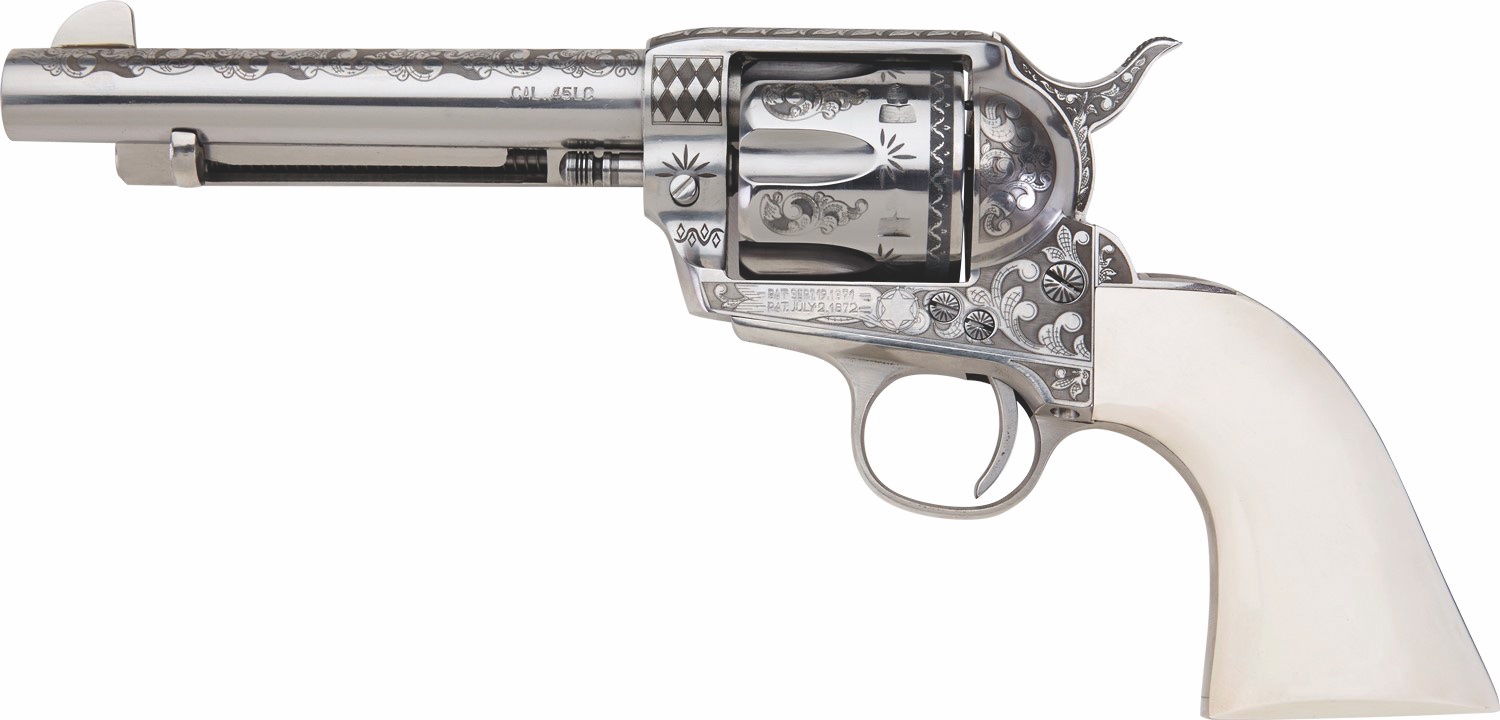 Both Cimarron and EMF Co. offer handsome replicas of Gen. George S. Patton's famed Peacemaker. While General Patton is usually associated with World War II, this fighting general made quite a name for himself during the 1916 Punitive Expedition in Mexico. As a young lieutenant out on a foraging patrol, Patton surprised three Mexican revolutionaries from Pancho Villa's Brigada Del Norte and in a gun battle, shot each of the banditos and emerged an unscathed victor. Patton was credited with wounding all three, and killing two of them, with his 1873 Colt revolver. He went on to become one of the Second World War's most successful generals and packed this famous Peacemaker throughout the war. Cimarron's version is nickel-plated in the post-1896 pre-war style (cylinder base pin retaining screws on each side of the frame) and is laser engraved in the Cuno Helfricht style of Colt engraving, as was the general's sidearm. It's produced in .45 Colt, with the 4¾-inch barrel, has hand-fitted poly ivory grips with the "GSP" initials and a lanyard ring on the grip frame. 
EMF's "Deluxe General Patton" copy is part of its Great Western II series of 1873 single-action revolvers. Its tribute to Patton is a handsome stainless steel pre-war model, correct 4¾-inch barrel and is offered in either the .45 Colt chambering, or in .357 Magnum. It sports factory laser engraving in the style of Patton's original Colt, and wears simulated plain ivory grips.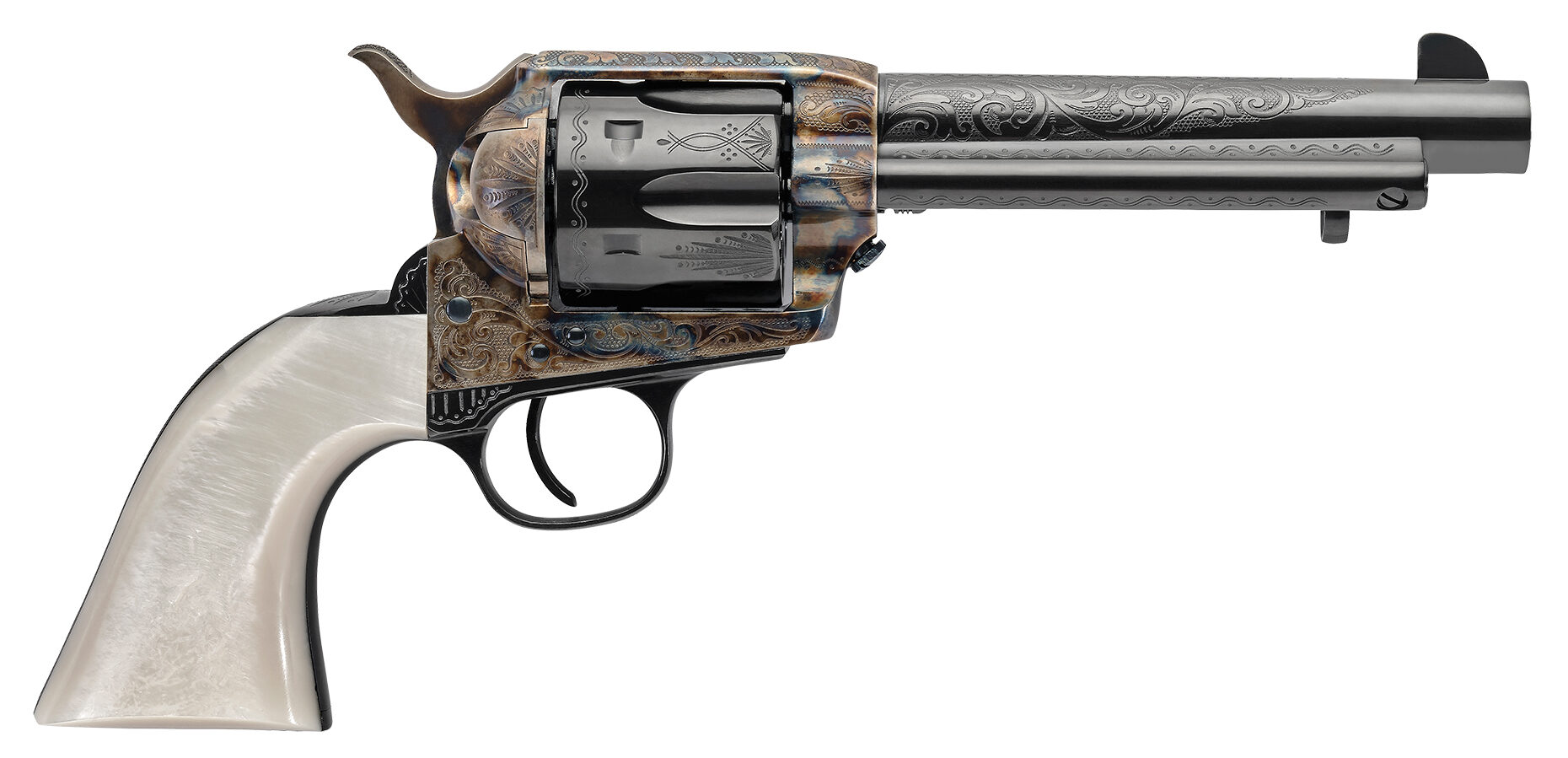 Uberti USA has created the Outlaws and Lawmen Series, made to emulate those revolvers of the good and bad men of the West. It includes such six-shooters as "Frank," a 7½-inch barreled, nickeled 1875 Remington model (one of Frank James's favorite sidearms). It's offered in .45 Colt, .38 Special or .357 Magnum. The "Teddy" model is a 5½-inch tubed '73 Cattleman SA, featuring engraving similar to a Colt our cowboy president, Theodore Roosevelt, owned in his later years. It, too, comes in .45 Colt, .38 Special or .357 Magnum. The "Prince of Pistoleers," James Butler Hickok was believed to have carried cartridge conversion Colts in his final days, and Uberti's series includes the "Wild Bill," a 7½-inch .38 special, octagon-barreled 1851 Navy replica that sports faux ivory stocks, like other guns Hickok was known to have. 
This writer's favorite of the Uberti lineup is the "Dalton," a blue and color case-hardened, laser-engraved peacemaker-styled SA, fitted with faux ivory stocks. It copies one of the .45 Colts used by the Dalton gang during their ill-fated Coffeyville, Kansas, dual bank robbery. It's available as a .45 Colt, .38 Special or .357 Magnum. Other smoke wagons in the Outlaws and Lawmen Series include revolvers simulating weapons packed by gambler/gunfighter Doc Holiday and outlaws Billy the Kid, Jesse James and John Wesley Hardin. 
RIFLES
Some of the most coveted treasures from our Western past are shoulder arms. Cimarron offers a selection of rifles that are copies of the long arms that played major roles in conquering the Wild West. A trio of 32-inch, octagon-barreled "Billy Dixon Sharps" replicate the model 1874 Sharps Sporting Rifle like Dixon used during the June 1874 battle at Adobe Walls in Texas, when he dropped an Indian warrior from 1,538 yards (7/8 mile). These repros include two Pedersoli-made rifles (.45-90 and .45-70), and a more economically priced Armi Sport version (.45-70). Each model duplicates the look of the Hartford model '74 Sharps, with the metal nose cap, and a blue and color case-hardened finish. 


If your taste runs to military-style arms, the Armi Sport "McNelly" Texas Ranger .45-70, 22-inch round-
barreled Sharps carbine, like the M-1859 percussion Sharps issued to Leander McNelly's Rangers in 1875, when he was ordered to rid Texas's notorious Nueces Strip of the outlaw gangs operating there. Like the original 36 carbines purchased for the Rangers, Cimarron's replica bears a "T↔S" stamping, but rather than being cham-bered for the now non-commercially manufactured .50-70 McNelly's Sharps were chambered for, Cimarron's clones are built to take the .45-70 cartridge, which is readily available in factory smokeless loads.
Even though buffalo hunter Matthew Quigley was not a "gen-u-wine" Old West frontiersman, actor Tom Selleck's portrayal of the sharpshooter brought him life beyond the screen. His "costar," the 1874 Sharps rifle, produced by the Shiloh Rifle Manufacturing Company was expressly crafted for the 1990 classic Quigley Down Under film, and together, the pair has become modern-day Wild West icons. Shiloh continues to custom build "Quigley" Sharps replicas, down to the last detail of the movie gun, including the customer's initials (any initials except "M Q") in gold, inlaid on the receiver. If you want a buffalo gun that shoots 1,200 yards, or in Quigley's words, one that shoots "a mite further," contact Shiloh.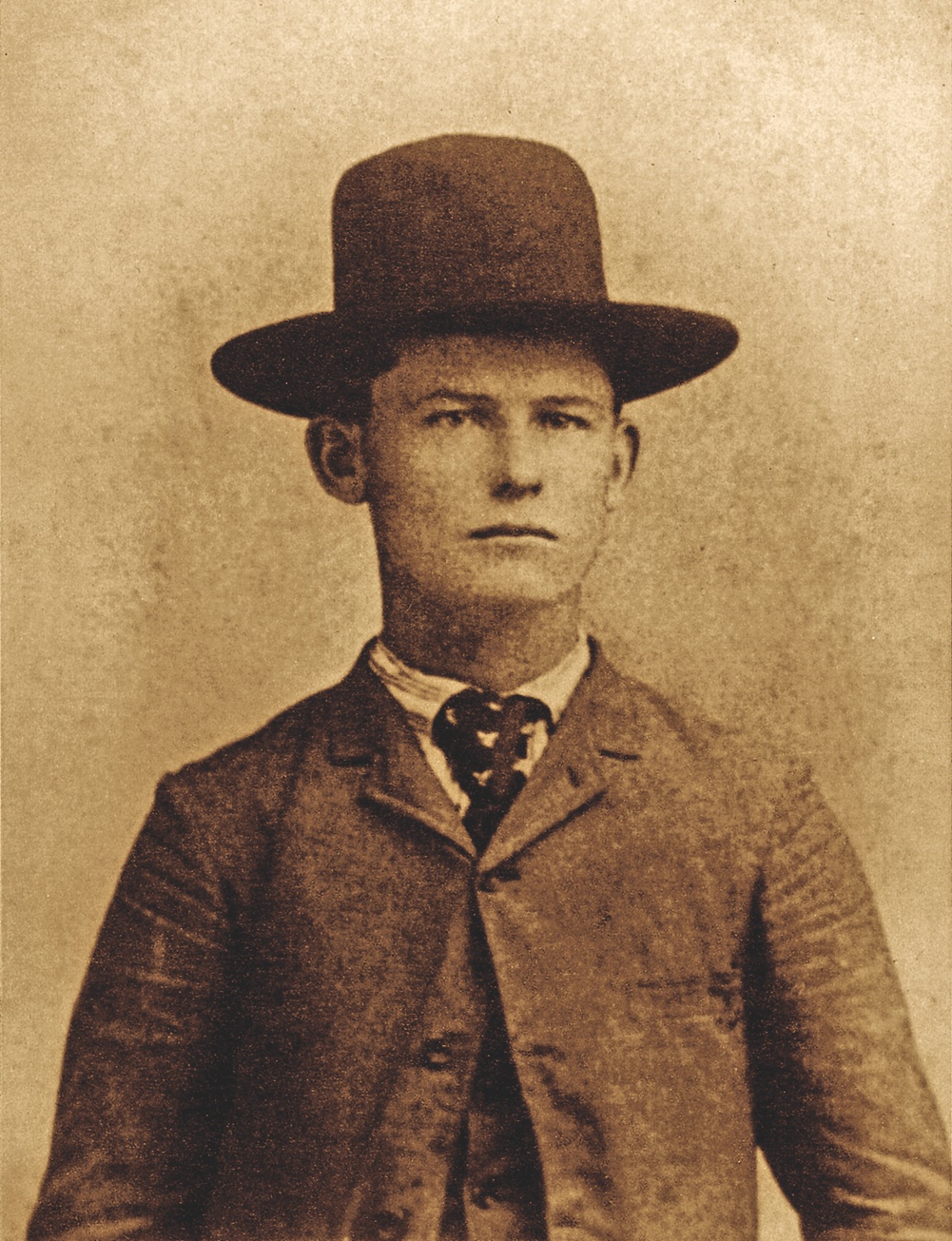 Speaking of movies, the 1980 Western, Tom Horn starring Steve McQueen gave rise to an interest in the big 1876 Winchester lever-action rifle. Cimarron has brought out a re-creation of the blued-frame '76 packed by McQueen, including a replica of the unique tang sight, similar to that seen on the silver screen rifle. This .45-60 caliber lever gun (as featured in the flick) also has a side plate with a facsimile of Horn's actual signature engraved on it. 
One of Cimarron's many unique and historical introductions to the replica world is its 22-inch-barreled, full-stocked round-barreled 1876 Winchester "NWMP Carbine." This is a spitting image of those 1,261 Winchester '76s issued to Canada's North West Mounted Police who saw service from 1878 until 1914. Chambered for the powerful .45-75 cartridge, these lever-actions were used to put down the 1885 North West Rebellion, protect Canada's borders during the Yukon Gold Rush of 1898 and later during the Alaska Boundary Dispute at the dawn of the 20th century. Cimarron's detail-perfect copy features a full blue finish, tubular magazine, full stock with barrel band and blued metal fore-end, with the addition of the proper "NWMP" stamping in the stock. This model is chambered for the original .45-75 (350-grain bullet) cartridge. Cimarron also offers the 1876 Carbine in the "Crossfire" version, as featured in the popular 2001, Tom Selleck TNT movie Crossfire Trail. This civilian model, available in .45-75, or .45-60 (movie version) sports a blue barrel, magazine, barrel band and metal fore-end, but has a color case-hardened receiver, lever, trigger, hammer and butt plate. 
Although Henry Repeating Arms is perhaps best known for producing modern designs of lever-action rifles inspired by the repeaters of the Old West, the company also offers a selection of authentic, all American-made Model 1860 Henry rifles. Henry's full-length historic replica rifle has a 24½-inch, blued octagon barrel, and comes in a choice of brass (.44-40 or .45 Colt) or iron (color case-hardened) receiver (.44-40 only) and butt plate. A 20½-inch, .44-40 octagon tubed, carbine model is also offered with brass receiver and butt plate, and two limited production of 1,000 each, brass or silver, engraved 1860-design Henry, .44-40 full-length rifles are offered. Each of the engraved models is hand-engraved and embellished, as were those presented to dignitaries and/or purchased as presentation pieces during the 1862-1866 period of the original Henry's production. Henry also offers a special 200th Anniversary (limited to 200 copies) engraved, original style Henry rifle, commemorating the birth of this historic gun's inventor, Benjamin Tyler Henry.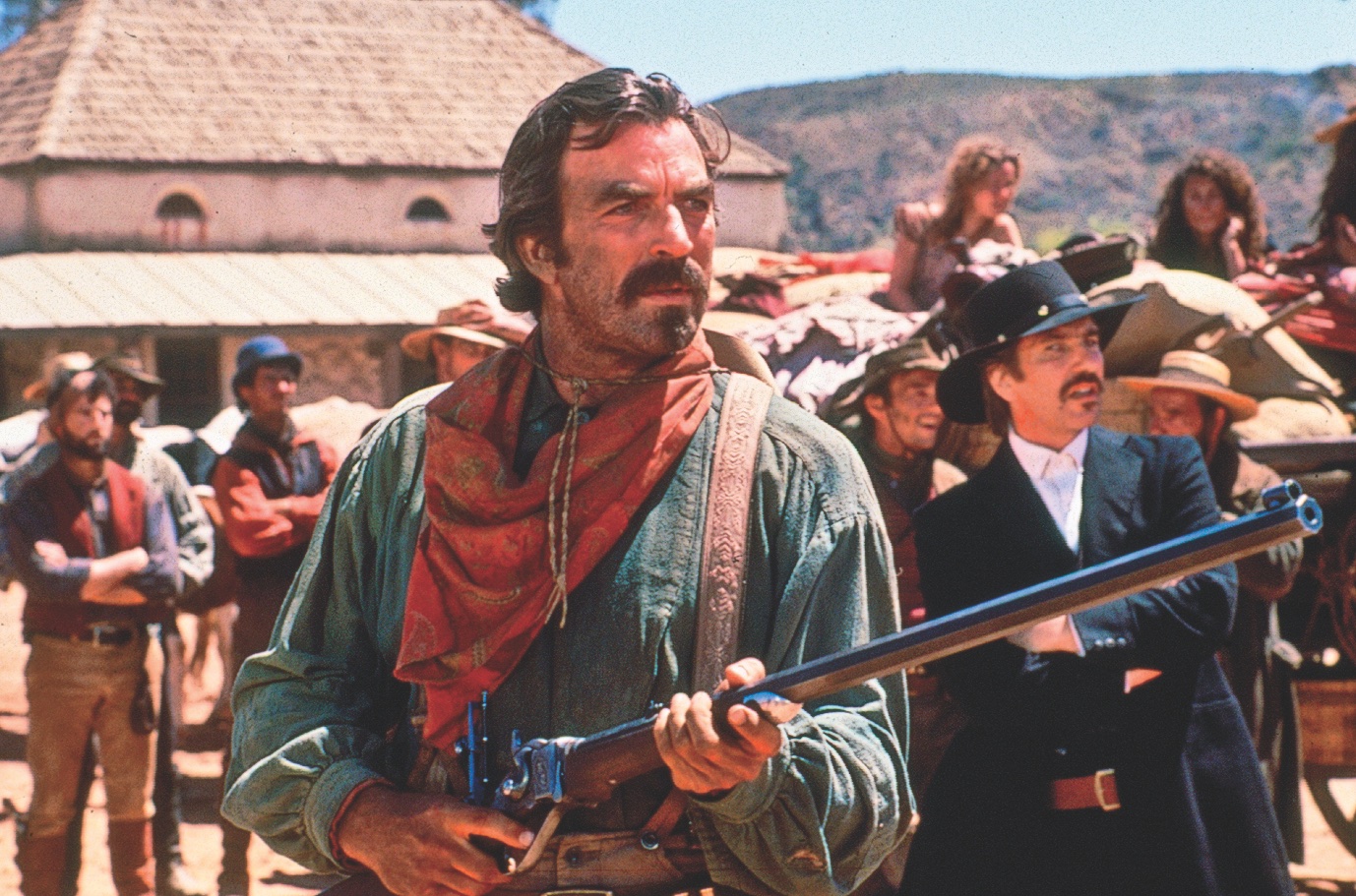 Shooters wanting a more modern-style "Old West" lever-action rifle should remember that Henry Repeating Arms carries a broad selection of dozens of rimfire and centerfire lever guns ranging from .22 rimfire to .44 Magnum, and even .45-70 chamberings. The newest additions to its lineup include the "Side Gate Lever Actions" in a variety of models and finishes. These side gate rifles allow for loading through the removable tubular magazine or via a more traditional lever gun side plate loading gate.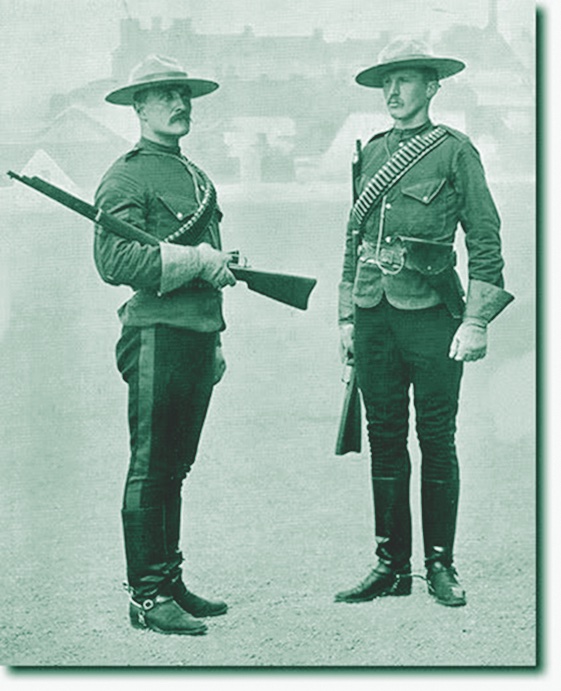 Of course, since you can enjoy shooting these historic replicas, you'll need fodder. Besides standard factory loadings, there are outfits that turn out Old West ammunition, and/or the reduced-velocity cowboy loads, ranging from small-bore revolver chamberings, up to the big rifle rounds. Check out the cowboy action offerings from Aguila, Black Hills Ammunition, Buffalo Arms, Fiocchi, HSM, Magtech, Tennessee Cartridge Co. and Winchester. Some of these firms even offer black powder ammo. Garrett Cartridges, which specializes in super hard cast "Hammerhead" hunting loads, also offers a nifty .45-70, 420-grain Springfield load, moving out at 1,350 feet per second, especially made for trapdoors and replicas.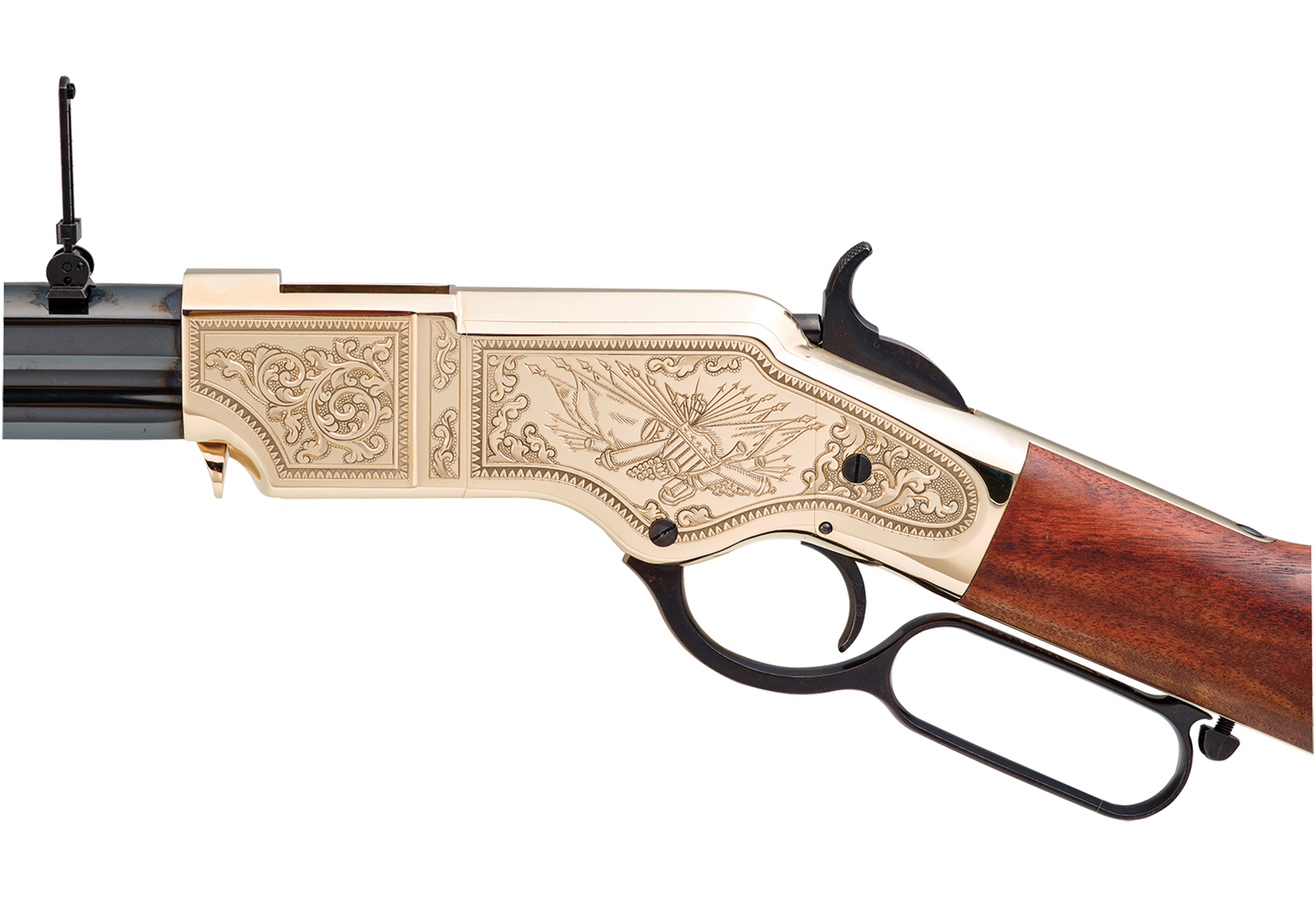 Remember, these replicas of the actual guns of the famed gunmen and organizations of the frontier are more than just wall hangers, they're fun working guns that you can enjoy for plinking, competition or taking game with. Grab a re-created piece of history and relive the Wild West!
Phil Spangenberger has written for Guns & Ammo, appears on the History Channel and other documentary networks, produces Wild West shows, is a Hollywood gun coach and character actor, and is True West's Firearms Editor.