Across the West, historic hotels, guest ranches, lodges, restaurants and saloons eagerly await patrons.
On a recent trip from Arizona to Washington, I stayed overnight at national chain hotels, local Airbnb cottages and condos and a historic hotel. Everywhere I spent the night on the way to and from Seattle, the owners were welcoming and helpful, the properties were clean and up-to-date and the neighborhood restaurants and shops were eager for visitors to return. In Nevada, Oregon and Washington, every business was set and ready for visitors, and every proprietor was holding onto the deep-seated hope that the pandemic restrictions would be lifted and the business of tourism could return to their establishments and communities.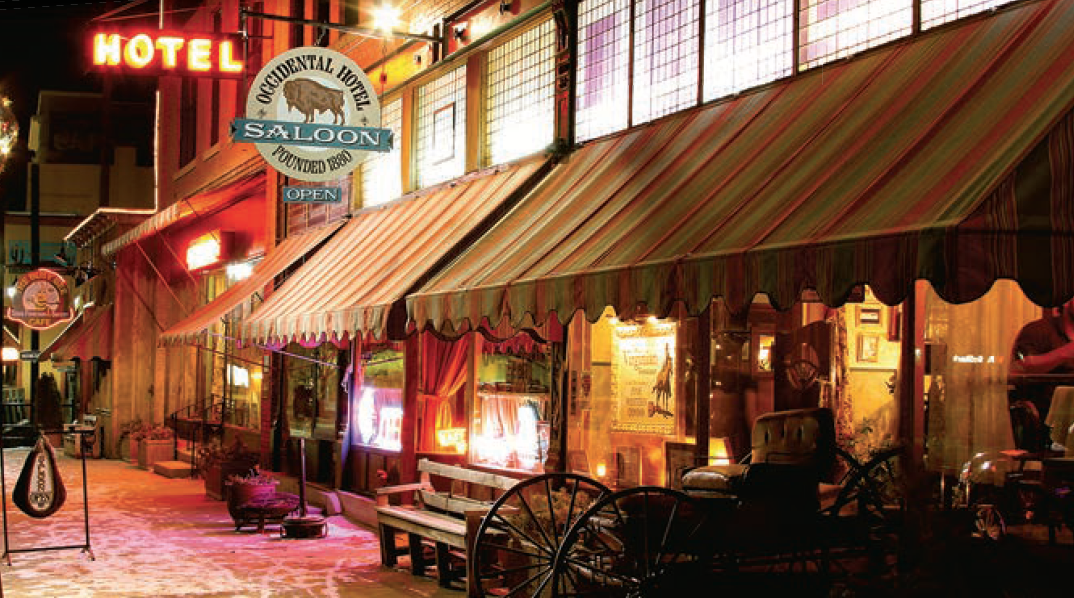 At True West magazine, we encourage our readers—when they are comfortable doing so (hopefully vaccinated)—to rebook that Western vacation, schedule a weekend away or even just go out for an evening to one of their favorite, local historic restaurants. We guarantee the lodging, restaurant and saloon owners who have worked so hard for so many years to maintain, preserve, and in many instances, restore their historic properties are eager for the public to return and immerse themselves in an Old West experience.
For 2021, we have selected 16 diverse historic hospitality properties across the West to inspire your travel plans. And we have included sidebars that spotlight more historic hotels, lodges, guest ranches, restaurants and saloons that we believe our True West readers will enjoy. For a more detailed state-by-state list, please consult the fourth edition of the True West Ultimate Historic Travel Guide (Store.TrueWestMagazine.com). We also recommend contacting the local property owner and consulting with the local chamber and visitors' bureau before making your final plans.
So what are you waiting for? Make those reservations, pack your bags and hit the road West! Experiences of a lifetime are just waiting to be made—so why not make them in 2021?
Arizona
Crown King Saloon & Café – Crown King, Arizona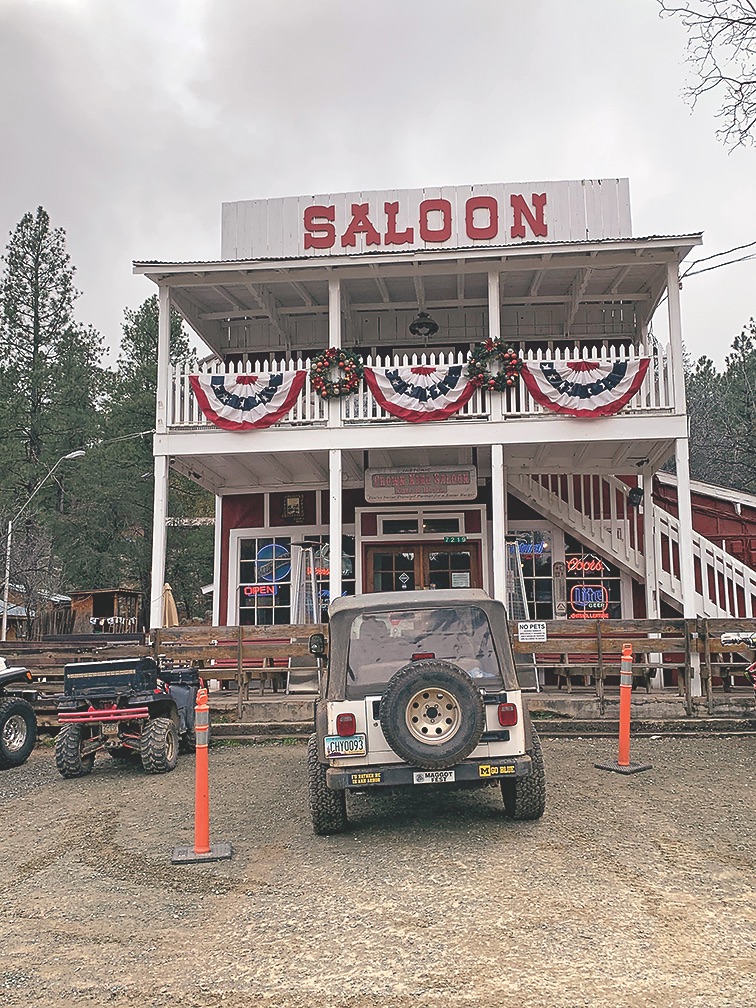 The Crown King Saloon & Café is located high in the Bradshaw Mountains. The historic saloon is the oldest continuously operated bar in the state of Arizona and has been open for 115 years! In 1906 it was disassembled in nearby OroBelle and brought to Crown King piece by piece. The saloon is still well-known for its drinks, while the café, famous for its hamburgers, serves lunch and dinner, with breakfast on the weekends. To visit Crown King, follow County Road 59 from the I-17 Exit 248 (Bumblebee) for 28 miles of well-graded dirt road.
7219 Main St
Crown King, AZ 86343
928-632-7053 • CrownKingSaloon.com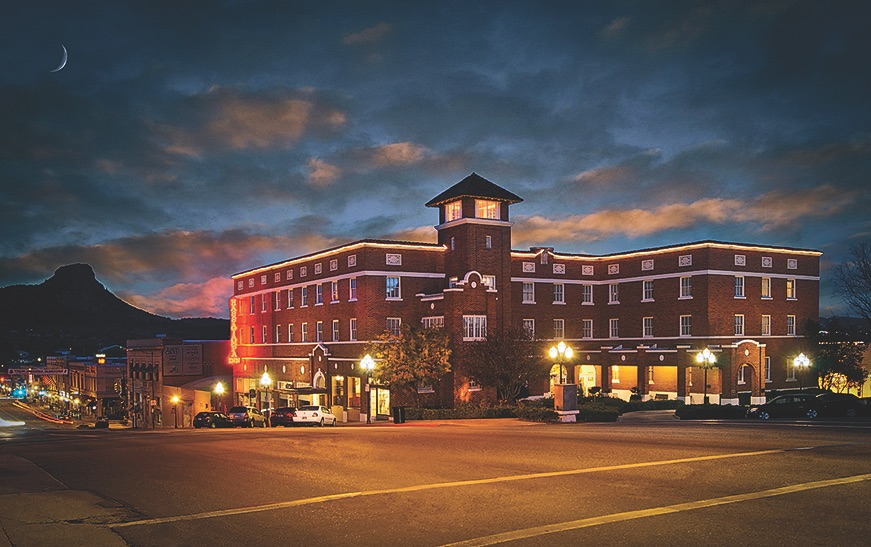 The Hassayampa Inn – Prescott, Arizona
The Hassayampa Inn in the historic district of Prescott offers comforting small-town charm while being situated near the sights and sounds of Prescott. This prime location is walking distance to the Courthouse Plaza, Whiskey Row, museums, art galleries and one-of-a-kind shops, restaurants, saloons and antique stores. Designed with Spanish Colonial Revival and Italianate features by Southwest architect Henry Trost, the Hassayampa was constructed as a luxury motor hotel in 1927 and is listed on the National Register of Historic Places.
122 E Gurley St
Prescott, AZ 86301
800-322-1927 • HassayampaInn.com
California
The Murphys Historic Hotel – Murphys, California

The original Murphys Hotel opened in 1856 amidst the Gold Rush. Located on Matteson's stage route from the railhead in Milton to the Calaveras Grove, the hotel has been continuously open since 1860 and is on the National Register of Historic Places. Through the decades, the hotel's owners have celebrated its rich history and famous guests, including Mark Twain, and in the past 20 years have rigorously worked to preserve and present an elegant, historic atmosphere for the hotel's patrons. Murphys has 29 rooms (nine in the original hotel), a very popular saloon and an award-winning restaurant.
457 Main St
Murphys, CA 95247
800-532-7684 • MurphysHotel.com
Colorado
Delaware Hotel – Leadville, Colorado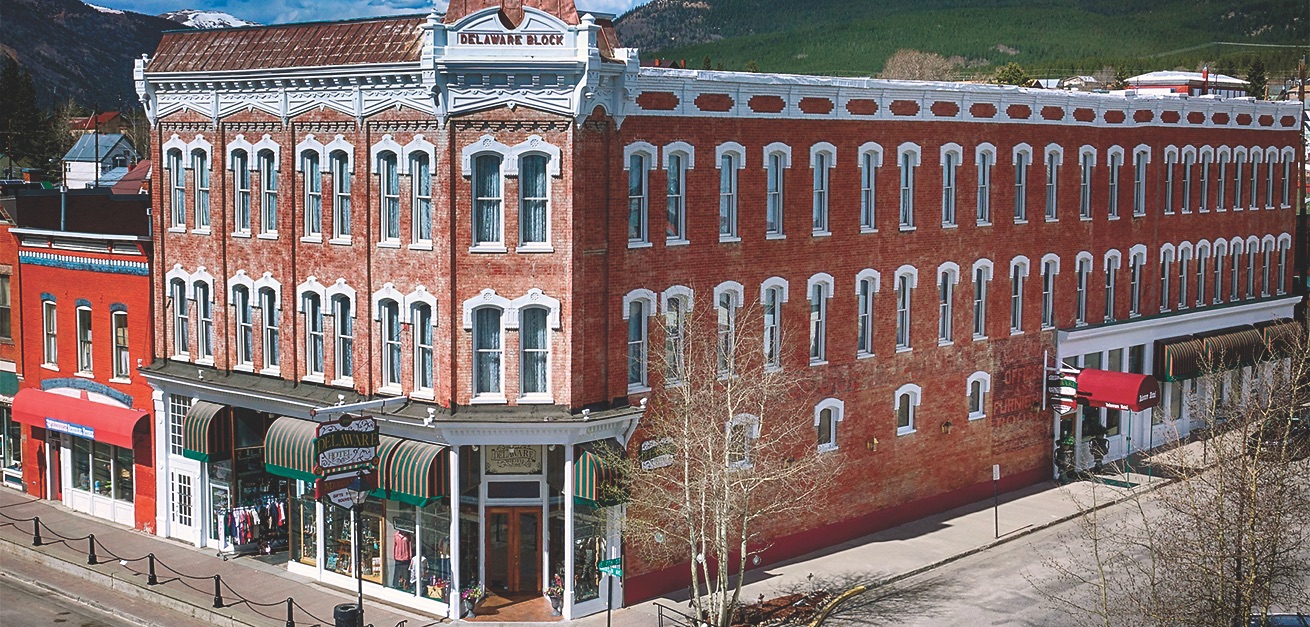 In 1886, during the mining boom in Leadville, the Calloway Brothers of Delaware built and opened the luxurious Delaware Hotel. Today, 135 years later, The Delaware is Leadville's only remaining grand dame from the city's glory days. The Victorian-era hotel, which is described as "part museum, part gallery, and part country inn" is considered the social center of the high-elevation city. All of the 40 rooms and suites are well-appointed with antiques, as are the common areas, and most of the historic items are for sale. Enjoy shopping at the Delaware Mercantile and next door at the Firehouse General Store.
700 Harrison Ave
Leadville, CO 80461
800-748-2004 • DelawareHotel.com
Hotel Colorado – Glenwood Springs, Colorado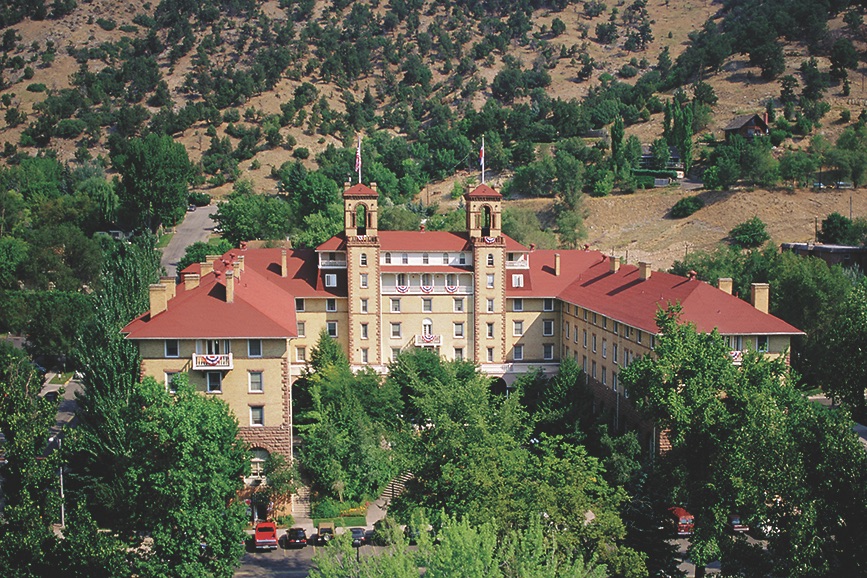 For 125 years, timeless secrets of extensive journeys have been held within the Hotel Colorado's walls. Join the list of legendary figures from the past who have stayed in the Glenwood Springs hotel, and experience a chapter of America's West. Hotel Colorado welcomes guests into oversized rooms and suites. The Grand Lobby and Baron's Restaurant were restored to reflect their original charm. Guests dine beside an interior waterfall or enjoy beverages near the original fireplace. During the summer, guests dine in the scenic courtyard, or warm themselves by outdoor fire pits.
526 Pine St
Glenwood Springs, CO 81601
970-945-6511 • HotelColorado.com
Meeker Hotel & Café – Meeker, Colorado
Established in 1896, the Meeker Hotel & Café is northwestern Colorado's only historic hotel. The Meeker welcomes its guests to relax on Main Street in downtown Meeker, a small town with a great Western past rooted in its ranching heritage. Each of of the 14 guest rooms carries its own moniker, so book ahead and ask for the Theodore Roosevelt Suite or the Billy the Kid Room. When checking in, note the front desk was once the hotel's bar. The Café is located in the east wing and is famous for its breakfasts, burgers and chicken-fried steak.
560 Main St
Meeker, CO 81641
970-878-5255 • MeekerHotel.com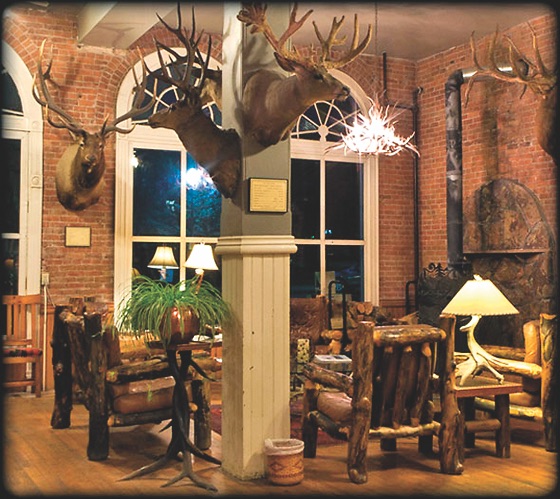 The Strater Hotel – Durango, Colorado
A founding member of Historic Hotels of America, The Strater has an international reputation as Durango's finest Victorian-era hotel. Eighty-eight unique storied rooms, the Henry Strater Theatre, The Mahogany Grille, The Office Spiritorium and The Diamond Belle Saloon are all steeped in craftsmanship at every level. Walk through the doors of

The Strater Hotel and open a world of living history and antiques that becomes part of every visitor's personal story. The Strater offers a complete experience where guests can stay in rooms restored to their 1887 splendor, enjoy gourmet meals in the hotel's restaurant and Old West entertainment in the saloon and Henry Strater Theatre.
699 Main Ave
Durango, CO 81301
970-945-6511 • Strater.com
Montana
Grand Union Hotel – Fort Benton, Montana
At the zenith of steamboat traffic on the Upper Missouri, the Grand Union Hotel in Fort Benton, Montana, was opened in 1882. Closed in the 1980s, the grand dame was reopened in 1999 after preservation efforts restored the hotel to its 19th-century glory. Patrons of the Grand Union will be transported back to the 1880s while staying at the elegantly appointed, three-story brick hotel. A legendary landmark of Fort Benton, the Grand Union has 26 rooms and suites, a gourmet, farm-to-table restaurant and a popular saloon for drinks and casual dining.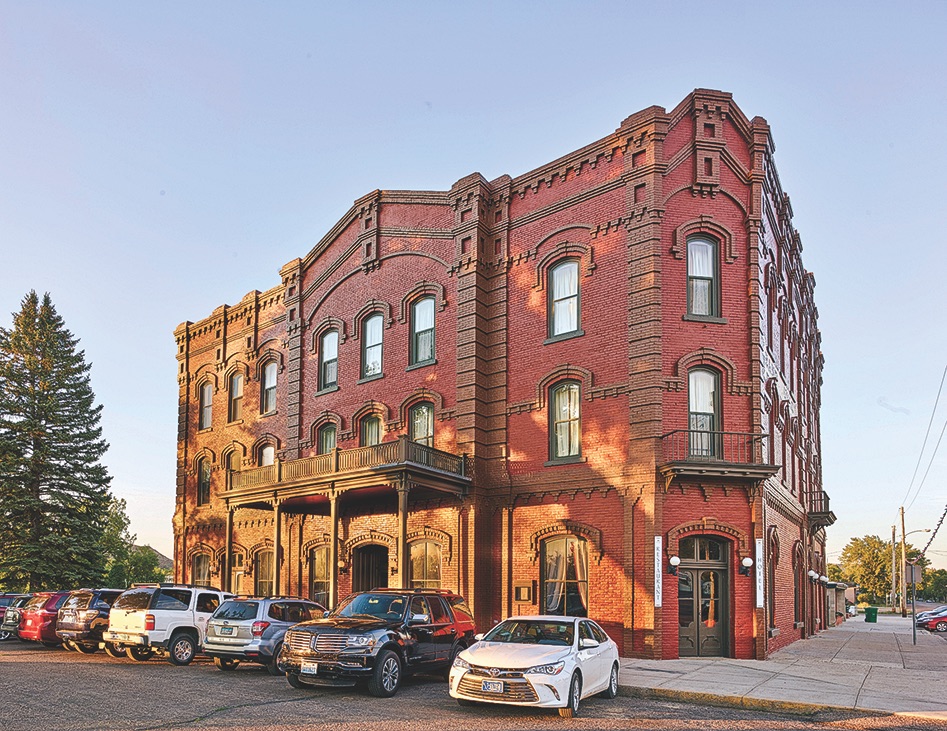 1 Grand Union Sq
Fort Benton, MT 59442
888-838-1882 • GrandUnionHotel.com
Hotel Arvon – Great Falls, Montana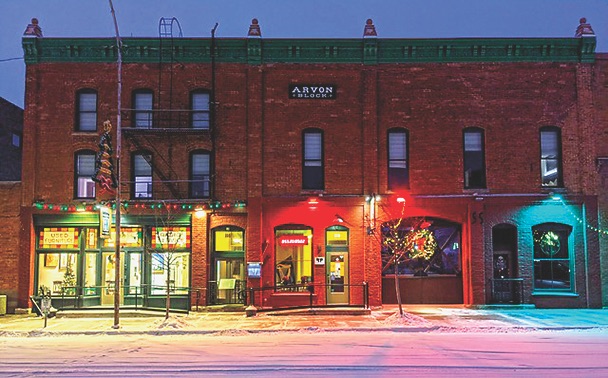 Montana mining and ranching pioneer Robert "The Celtic Cowboy" Vaughn opened the Hotel Arvon and an adjacent livery in Great Falls in 1890. The town's founder named the inn for his daughter Arvonia. The Hotel Arvon is in the city's oldest commercial building on Great Falls' Arvon block. The luxurious and lovingly restored inn has 11 suites and 22 guest rooms. The Celtic Cowboy, an Irish pub named after Vaughan, is right next door, and guests and locals equally enjoy the good food and festive atmosphere.
118 1st Ave S
Great Falls, MT 59401
406-952-1101 • HotelArvon.com
Nevada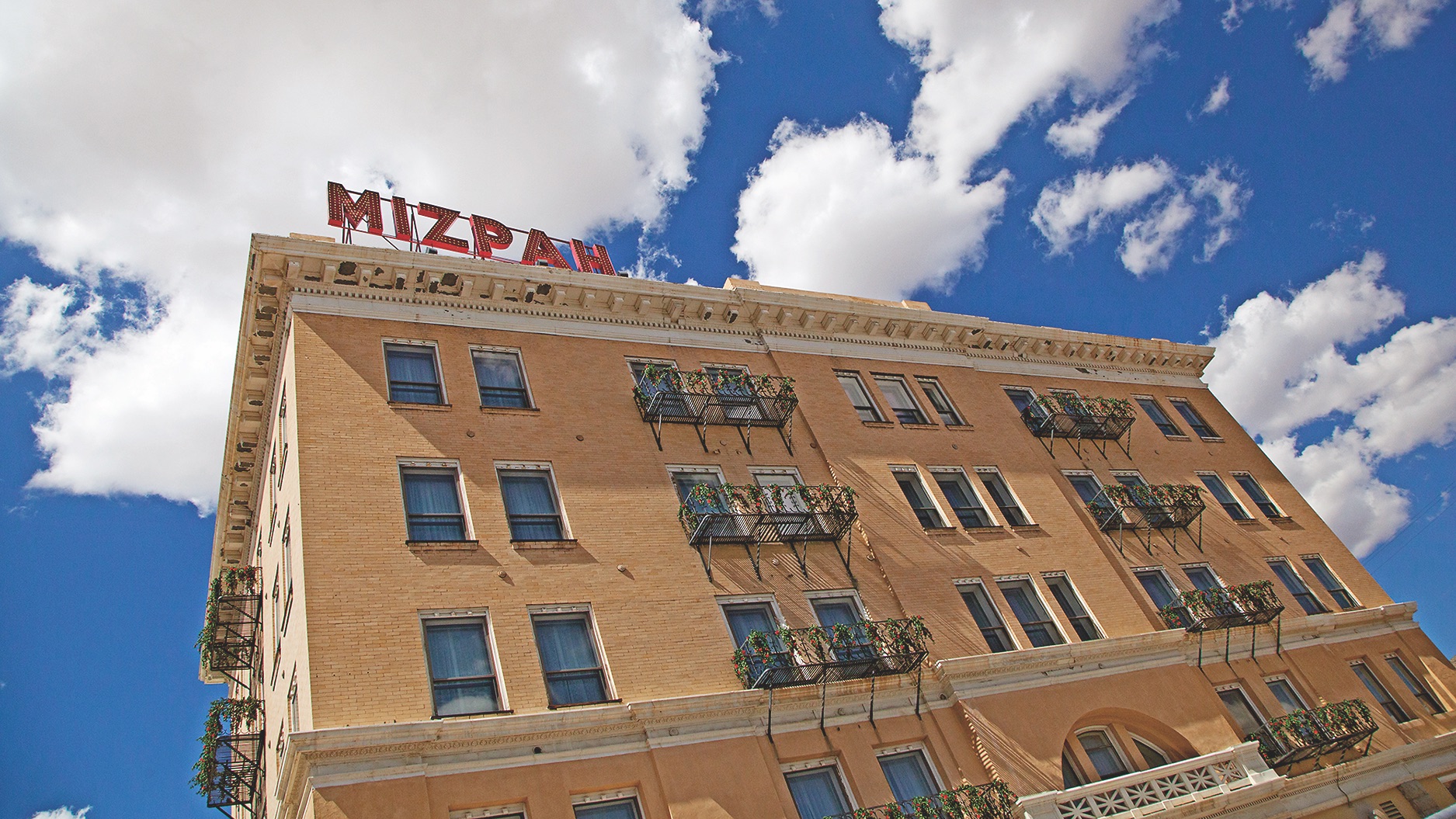 The Mizpah Hotel – Tonopah, Nevada
The Mizpah Hotel opened in 1907, and at one time was considered the finest hotel in the state. It closed in 1999, but current owners Fred and Nancy Cline bought it in 2011 and fully restored it to its early 20th-century grandeur. Each of the five floors is accessible by beautiful, wide stairwells or the restored 107-year-old original elevator. The rooms and suites are decorated with antiques, and coffee service is provided in the hallways every morning. While at the Mizpah, enjoy breakfast and dinner in the award-winning Pittman Café on the first floor.
100 N Main St
Tonopah, NV 89049
775-932-7710 • TheMizpahHotel.com
New Mexico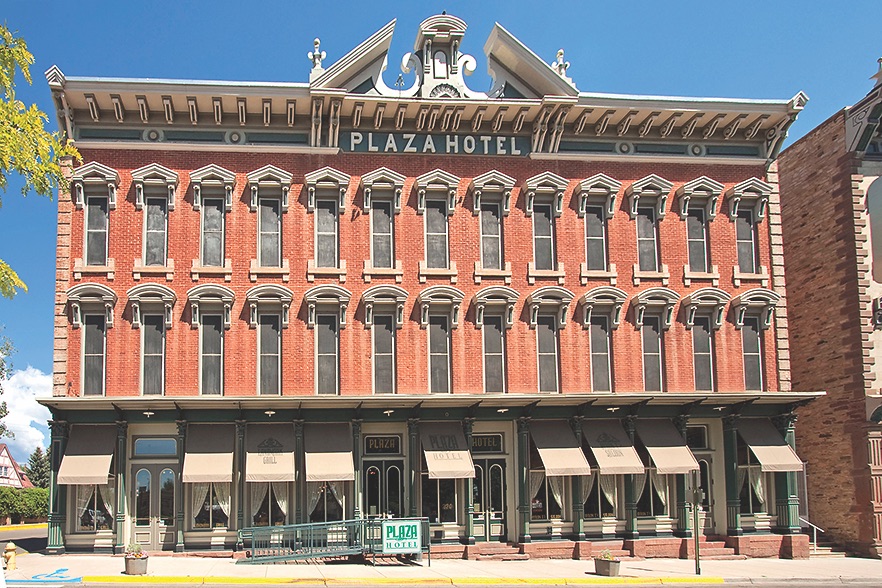 Historic Plaza Hotel – Las Vegas, New Mexico
The beautifully restored Plaza Hotel in Las Vegas, New Mexico, anchors the city's historic downtown. Known as "The Belle of the Southwest" since it opened in 1882, the Plaza Hotel has undergone a masterful restoration of its 70 rooms, lobby, dining room and saloon. Nineteen of the well-appointed rooms overlook the Plaza Park, which fans of the television series Longmire will recognize as downtown "Durant." The Plaza's proprietors have also restored and manage Las Vegas's Castañeda Hotel, and Winslow, Arizona's, La Posada, both former Fred Harvey hotels that served the passengers of the Santa Fe Railway.
230 Plaza Pk
Las Vegas, NM 87701
505-425-3591 • PlazaHotelLVNM.com
South Dakota
Historic Bullock Hotel – Deadwood, South Dakota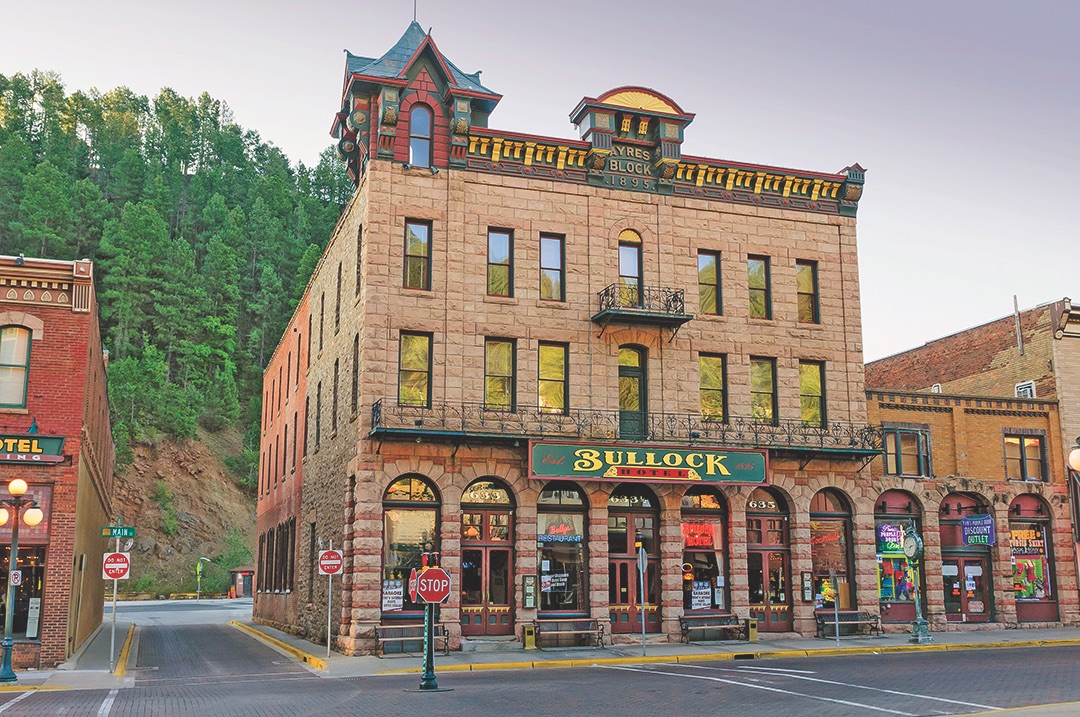 In 1894, local sheriff and entrepreneur Seth Bullock built with his partner, Sol Star, the three-story Bullock Hotel after another downtown fire in Deadwood. The brick building took two years to complete but was quickly known as the city's finest and convenient to the Grand Island and Wyoming Central train station, which had been operating passenger service to the town since 1891. Today, The Bullock is the "Jewel of Downtown" Deadwood with 63 rooms and suites. Bully, the hotel restaurant, is named in honor of Bullock's good friend, Theodore Roosevelt. Ask ahead about nightly entertainment and re-enactment events.
633 Main St
Deadwood, SD 57732
806-336-1876 • HistoricBullock.com
Texas
Old Central Firehouse Bed & Brew – San Angelo, Texas
Centrally located in downtown San Angelo, Old Central Firehouse was built in 1929. One of the first firehouses in San Angelo, the stately building remained in service as a firehouse until 1976. Newly renovated into a bed and brew, it is near the city's dining and entertainment district, as well as many local historic sites including Fort Concho. Old Central Firehouse provides a unique, relaxing getaway within walking distance of many of the things that make San Angelo so great.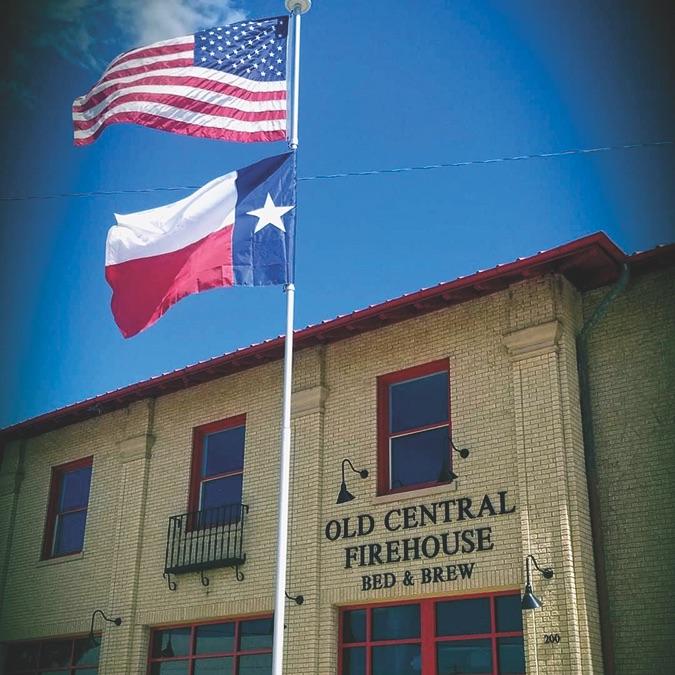 200 S Magdalen St
San Angelo, TX 76903
325-703-2029 • OCFBedAndBrew.com
Wyoming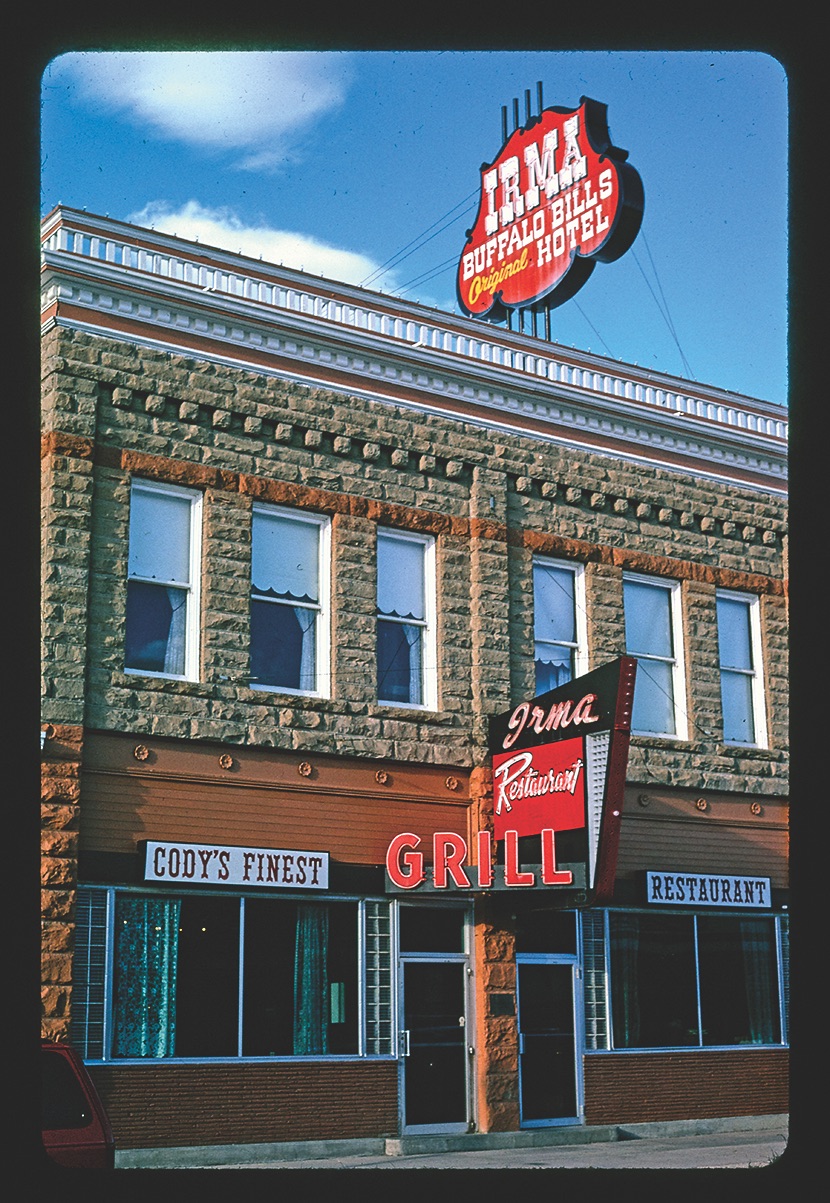 Buffalo Bill's Irma Hotel – Cody, Wyoming
William F. "Buffalo Bill" Cody built the internationally renowned hotel in Cody in 1902 and named it for his daughter, Irma. Today, you can stay in historic rooms that housed some of the most famous personalities the world has ever known, including Annie Oakley and Frederic Remington. You can even stay in Buffalo Bill's private suite. While at Buffalo Bill's Irma Hotel, enjoy a meal in the dining room and a drink at the grand cherrywood bar that Queen Victoria gifted to her friend, Buffalo Bill.
1192 Sheridan Ave
Cody, WY 82414
307-587-4221 • IrmaHotel.com
Historic Sheridan Inn – Sheridan, Wyoming
The end of the Johnson County War opened the door to expansion of tourism in Wyoming, including the opening of the Sheridan Inn in 1893. A gathering place for travelers for decades, the inn was restored and reopened in 2013 with 22 rooms and a popular banquet facility for weddings and reunions. Ask about the inn's five-bedroom Mountain Lodge, available to rent with a three-day minimum. The Sheridan Inn is the perfect headquarters for exploring the Big Horn region of Wyoming and Montana.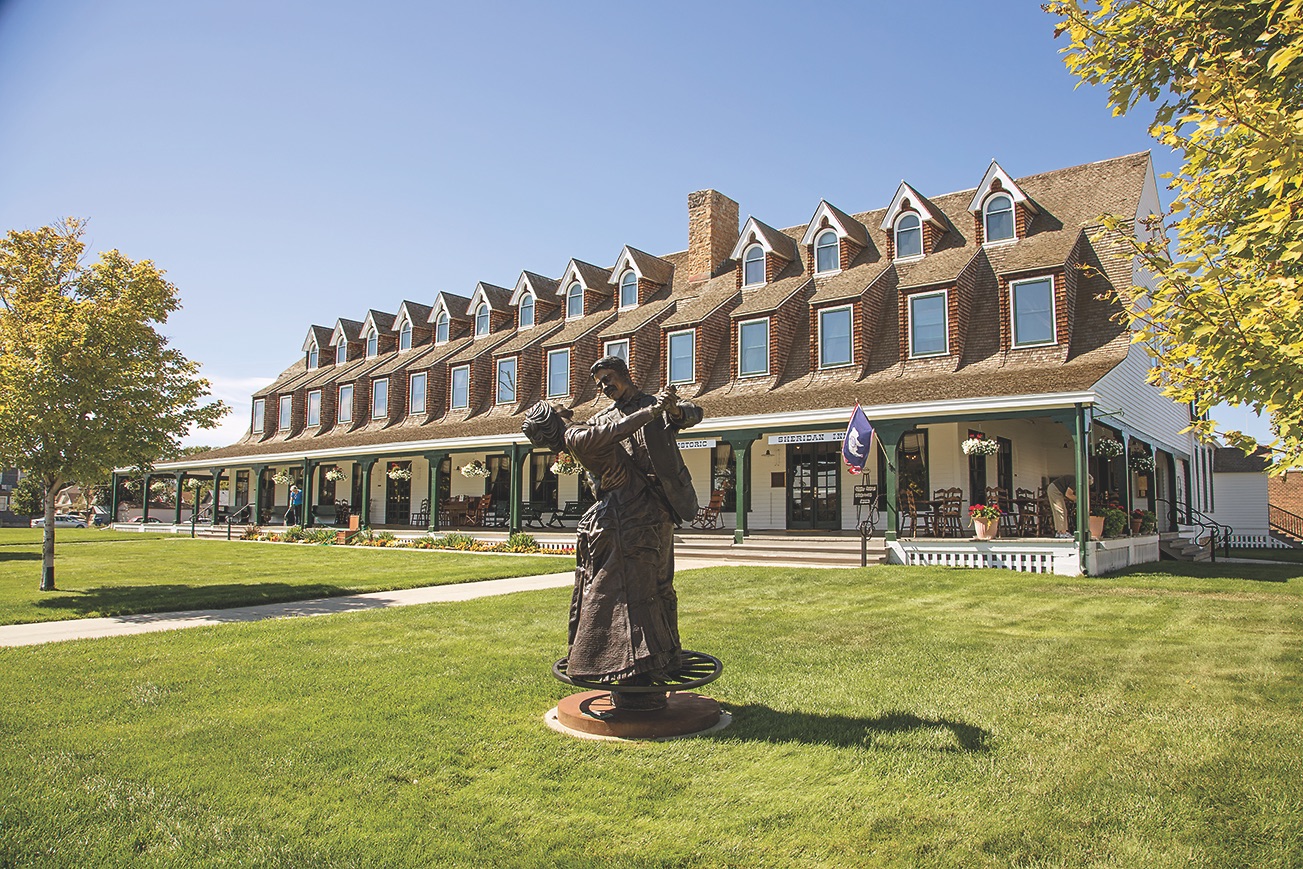 856 Broadway St
Sheridan, WY 82801
307-655-7861 • SheridanInn.com
The Occidental Hotel – Buffalo, Wyoming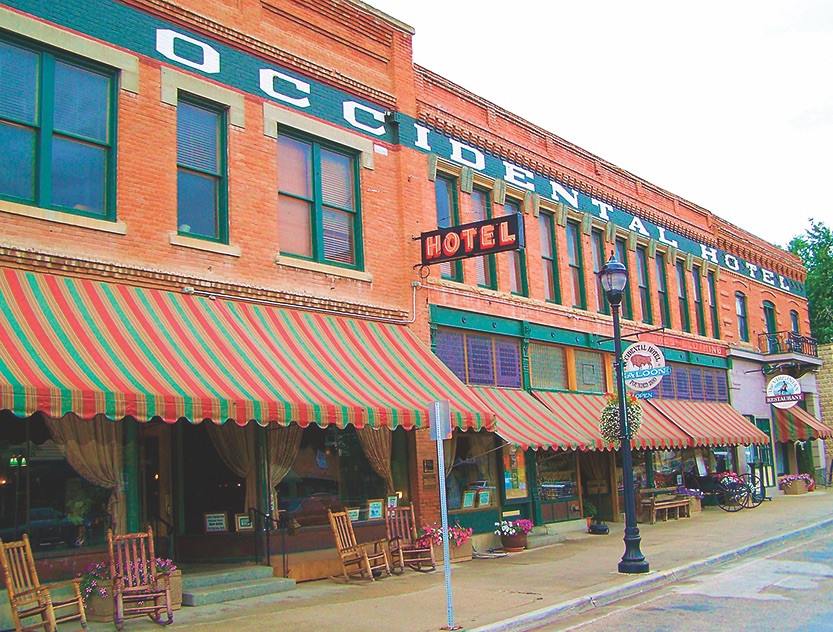 The Occidental Hotel was founded in 1879 in a tent before a log structure was constructed in 1880. The hotel hosted many famous people, including author of The Virginian, Owen Wister, who frequented the region and based his novel's characters on gunslingers and cowboys he'd met in the Occidental Saloon. The current hotel was constructed between 1903 and 1908 and restored and modernized in 1990 and 2008. The Occidental guarantees today's visitors an Old West experience at its historic Occidental Saloon, Busy Bee Cafe and The Virginian Restaurant.
10 Main St
Buffalo, WY 82834
307-684-0451 • OccidentalWyoming.com
Historic Ranches
Almost every Western state is home to historic dude ranches, ranch guest homes and lodges. Here is a short list of our favorites. For the most up-to-date list of all-inclusive Western guest ranches, contact The Dude Ranchers Association at DudeRanch.org.
Rancho de la Os
Sasabe, AZ
RanchoDeLaOsa.com
Tanque Verde Guest Ranch
Tucson, AZ
TanqueVerdeRanch.com
Tombstone Monument Guest Ranch
Tombstone, AZ
TombstoneMonumentRanch.com
Rankin Ranch
Calliente, CA
RankinRanch.com
A Painted View Ranch
Westcliffe, CO
APaintedView.com
C Lazy U Ranch
Granby, CO
CLazyU.com
Trappers Lake Lodge
Meeker, CO
TrappersLake.com
Diamond D Ranch
Stanley, ID
DiamondDRanch-Idaho.com
Mountain Sky
Guest Ranch
Emigrant, MT
MountainSky.com
The Resort at Paws Up
Greenough, MT
PawsUp.com
Rowse's 1+1 Ranch
Burwell, NE
1+1Ranch.com
Geronimo Trail
Guest Ranch
Winston, NM
GeronimoRanch.com
Y.O Ranch Hotel
Kerrville, TX
YORanchKerrville.com
Cibolo Creek Ranch
Marfa, TX
CibolaCreekRanch.com
Bull Hill Guest Ranch
Kettle, WA
Bullhill.com
Paradise Guest Ranch
Buffalo, WY
ParadiseRanch.com
Triangle C Dude Ranch
Dubois, WY
TriangleC.com
Willow Ranch Creek
at Hole in the Wall
Kaycee, WY
WillowCreekRanch.com
Historic Saloons & Restaurants
Across the West, small towns and big cities are home to historic restaurants and saloons. We recommend you check hours and days of operation in advance and have a good meal
and cold beverage at one of these great historic saloons and restaurants.
Big Nose Kate's
Tombstone, AZ
BigNoseKatesTombstone.com
Crystal Palace
Tombstone, AZ
CrystalPalaceSaloon.com
The Oriental
Tombstone, AZ
OrientalSaloon.com
Palace Restaurant & Saloon
Prescott, AZ
WhiskeyRowPalace.com
The Buckhorn Exchange Restaurant
Denver, CO
Buckhorn.com
Diamond Belle Saloon
Durango, CO
Strater.com
The Fort Restaurant
Morrison, CO
TheFort.com
True Grit Cafe
Ridgway, CO
TrueGritCafe.com
Hays House Restaurant
Council Grove, KS
HaysHouse.com
Bale of Hay Saloon
Virginia City, MT
VirginiaCity.com
Genoa Bar and Saloon
Genoa, NV
GenoaBarAndSaloon.com
Baldwin's Saloon
The Dalles, OR
BaldwinSaloon.com
Hamley Steakhouse
Pendleton, OR
Hamley.com
Buffalo Bodega Bar
Deadwood, SD
BuffaloBodega.com
Big Texan Steak Ranch
Amarillo, TX
BigTexan.com
The Brick Saloon
Rosyln, WA
BrickSaloon.com
Miners & Stockman's Steakhouse & Spirits
Hartville, WY
WyomingsOldestBar.com
The Mint Bar
Sheridan, WY
MintBarWYO.com