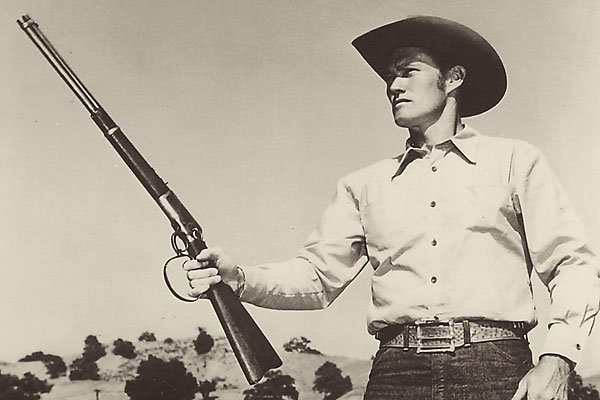 Armed only with a Winchester rifle, a lone, lanky figure walks resolutely down a dusty frontier street.
Suddenly, with almost machine gun-like speed, he begins levering out shot after shot—nine rounds in about 1.5 seconds! He stops, flips the large loop lever of his '92 Winchester in his unique style, throws in another cartridge, then he grasps it at hip level, when the voice on the TV screen booms out … The Rifleman!
From 1958-63, ABC broadcast this popular, weekly Western program about a frontier homesteader and widower Lucas McCain, played by Chuck Connors, and his son Mark, portrayed by singer Johnny Crawford. The Rifleman's 1892 Winchester was as much a star of the show as were the actors, and it has become an icon of the golden era of TV Westerns.
Designed along the lines of John Wayne's famed movie Winchester, with the large lever loop, the Rifleman's Winchester differed only in its set screw in the trigger guard frame. For his swing-cock motion, Connors flipped the rifle forward to eject the spent case and load a fresh cartridge. On the upswing, the breech closed, cocking the action. As the carbine returned to the firing position, the set screw pressed the trigger, firing the carbine.
In celebration of the 50th anniversary of The Rifleman series' TV debut (September 1958), Chuck Connors' iconic rifle returns as a limited edition of 1,000 replica rifles. Manufactured in Italy by Chiappa Firearms, the Rifleman rifle is distributed exclusively through Legacy Sports International under the "Puma 92" trademark.
Made as a .44-40 caliber saddle ring carbine, like Connors' original TV rifle, this version is fitted with a 20-inch round barrel, a color case-hardened receiver, butt plate, barrel bands, trigger and the unique large loop lever with the set screw. The screw on this Rifleman replica is a simulated trigger actuator and is non-functioning. The rifle can only be fired by manually pulling the trigger (after levering) for each shot.
In recognition of Chuck Connors, each carbine bears a commemorative medallion with his likeness, along with Connors' signature, which is laser-engraved on the right side of the stock. The legend "Limited Edition" is gilt etched into the right side of the receiver while his signature is gilt etched into the left side of the receiver. In addition, each Rifleman carbine comes with a "Certificate of Authentication," signed by Chuck Connors' son, Jeff, a copy of an original portrait of The Rifleman, painted by cowboy artist Lee Cable, a DVD with three Rifleman episodes and a biography and photos of Connors. Priced at $1,249.95, and with only 1,000 guns being offered, this shooting symbol of one of the most popular programs that ran during the heyday of the great TV Westerns will likely not be available for long!
775-828-0555 – LegacySports.com