Among the stories of the Old West, few are more exciting than the manhunts that pitted frontier authority against those who would kill, plunder and rob. Back in those days, folks were spread out quite a bit and, at the same time, law enforcement was spread pretty thin, too. As you will see in these tales, the military had to sometimes step in, and armed citizens often had to augment the authority of their peace officers or, in some cases, handle a situation by themselves.
Keep in mind that these events occurred years before the Miranda case (1966) and other niceties that made life a little safer for law-breakers. And, lawmen were chosen for their courage, their ability to handle firearms, and their willingness to spend days in
the saddle while on the trail of outlaws. Formal training rarely existed.
Outlaws, lawmen and the winning of the West have graced a thousand songs and stories. The frontier West was rarely like it has been depicted in the movies and on television. But one thing that you can say for sure, it was always interesting.
Here are 10 of my favorite manhunt tales of those early days.
1. 
1872 – 1873
U.S. Army vs. The Modocs

Redding, California to Klamath Falls, Oregon
In 1872, Modoc tribe members were extremely unhappy with their existence on the Modoc/Klamath reservation in Southern Oregon. They weren't getting along with the Klamaths and the Indian agent wasn't supplying the food and other necessities that had been promised. Finally, one of their tribal leaders, Captain Jack, led nearly 200 Modocs off the reservation to take refuge in the lava beds on the Oregon/California border. Almost immediately, complaints began coming in from area settlers about thefts and plundering by the Modocs.
In late 1872, or early 1873, the U.S. Army, under the command of General Edward Canby, stepped in to return the Modocs to the reservation. Canby's original goal was to talk them in peacefully, if at all possible. Accordingly, he set up a peace tent near the lava beds and invited Captain Jack to come parley. Captain Jack may have had other ideas.
On April 11, 1873, Captain Jack and some of his men met with General Canby, Reverend Eleazar Thomas and other army officers. Some believe that Captain Jack went to the meeting with the intent to murder the soldiers, believing that this would make the army leave the Modocs alone, but the truth is, Modoc warriors pressured Jack into the planned attack. Regardless, an argument soon broke out and the Modocs began to pull knives and guns. In the melee, General Canby and Reverend Thomas were both killed before the Modocs fled back into the vastness of the lava beds.
In a series of skirmishes, the army was not winning, even though they were even using artillery on the Indians ensconced in the lava beds. However, many of the Modocs had had enough and, by early May, began to surrender. Captain Jack was captured on June 4, 1873. Following a military trial, Captain Jack and Black Jim, Schonchin John and Boston Charley were hanged. Some 150 other Modocs were shipped to Indian Territory. The army had won, but at a heavy price.
On the Modoc Trail of the U.S. Army and Captain Jack
Northern California and Southern Oregon offer numerous historic sites, scenic byways and heritage communities to explore on the trail of the tragic story of Captain Jack and the Modoc War.
Chambers: YrekaChamber.com; VisitTuleLakeCalifornia.com; MtShastaChamber.com;
ReddingChamber.com; Klamath.org
Scenic Byway: Volcanic Legacy Scenic Byway, VolcanicLegacyByway.org
Historic Sites, Parks, Museums & Monuments: Lava Beds National Monument, Tulelake Museum, Tulelake, CA; Siskiyou County Historical Society, Yreka, CA; Klamath County Museum, Favell Museum, Klamath Falls, OR
Lodging: Winema Lodge, Tulelake, CA; Coffee Creek Ranch, Coffee Creek, CA; Lake of the Woods Lodge & Resort, Klamath Falls, OR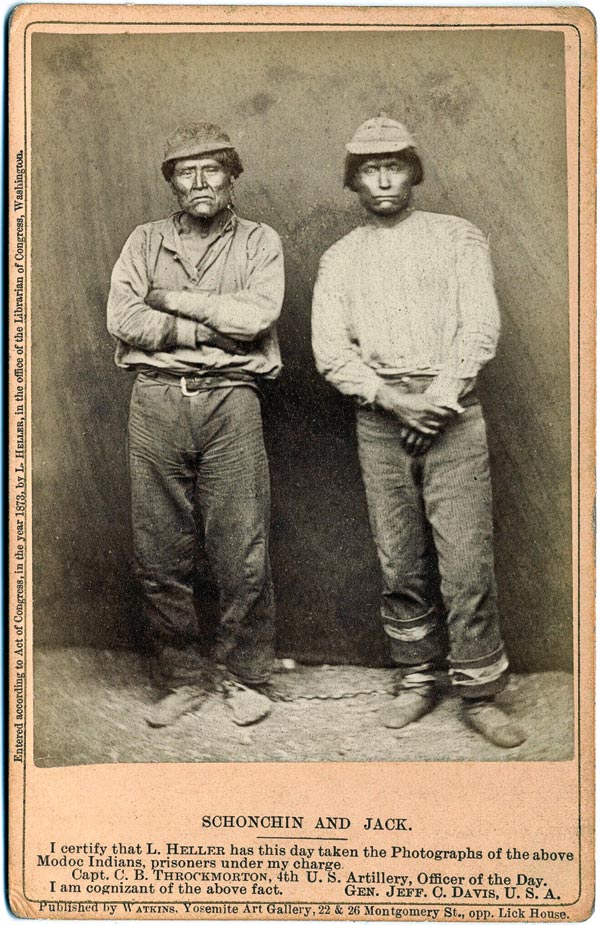 2. January 1875
Pinkertons vs. Jesse and Frank James

Kearney to St. Joseph, Missouri
By 1875, the James-Younger Gang had been robbing banks and trains for almost ten years. In 1874, the Adams Express Company was so upset with their losses that they put the Pinkerton Detective Agency after the gang. Several Pinkertons were quickly killed when they tried to infiltrate Clay County, Missouri. It has been said that Allan Pinkerton was so furious that he swore to burn them out, if that's what it took.
On the night of January 25, 1875, a posse led by Pinkerton investigators surrounded the home of Jesse and Frank James' mother, Zerelda Samuel, believing that the two outlaws were present. Those same investigators later claimed that they threw a smoke bomb into the house to force the outlaws out. Their "smoke bomb" turned out to be a regular bomb that promptly exploded. The explosion killed a young half brother to the Jameses and mangled their mother's arm so badly that it had to be amputated. Frank and Jesse were not even at home. The entire state of Missouri was infuriated by the attack; and while the Pinkertons were humiliated, they fought on with local authorities to try and capture the James Boys.
On the Missouri Trail of the James Boys and the Pinkertons
Western Missouri offers numerous historic sites, scenic byways and heritage communities to explore on the trail of Jesse and Frank James.
Chambers: KearneyChamber.org;  StJoMo.com; VisitClayCountyMo.com; VisitKC.com
Historic Sites, Parks, Museums & Monuments: Jesse James Farm, Kearney; Pattee House Museum, Jesse James House Museum, Pony Express National Museum, St. Joseph; Jesse James Bank Museum and Clay County Museum, Liberty
Lodging: The Elms, Excelsior Springs; Whiskey Mansion Bed & Breakfast,
St. Joseph
3. September 7, 1876
Northfield vs. the James-Younger Gang

Northfield to LaSalle, Minnesota
We'll never know for sure what caused the gang to rob a bank in Minnesota. It might have been to just try out new territory or it could have been the fact that Adelbert Ames, a hated former governor of Mississippi, lived there. Historians have suggested both ideas, but a consensus has never been reached.
Whatever the reason, the gang rode into Northfield like they had done in previous towns, with with some outlaws looting the bank while other gang members shot up the street to keep the townspeople at bay. This just didn't work so well in Northfield because the citizens were already nervous about these strangers wearing gun belts and sporting rifles on their saddles.
In the bank, one employee refused to unlock the safe and was quickly killed. Another employee was wounded as he escaped the robbery. The gunfire in the bank had already attracted citizens out in the street. Instead of running, the citizens armed themselves and began to fight back. Outlaws Bill Stiles and Clell Miller were killed. And, as the rest of the gang made their escape with precious little loot, all of them were wounded, except for Frank and Jesse, who were amazingly unharmed.
Large posses were quickly on the gang's trail, causing the Youngers and the Jameses to split up. Two weeks later, a posse caught the Youngers near La Salle, Minnesota. In the ensuing fight, Charlie Pitts was killed and Cole, Bob, and Jim Younger were captured, having been wounded again. Frank and Jesse were in the wind. And, to our knowledge, no one ever tried to rob a bank in Northfield, Minnesota, again.
On the Minnesota Trail of the James-Younger Gang
Southern Minnesota offers numerous historic sites, scenic byways and heritage communities to explore on the trail of the James-Younger Gang.
Chambers: VisitNorthfield.com; VisitGreaterMankato.com; VisitNewUlm.com; VisitMadelia.com
Historic Sites, Parks, Museums & Monuments: Northfield Historical Society, Northfield; Brown County Historical Society Museum, New Ulm; Watonwan County Historical Museum, Madelia
Lodging: Archer House, Northfield; The Grand, New Ulm; Grandstay Hotel & Suites, Madelia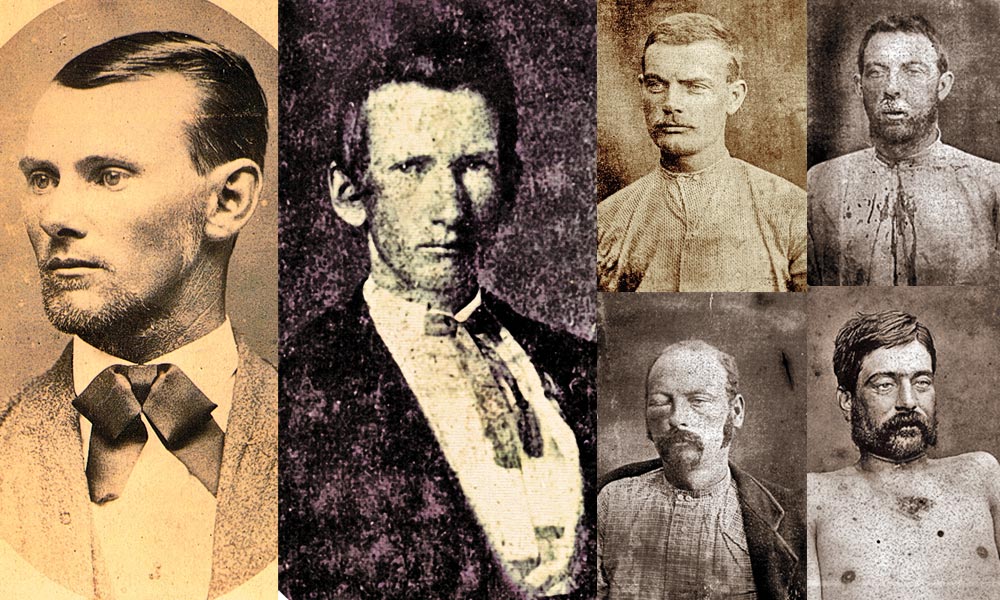 4. August 24, 1877
Texas Rangers vs. John Wesley Hardin

Comanche to Huntsville, Texas
Premier Texas gunfighter John Wesley Hardin had racked up a number of kills during his turbulent career. But he brought the full wrath of the Texas Rangers down on himself when he killed Deputy Sheriff Charles Webb in Comanche, Texas, in May of 1874.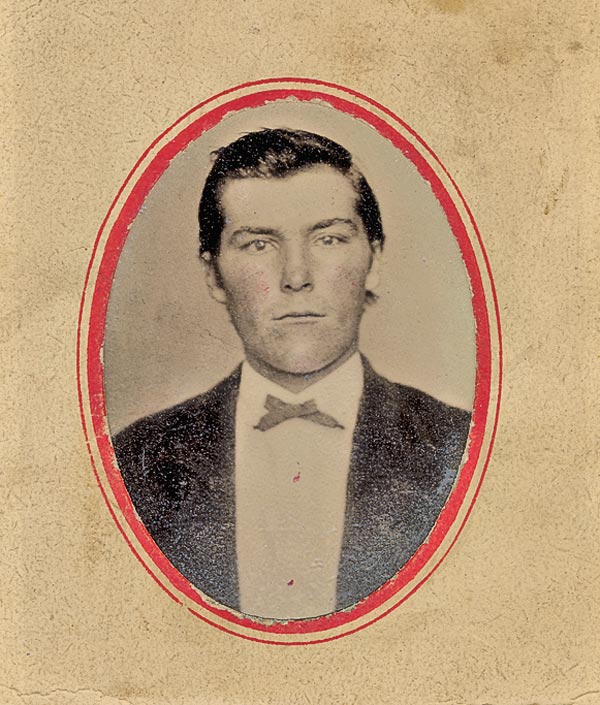 Tired of this sort of conduct by Hardin, the Texas Rangers put John B. Armstrong on his trail. With a nice piece of detective work, officers soon learned that Hardin's Texas relatives kept receiving mail from a man in Florida. Armstrong soon learned that Hardin was hiding out in various towns on the Alabama-Florida line.
Investigator Jack Duncan and local officers located Hardin on a train in Pensacola, Florida. Legend has it that when he saw the long-barreled Colt in Armstrong's hand Hardin yelled, "Texas, by God!" and went for his own gun. Armstrong promptly combed Hardin's hair with that long-barreled Colt and shot another member of the gang who had pulled a gun. Hardin's own gun had supposedly caught hung up on his suspenders, causing him to fail to get off a shot.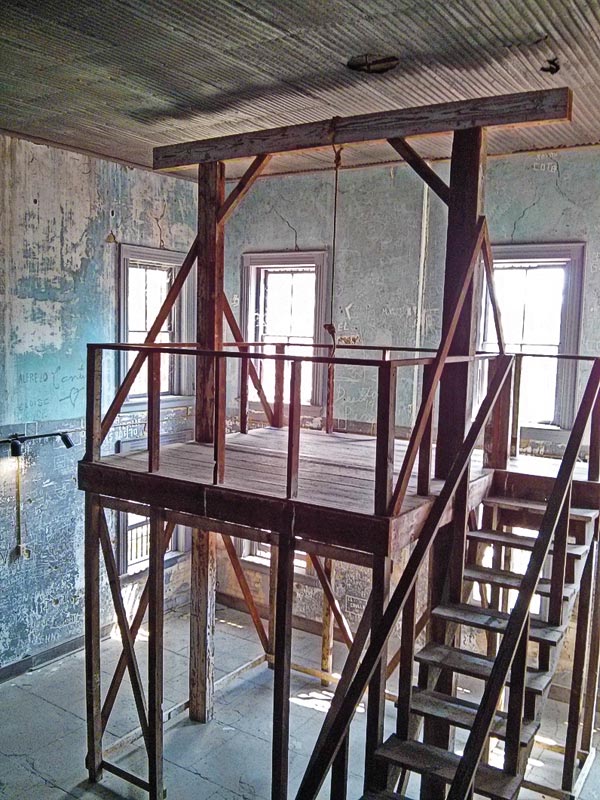 John Wesley Hardin was transported back to Texas, where he was convicted of murder and sentenced to Huntsville Prison, where he served 17 years. Just 18 months after Hardin's release from prison, on August 19, 1895, Constable John Selman killed him with a shot to the back of the head in El Paso's infamous Acme Saloon.
On the Trail of John Wesley Hardin
Texas offers numerous historic sites, scenic byways and heritage communities to explore on the trail of John Wesley Hardin and the Texas Rangers.
Chambers: AustinTexas.org; GonzalesTexas.com;
HuntsvilleTexas.com; WacoHeartOfTexas.com
Historic Sites, Parks, Museums and Monuments: Bullock State History Museum, Austin; Texas Ranger Hall of Fame & Museum, Waco; Pioneer Village Living History Center, Gonzales; Old Jail Museum, Gonzales; Gonzales Memorial Museum, Texas State Prison Museum, Huntsville; Concordia Cemetery, El Paso
Lodging: The Driskill, Austin; Colcord Hotel, Waco; Alcalde Hotel & Grill, Gonzales; Woodbine Hotel & Restaurant, Madisonville
5. 1880


The Texas Rangers vs. Jesse Evans
Lincoln, New Mexico to Presidio, Texas

By 1880, Jesse Evans had about worn out his welcome in Lincoln County, New Mexico. The Lincoln County War had wound down and the law was making things too hot for Jesse and his friends.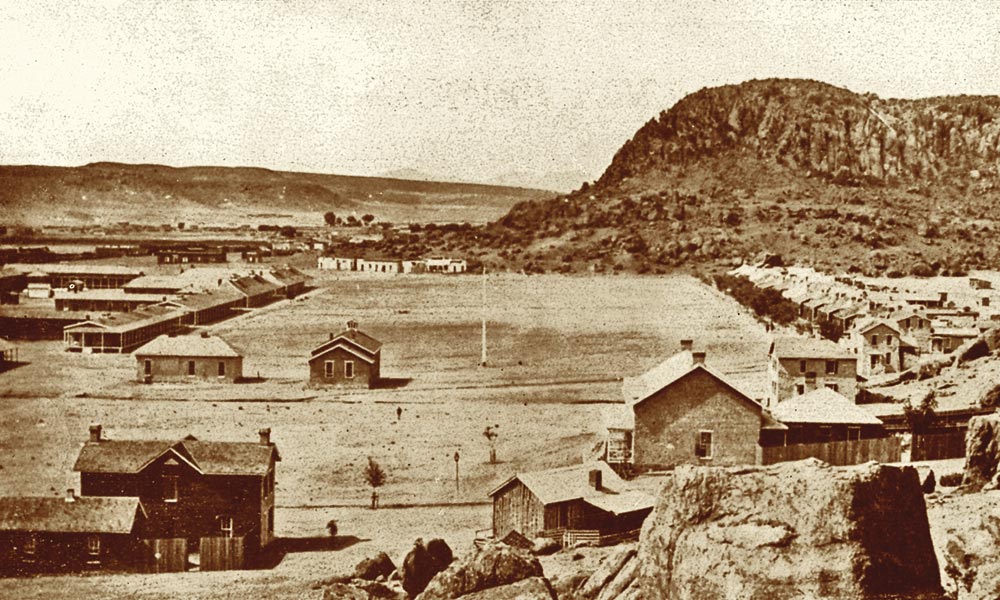 Jesse and the boys decided that pickings might be easier in the Davis Mountains of west Texas. Being a bit short of funds, they rode in to Fort Davis and robbed the Sender & Siebenborn Store, as well as taking money from any citizens who happened by.  A posse was quickly formed but was only able to catch one of the outlaws.
Texas Ranger Sgt. Lamar Sieker quickly brought a detachment into the area and started an investigation. An informant told the Ranger that Jesse Evans and the rest of his gang were in the area of Presidio, some 100 miles south of Fort Davis. Leading a pack mule, Sieker and five Rangers headed south toward Presidio and the Chinati Mountains.
The Rangers spotted the outlaws as they rode toward the mountain and a running gunfight ensued. The outlaws took cover behind some boulders on the top of the mountain and began to pour the lead at the Ranger posse. Riding up to within forty yards of the gang, the Rangers fought back. Ranger Bingham was shot through the heart and Graham, one of the outlaws, also was killed. Jesse Evans and his two surviving companions wisely surrendered.
Jesse Evans was tried, convicted and sent to Huntsville Prison. After having served his sentence and been released, the outlaw disappeared.
On the Trail of Jesse Evans and the Texas Rangers
The road from Lincoln, New Mexico, to Presidio, Texas, offers historic sites, scenic byways and heritage communities to explore on the trail of Jesse Evans and his battle with the Texas Rangers.
Chambers: NMHistoricSites.org (Lincoln, NM); PresidioTX.us; VisitMarfa.com; FortDavis.com; WacoHeartofTexas.com
Historic Sites, Parks, Museums & Monuments: Lincoln Historic Site, Lincoln, NM; Presidio County Courthouse, Fort Leaton State Historic Site, Marfa, TX; Fort Davis National Historic Site, Fort Davis, TX; Texas Ranger Museum, Waco, TX
Lodging: El Paisano Hotel, Marfa, TX; El Fortin del Cibola, Presidio County, TX; Hotel Limpia, Veranda Lodge, Indian Lodge, Fort Davis, TX; Colcord Hotel, Waco, TX
6. July 14, 1881
Pat Garrett vs. Billy the Kid

Lincoln, New Mexico to Fort Sumner, New Mexico
In the aftermath of the Lincoln County War, Henry McCarty aka Billy the Kid, was sentenced to hang for murder and remanded to the Lincoln County jail until the execution could be carried out. In April of 1881, the Kid murdered deputies James Bell and Bob Olinger while making his escape.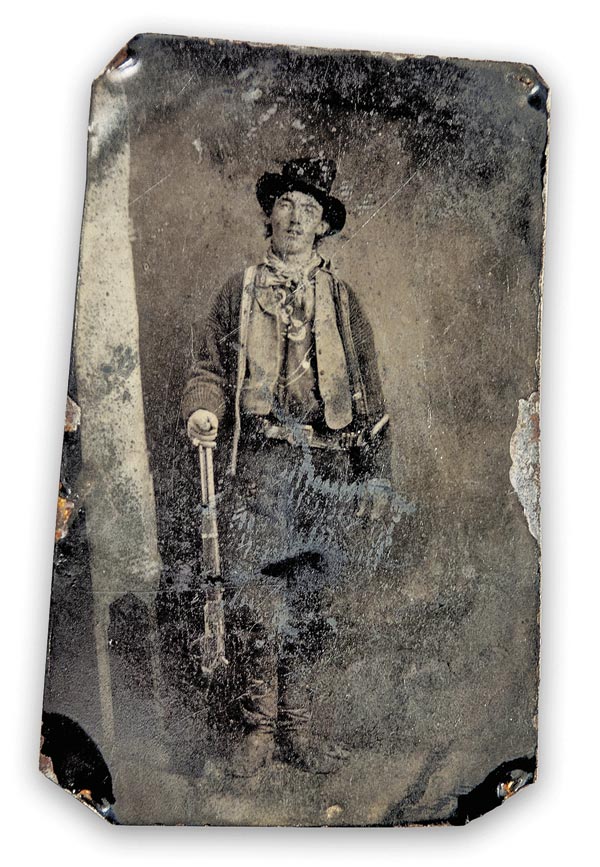 From April to July, Sheriff Pat Garrett bided his time and gathered information that would lead to the Kid's location. In July, probably from an informant, Garrett learned that the Kid was most likely in Fort Sumner, New Mexico Territory. Taking two deputies with him, Garrett quietly made his way to the old fort, now turned village.
At about midnight on the 14th, Garrett left his two deputies outside while he went into Pete Maxwell's house to see what he could find out. While sitting and talking to Maxwell, who was already in bed, Garrett was shocked to see Billy walk into the room from a door that led to the outside. Garrett fired two quick shots, one of which hit the Kid in the chest and killed him.
Over the years, it has been argued whether the Kid had a pistol, a knife or was unarmed. To a frontier lawman, none of that mattered. On top of all of his other violent acts, Billy the Kid had killed two of Pat Garrett's coworkers and, we may assume, friends—although many doubt Garrett and Olinger were more than professional acquaintances. Garrett's attitude was that, if the Kid wasn't armed, he should have been.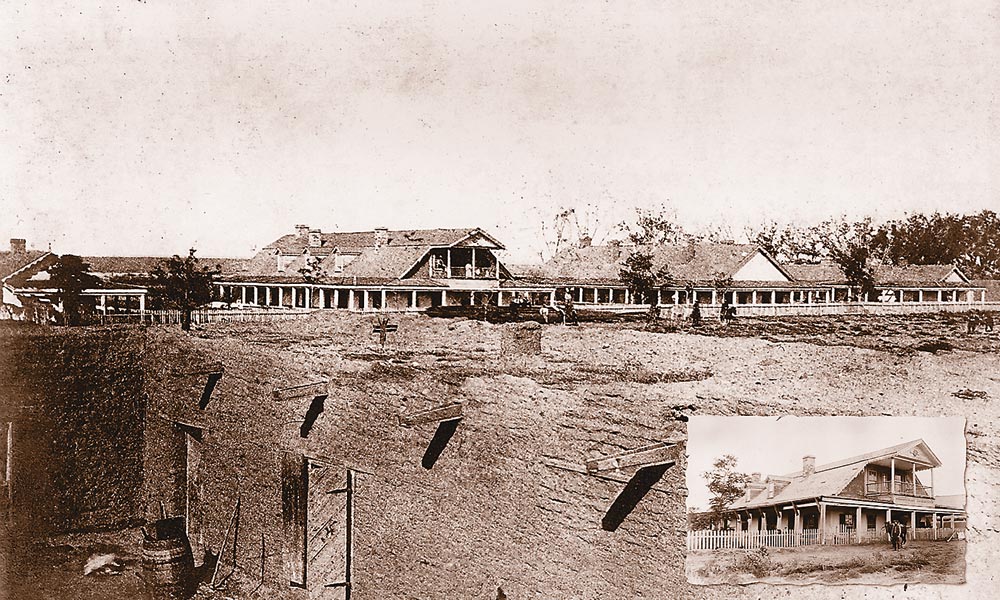 On the Trail of Pat Garrett and Billy the Kid
New Mexico offers numerous historic sites, scenic byways and heritage communities to explore on the trail of Pat Garrett and Billy the Kid's final shootout.
Chambers: NMHistoricSites.org (Lincoln, NM); VisitRuidosa.com; FortSumnerChamber.com
Historic Sites, Parks, Museums & Monuments: Lincoln Historic Site; Ft. Stanton Historic Site; Fort Sumner Historic Site/Bosque Redondo Memorial; Hubbard Museum of the American West, Ruidosa; Old Fort Sumner Museum and Billy the Kid Museum, Fort Sumner
Lodging: Ellis Store Country Inn, Lincoln; The Wortley Hotel, Lincoln; Shadow Mountain Lodge & Cabins, Ruidosa; Billy the Kid Country Inn, Fort Sumner
7. March 24, 1882
Wyatt Earp vs. Curly Bill

Cochise County, Arizona
To say that Wyatt Earp was fed up would be an understatement. The Cowboys, as the folks in Cochise County, Arizona, called the outlaws, had murdered his brother Morgan and crippled his brother Virgil. As a deputy U.S. marshal, with a pocket full of warrants, Earp formed a posse and hit the trail. One could probably say that the outlaws' civil rights were not high on his list of priorities.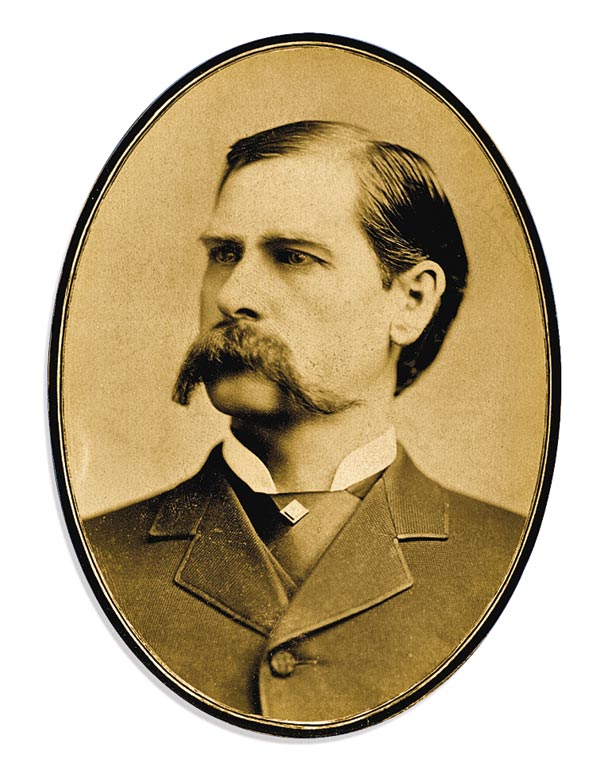 On March 24, Earp led his posse up to Iron Springs (later called Mescal Springs) and rode right into the outlaws. Earp's posse fled, thinking that he was with them. But Earp had unshucked a shotgun from his saddle scabbard and dismounted. About that time, Curly Bill Brocius took aim on Wyatt with his own shotgun. Curly Bill missed and Wyatt didn't. Having fired both barrels of his shotgun into Curly Bill, Wyatt used his revolver to put a bullet into Johnny Barnes, who later died from the wound.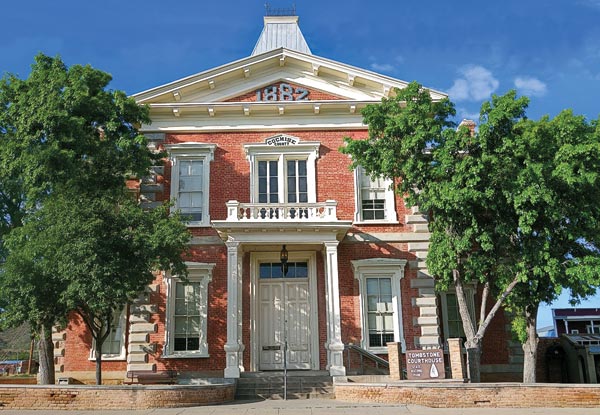 Wyatt's clothes were torn with bullets, but Earp was not hit. Still under fire, he hitched up his gunbelt and rode to cover. Earp later found out that the outlaws had carried Curly Bill's body off and buried it on the Patterson Ranch.
Some believed that Curly Bill was not killed in this fight, though Wyatt and others always maintained that he was. The fact is that Curly Bill Brocious was never heard from again.
On the Trail Wyatt Earp and Curly Bill
Southeastern Arizona's Cochise County offers numerous historic sites, scenic byways and heritage communities to explore on the trail of Wyatt Earp and Curly Bill.
Chambers: TombstoneChamber.com;  WillcoxChamber.com; BensonChamberAZ.org; 
BisbeeArizona.com; ExploreCochise.com
Historic Sites, Parks, Museums & Monuments: O.K. Corral and Historama, Tombstone Courthouse State Historic Park, Boothill Graveyard & Gift Shop, Tombstone; Rex Allen Arizona Cowboy Museum & Cowboy Hall of Fame, Willcox; Bisbee Mining & Historical Museum, Bisbee
Lodging: Tombstone Monument Ranch, Tombstone; Virgil's Corner Bed & Breakfast, Tombstone
8. 1886
Teddy Roosevelt vs. The Boat Thieves

Medora to Dickinson, North Dakota
The 1880s found future president Theodore Roosevelt ranching near Medora, North Dakota, along the Little Missouri River. One spring morning, as the ice in the river was beginning to break, Roosevelt found that someone had made off with the boat that he used to get to the other side of the river and tend to his livestock.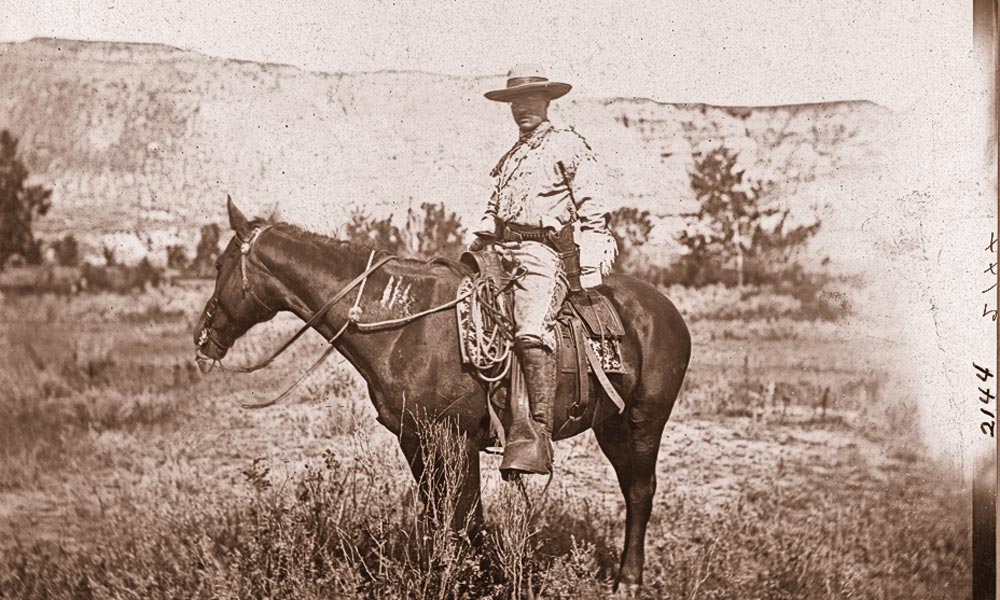 Suspecting some neighbors who lived nearby, Teddy and two ranch hands quickly got to work and built a flat-bottomed scow so that they could go after the thieves. After three days on the river, Roosevelt and his cowboys came up on the thieves' camp. He arrested three men that he identified as Finnigan, The Half Breed and The Old German. Then Roosevelt waited eight days for the river to thaw, spending the time guarding prisoners and reading books, all the time keeping a double-barreled 12-gauge between him and the outlaws.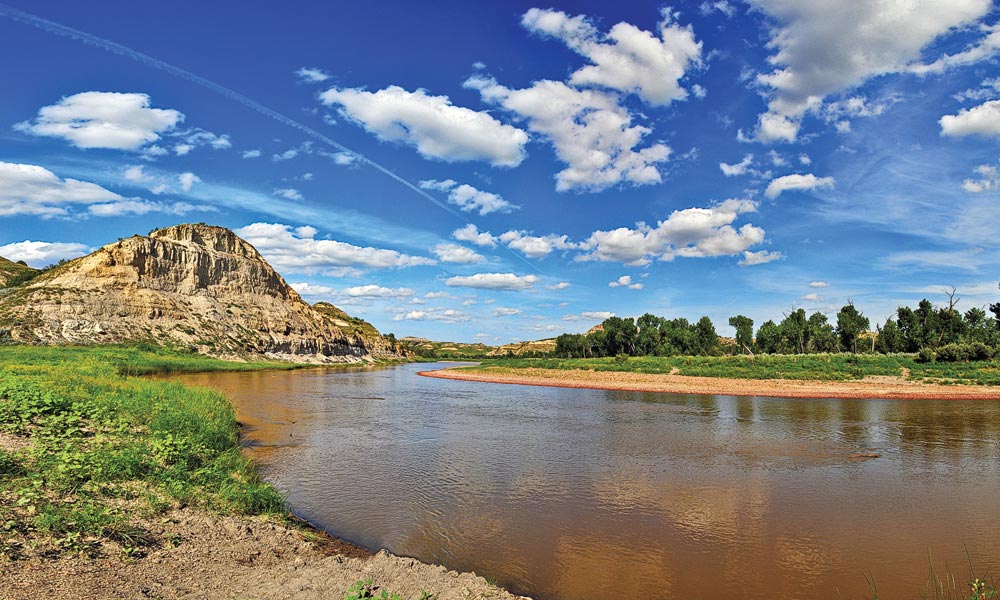 Finally, running short of supplies, Roosevelt decided to walk his prisoners overland to the sheriff in the town of Dickinson. Some 36 hours later, Teddy delivered his captives to the sheriff and, being a sworn deputy sheriff, collected his fees and mileage amounting to $50. He might have worn glasses and been from Back East, but the word soon got around that he was not one to mess with.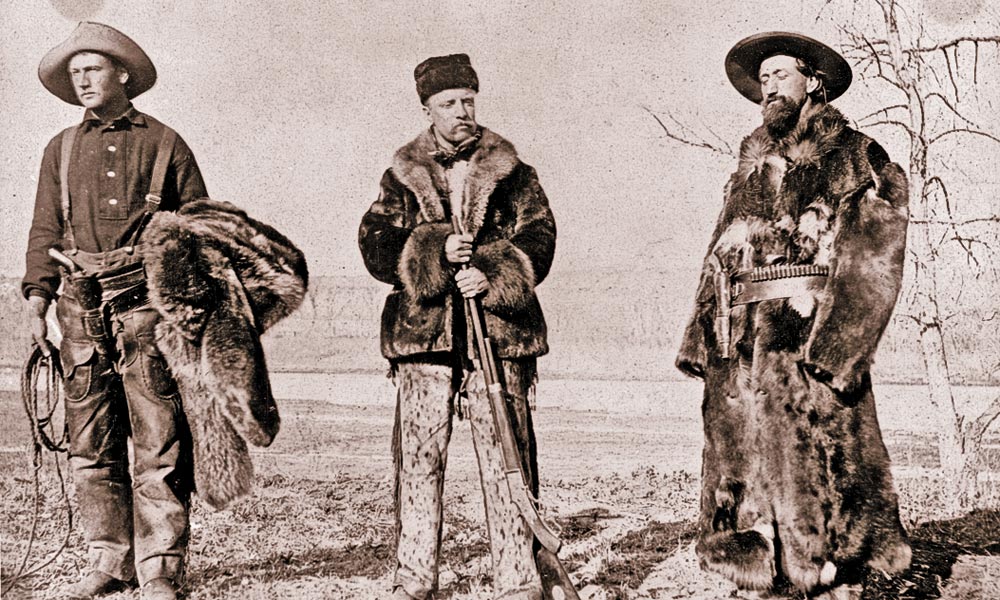 On the Trail of Theodore Roosevelt and the Boat Thieves
Western North Dakota offers numerous historic sites, scenic byways and heritage communities to explore on the trail of Theodore Roosevelt and the boat thieves.
Chambers: MedoraND.com;  VisitDickinson.com
Historic Sites, Parks, Museums & Monuments: Theodore Roosevelt National Park, The Château de Mores Interpretive Center, Joe Ferris General Store, North Dakota Cowboy Hall of Fame, Medora; Dickinson Museum Center, Dickinson
Lodging: Rough Riders Hotel, Medora; Bar X Guest Ranch & Horse Camp, Medora; 1026 Oasis Inn, Dickinson
9. October 1892
Coffeyville vs. The Dalton Gang

Meade to Coffeyville, Kansas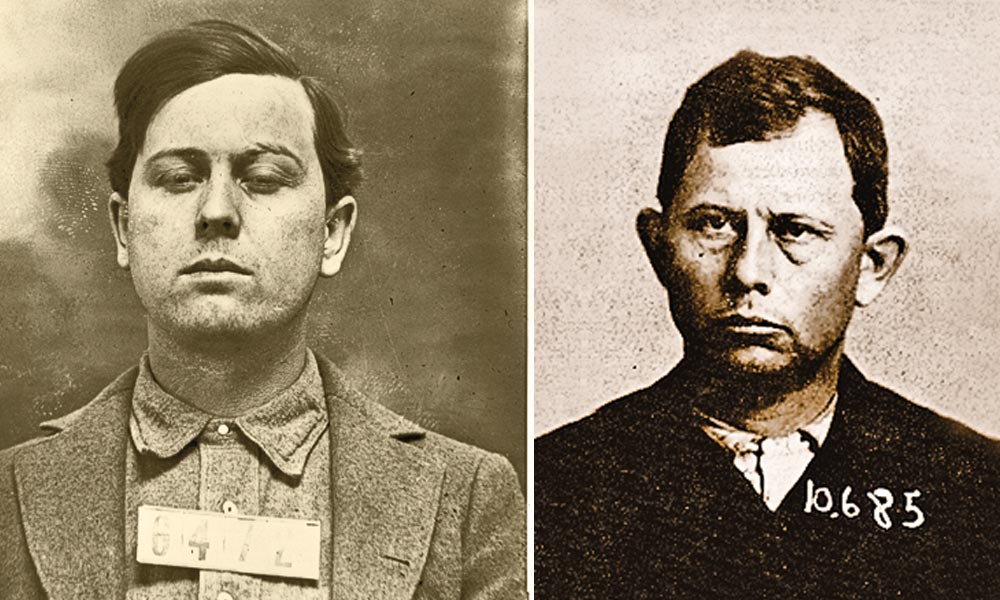 On October 5, 1892, the Dalton Gang pulled either the most daring stunt, or the stupidest stunt, of their outlaw career. Bob, Grat and Emmett Dalton, along with Dick Broadwell and Bill Powers, elected to hold up two banks at once in the Daltons' old hometown of Coffeyville, Kansas.
The boys just made a few really stupid mistakes. They rode into town wearing phony-looking disguises that only called attention to them. They failed to case the banks ahead of time and did not have a good escape route planned. And they let Grat Dalton, not one of the sharpest knives in the drawer, be the leader in one bank.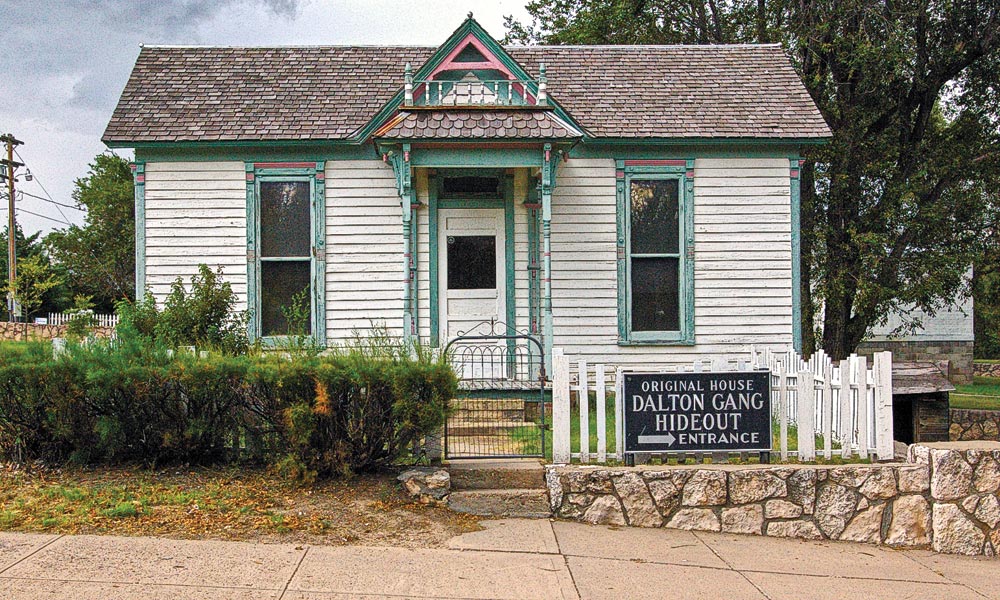 Things went to pieces in a hurry, with the double robbery taking too long. Citizens discovered the twin crimes and began shooting even before the gang got out of the banks. In the confusion, Grat Dalton killed the town marshal in an alley, and the gang killed three citizens.
Hemmed up in an alley, trying to get on their horses, the outlaws were converged upon by townspeople who killed the entire gang except Emmett Dalton, who was shot so many times that he should have died. It was said that Bill Doolin had also been with the gang, but had held back, claiming that his horse was lame. If so, it just shows that Doolin was a whole lot smarter than the rest of the Dalton Gang.
On the Trail of the Dalton Gang
Southern and Western Kansas, from Meade to Coffeyville, including a side trip to Dodge City, offers numerous historic sites, scenic byways and heritage communities to explore on the trail of the Dalton Gang.
Chambers: Coffeyville.com; MeadeChamber.com; VisitDodgeCity.org
Historic Sites, Parks, Museums & Monuments: The Daltons Defenders Museum, Condon Bank in Historic Perkins Building, Coffeyville CVB, Coffeyville; Meade County Historical Museum, Dalton Gang Hideout & Museum, Meade; Boothill Museum, Dodge City
Lodging: Regal Inn, Coffeyville; Lakeway Hotel: Bed & Breakfast, Meade; Boothill Casino & Resort, Dodge City
10. August 1896
Heck Thomas vs. Bill Doolin

Lawson to Guthrie, Oklahoma
Bill Doolin's turn finally came in 1896. After the demise of the Dalton Gang, of which he was a member, he formed his own wild bunch and kept on following the outlaw trade. Among other things, they shot up a group of U.S. marshals in Ingalls, Oklahoma Territory. Captured in Arkansas by Bill Tilghman, Doolin soon escaped from the jail in Guthrie.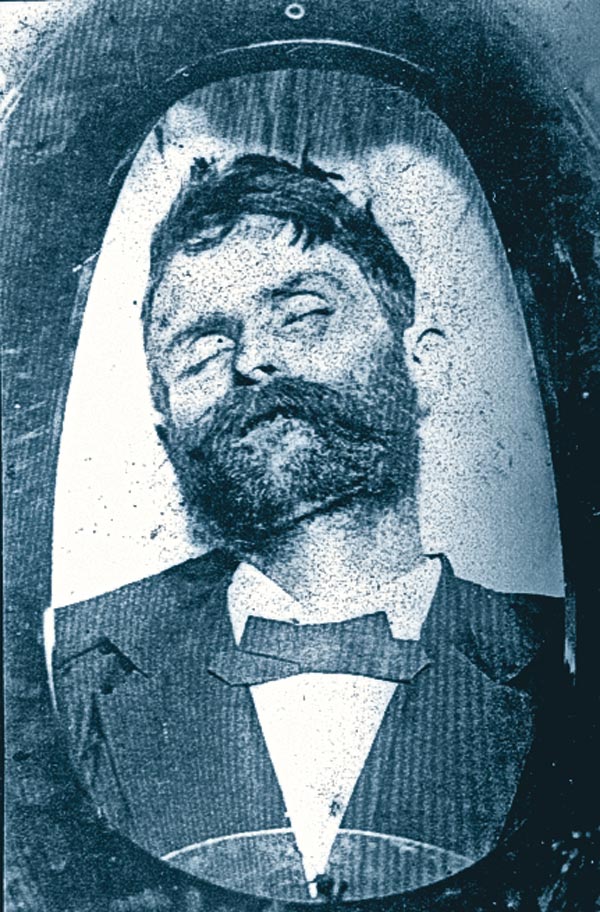 In August of 1896, Deputy U.S. Marshal Heck Thomas set up surveillance on the home of Doolin's father-in-law in Lawson, Oklahoma Territory. Late at night, the posse saw a man walking from the house, up a trail, in their general direction. When it was determined that it was Bill Doolin, the posse opened up. Doolin returned fire, but he was shot several times, and killed dead on the spot. Heck Thomas got the credit for killing Doolin, having centered the outlaw's chest with a load of buckshot.
Folks have always debated if Thomas's posse had called on Doolin to surrender. Most likely they did, but maybe, as in the case of Frank Hamer and Bonnie and Clyde, Doolin couldn't hear them over the sound of the gunfire. We suspect that Heck Thomas didn't much care.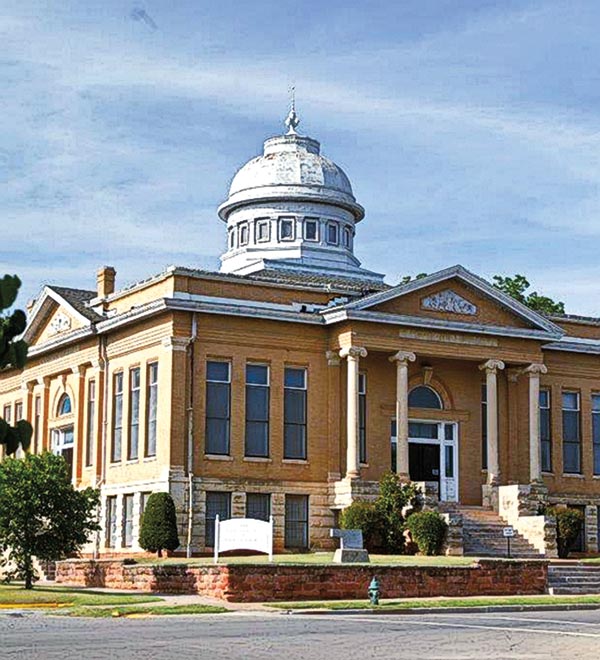 On the Trail of Heck Thomas and Bill Doolin
Central Oklahoma offers numerous historic sites, scenic byways and heritage communities to explore on the trail of Heck Thomas and Bill Doolin.
Chambers: OKCChamber.com; GuthrieChamber.com
Historic Sites, Parks, Museums & Monuments: National Cowboy & Western Heritage Museum, Oklahoma City; Oklahoma Territorial Museum, Summit View Cemetery, Logan County Historical Society, Guthrie; JM Davis Arms & Historical Museum, Claremore; Woolaroc Museum, Bartlesville
Lodging: Pollard Inn, The Stone Lion Inn, Guthrie; Colcord Hotel, The Skirvin Hotel, Oklahoma City
Jim Wilson is a retired Texas peace officer, a former sheriff and a lifelong student of Western history. The Big Bend country of West Texas is his home.