Linda Wommack's new history of Colorado's Indian Wars, a collection of essays on the Silver State, a tale of a Cheyenne hero, a classic Western from Michael Zimmer and a Biblical tale of the Old West.
American historians over the past half-century have grappled with the complexities of writing local, state, regional and national history. Most will choose to do one or two when writing as intricate a book as From Sand Creek to Summit Springs: Colorado's Indian Wars (Caxton Press, $25.95) by award-winning author Linda Wommack. But because Wommack has lived her life in Colorado, writing about its people, places, history, legend and lore for decades, she could do it all, and she does with style and insight, balancing both sides of a violent, tragic era into a poignant reminder to all who seek the truth from the past that they can find new and balanced ways to tell all facets of a story. As lauded Western historian Gary Roberts says in the foreword to the book, "Wommack's account is personal. It is about individuals, White and Red, and their ways of seeing. Hers is a story of the 'war in the dooryard' that characterized much of the history of the Indian Wars."  
For those who read Wommack's From Sand Creek to Summit Springs, it may or may not be the first time they have read about the battles and wars between the United States Army and settlers with the Cheyenne, Arapaho, Kiowa, Sioux, Pawnee or Ute people. But, guaranteed, after finishing Wommack's masterpiece, the reader will have a greater appreciation and understanding of Colorado's oft-overlooked role (as compared to neighboring states and territories) in the brutal conflict between the state's Indian people and the settlers during and after the Civil War.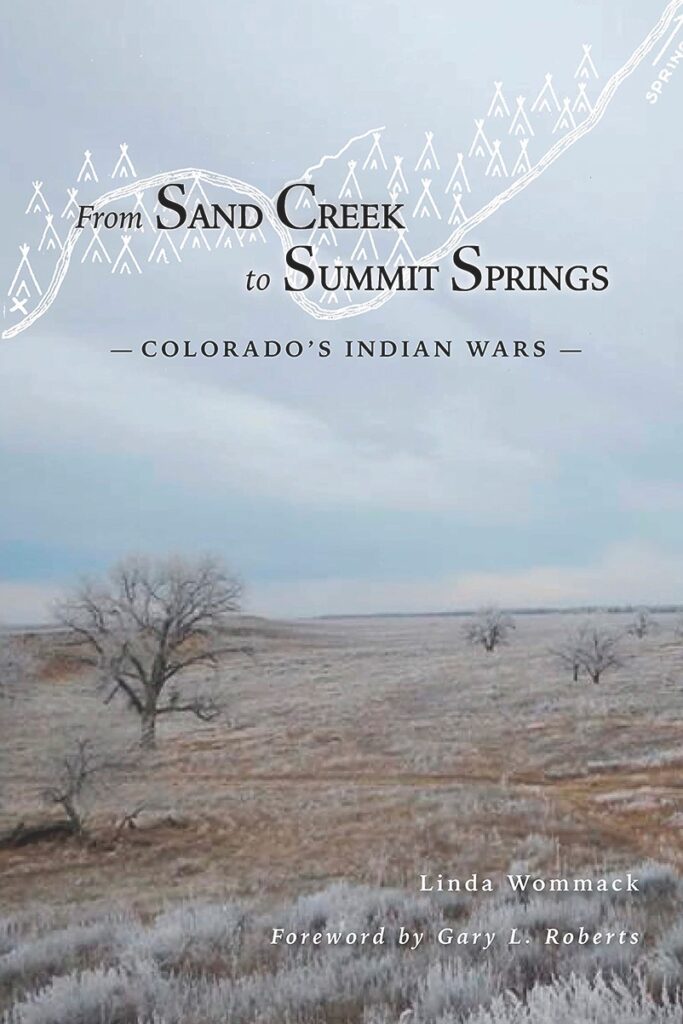 Students and historians of Western Native history will find Wommack's focus on the Indian Wars in Colorado a model for authors looking for a new way to write regional history. Very few of her peers before or since have done such a comprehensive job examining how the 19th-century Indian wars shaped one state. She expertly places the Rocky Mountain State in the context of the national stories of expansion into the traditional Indian territories of the Great Plains, Rocky Mountains and Great Basin, the Civil War, racism, violence, Indian resettlement policy and corruption. Wommack, who is no stranger to writing biography (this is her 16th book), tells the story from the bottom up, bringing to life the voices of the lesser known, the survivors, the victors and the defeated. She meticulously weaves primary sources, including diaries from settlers and Indians, into her story, with images of many of those barely known or long forgotten. As a native Coloradan, her knowledge of the state offers readers a great understanding of the state from the ground up through her prose. It is clear that she has walked many a mile—and shed more than a few tears—in her subjects' footsteps to tell their stories. 
Wommack, a longtime contributing editor to True West, has dedicated most of her career as a historian to her beloved home state of Colorado. Her latest, From Sand Creek to Summit Springs, will stand alone for many years as one of the finest examinations of the Indian wars in a Western state. Extremely well researched, with detailed chapter endnotes, the book provides her peers with a life's work that expertly synthesizes never before used primary Indigenous source material, federal and state records, oral histories and previously published materials into one of the finest Indian Wars histories published in the past decade. 
—Stuart Rosebrook
Rough Drafts
Since COVID struck the world in 2020, the number of books I receive directly from publishers has been reduced from about 600 a year to between 100 and 150. Does this mean fewer books are being published in the 19th-century Western fiction and nonfiction categories? You bet it does. In addition, Western fiction outpaces Western history at least 2-1, more like 5-1. But Five Star is shuttering its traditional Old West fiction division as of March 2023 (see page 53 for an interview with Five Star Editor Tiffany Schofield), and the major New York and university publishers are reducing their annual history and biography releases focused on the century of Manifest Destiny. We are now in our third decade of the 21st century, and publishers are focusing more and more on the past 100 years versus the prior hundred.
I am worried about the marketplace for authors and historians writing and researching about our beloved Old West. That said, if you love the subject matter of Old West history and enjoy reading Western fiction, please support the authors and publishers who still believe there is a viability in the demographics to support the genres.
In Old West fiction, Wolfpack Publishing of Las Vegas, Nevada, and Kensington of New York, New York, are really the last two houses standing that can be considered major publishers of traditional Westerns. In nonfiction, don't hold your breath for a long list coming out of New York. Support the catalogs from university houses and independents and keep buying new titles and letting publishers know that you want more published on your favorite subjects. Without support, the genre may soon be relagated to used bookstores, nostalgia conferences and back-list catalogs 
—Stuart Rosebrook
Wide Open Spaces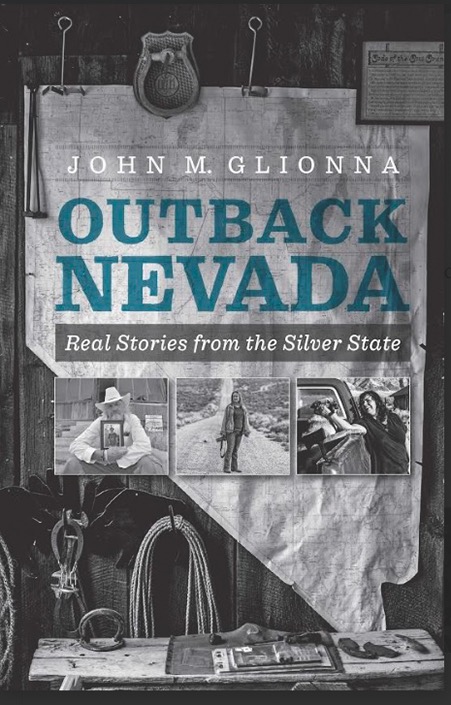 Los Angeles Times journalist John M. Glionna presents in Outback Nevada: Real Stories from the Silver State (University of Nevada Press, $27.95) a spirited collection of stories about the people from one of America's last true frontiers. Glionna's essays introduce readers to the hearty characters of the rugged and often misunderstood state of Nevada while shedding new light on what it means to be a resident in the new Wild West. Nevada is more than just Las Vegas and Reno as Glionna quickly asserts and his stories profile cowboys, ranchers, antique dealers, politicians, and vagabonds. What the reader is left with is a tapestry of the type of resilient individual who makes rugged and remote places like Nevada home.
—Erik J. Wright, assistant editor of The Tombstone Epitaph  
Two Fisted Western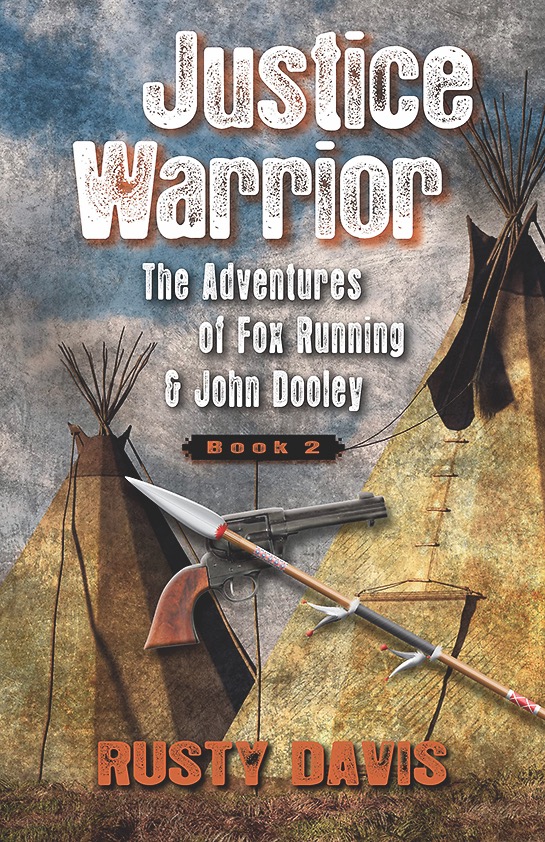 Justice Warrior: The Adventures of Fox Running and John Dooley (Five Star, $25.95) by Rusty Davis is a fast-paced, two-gun action adventure about friendships and love affairs initiated, broken and renewed. A Cheyenne man, his sidekick his sidekick and his high-spirited sweetheart wend their way through a valley of death strewn with obstacles and enemies earning the Northern Cheyennes the Tongue River Valley as their reservation. Along the way they are assisted by Cheyenne spirit helpers in the form of wolves, miraculous horses, and a powerful medicine woman. Loosely based on the struggle of the Northern Cheyennes to win land of their own choosing for a reservation, something only they and the Jicarilla Apaches managed to accomplish. 
—Doug Hocking, author of Terror on the Santa Fe Trail: Kit Carson and the Jicarilla Apache
Classic Western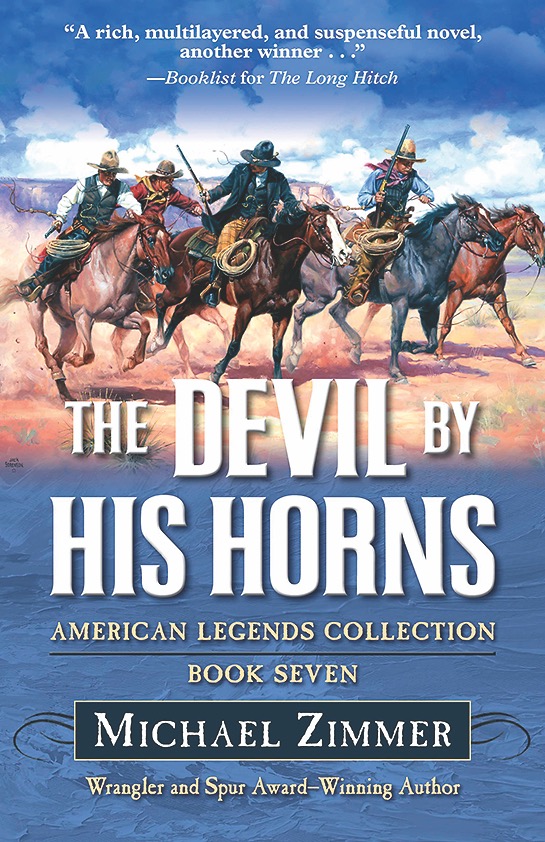 Sixteen-year-old Elijah "Lige" Two Buck escapes certain death when his mother, fighting off a gang of killers, insists he find older brother Jason "Jace." Lige does, and rides with the Kid Jace gang as they seek revenge for the massacre. Non-stop action, characters to love, to hate and to care about, crash into each other in this beautifully written end of 19th-century story.
The Oklahoma Jace gang robs stages and banks hoping to bring the killer to his knees and pay for the suffering his vindictiveness caused. Jace leads a band of cutthroats, along with Milly Bolton, a woman found as a captive. As close to a perfect Western as one can get, The Devil by His Horns by Michael Zimmer (Five Star, $26.95) will keep you reading late into the night.
—Melody Groves, author of Before Billy the Kid: The Boy Behind the Legendary Outlaw
Biblical Madness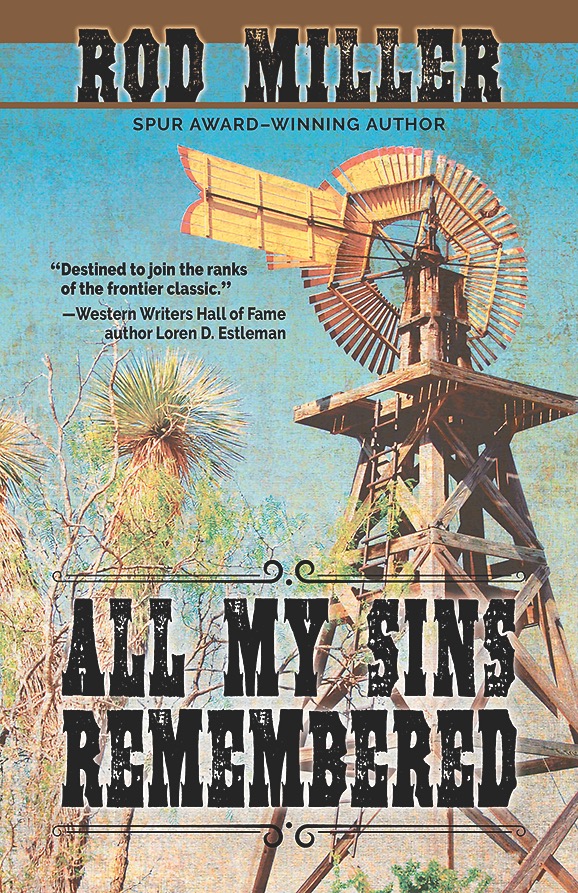 It is not by chance that Rod Miller has taken his title, All My Sins Remembered (Five Star, $25.95) from Shakespeare's Hamlet for his latest novel. Comparable to the Bard, his book is about madness—with Biblical dimensions. The story takes place at a roadhouse, a Western-style Bates Motel. A windmill furnishes life-giving water, but wayfarers are charged exorbitantly for it. The roadhouse operator, who narrates the tale, is an evil, violent man. The Indian woman who lives with him is silent. But like Hamlet, he is complicated. He can be both cruel and kind. Want to or not, we identify with him. Told with verve and knowing detail, characters without names and distinct faces come clearly to life. The action is swift, the Western scene spare and tense, the whole a haunting tale of good and evil. This is superb Western fiction. 
—Charles E. Rankin, editor of Legacy: New Perspectives on the Battle of the Little Bighorn
Building Your Western Library
Arizona Historian Touts Best of Western Women's History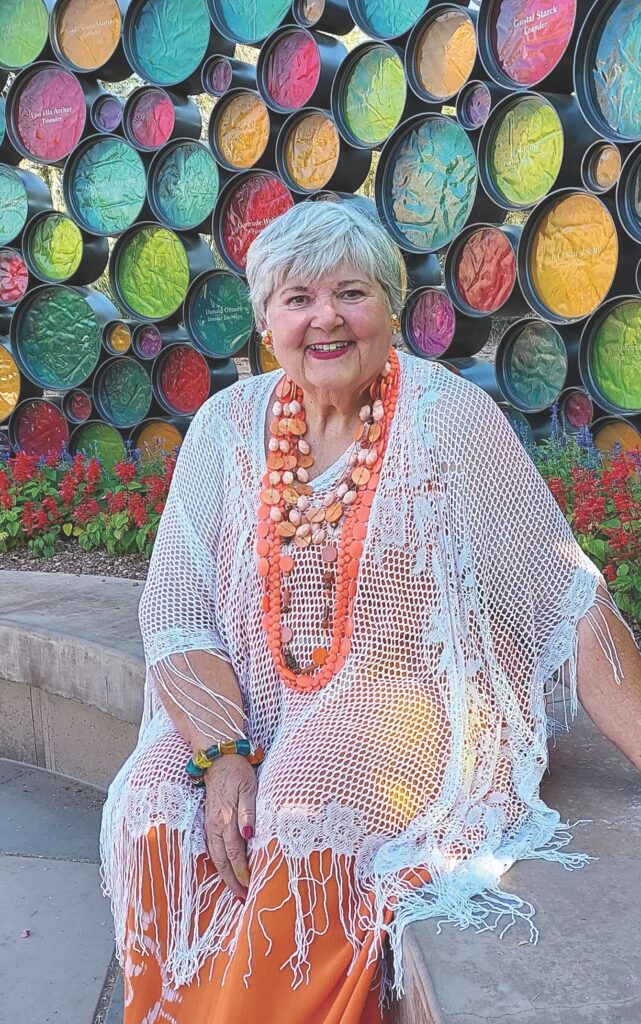 Jana Bommersbach has been writing for True West since 2002, often focusing on women who have been shortchanged by history. For five years, she wrote a monthly column profiling these women—that led to a five-year investigation into the truth behind the Wyoming legend of the only woman ever lynched as a cattle rustler. The result was her historical novel, Cattle Kate. With Bob Boze Bell, she's coauthored the upcoming Hell-raisers and Trailblazers: The Real Women of the Old West. Her recommended books about Western women are:
Westward the Women by Nancy Wilson Ross (North Point Press): In 1944, Ross's work was the first time the women's side of the story of pioneering was told and is a must for any Western library.
Women of the West by Dorothy Gray (University of Nebraska Press): This book profiled remarkable women who should be in every history book.
More Than Petticoats (Morris Book Publishing and Globe Pequot Press): This series, published since the mid-1990s, profiles outstanding Western women, state by state.
A Passion for Freedom: The Life of Sharlot Hall by Margaret F. Maxwell (University of Arizona Press): This is the definitive work on the woman who saved Arizona.
Winning their Place: Arizona Women in Politics, 1883-1950 by Heidi J. Osselaer (University of Arizona Press): This book takes readers inside Western women's amazing right-to-vote campaigns which were successful decades before the 19th Amendment.
A Q&A with Five Star Editor Tiffany Schofield
In early August 2022, Gale/Cengage announced the closure of its traditional Western/Frontier book division. Senior acquisitions editor Tiffany Schofield, who has been overseeing the Waterville, Maine-based Old West genre for two decades, will transfer into the publisher's Thorndike Press and continue to acquire large-print Westerns for its standing order program. She also will be the product leader and acquisitions editor for the company's Youth Large Print division.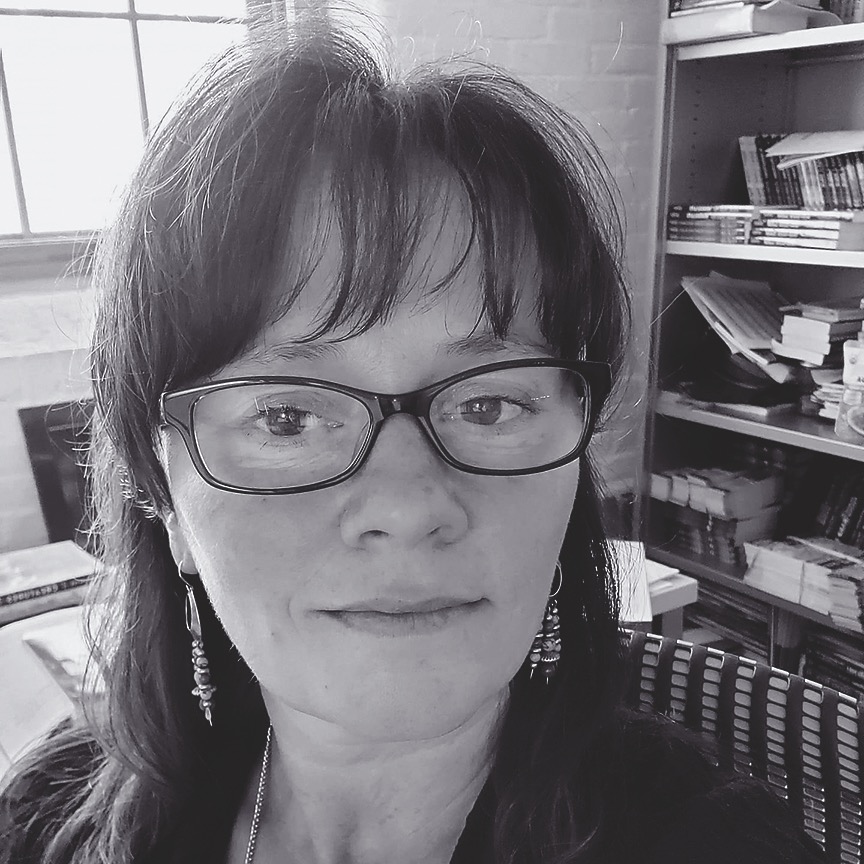 How long have you served as editor of Western and Frontier novels at Five Star?
I have had the honor to serve Five Star and its talented authors for 20 years.
Have libraries stopped buying standard, classic Western and Frontier novels vs.
large print versions?
Thorndike Press is seeing a growing interest in Large Print Westerns in the library market. COVID interrupted the Five Star release schedule, and since then, we have not seen the rebound in regular print edition sales that existed prior to that time.
How many Western and Frontier genre novels does Five Star currently publish a year?
Five Star currently publishes 48 regular print novels annually and will continue doing so until the final releases in March 2023.
What is the viability of the Western novel in 2022?
The Western genre is uniquely American and will likely remain popular for decades to come. As time and technology changes, so can the manner (and format) in which readers seek literature. Paperback and e-book formats are currently popular in the retail market, while the large-print format continues to grow in popularity in the library market.
When will Five Star close its Western/Frontier publishing division?
Five Star will release its final novels in March 2023 and continue to promote and sell active product for the duration of its demand in retail and library markets.
Where will fans of Five Star Western and Frontier novels be able to purchase them?
Fans will still be able to ask for Five Star novels at their local library or purchase their own copies through online booksellers.
Will Thorndike continue to release large-print Western and Frontier novels?
Yes, Thorndike Press currently publishes 84 large‑print Western novels annually and will continue to do so.
Will the Western Survive?
For a year of promise in Western publishing, 2022 has revealed vulnerabilities in the genres of Old West fiction and history.
I grew up in the West and have been enjoying reading about it in every format for as long as I can remember. I still love the genres of Western history and fiction and have had the pleasure the last decade to be the book editor at True West and follow the cyclical nature of the industry. So where are we as we look back at the past year?
First, where is Western fiction? An original American genre of literature with roots in the dime novels of the mid-19th century, fueled by Owen Wister's stand-alone classic The Virginian (1902) and the early 20th-century writings of Jack London, Zane Grey and Clarence Mulford, the Old West novel has been a cornerstone of popular fiction publishing for 120 years. Yet, with the shuttering of Five Star's Western division (see page 53), we must look to Kensington and Wolfpack to carry the load of the mass-market Western until another imprint decides to expand or add the genre to their current catalog.
In Western history, the once ever-popular 19th-century Old West and frontier genres have really taken a beating in the past few years. New York houses are extremely selective in publishing about the era, and biography is their top genre, as reflected in recent releases by John Boessenecker and Mark Lee Gardner. University houses have cut their annual titles on the era, while regional and popular presses are keeping the Western history genre alive, while many authors are turning to self-publishing. 
With that said, I believe the past year has produced some outstanding works, and I believe True West's readers will discover that the quality of writing in Western fiction and nonfiction is as good as it has ever been. So, keep reading, buying and supporting the genres. The End credit is still a long way off for Old West publishing. 
Here are 14 favorites from this past year:
Nonfiction
With the 150th anniversary of Yellowstone National Park in 2022, Megan Kate Nelson's Saving Yellowstone: Exploration and Preservation in Reconstruction America (Simon & Schuster, $28.99) was an inspiring book to kick off the year.
Mark Lee Gardner has been one of top Western American historians in recent years and his well-researched dual-biography The Earth Is All That Lasts: Crazy Horse, Sitting Bull, and the Last Stand of the Great Sioux Nation (Mariner Books, $28.99) is one of the finest books—in all genres—of the year.
True West's editors love inspiring travel in the Western United States and Lynn Downey's well-written and insightful American Dude Ranch: A Touch of the Cowboy and the Thrill of the West (University of Oklahoma Press, $24.95) does just that.
Billy the Kid: El Bandido Simpático (University of North Texas Press, $34.95) by first-time Australian author James B. Mills, has set the new standard for biographies of the Western outlaw. It is an instant classic.
Historian Chris Enss is at the top of her craft with The Widowed Ones: Beyond the Battle of the Little Bighorn (TwoDot, $26.95), one of the most poignant biographies published in 2022.
Journalist/historian Steve Wiegand's 1876: Year of the Gun, The Year Bat, Wyatt, Custer, Jesse, and the Two Bills (Buffalo and Wild) Created the Wild West and Why It's Still With Us (Bancroft Press, $33) is one of the most ambitious Western history books of the year. 
Montana-based writer and documentary producer Samuel K. Dolan's newest book, The Line Riders: The Border Patrol, Prohibition, and the Liquor War on the Rio Grande (TwoDot, $29.95), explores the Wild West of bootleggers on the Texas borderlands of the early 20th-century.
Indigenous Continent: The Epic Contest for North America (Liveright, $40) by Rhodes Professor of American History at the University of Oxford Pekka Hämäläinen sets a new baseline for scholars and educators who write and teach Indian history.
Fiction
I am a big fan of W. Michael Farmer's writings on the Apache people, and his highly researched historic novels are some of the best being produced today, including The Iliad of Geronimo: A Song of Blood and Fire (Five Star, $25.95).
The Southern Plains have a great literary tradition, and Kansas author and farmer John Mort, well-known for his short stories, has produced a great one in Oklahoma Odyssey (University of Nebraska Press, $24.95) 
Award-winning author Terrance McCauley's The Revengers (Pinnacle/Kensington, $8.99), the third entry in the Jeremiah Halstead series, is a classic and why we love reading Westerns.
Ashley Sweeney's Hardland: A Novel (She Writes Press, $17.95) has received great reviews from peers and press alike and appears to be one of the top standalone Westerns in 2022.
Spur Award-winner C.K. Crigger is a grand storyteller and her latest from Wolfpack Publishing, The Woman Who Beat the Odds ($10.99) is a perfect read by the hearth on a cold winter night.
Independent writer Lee Martin has been writing screenplays and novels for decades and she knows how to spin a great story. Her latest, Pearl Hart & the Violent Men (Vaca Mountain Press, $17.99), promises to be a page-turner…and maybe another movie!