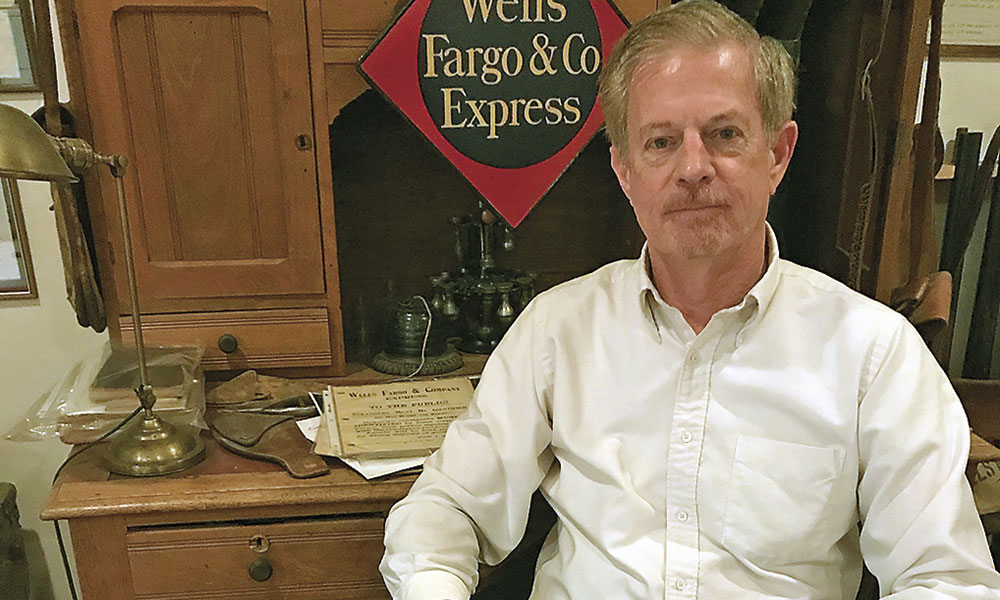 A native of San Francisco, California, John Boessenecker graduated from San Francisco State University with a history degree in 1975. After serving as a police officer in Mill Valley and San Mateo, he graduated from Hastings College of the Law and became a probate lawyer. Over the past 50 years, he has authored articles and books on frontier crime and law enforcement. His first book was Badge and Buckshot: Lawlessness in Old California and his most recent is Shotguns and Stagecoaches: The Brave Men Who Rode for Wells Fargo in the Wild West.
At age 15, I sold my first article to True Treasure magazine. The story was about a stage robbery in Nevada. I was too poor to buy a copy of the magazine, but about 15 years ago, I saw a copy on eBay for sale and bought it. I had never seen the story published until then.
As a former police officer, I learned to understand criminals—how they think, talk, act and react. This has been helpful to me in writing about Western outlaws because the minds of criminals don't change from generation to generation.  When I was a field training officer, I had to train and evaluate rookie officers. Now, as a historian, I have to evaluate frontier lawmen. Sheriffs Bob Paul and Harry Morse get high marks; Sheriff Johnny Behan, not so much.
Bob Paul was a rare frontier lawman who had a half-century career on two frontiers: the California Gold Rush during the 1850s and Arizona Territory during the 1880s.
Frontier law enforcement draws parallels to today's law enforcement because the basic nature of policing has never changed, from the creation of the first full-time, professional police departments on the East Coast in the 1830s to today. Then and now, police officers are tour guides, social workers, therapists, goodwill ambassadors and law enforcers.
Our country is peaceful today compared with the frontier era. Today's national homicide rate is low, about five per 100,000. During the California Gold Rush, the rate was 300 per 100,000. Historian Randolph Roth has found high homicide rates for almost all frontier communities.
I see Frank Hamer as the ultimate Texas lawman because he was the best example of a man who straddled two worlds and two cultures. He started out as a horseback manhunter in West Texas in 1905 and transitioned into a motorized gangbuster of the 1930s.
I was drawn to Tiburcio Vásquez because he was the most famous Hispanic bandit of the Old West. Joaquin Murrieta is better known, but most of what has been written about him is fiction. Vasquez's exploits, on the other hand, were well documented, though buried in archives, memoirs and newspapers, which I dug out for my biography of him, Bandido.
More people should know "Curly Bill" Brocius, one of the leaders of the cow-boys gang in Arizona Territory. The problem is historians don't know that much about him, or even his real name. But he was extraordinarily dangerous and colorful. He is also controversial. Western buffs will never stop arguing about whether or not Wyatt Earp killed him in 1882.
What I hope people will learn from my latest book is that, although Wells Fargo is currently riddled with scandal due to modern robber barons who took control during the 1990s, it had an important and sterling history prior to that, and especially on the frontier. Then, the words "Wells Fargo" simply meant "honest and safe."
The weirdest stagecoach robbery: In July 1875, "Black Bart" placed sticks in the brush behind him to resemble gun barrels. The stage driver thought Bart was backed up by a gang, but he was alone.
My next book will be about Wyatt Earp and his battle against "Curly Bill" Brocius and the cowboys.
History has taught me that people are the same, whether it is 1870 or 2018. Just read Jane Austen's novels. The British of the 1810s are just like folks we all know today. Their emotions, personalities and motives are the same you will find in our tech-driven society.