A dual biography of Crazy Horse and Sitting Bull, plus a novel of the Mexican War, a history of slavery on the border, a classic Western and a history of Indian wars.
Mark Lee Gardner's The Earth Is All That Lasts: Crazy Horse, Sitting Bull, and the Last Stand of the Great Sioux Nation (Mariner/HarperCollins, $28.99) is the most ambitious American history published in 2022 (see page 18 for an excerpt). For the first time, a major scholar of the West has tackled a subject as well covered as any in Western historiography—the Great Sioux War—and distilled the known (and well-annotated) primary and secondary sources equally with heretofore unused Sioux Indian oral history, correspondences, memoirs and interviews to create the finest dual-biography ever written about Crazy Horse and Sitting Bull. Gardner gives credit where credit is due in his afterword titled "American Indian Informants." He provides us with an index of the names of the primary sources he researched and synthesized to write the book and praises their critical importance in reaching conclusions on a subject that remains controversial and contested: the war against the Sioux and the breaking of the Fort Laramie Treaty of 1868. He writes: "In researching and writing this book, I consulted dozens of interview (i.e., oral histories) of Indian contemporaries of Crazy Horse and Sitting Bull, both published and unpublished, as well as the known words and sayings of the two Lakota leaders themselves."
But why Crazy Horse and Sitting Bull together? Why not separate volumes? The Colorado resident eloquently states \: "In my own journeys through Lakota lands researching this book, I felt the presence of Crazy Horse's and Sitting Bull's spirits on many occasions." Readers of The Earth Is All That Lasts will discover their spirits in Gardner's writing, but equally important, the researcher and scholar will also find a pathway to his conclusions in well-annotated endnotes and an outstanding, inclusive bibliography. Gardner does his own research, as he did for his eight previous books, and it is evident in his careful use of his sources, facts and language, especially in the use of Indian vernacular. The reader will soon get used to his decision to use words such as Long Knives for cavalry, Metal Breasts for Indian Police and Three Stars for Gen. George Crook. Through the final pages readers will have taken a literary and historical journey that will leave them with a greater understanding and perspective on one of the most heralded and written about cultural conflicts and wars in United States history.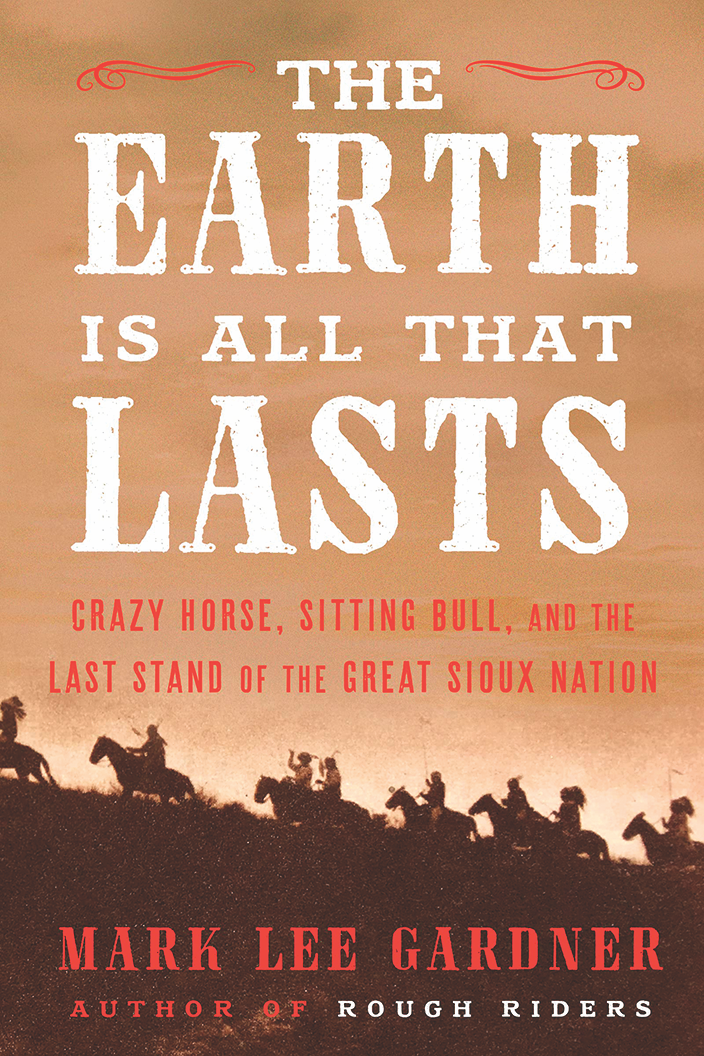 What holds for Mark Lee Gardner in the future? Is The Earth Is All That Lasts his magnum opus? The Missouri native's body of work could be classified by some as Western American history, but the context in which he describes his subjects squarely places his work within the category of popular history. Following in the footsteps of Robert Utley, Stephen Ambrose, David Lavender, Bernard DeVoto and Stanley Vestal, Gardner takes ahold of the well-known and brings the stories alive through strong scholarship and literary prose. Gardner, like his contemporary chronicler John Boessenecker, keeps his readers guessing as to his choice for his next subject. Without a doubt the intrepid historian's next volume will provide a new perspective and fresh conclusions gleaned from primary sources previously untapped. I, for one, will be at the front of the line waiting for it, whether it be a presidential biography, a law-and-order opus or another dual biography. Whatever it is, I will be eager to be enlightened and entertained.
—Stuart Rosebrook
Changing Flags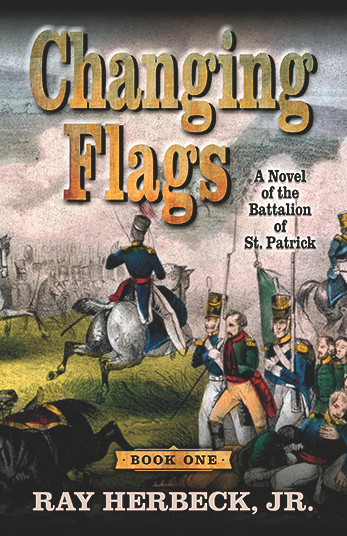 Ray Herbeck Jr.'s Changing Flags: A Novel of the Battalion of St. Patrick (Five Star, $25.95), his first historical novel for Five Star centers around John Riley, an Irish professional soldier, in 1846 during the border dispute between Texas and Mexico. Riley deserts the U.S. Army to join the Mexican Army, trying to make his way back to Ireland with the promise of money and land by the Mexican government. Many details describe the life of a deserter in the Mexican Army that plague Riley in his plans to go home. Herbeck has done an outstanding job showing the inside of the Mexican Army and how they treated deserters. I recommend Changing Flags as it shows the history researched about the 1846–48 war with Mexico. I am looking forward to Herbeck's concluding volume in his two-volume series, To the Color, which was just released in June.
—Lowell F. Volk, author of the  Luke Taylor and Trevor Lane series  
Hard Country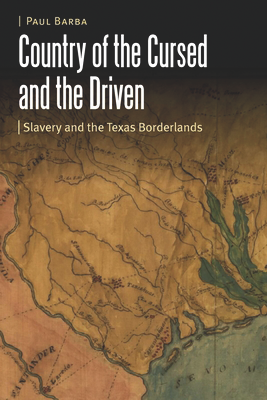 The University of Nebraska Press continues its handsome Borderlands and Transcultural Studies Series with Country of the Cursed and the Driven: Slavery and the Texas Borderlands ($65). Bucknell University Assistant Professor Paul Barbara has produced an exhaustive and academic study of the history of slaves and slave trading along the southern border. In Texas during the 18th and 19th centuries, the borderlands were a contested patchwork of loosely connected alliances between Anglo-Americans, Comanches and Hispanic slave trading groups. This volatile region laid the foundation for borderlands violence during this era and beyond as American and European colonists began to flood the region both to settle Texas and en route to points west, such as the goldfields of California. Country of the Cursed and the Driven provides fresh light on this early tradition of violence and human suffering that has been long ignored by other scholars.
 —Erik J. Wright, assistant editor of The Tombstone Epitaph
A Wild Unpredictable Ride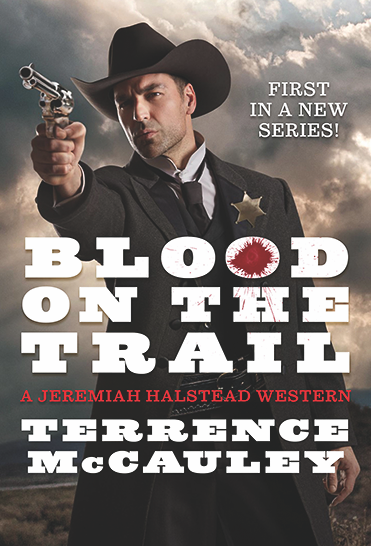 A shrewd Deputy U.S. Marshal, Jeremiah Halstead, with a dangerous streak takes the reader on one wild, unpredictable ride. Dutybound, he's escorting the notorious outlaw John Hudson across the Montana territory to jail while trying to dodge the rest of Hudson's gang close behind. Halstead finds himself outnumbered and outgunned. Through a series of calculated and brazen moves he is able to hold Hudson's gang at bay. A shootout of epic proportions keeps the reader engaged, making for a suspenseful read. Terrence McCauley's action-packed Blood on the Trail (Pinnacle, $8.99) is the first book in the Jeremiah Halstead series. Respected Western writer McCauley has created a cast of characters who represent the diverse and rich population of the Old West. He effectively captures the classic Western spirit of the times with his attention to details. 
—Sue Ready, EverReadyBook Reviews 
An American Tragedy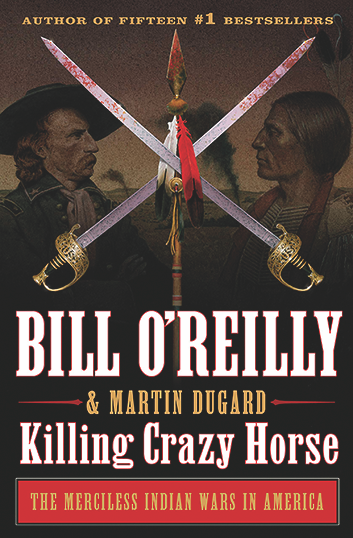 Killing Crazy Horse: The Merciless Indian Wars in America by Bill O'Reilly and Martin Dugard (Henry Holt, $17.99, paperback) is an exciting book not just about Crazy Horse as the title strongly suggests. Rather it is a page-turner describing the relentless war waged by our Revolutionary War patriots (Anglos) who destroyed the Indians' way of life followed for decades later by American leaders. Crazy Horse, the 25-year-old Sioux warrior is first mentioned on page 142. This is the only negative mark one can make against O'Reilly's masterpiece of narration of the Indian Wars. Half the book is not about Crazy Horse, which from the title is misleading. In spite of this, it is an excellent narrative. O'Reilly impresses every reader with his ability to make history exciting reading and remaining true. 
—Chuck Parsons, author of Texas Ranger Lee Hall: From the Red River to the Rio Grande
Rough Drafts
2022 Spur Award Winners 
The WWA Spur winners and finalists are scheduled to be honored June 22-25 in Great Falls, Montana. Congratulations to this year's winners in the following categories.
Historical Nonfiction Book: Cheyenne Summer: The Battle of Beecher Island: A History by Terry Mort (Pegasus Books)
Biography: The Forgotten Botanist: Sara Plummer Lemmon's Life of Science and Art by Wynne Brown (Bison Books/University of Nebraska Press)
First Nonfiction Book: Public Waters: Lessons from Wyoming for the American West by Anne MacKinnon (University of New Mexico Press)
Short Nonfiction: "The Right Man to Do a Wrong Thing: Charlie Thex, the Bear Creek Sheep Raid, and the Primacy of Fear" by Shane Dunning (Montana The Magazine of Western History, Summer 2021)
Historical Novel: Ridgeline by Michael Punke (Henry Holt & Company)
Traditional Novel: The Loving Wrath of Eldon Quint by Chase Pletts (Inkshares)
Original Mass-Market Paperback Novel: This Side of Hell: A Widowmaker Jones Western by Brett Cogburn (Pinnacle/Kensington Publishing)
Romance Novel: Imperfect Promise by Susanna Lane (Five Star Publishing)
First Novel: The Loving Wrath of Eldon Quint by Chase Pletts (Inkshares)
Short Fiction: "Skin" by David Heska Wanbli Weiden, published in Midnight Hour: A Chilling Anthology of Crime Fiction from 20 Authors of Color (Crooked Lane Books)
Drama Script: Last Shoot Out by Lee Martin (Feifer Worldwide) 
For a complete list of winners and finalists in all categories, visit WesternWriters.org.
 —Stuart Rosebrook