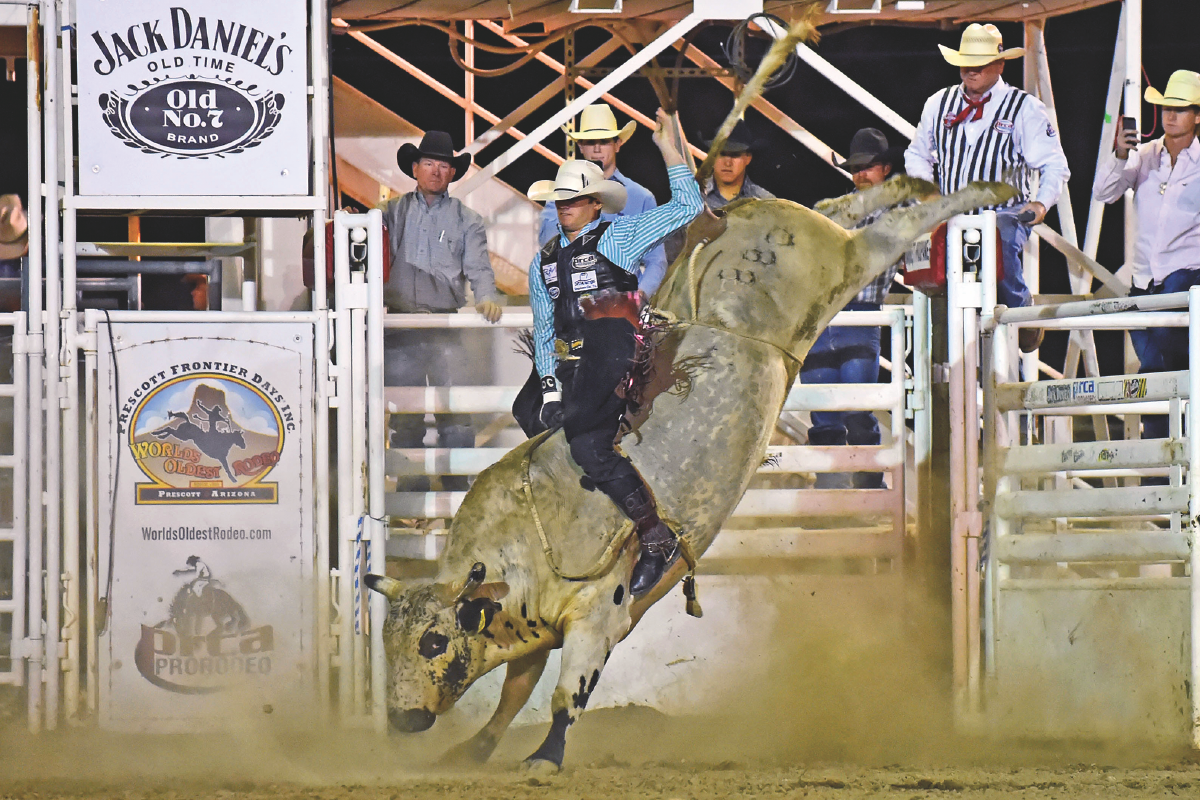 PRESCOTT FRONTIER DAYS' WORLD'S OLDEST RODEO
Prescott, AZ, June 28-July 4: The 135th annual rodeo celebrates the 50th anniversary of the release of the classic Western Junior Bonner, which was filmed entirely on location locally, including during the rodeo and parade. Rodeo action kicks off on Tuesday the 28th and concludes on the Fourth of July. Don't miss one of the nation's greatest rodeo parades on Saturday, July 2.
928-445-4320 • WorldsOldestRodeo.com
ART SHOWS
Bighorn Rendezvous Exhibit
Big Horn, WY, July 9- August 27: View artwork by 13 talented, award-winning artists who work in various genres.
307-672-3173 • TheBrintonMuseum.org
Hold Your Horses Invitational Exhibition & Sale 
Prescott, AZ, August 6-September 25: Horse lovers, art enthusiasts and Western art collectors will all be enthralled with the Phippen Art Museum's annual Hold Your Horses! exhibition and sale.
928-778-1385 • PhippenArtMuseum.org
ENCAMPMENTS
Green River Rendezvous
Pinedale, WY, July 7-10: This mountain man encampment honors rendezvous culture with fur trade lectures and a pageant.
307-367-4136 • VisitPinedale.org
FAIR AND HORSE RACES
Elko County Fair & Horse Races
Elko, NV, August 26-September 5: This year, the Elko County Fair celebrates its 101st anniversary. Featuring crafts and critters, live music and fair food, horse racing and the Stock Horse Show, the Elko County Fair is one of the most popular annual events in Nevada. 
775-738-3616 • ElkoCountyFair.com
HERITAGE FESTIVALS
Oregon Trail Days
Gering, NE, July 7-10: A kickoff barbecue, old-fashioned parades and live music are just some of the highlights of the annual weekend celebration of the pioneers who settled western Nebraska.
308-632-2133 • OregonTrailDays.com
Bass Reeves Western History Conference
Muskogee, OK, July 21-23: Bob Boze Bell, Executive Editor of True West will be the 2022 Bass Reeves Western History Conference main speaker. Meet and greet on the 21st at 5:30 p.m. at the Historic Roxy Theater.dit
918-686-6624 • BassReevesConference.com
National Day of the American Cowboy
Bandera, TX, July 23-24: Honor cowboys at this dinner and concert under the stars on the Frontier Times Museum grounds.
830-796-3864 • BanderaCowboyCapital.com
Billy the Kid Pageant & Old Lincoln Days
Lincoln, NM, August 5-7: "The Last Escape of Billy the Kid" is a folk pageant centering around the life of the legendary outlaw, Billy the Kid. This pageant was first presented in 1940.
Facebook.com/Billy-the-Kid-Pageant; 877‑784‑3676 • DiscoverRuidoso.com
John Wesley Hardin Secret Society
El Paso, TX, August 15: John Wesley Hardin's death in 1895 is reenacted at historic Concordia Cemetery, where the gunfighter is buried.
915-842-8200 • ConcordiaCemetery.org
Annual Doc Holli-Days
Tombstone, AZ, August 12-14: Help celebrate the life and legend of Doc Holliday in Tombstone to experience the town like you never have before.
520-457-9317 • TombstoneChamber.com
Chama Days
Chama, NM, August 12-15: The three-day event includes a double-elimination softball tournament, two-day rodeo event, parade and dances. 
800-477-0149 • ChamaDays.com
Longmire Days
Buffalo, WY, August 18-21: Robert Taylor and actors from the hit series Longmire gather to celebrate cowboy culture and Old West heritage
307-684-5544 • BuffaloWY.com
MOTORCYCLE RALLY
Sturgis Motorcycle Rally
Sturgis, SD, August 5-14: Five hundred thousand riders and concert fanatics converge in the Black Hills to attend this annual South Dakota event, now in its 82nd year.
605-720-0800 • SturgisMotorcycleRally.com
POETRY GATHERINGS
Arizona Cowboy Poets Gathering
Prescott, AZ, August 11-13: For 34 years the Arizona Cowboy Poets Gathering has been a featured event in the state's original territorial capital city. The gathering celebrates both contemporary and historic cowboy poetry and music.
928-713-6323 • AZCowboyPoets.org
RODEOS
Laramie Jubilee Days
Laramie, WY, July 2-10: Wyoming's hometown honors the Western lifestyle with a kids' horse show, PRCA rodeo, parade and carnival.
800-445-5303 • VisitLaramie.org
Silver State Stampede
Elko, NV, July 8-10: The Silver State Stampede is the oldest rodeo in Nevada. Today's Stampede has grown into a multifaceted event, showcasing the best of rodeo and ranch cowboys alike.
800-248-3556 • SilverStateStampede.com
Sheridan Wyoming Rodeo
Sheridan, WY, July 12-17: Western-style family fun runs throughout rodeo week, including the Boot Kick-off, downtown pancake breakfast, high-speed bed races, Sneakers & Spurs 5K, Main Street Parade, POW-WOW, carnival, street dances and much, much more.
307-675-9963 • SheridanWYORodeo.com
Cattlemen's Days
Gunnison, CO, July 14-16: This PRCA rodeo offers horse and livestock shows, a carnival and live cowboy music and poetry.
970-596-0149 • CattlemensDays.com
Cheyenne Frontier Days
Cheyenne, WY, July 22-31: The sounds, the lights, the competition equals the experience of a lifetime. Bring Western culture to your life with professional bull riding, an unforgettable night show and an overall event you will not soon forget.
308-778-7222 • CFDRodeo.com
The Days of '76
Deadwood, SD, July 24-30: The Days of '76 Rodeo, which also includes parades on Deadwood's Historic Main Street, has been a staple each summer in Deadwood for 100 years. 
605-578-1657 • DaysOf76.com
Chief Joseph Days Rodeo
Joseph, OR, July 26-31: This PRCA rodeo offers traditional American Indian dances, a bucking horse stampede and a friendship feast.
541-432-1015 • ChiefJosephDays.com