Wood Hite vs. Dick Liddil
Maps & Graphics by Gus Walker. Based on the research of Dr. Sam Palmer and Dan Thrapp.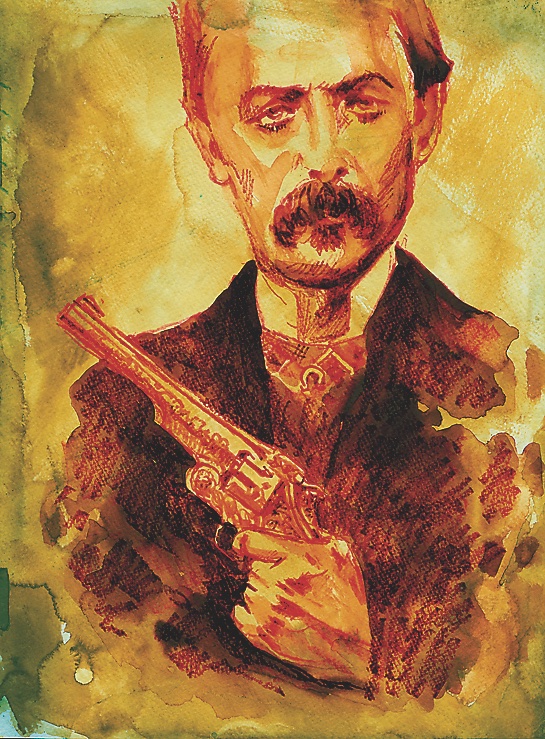 December 4, 1881
James Gang member, Dick Liddil, comes down for breakfast at the Bolton home, east of Richmond, Missouri. He is soon joined by Robert Ford. Widow Martha Bolton (Ford's sister) makes breakfast in the small kitchen. 
Jesse James' cousin, Wood Hite, has been staying at the Bolton farm for several days. He arrived from Kentucky, where the James brothers have been dodging the law and planning their next robbery. Or, at least, Jesse has been. 
When Hite enters the kitchen, he says something to Liddil, who is in such a sour mood that he tells his fellow train robber, "I do not want you to speak to me." When Hite asks why, Liddil confronts him about an accusation he made of Liddil "stealing $100 at the divide in the Blue Cut robbery."
Although Jesse James himself supposedly divvied up the loot (some $1,000) between the six robbers, Hite keeps harping on the $100. (Some theorize that he may have been rude to Hite because they were both vying for the affection of Mrs. Bolton.)
They argue back and forth: Hite claims he can "prove it by Mrs. Bolton." Liddil challenges him to "prove it."
Strangely, Hite then denies ever saying anything about Liddil stealing $100. When Liddil claims he did—after all, wasn't Hite just saying he could prove it?—both hotheads pull pistols. Liddil later claims they both "fired about the same time."
Hite fires and hits Liddil in the thigh of his right leg. One of Liddil's bullets hits Hite in the right arm. Hite fires four more times. Liddil empties his piece. In the confusion, Ford fires one shot. While Liddil pulls his other pistol, Hite falls to the floor.  
The lethal shot struck Hite about two inches above the right eye and came out in front and a little above the left ear. Hite lives about 20 minutes but does not speak. 
Liddil later confesses that they carried his body upstairs that night. Bob and his brother "Cap" then "…dug a grave in the woods about a half mile from the house and buried him. My leg was too sore to help. Did not use a coffin."
Liddil also claims that Ford fires the deadly shot.
The fight is over, but now the die is cast for the fate of Wood Hite's cousin.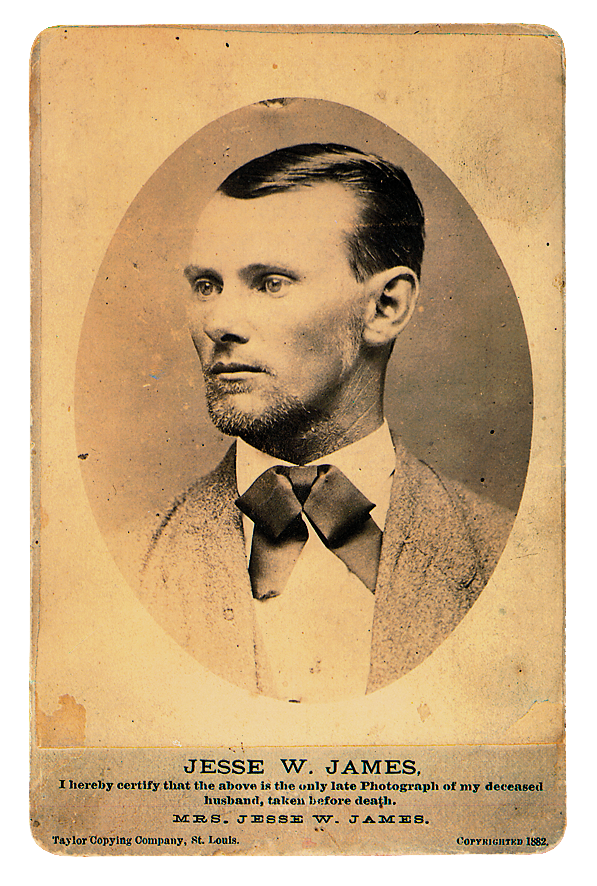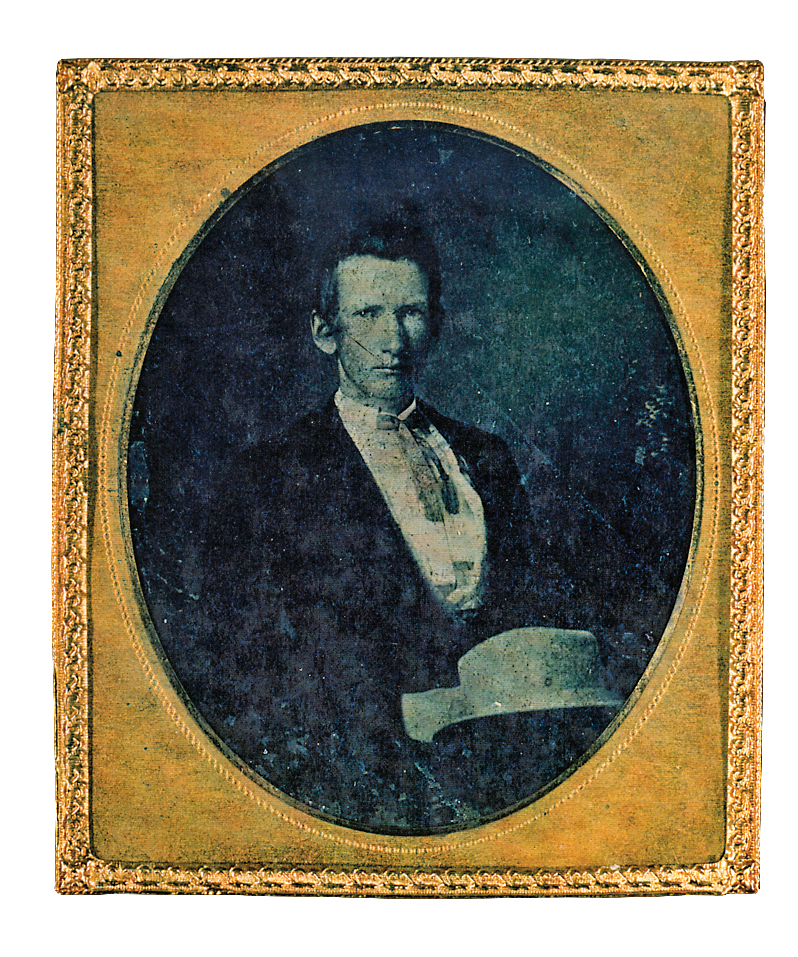 Liddil's Defection
After the killing of Wood Hite, Dick Liddil nurses his leg wound at Martha Bolton's house and frets about his situation. After all, he has just killed Jesse James' cousin! 
About three weeks later, on December 29,  Jesse and Charley Ford arrive at the Bolton cabin. Jesse asks Dick to "go with them," but Liddil demurs. "I mistrusted [him, and believed] Jesse wanted to kill me."
Liddil's suspicions are probably correct. Jesse writes to his cousin Clarence (Wood's brother) in January, 1882, stating he suspects Liddil is going to betray him. Jesse doesn't realize the extent of betrayal spreading among his minions.
On January 13, 1882, Robert Ford meets secretly with the governor of Missouri about assisting local officers in capturing the outlaws (and collecting $5,000 apiece for Jesse and Frank, see poster below). Ford also requests a pardon for Liddil.
Liddil surrenders to authorities on January 24 and begins spilling the beans on all of the gang members.
Bob's older brother Charley is in on the conspiracy, yet Jesse trusts him implicitly. In fact, while all of this is going on, the two go scouting around Missouri and northeast Kansas looking for targets to rob. 
On the way back from one of these forays, Jesse asks Charley if he knows of anybody who can help them. Charley recommends his younger brother Bob. After they pick up Bob from the Bolton home, the three ride to St. Joseph (after they steal a horse for Bob to ride) and arrive at Jesse's rented house on Lafayette Street.
Liddil's surrender doesn't leak to the press until the end of March. On the morning of April 3, Jesse gets his newspaper and sits down to breakfast with his family and his two houseguests, Charley and Bob Ford. 
It's safe to say what he sees in the newspaper does not amuse him.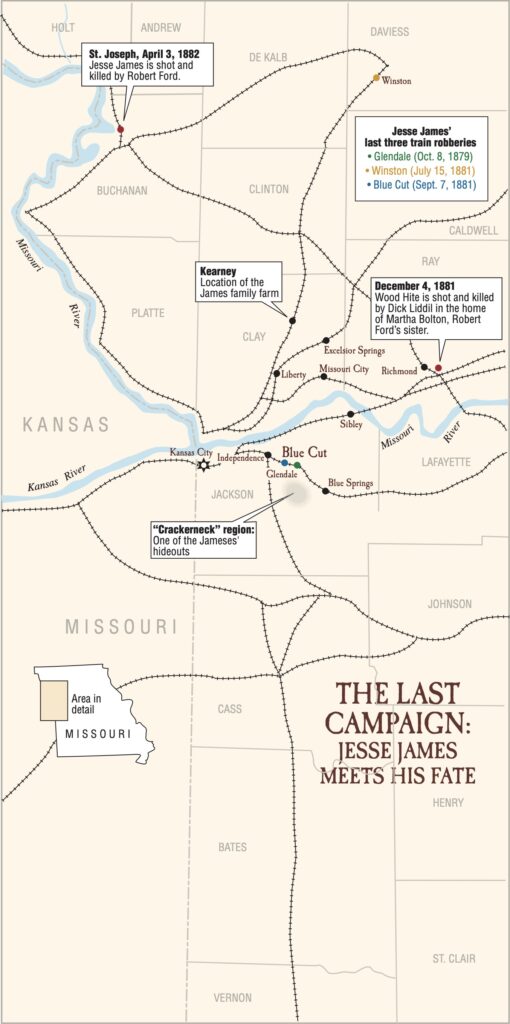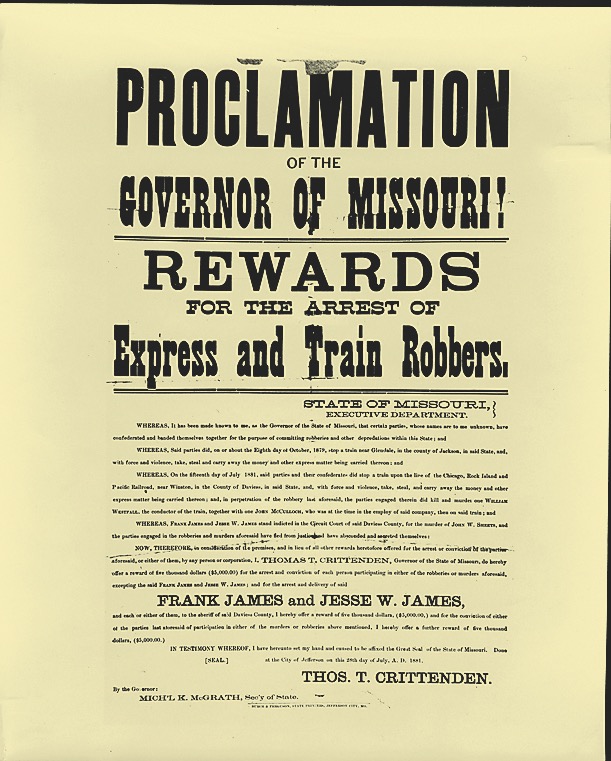 April 3, 1882
When Jesse sees the headline in the paper, he reportedly says, "Hello, here. The surrender of Dick Liddil."
At the kitchen table of the rented house ($14 a month) that he and his family just moved into in St. Joseph, Missouri, Jesse turns to his houseguest Robert Ford. 
"Young man, I thought you told me you didn't know that Dick Liddil had surrendered," he says, adding, "it's very strange. He surrendered three weeks ago and you was right there in the neighborhood. It looks fishy…. By the way, where is Dick Liddil?"
"I don't know," Ford replies. 
At this moment, Charley and Bob know they are dead meat—Jesse is going to kill them. Bob speculates: "I think Jesse would have killed me, then and there, but he did not want to in front of his family."
After Jesse's wife Zee serves breakfast, Charley and Jesse go to the stable to feed and curry the horses. Bob plays with the kids in the kitchen.
Returning from the stable, Jesse walks through the kitchen to the front room, saying, "It's awfully hot today," as he takes off his coat and vest, tossing them on the cot in the sparsely decorated room. He opens the front door, then starts to mount a chair so he can dust the pictures. 
Jesse, afraid the neighbors would see him armed, unstraps his holster in which he carries two .45-caliber revolvers (one a Colt; the other a Smith & Wesson) and puts it on the bed. He returns to mount the chair and raises both hands above his head to take hold of a framed picture of a racehorse named Skyrocket. 
Bob slips into the front room, carrying the revolver Jesse gave him. He extends his arm and thumbs the hammer.
Jesse hears the triple click and starts to turn, but it is too late. The bullet catches him behind the left ear, ranging upwards and lodging in the skull over the left eye.
When the coroner asks Zee her name, she replies, "Howard." Then, "Who killed him?"
"Two boys named Johnson."
"Where are they?"
"They jumped over the fence and ran away."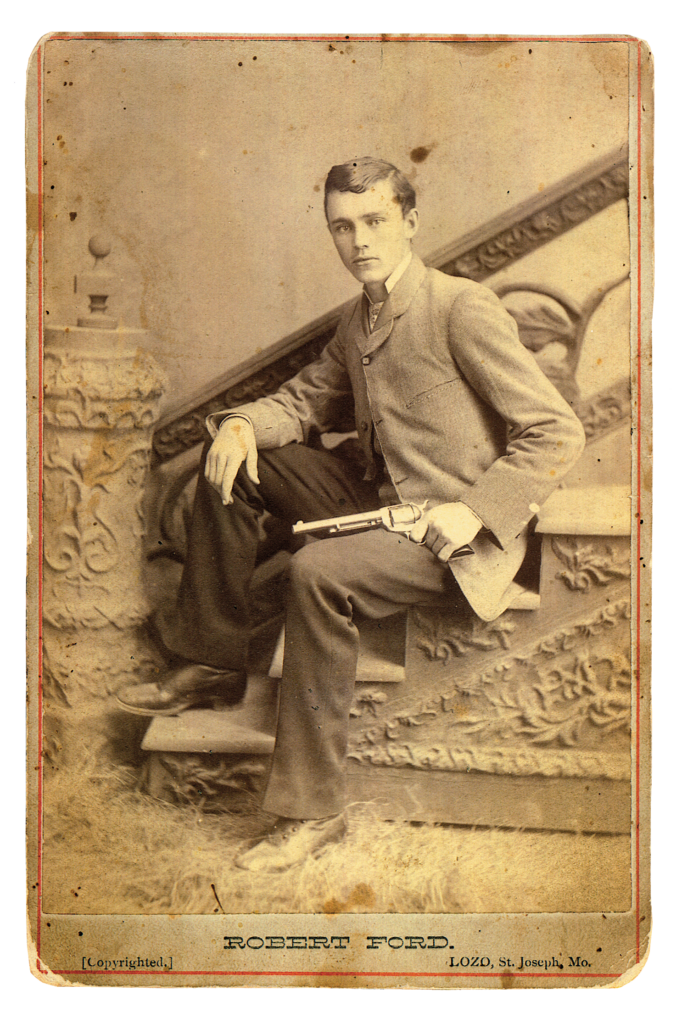 Jesse Doesn't Cash Out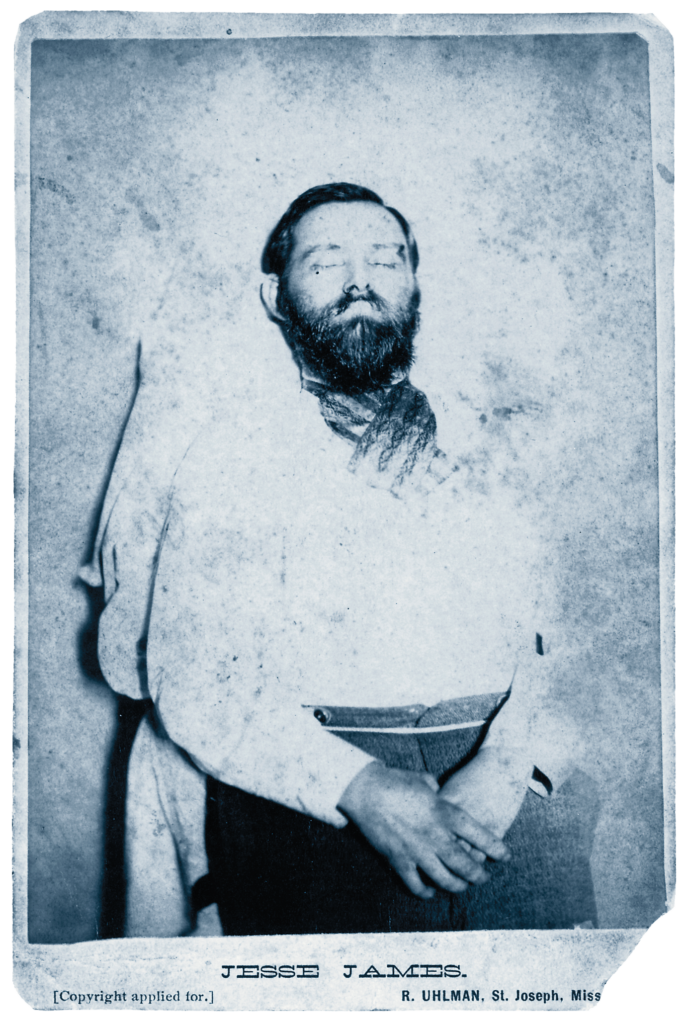 When Jesse James is killed (see death photo above), he leaves his wife Zee and their family destitute. He and the Ford brothers were discussing a bank robbery planned for the next day, so that Jesse could get some much-needed moolah. With him gone, and no money to her name, Mrs. James auctions off their belongings—even the dog!—for a measly amount of $117.65. Meanwhile, the woman who owns the house that the James family rented will go on to sell tickets for people to tour the murder site; she makes thousands of dollars. People still pay to see it today.
"Dick Liddil's motive was that of revenge, superinduced by cowardice. He killed Wood Hite, feared Jesse and betrayed the band. He agreed to swear them into prison or to the scaffold, and he is merely fulfilling that agreement."

—W.M. Rush, Frank James' attorney
Aftermath Odds & Ends
In August 1883, Frank James went on trial for murdering a stonemason during the Winston train robbery in the summer of 1881. The key witness against him was Dick Liddil. After a four-hour deliberation, the jury acquitted Frank. The next year, he also stood trial but was acquitted in Alabama for the 1881 Muscle Shoals stagecoach robbery. Multiple extradition requests from the governor of Minnesota were denied, and Frank walked away a free man. He lived out his life as a celebrity and died in 1915.
Dick Liddil went west. He and Bob Ford opened the Bank Saloon on Bridge Street in west Las Vegas, New Mexico. Quickly going bust, Liddil leased the billiard room at the new Plaza Hotel. Ford became a city policeman. Liddil later found his true calling and ran a string of horses for J.W. Lynch of Las Vegas. Together, they raced horses on the east coast racetrack circuit. Liddil died of a heart attack, at a racetrack, in 1901. He was not quite 50.