The stores of Far Haven and the rebirth of an iconic film location are both tales of redemption.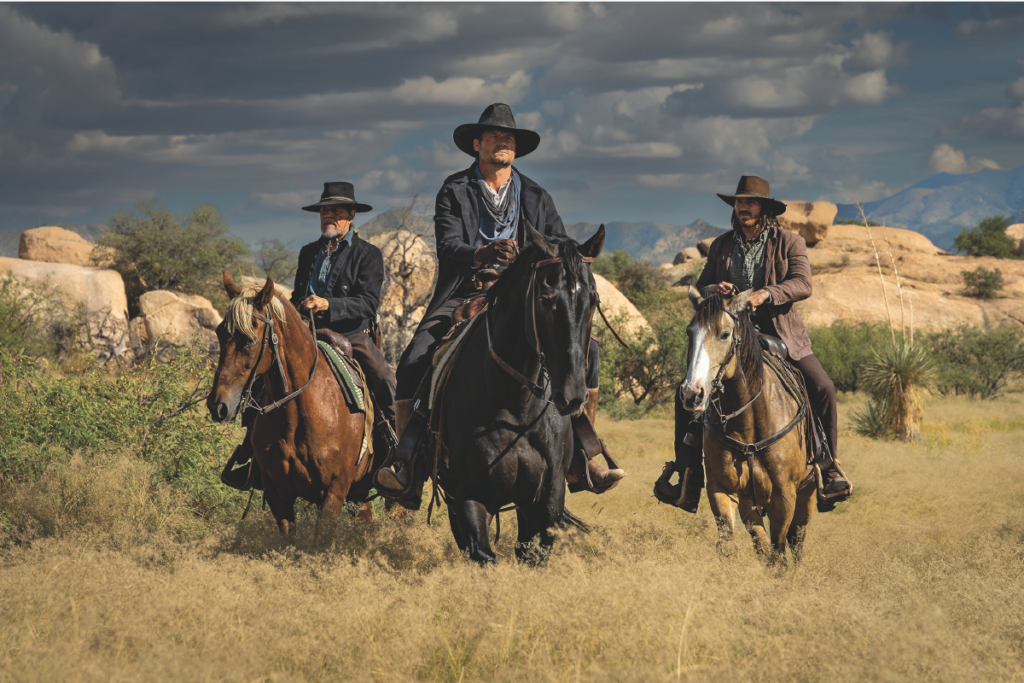 Beginning with the deadly nighttime ambush of a crew of drovers, Far Haven is a film replete with holdups, gunfights, brawls, good and bad lawmen, a lovely schoolmarm and all the things that make a Western a Western. Set in 1887, it centers around widower Hunter Braddock (Bailey Chase), fresh from prison, who's located his son and daughter at the home of his dubious in-laws (Bruce Boxleitner and Nancy Stafford), in the Arizona town of Far Haven. Braddock wants a second chance, and so does the town itself, for Far Haven is actually Mescal, the Western movie town built in 1969 for the Lee Marvin classic, Monte Walsh. Countless TV episodes and nearly one hundred features have since been shot there, including The Outlaw Josey Wales, Tombstone and The Quick and the Dead. 
But it's a tough time for Western movie towns, even with the resurgence of the genre. Paramount Ranch is slowly re-building after the 2018 fire, a contract dispute has stalled the reconstruction of Old Tucson, and the last of the Columbia Ranch has just been bulldozed. Mescal, once the poor stepchild to Old Tucson, had fallen into disrepair. Then in 2021, Kartchner Ventures took over Mescal, found sponsors like Ace Hardware and Dunn-Edwards Paint, put out the call for volunteers, and got to work on Mescal's much-needed rejuvenation. Film production is back, and in a big way.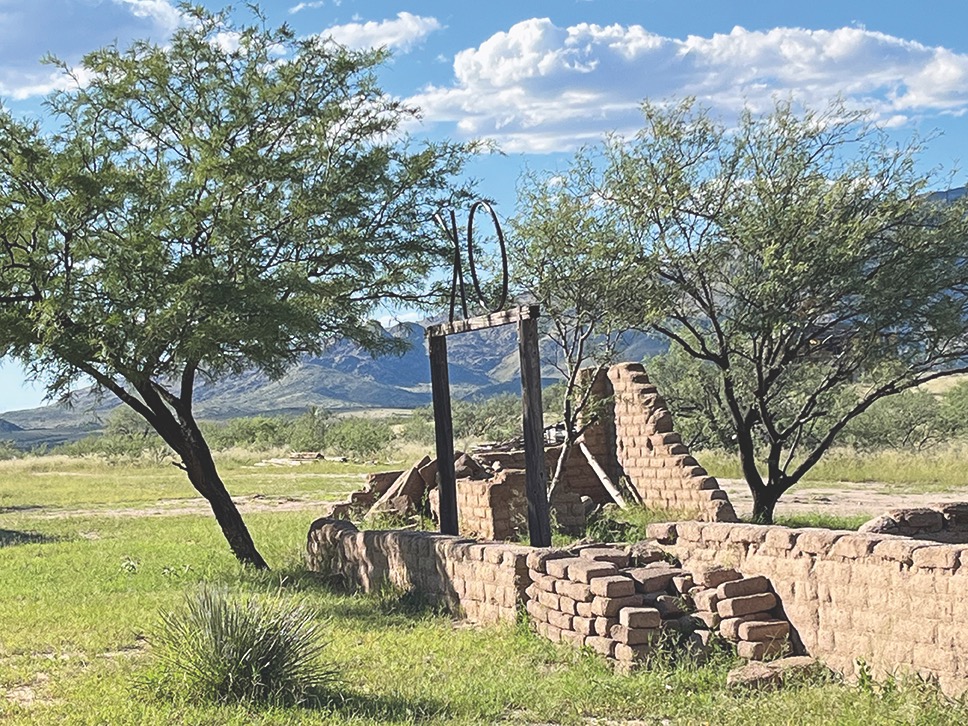 Far Haven is the second Mescal-shot Western for Bruce Boxleitner in 2022; he'd recently wrapped The Warrant—Breaker's Law, also for INSP, distributed by Imagicomm Entertainment, but his Mescal history goes back to 1980. "The first time I ever saw Mescal was on The Gambler," the first of the films he co-starred in with Kenny Rogers. "The street looked about the same as now, minus that big brick saloon that The Quick and the Dead built." He'd be back a year later, starring opposite Marie Osmond in I Married Wyatt Earp. "When I did Earp, there was another whole street where the mountains are in back. The town looked bigger in Tombstone; they'd added a lot of trees and things on the street." In 1994, Gunsmoke: One Man's Justice, "was James Arness's last picture. They moved the Dillon ranch house to the other end of town with these big cranes." He enjoyed working on Far Haven. "I'm really impressed with Bailey Chase. He was just perfect for this role." 
Chase, who played Deputy Branch Connelly on Longmire, and supporting characters on Saving Grace and Buffy the Vampire Slayer, is now the lead. "It is a bit surreal to be the number one guy, after not being it for a very long time," Chase said. "So, I'm very grateful for the opportunity."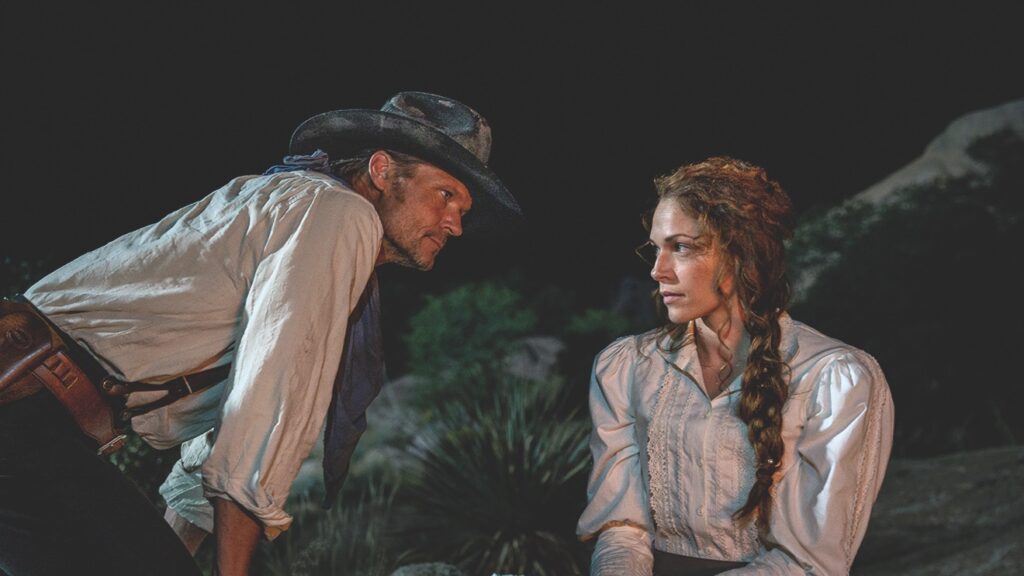 Chase recalls, "I grew up in small-town Florida, with a single mom. I'd come home from school, watch TV; and Clint Eastwood Westerns always seemed to be on. So, not really having a father figure around, I just adopted him as my male role model and said, when I grow up, I want to be like that.
"I graduated from Duke with a degree in psychology, so I had fallback options. My very first job was Married: With Children as Lifeguard #2. I had one line. Then I'm on Baywatch and Saved by the Bell. I was just happy to be on TV." But Chase wanted to move beyond roles based on his face and physique, "So I went to London and did a Shakespeare program at LAMDA [London Academy of Music and Dramatic Arts]. It gave me a bit of craft, but also the confidence that I had a skill, [that] I was actually doing something. As The World Turns was great. That was bootcamp for me as an actor. They're shooting 70 pages a day, three cameras going, and they just throw you in the fire. I feel like that's where I really became a professional."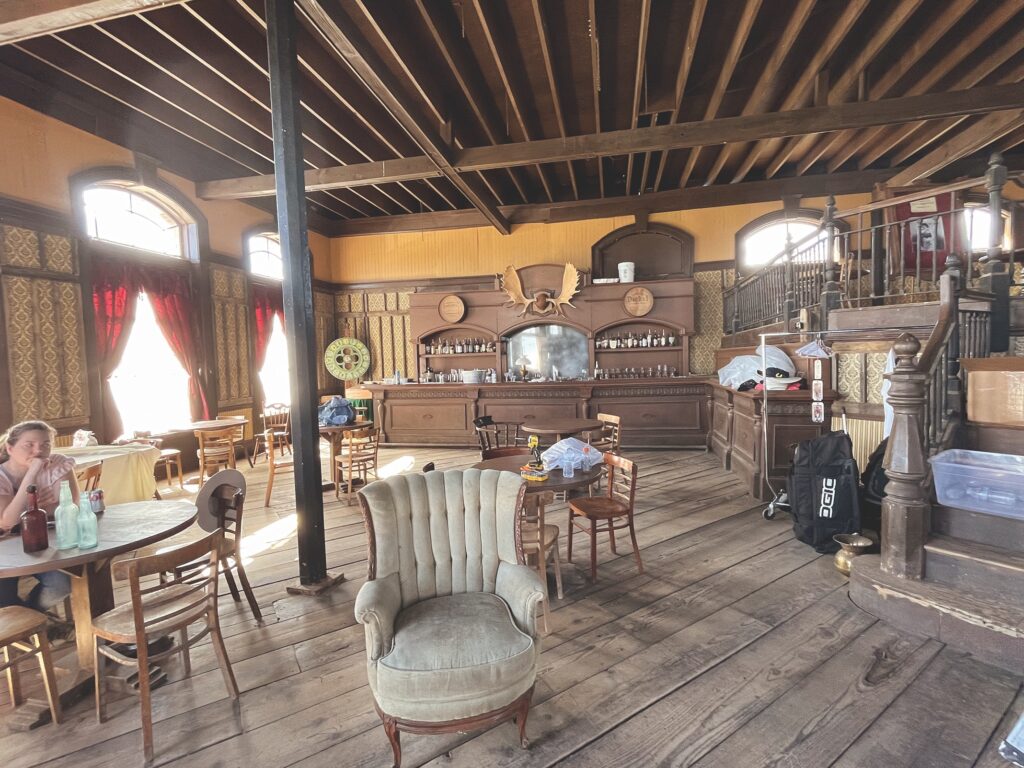 A Martinez, who plays Abraham Chavez, a blacksmith with a mysterious past, agrees. Unforgettable as Cimarron with John Wayne in The Cowboys, he's also a veteran of nearly 1,500 episodes of Santa Barbara. Although he hadn't worked in Mescal before, acting in Tucson was a homecoming for Martinez, whose first film, 1968's The Young Animals, was shot there. He was a shy kid in a UCLA improv class when casting director Fred Roos spotted him. "And he says, 'Hey, I'm looking for someone like you. You wanna meet this director?' And I'm thinking, this can't be legitimate. But it was true. It was amazing that it happened."
If Far Haven is a success, could it lead to sequels? Or a series? Martinez certainly hopes so. "I love this character. The whole cast is really strong, and this is a real good part for Bailey." It would be a real good part for Mescal as well.
BLU-RAY Review
HOT SNAKE AND GUNS AND GUTS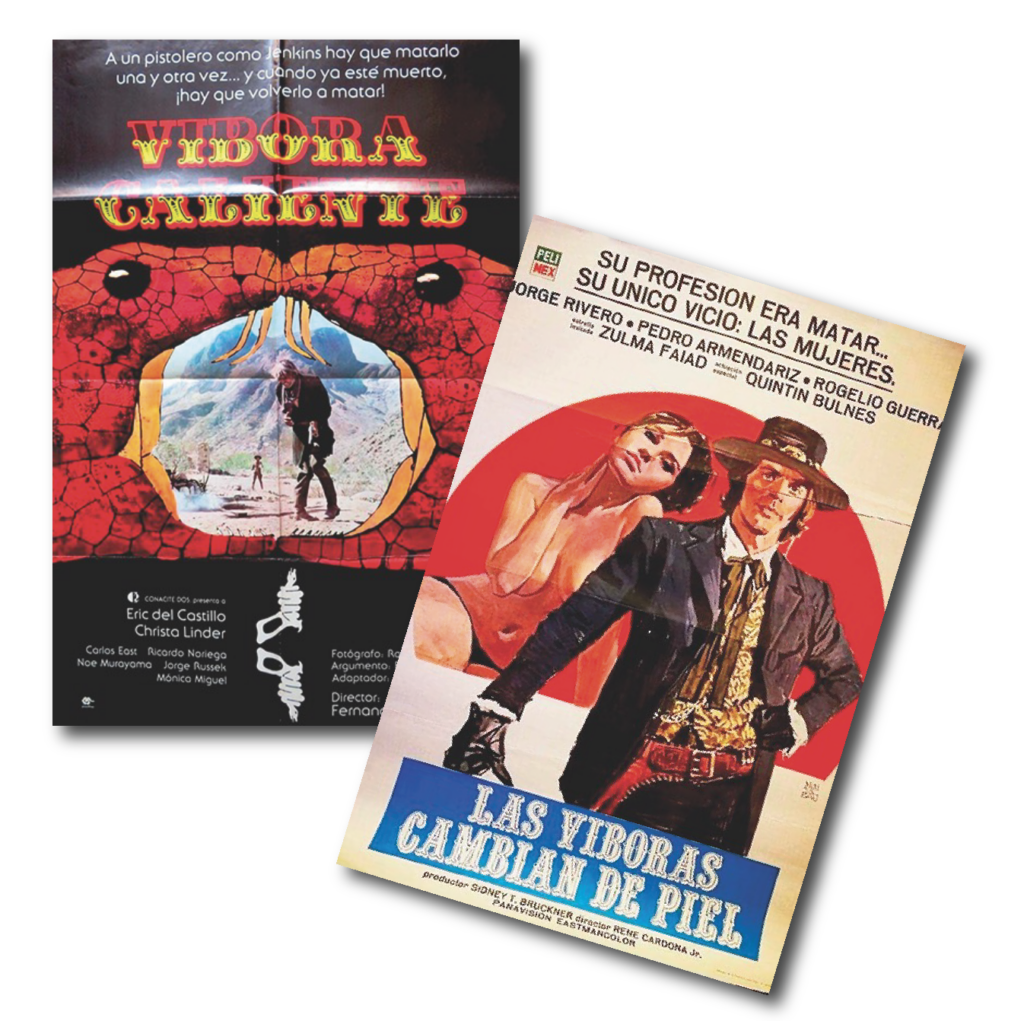 (Vinegar Syndrome, Blu-Ray, $24.99) While Spaghetti Westerns are plentiful, Mexican Westerns are rarely seen north of the border, and here is an interesting pair. Guns and Guts (1974) stars John Wayne co-stars Jorge Rivero and Pedro Armendariz Jr., plus Rogelio Guerra as a trio out to get the same man—a criminal who has become a sheriff and turned a monastery into his fort. Full of Leone and Peckinpah influences, the best part is its hilariously violent opening sequence, with Guerra beating every man in sight for information. The most unusual element in Hot Snake is that the local bruja, or witch, holds the same exalted importance as the doctor in an American Western. The necrophile outlaw, the lawman, and everyone in between consult her throughout.