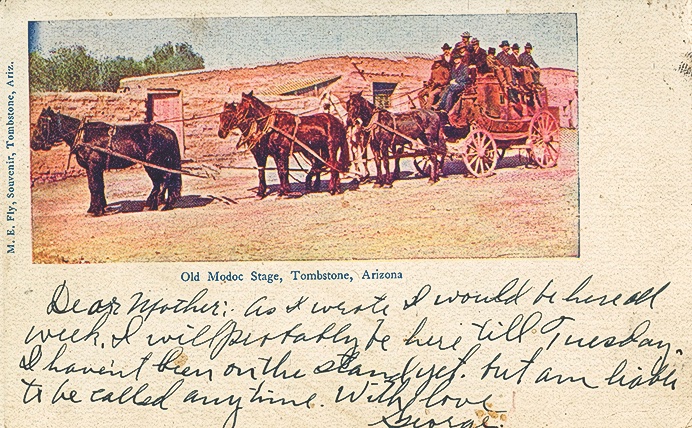 A Shared Treasure
We live in San Antonio, Texas. My wife was going through her father and mother's belongings after their deaths and found this postcard. Her dad passed away at 102 and her mother at 89. The card is addressed to J.C. Seeley, who is Jane Carolin Seeley. She was my wife's great-grandmother on her mother's side, born in Trinity County, Texas, in 1854. She is buried in Douglas, Arizona, having lived there most of her life. She passed away in April 1938. The card says he was "going on the stand" and probably be in Tombstone until around Tuesday, which we believe from the postmark would have been around April 28, 1914.
—Errol and Mollie Shipler, San Antonio, Texas
Thank you for sharing such a personal treasure. Historic photos and early 20th-century postcards of stagecoaches in Tombstone are rare. —SR
Loaded for Bear
Great pictures, but the "Loaded for Bear" photo on page 38 is reversed. No loading port and the saddle ring is on the wrong side. Also, Phil Spangenberger insists on referring to the .45-70 as a short range hunting cartridge, when it is the most common cartridge used in both Black Powder Cartridge Rifle Silhouette (500 Meters) and Creedmoor (1,000 yards) matches. Hitting the 6′ x 6′ target at 1,000 yards may not be hunting accuracy but hitting a steel ram at 500 meters certainly is.
—Michael Meacham, Infinity Forge & Gunworks, Phoenix, Arizona
I'm well aware what the .45-70 cartridge is capable of in longer range shooting, however shooting at a steel plate or paper target at 1,000 yards, or a steel ram at 500 meters is quite different from shooting at a game animal, where a misplaced bullet could result in a crippled animal, or worse, wounded game that escapes into the wilds. I'm sure Mr. Meacham is aware that any humane hunter would not attempt to bring down an animal at such ranges, considering the arc-like trajectory of the .45-70. Even with telescopic sights, a certain "kill" shot would be guesswork with too much risk of a misplaced bullet at such distance. Target accuracy doesn't always translate into hunting effectiveness.
—Phil Spangenberger, Firearms Editor
Texas Ranger Firearms
Just received my 70th year edition of True West magazine. Love it! I especially liked all the old photos. I did want to bring something to your attention, though. On page 63, in the photo of Texas Rangers, I see two rifles that are not '73 Winchesters. One is the '76 (fourth from left, bottom row) and what appears to be a Colt-Burgess carbine (third from right, top row.) You have to look real close to tell. Please correct me if I'm wrong.
—Rick Walls, Huntsville, Texas
With regard to the firearms in the Texas Ranger photo on page 63, you are correct, the man (third from right, top row) does indeed hold a Colt–Burgess carbine. However, you are probably referring to the Ranger in the front row (fourth from the left) who is holding an 1873 rifle with a pistol-grip stock. Being a longer-barreled rifle next to several carbines does tend to make it look like the larger 1876 model Winchester, nonetheless careful study of the photograph does reveal it to be the '73 model.  
—Phil Spangenberger, Firearms Editor
High Praise
I thought the November 2022 issue of True West was one of the best I've read, primarily because of the variety of interesting pieces. I particularly liked the essays on gunslinger guns and the movies.
—Dr. Jim Vickrey, Montgomery, Alabama
The pictures in the January 2023 issue are magnificent. I could not stop looking at each one over and over. The facial expressions, the eyes, the hands, all told life stories. I am sharing my magazine copy with many friends. Thanks for what you do. You bring back the Old West to life.
—Al Harper, Durango, Colorado
We appreciate your enthusiastic encouragement and will keep trying to bring the Old West alive in the pages of True West. We have a great 70th year planned and hope to continue to meet your expectations. —SR
Telling the Truth
I've just got to say, I admire the honest, tell it like it is (was), the good, the bad ugly truth and not just "filling in" to make copy or whatever it is you call it.  I said that to say, my favorite part of the whole mag, is "Truth Be Known" and all the "Old Vaquero" sayings and other quotes—it sets up your publication and knocks it out of the park every time.
—Dr. C. Dewayne Chappell, Church Hill, Tennessee
Corrections
On page 92 in the January 2023 issue, the Best Living History Farm Museum, Grand Encampment, Wyoming, listing contained an incorrect description. It should have read: 
Dedicated to the history of the Upper North Platte Valley, the Grand Encampment Museum is home to one of the finest collections of pioneer buildings in the state of Wyoming. A tour of the living history museum and the 12 historic structures tells the region's rich history of ranching, timber and copper mining. Visitors will also learn about day-to-day life and the cultural heritage of the Encampment area pioneers. GEMuseum.com