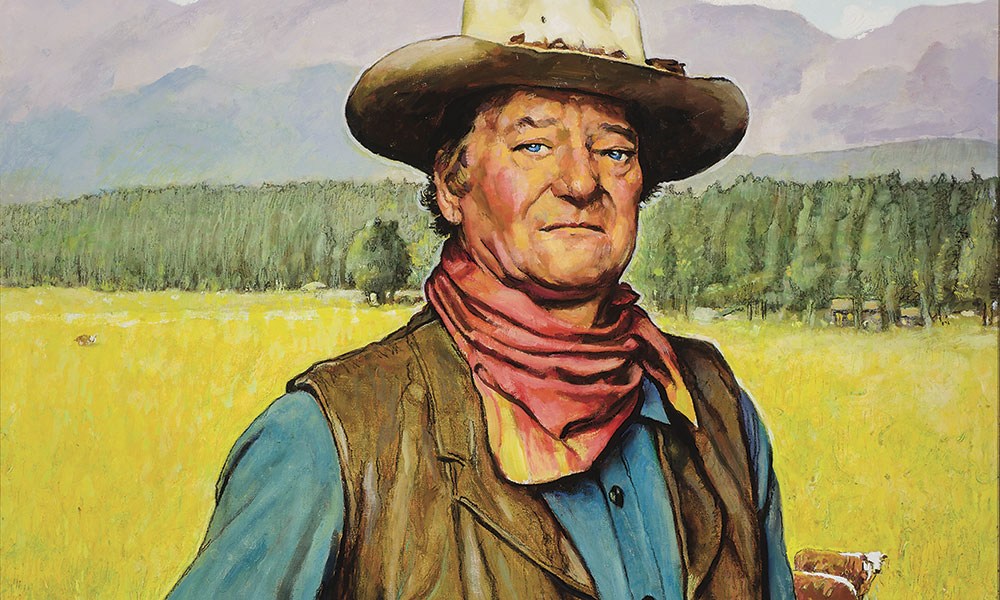 In 1973, John Wayne sat inside Norman Rockwell's studio in Stockbridge, Massachusetts, so the artist could paint a portrait of the actor. The National Cowboy & Western Heritage Museum in Oklahoma City had commissioned the portrait, to celebrate the Duke's induction into the Hall of Great Western Performers.
In the summer of 1976, Rockwell's portrait of Wayne graced the cover of Country Gentleman magazine. Rockwell died two years later, followed a year later by the Duke. On  September 15, this iconic painting set off an enthusiastic bidding war at Wyoming's Jackson Hole Art Auction until the hammer fell at $1.3 million.
The price paid for this single artwork far outshines the last time the Duke brought in millions at auction. That was in 2011, when collectors bid more than $4.5 million on 700 costumes, scripts, awards and memorabilia from the Wayne estate at Heritage Auctions.  The lop lot, the actor's beret from 1968's The Green Berets, hammered at $150,000, light years from Jackson Hole's top lot.
That this Wayne portrait went over the million-dollar mark is not surprising, considering that Rockwell magazine cover artworks have a huge appeal for collectors. The highest auction bid paid for the artist is $41 million, at Sotheby's New York in 2013, for Saying Grace, originally featured on the cover of The Saturday Evening Post.
In 1955, Post readers voted on their favorite cover. Saying Grace earned the top spot, followed by Breaking Home Ties. The latter held the previous artist record before Saying Grace when it fetched a $13.75 million bid at a 2006 Sotheby's auction.
Controversy surrounded the sale of Breaking Home Ties. Cartoonist Don Trachte, who had purchased the oil from Rockwell for $900, created a copy of it, possibly to keep his estranged wife from getting the original in their divorce. The fake hung on loan at the Norman Rockwell Museum, unbeknownst to anyone, until his sons discovered the original behind a false wall in their father's home after he died in 2005. After the Sotheby's sale, they ended up with a nearly $15 million inheritance!
No such controversy surrounds this Rockwell portrait of Wayne. Art lovers appreciate the depiction not only for Rockwell's unique caricaturistic style, but also for its stoicism. As the editors of Country Gentleman noted, Wayne's "rocklike visage challenges the great faces on Mt. Rushmore."
Collectors earned $7.2 million on art sold at this year's Jackson Hole Art Auction.
Upcoming Auctions
Nov. 30-Dec. 2, 2018
Historical Firearms
Rock Island Auction (Rock Island, IL)
RockIslandAuction.com • 800-238-8022
December 9, 2018
Civil War & Militaria Arms & Armor
Heritage Auctions (Dallas, TX)
HA.com • 877-437-4824
December 11, 2018
American Indian Art
Bonhams (Los Angeles, CA)
Bonhams.com • 323-850-7500