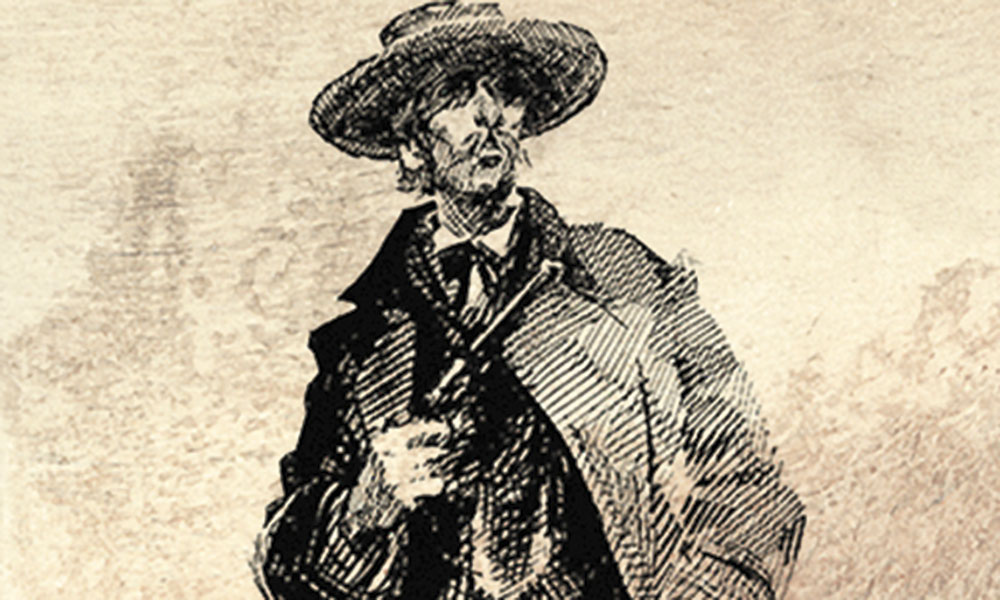 October 10, 1880
Two well-known sports, John Tyler and John Henry "Doc" Holliday, exchange harsh words while gambling in the Oriental Saloon. His dander up, Holliday tries to retrieve his pistol (checked behind the bar for safekeeping), but is refused. Several men step between the two sports and separate them. Tyler leaves.
Co-owner Milt Joyce gives Holliday a tongue lashing, but Holliday is in his cups and gives it right back. No doubt aggravated with the loss of business and tired of Holliday's abuse, Joyce grabs him by the nape of the neck and throws him into the street.
The deadly dentist comes right back in and demands his pistol, but Joyce knows this can lead to nothing good and refuses to hand it over. Bellowing a drunken oath, Holliday lurches out into the night.
Just as the gambling tables get back up to speed, Holliday returns, only this time he's heeled. As he comes through the swinging doors, he swears at Joyce and raises his pistol, firing from less than 10 feet away. Joyce is hit in the hand while bartender Gus Williams returns fire at Holliday. As Williams and Holliday exchange shots, Joyce's 19-year-old partner, William Parker Jr., is hit in the big toe of his left foot. Joyce grabs a pistol and leaps at the dentist, clubbing him to the floor.

No Lap Dog
John Henry "Doc" Holliday contracted tuberculosis, probably from his mother, while still in Georgia. Rather than infect any of his loved ones, he goes west, heading out of his way to "die with his boots on."
After a short stay in Dallas, Texas, from 1873 to 1875, Holliday bounces around, landing in Fort Griffin; Dodge  City, Kansas; Las Vegas, New Mexico Territory; and Prescott, Arizona Territory, before he arrives in Tombstone in fall 1880.
Unlike popular history reports, Holliday is not Wyatt Earp's lap dog; he is his own man. At every turn and every move, he feels the hand of death at his elbow, affecting each decision he makes. He is always ready to die. In fact, he more or less courts death and is somewhat disappointed at her reticence to take him.

Bucking the Tiger
After the Oriental's grand opening on July 21, 1880, Johnny Tyler and his gambling pals kept the place in a constant uproar—starting fights, rattling faro dealers and scaring away more genteel gamblers. Wyatt (standing) is given interest in the Oriental in exchange for protecting faro players, including Doc (at far right), from Tyler and other thugs.

Toe Jamming, Hand Popping & Head Banging at the Oriental
Under the heading "Leaden Music," the October 12, 1880, issue of The Tombstone Epitaph gives these details of the fight:
"Holliday [who left the saloon to procure another pistol], shortly afterward, returned, and as Joyce was coming out from behind the bar, opened fire on him with a self cocker, firing two shots in quick succession. The first shot struck Joyce in the pistol hand, disabling it, the second missed him and passing through the bar, struck Parker on the foot.
"Joyce kept advancing all the time, and, it is said, fired one shot. Closing with Holliday, he struck him on the head with his six-shooter and finally threw him on the floor.
"While the men were struggling, officer Bennett appeared upon the scene and separated the combatants, taking Joyce out of the saloon.
"Holliday was picked up and placed in a chair, it being generally thought, from his bloody appearance, that he was severely, if not fatally, hurt. Such, however, proved not to be the case, and he was arrested by Deputy Marshal Earp." [Whether this is Virgil or Wyatt is unknown, but is probably Wyatt, since he was hired to protect the Oriental.]

Aftermath: Odds & Ends
On October 12, The Daily Nugget reported: "All parties directly implicated are still in bed and no direct arrests have been made, although a complaint has been entered against Holliday and he will be brought before Justice Reilly as soon as he is able to appear, probably to-day."
Milt Joyce was the one who swore out the complaint before Justice of the Peace James Reilly. A warrant was issued to Marshal Fred White to arrest John "Doc" Holliday for assault with a deadly weapon with intent to kill. Holliday appeared before Reilly on Tuesday, October 12. Holliday pleaded guilty to a reduced charge of assault and battery, and paid a $20 fine plus $11.25 in court costs.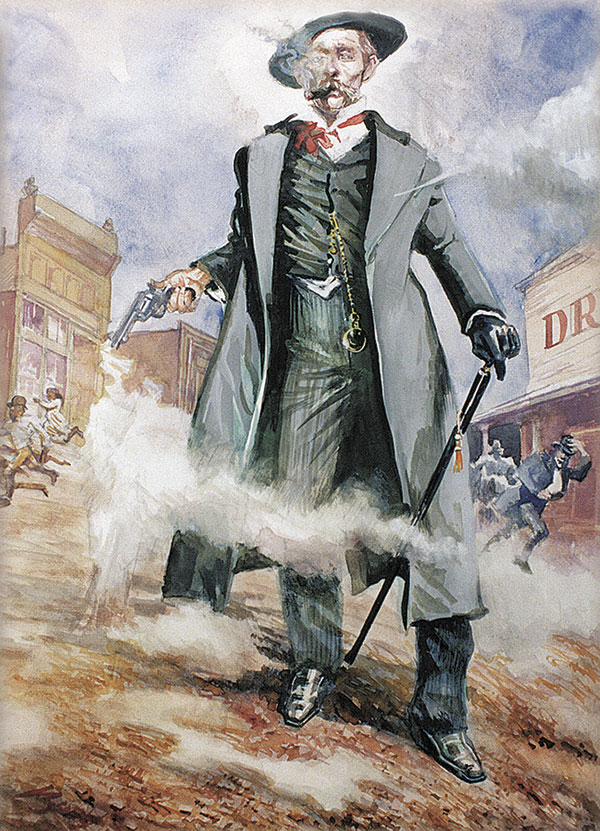 For all of his legendary prowess with a gun, Holliday couldn't hit Joyce at a distance of 10 feet (and he fired at least  twice). As added proof of his lack of shooting skills, Holliday participated in a late November shooting match with 12 other locals and tied for 10th place. Henry A. Plate won the contest, Virgil Earp finished fourth and John Behan, eighth.
Recommended: The Illustrated Life and Times of Doc Holliday (Third Edition) by Bob Boze Bell, published by Two Roads West.