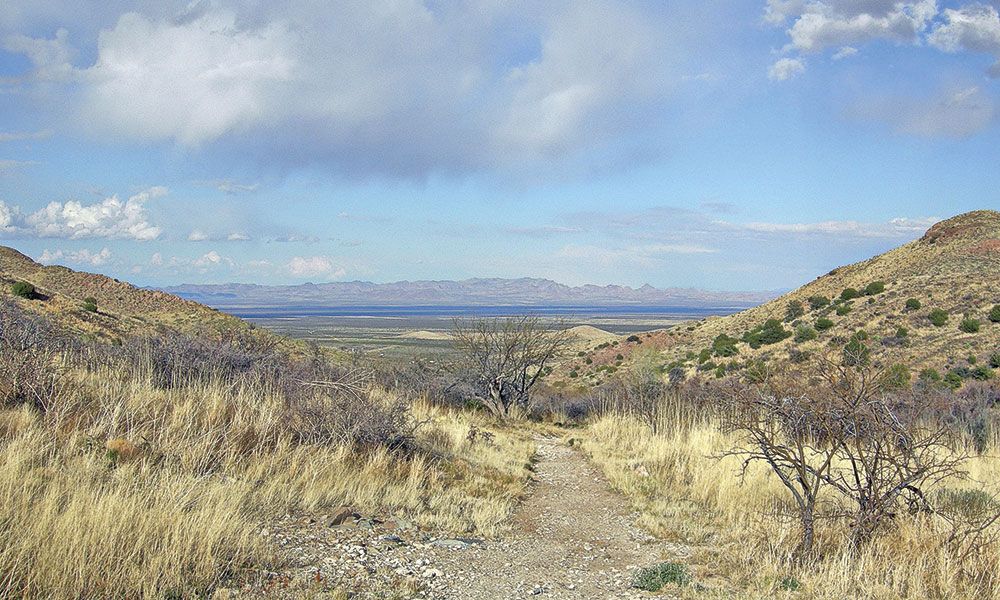 The first thing you notice about Willcox, Arizona, is the wine. Wineries. Wine-tasting rooms. Wine festivals. Wine has practically taken over this old cowtown.
Those wine festivals can bring in 3,000 people—almost doubling the town's population. But what would late 1800s cowboys from these parts say to vino on the Gila Trail?
We'll answer that question when we come back to Willcox.
The Gila Trail—alias Butterfield Stage Trail, Emigrant Road or variations thereof, Fort Yuma Road, Kearny Trail, Sonora Road—stretched from El Paso, Texas, to San Diego. But we're stopping in Tucson.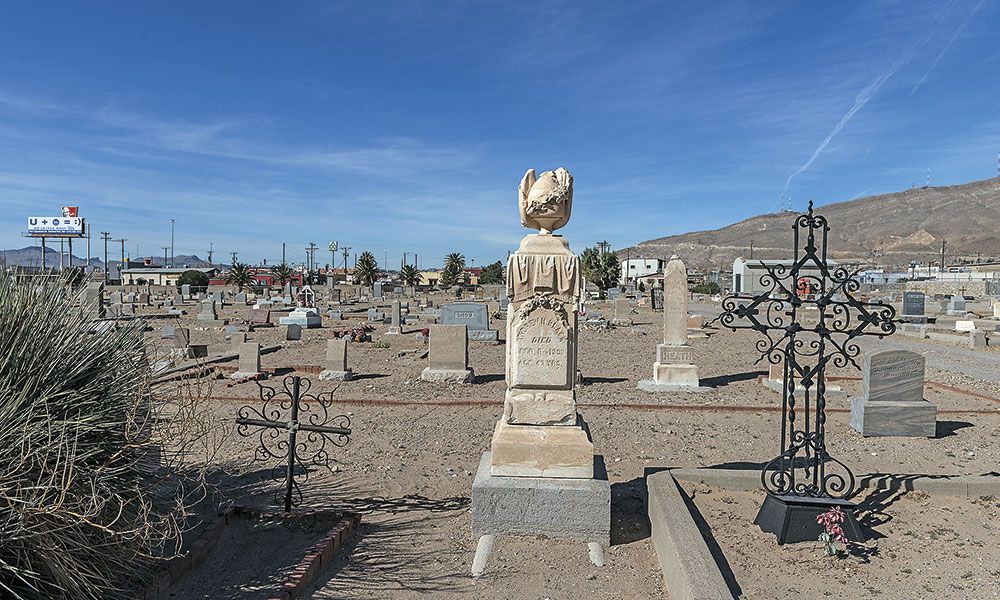 El Paso
Here the Gila Trail started in what historian Odie B. Faulk called "a collection of shacks baked to a dusty brown by a hot sun." Villages and pueblos founded by Manso, Suma, Piro and Tigua Indian tribes centuries ago gradually became El Paso and, just across the Rio Grande, Juarez, Mexico (check out the El Paso Museum of Archaeology).
Fort Bliss (Fort Bliss and Old Ironside Museum) was first established in 1854,
and housed Federal and Confederate troops. Flooding moved that fort to Camp Concordia, and in 1878, Fort Bliss was re-established by 9th Cavalry buffalo soldiers and a white infantry company. In 1893, the fort moved to its current site, where John J. Pershing arrived in 1914 and led his Punitive Expedition against Pancho Villa in 1916-'17.
El Paso brought in cowboys, too, especially ex-cowboys like John Wesley Hardin and Martin M'Rose. Sure, Hardin likely cowboyed to get away from Texas lawmen, and M'Rose was considered a rustler. Both wound up in El Paso, where Hardin, by then an attorney, even represented M'Rose. In 1895, both were shot down in El Paso: M'Rose by deputy marshals while resisting arrest; Hardin by John Selman while rolling dice in the Acme Saloon. They're buried in El Paso's historic Concordia Cemetery. Selman, a one-time cattle rustler, is there, too.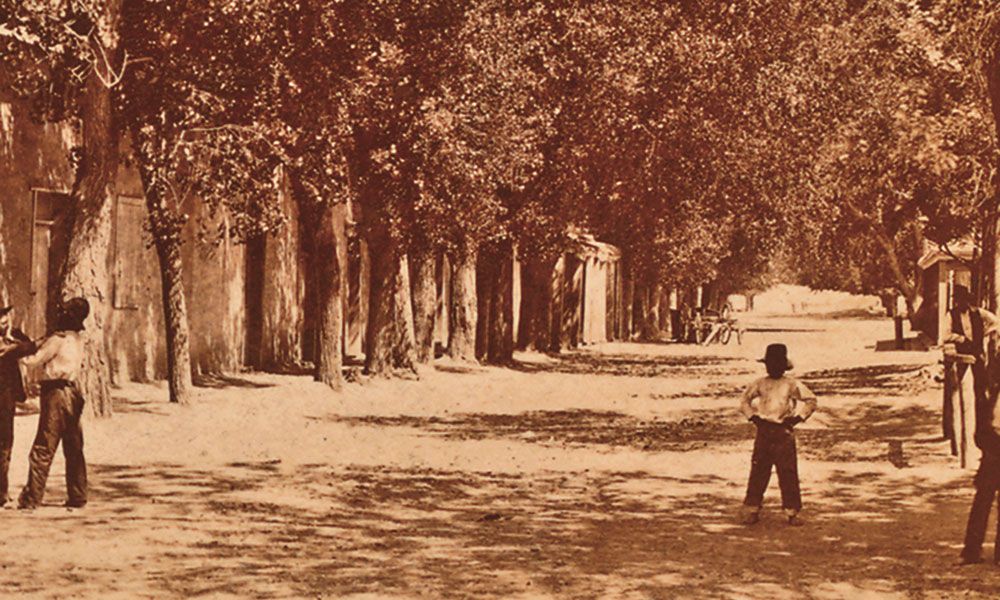 New Mexico
At Radium Springs north of Las Cruces, Fort Selden, now a state monument, brought the cavalry in in 1865 to protect settlers from Apaches. The monument's museum offers a great study of the black soldiers stationed there. In 1884, the fort got a commanding officer who isn't that well known in U.S. history. But one of his sons, who mentioned the fort in his memoirs, is remembered: Douglas MacArthur.
Soldiers, Confederate and Union, passed through Mesilla and Las Cruces. So did cowboys, including a young kid with protruding teeth whose rancher boss was murdered in 1878. The cowboy, who became known as Billy the Kid, decided to help avenge the murder of his boss, John Tunstall, in what became the Lincoln County War. In 1881, Billy the Kid was tried in Mesilla for the murder of Lincoln County Sheriff William Brady.
On Mesilla's Plaza, in what's now a gift shop, a jury of Hispanics convicted the Kid of first-degree murder, and Judge Warren Bristol sentenced him to hang in Lincoln.
Bristol died in 1890 in Deming, a little west along the Gila Trail, where he's buried in Cold Springs Cemetery.
Billy the Kid, of course, did not hang. And the man who killed him after his escape from jail, Pat Garrett, was shot to death in 1908 near Las Cruces over an argument unbefitting a cattleman: goats. Garrett's buried at Las Cruces's Masonic Cemetery.
In 1896, a lawyer named Albert Jennings Fountain was returning home in Las Cruces with his eight-year-old son after attempting to get several cattlemen, including future U.S. Senator Oliver Lee, indicted for rustling. Fountain and his son disappeared, presumed murdered, in the White Sands east of Las Cruces. Three years later, Lee and Jim Gililland were tried for murder up the road in Hillsboro, but were acquitted. Lee went on to have a state park named after him in Alamogordo. The remains of Fountain and the boy have never been found.
And one of the great 20th-century cowboys, novelist Max Evans (The Rounders, The Hi Lo Country), helped establish Las Cruces's New Mexico Farm & Ranch Heritage Museum.
West of Deming, Lordsburg (Lordsburg-Hidalgo County Museum, Shakespeare Ghost Town) brought in cowboys, too. But its real claim to fame is due to Garrett's daughter, Elizabeth. Blind at birth, she wrote at least part of the state song, "O, Fair New Mexico," in Lordsburg in 1915.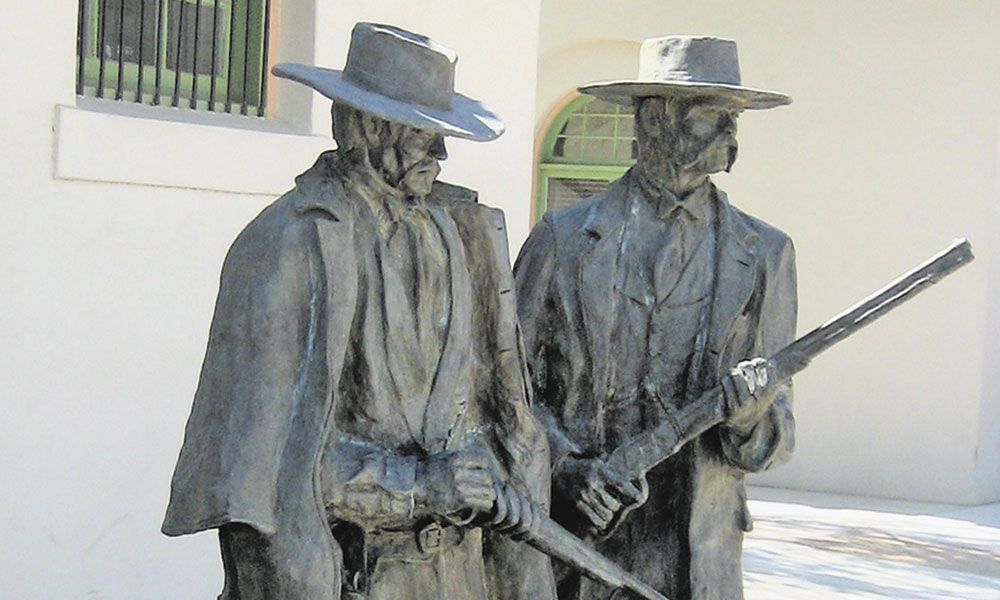 Arizona
At Apache Pass in 1861, Lt. George Bascom was ordered to find a boy kidnapped
by Apaches. To do this, Bascom and his troops held Apache leader Cochise hostage, and Bascom's bollixed handling led to 25 years of bloodshed in the Southwest. The Battle of Apache Pass followed on July 15-16, 1862, which led to the construction of Fort Bowie, now a national historic site.
Which brings us to Willcox, where Warren Earp was shot dead in 1900 and is buried in the Pioneer Cemetery.
First called Maley, Willcox took its name from Orlando B. Willcox, who commanded the Department of Arizona. Henry Clay Hooker's Sierra Bonita Ranch, north of Willcox, was founded in 1872, and Willcox became cowboy country. Railroad Avenue alone once had seven saloons. And a story goes that one brewery produced 1,000 bottles of beer daily for cowboys.
So, yeah, cowboys probably would have tried some vino.
Today, Arizona's oldest livestock auction typically auctions off cattle, goats and sheep every Thursday. And Willcox honors its favorite singing cowboy at the Rex Allen Museum.
Slightly off the Gila Trail but worth checking out are Tombstone—best known for a gunfight that wasn't at the O.K. Corral but did involve cowboys now buried at Boot Hill Cemetery—and Fort Huachuca, established in Sierra Vista in 1877, and used as Gen. Nelson Miles's headquarters during his 1886 campaign against Geronimo. Still an active military base, Fort Huachuca has fantastic museums honoring its Old West history and military intelligence.
Which brings us to Tucson, which had plenty of cavalry (Fort Lowell Museum), cowboys and Indians (Arizona History Museum). And while the Tucson Rodeo has welcomed cowboys since 1925, Tucson wasn't so always friendly with cowboys.
Ask Frank Stilwell, the outlaw cowboy suspected of murdering Morgan Earp in Tombstone. Frank met up with Morgan's brother Wyatt at Tucson's train yard. Earp and/or Doc Holliday left Stilwell dead from a shotgun blast. You can find a statue of Earp and Holiday honoring that little cowboy event at Tucson's depot.
No matter what Bob Boze Bell says, Johnny D. Boggs prefers his Mexican chow Northern New Mexican, not Arizona Sonoran.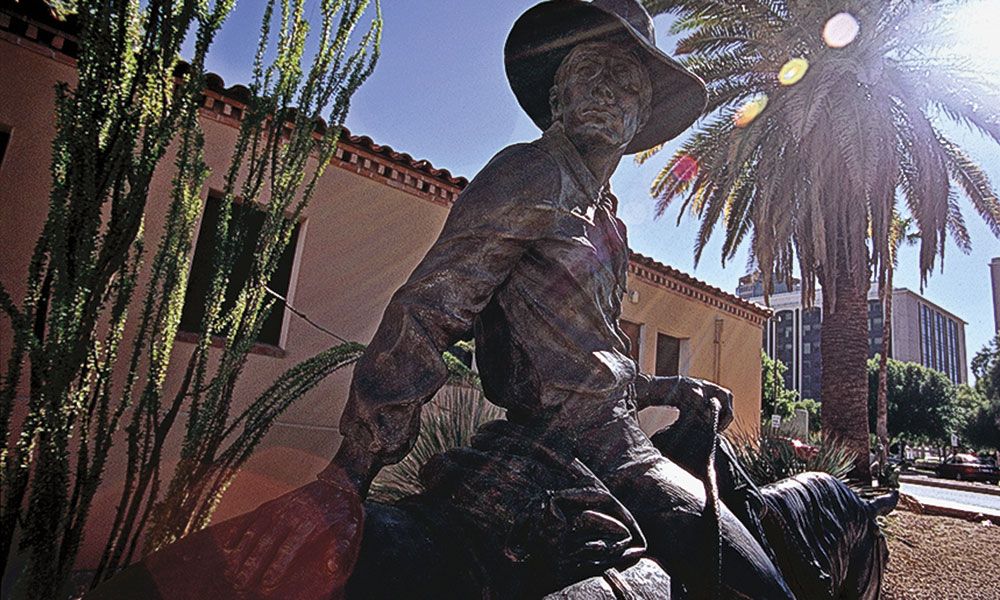 Side Roads
Places to visit/Celebrations & events
Fort Bliss & Old Ironside Museum, El Paso, TX; Concordia Cemetery, El Paso, TX; New Mexico Farm & Ranch Heritage Museum, Las Cruces, NM; Rex Allen Museum, Willcox, AZ; Fort Lowell Museum, Tucson, AZ; Arizona History Museum, Arizona Historical Society, Tucson, AZ; La Fiesta de los Vaqueros/Tucson Rodeo, February 16-24, 2019, Tucson Rodeo Grounds, Tucson, AZ; Tucson Festival of Books, March 2-3, 2019
Good eats & sleeps
Good Grub: Casita Linda Mexican Restaurant, El Paso, TX; Josefina's Old Gate Cafe, Mesilla, NM; Big Tex Bar-B-Que, Willcox, AZ; German Café, Sierra Vista, AZ; Benson Old Ice Cream Stop, Benson, AZ; Bobo's Restaurant, Tucson, AZ
Good Lodging: Drury Inn & Suites, Las Cruces, NM; Sierra Suites, Sierra Vista, AZ; Congress Hotel, Tucson, AZ; The Arizona Inn, Tucson, AZ
Good books, film & TV
Best Reads: Destiny Road: The Gila Trail and the Opening of the Southwest by Odie B. Faulk; Tom Jeffords: Friend of Cochise by Doug Hocking; Cochise: Chiricahua Apache Chief by Edwin R. Sweeney; The Last Gunfight: The Real Story of the Shootout at the O.K. Corral—And How It Changed the American West by Jeff Guinn
Best Films & TV: Law and Order (Universal, 1932); Broken Arrow (20th Century-Fox, 1950); The Life and Legend of Wyatt Earp (ABC, 1955-1961); 3:10 to Yuma (Columbia, 1957);Warlock (20th Century-Fox, 1959); Ulzana's Raid (Universal, 1972); Pat Garrett and Billy the Kid (MGM, 1973); Tombstone (Buena Vista, 1993)
RV Parks & Campgrounds
Hueco Tanks State Park & Historic Site, 6900 Hueco Tanks Rd No 1, El Paso, TX, TPWD.Texas.gov,  (512) 389-8911; El Paso West/Anthony KOA, 901 S Leisure Fun Rd, Anthony, TX, KOA.com, (915) 603-3105; Sunny Acres RV Park, 595 N Valley Dr, #75, Las Cruces, NM, LasCrucesRVPark.com, (575) 524-1716; Dalmonts RV & Trailer Corral, 2224 S Valley Dr, Las Cruces, NM, DalmontsRVPark.com, (575) 523-2992; Cattlerest RV Park & Saloon, 933 S Haskell, Willcox, AZ, Cattlerest.com, (520) 384-9213; Cochise Terrace RV Resort, 1030 Barrel Cactus Ridge, Benson, AZ, CochiseTerrace.com, (520) 720-0911