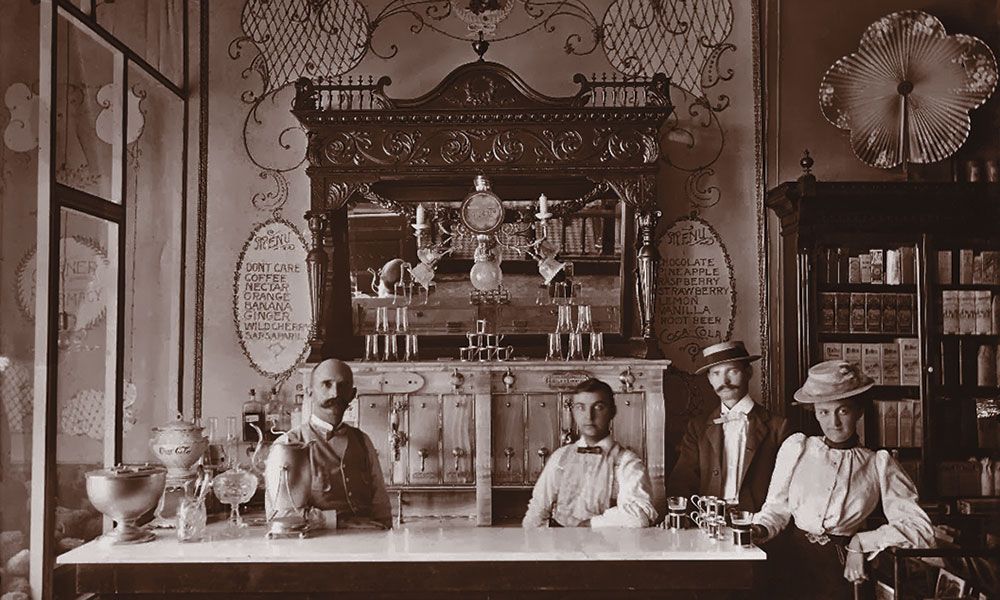 Pioneers were sipping ice cream soda waters as early as the 1860s, but ice cream sodas wouldn't come along until the next decade.
Ice cream soda waters were made with cold ingredients: cream, flavored syrups and soda water. Soda water machines were needed to create the drink, so patrons had to visit a confectionery or drugstore to get them. Around 1874, ice cream started being substituted for cream to create the new ice cream soda concoction.
"The boss new summer drink is ice cream soda…. It is just immense," advertised Julius Cohn, in 1879, owner of  a confectionery in Fort Scott, Kansas.
Utah agreed, and, in 1882, The Placer Herald described the ice cream soda as, "ice cream and one soda in a moonlight sonata of perfect harmony."
Some thought that ice cream and ice cream sodas should be served only in the summer. "Any man who will paint an 'ice cream soda' sign in four-foot letters on his sidewalk [in] this weather ought to get six months at the North Pole without an overcoat," reported Kansas's The Russell Record on October 27, 1887.
But come fall, Bert Shoemaker and A.N. Miller were advertising their hot sodas. The Corner Pharmacy merchants boasted theirs was the only hot soda fountain in Junction City, Kansas. Their soda fountain had arrived in May 1899.
Merchants, including W.A. Benson, in Salem, Oregon, competed to attract customers. He claimed his rivals used skim milk and stale fruit in their ice cream sodas, while he served only first-class drinks. His competition, Jones & Bernardi, claimed many in town, including the Democratic Club, preferred their sodas over everyone else's. Jones touted his French ice cream soda as a "masterpiece of palatable luxury." 
The soda portion relied on fresh fruit and extracts to create flavors that included root, birch and spruce beers, ginger ale, nectar, mead, lemonade, pineapple, lime, coffee, chocolate, raspberry and strawberry.
Women loved the drink, so businessmen, including C.B. Smith in Astoria, Oregon, offered private parlors where ladies could enjoy their ice cream plates and sodas.
Merchants knew how to work the women's desire for this frosty drink. "Our chocolate ice cream soda beats them all. That's what the ladies say, and they know," Fehringer & Ash advertised in Ogden, Utah, in 1894.
Women were so taken with this drink that jokes were made about it. The Weekly Kansas Chief reported a tale in 1896 about a man who asked his girlfriend if the weather was too hot, to which she said, yes. He then asked her if she would feel better if he proposed to her. She replied, "Oh, yes. Do propose ice cream soda and a drive."
Join the 19th-century craze and make this cool drink, even if it's the fall!
Ice Cream Soda
1 to 3 tbsp. real fruit syrup
1 cup club soda
1 scoop ice cream
Combine syrup and club soda in a cup or bowl to make your flavored soda. The amount of syrup added depends on your taste. Gently whisk together. Place ice cream in a tall glass and top off with the flavored soda. Add a tall spoon and paper straw to garnish in the 19th-century style.
Recipe adapted from Saxe's New Guide, 1894
Sherry Monahan kicked off her journey into Old West cuisine, spirits and places by authoring Taste of Tombstone. Visit SherryMonahan.com to learn more about her books, awards and TV appearances.