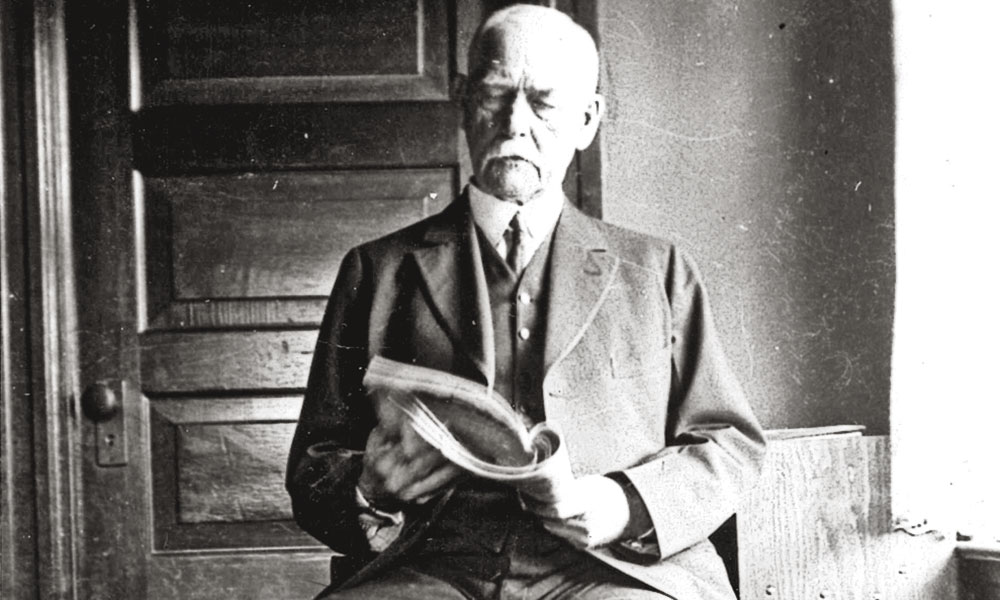 Dreams of a "fly-on-the-wall" moment in Western history certainly include sitting with Wyatt Earp in the 1920s as he set the record straight about his life and legend, including
his take on the 1881 Gunfight Behind the O.K. Corral in Tombstone, Arizona Territory.
During Sunday visits to the Los Angeles cottage Wyatt shared with his wife, Josephine, Wyatt's secretary John H. Flood Jr. captured every word.
For nearly 100 years, those shorthand notes—along with an early typed manuscript of Earp's biography and photos of the last years of the Earps' lives—have been in private hands.
Now the public can become a fly-on-the-wall to Wyatt's version of his days in Arizona, Kansas and Colorado, thanks to a donation to the Tombstone Courthouse State Historic Park by Eric Weider, former owner and publisher of Wild West magazine.
"This is as close as you can get to talking to Wyatt Earp, and hopefully will contribute to the knowledge of the West," Weider says.
That "coming home" is thanks to two persuasive Arizonans. First, Gordon Anderson, owner of Tombstone's Larian Motel, was dismayed to learn Weider intended to donate the collection to Huntington Library in San Marino, California, and asked that the courthouse be considered. Weider was lukewarm to the idea until he talked with Arizona State Parks and Trails Curator Joanne Brace.
"I was really impressed with her enthusiasm. And she was so responsive, she got me to rethink my plan," Weider says.
Thrilled with that decision, Brace says,  "This is one of, if not the most, significant item ever given to Arizona State Parks and Trails. Everyone who's interested in Wyatt Earp will find their way to Tombstone to see this display."
The location is particularly significant, since Wyatt watched the two-story Victorian-style courthouse being built. He and his brothers arrived in Tombstone in 1879 and left in the spring of 1882, as the courthouse was under construction.
The collection includes Wyatt's description of his move from Kansas to Tombstone, and his decision to abandon law enforcement work: "So I purchased a Concord coach, two wagons and sixteen head of horses and started for Arizona for the purpose of starting a stage line."
Arizona is calling the donation the Josephine Earp Collection because it includes 33 of her handwritten letters—in her "messy handwriting," as Weider puts it—including one expressing her grief when Wyatt died at the age of 80, on January 13, 1929: "I am telling you Mr. Flood I am sick grieving over my husband and after this is all over and I have my property all fixed up, I really don't care what happens to me as I have lost my best friend."
Weider stipulated the collection be available to the public. "We know the legend," he says, "but this is a look at the real people."
Jana Bommersbach has earned recognition as Arizona's Journalist of the Year and won an Emmy and two Lifetime Achievement Awards. She cowrote the Emmy-winning Outrageous Arizona and has written two true crime books, a children's book and the historical novel Cattle Kate.