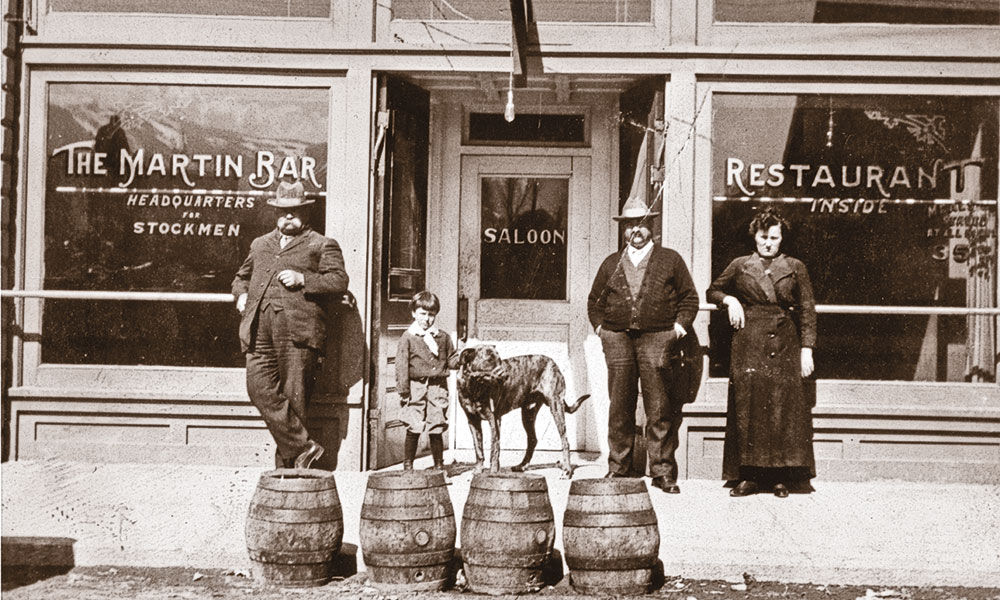 Basque immigrants hailed from a region that stretches across the Pyrenees Mountains into France and northern Spain. They first arrived in America during the California Gold Rush in 1849. When the gold didn't trickle in, many turned sheepherding into a flourishing business in California, Idaho and Nevada. Others ran boarding houses that also functioned as community centers.
A home away from home for Basque ranchers and their families, these boarding houses offered "family-style" meals, where families and strangers sat at one table. Basque favorites included leek soup, garlic soup (they frequently used garlic in their dishes) and lamb courses. Meals consisted of a soup of the day, French bread, Basque beans (seasoned with chorizo and peppers), salad, a main entrée, dessert and a glass of wine.
One such home was Winnemucca, a Nevada town the Central Pacific Railroad reached in 1868. By 1883, about 1,200 pioneers—many of them Basque—lived in town and had ties to the cattle and sheep industries.
One of the largest shipping points in the area, Winnemucca, in 1883, shipped out 33,000 cattle and 600,000 pounds of wool. Since the railroad regularly delivered supplies, the hotels and restaurants offered many tasty tidbits. For instance, the Fulton Market in Sacramento, California, shipped poultry, game, fruit, eggs, honey, cheese, apple butter, canned goods and fish to Winnemucca for its residents to dine on.
Although the population dwindled to 763 three years later, Winnemucca restaurants were still big businesses. These included the Arcade Restaurant, Mrs. D.P. Crook's place, Chris Diehl's bakery and saloon, and LaFontaine's French restaurant.
Among those restaurants was an establishment that actually got its start as an 1878 residence owned by Frank Naramore, who took ownership of the railroad's feed and sale stables. This residence, along with the Lafayette Hotel, became part of a block purchased by Alfonso Pasquale. In 1908, he built a stone structure next to the hotel.
When a 1919 fire destroyed a majority of the block, the stone structure was credited for preventing the flames from destroying the adjacent hotel. The property, known as the Martin Hotel today, is a place where diners can dine on traditional Basque food, like the Winnemucca pioneers long before them.
The Basque people left their mark on the West with a tasty legacy, and not just in Winnemucca. In California, Bakersfield has Noriega's, and Fresno has the Shepherd's Inn. In Nevada, Elko has the Star Hotel, and Reno has Louis' Basque Corner.
Try your hand at the traditional leek soup served by Basque pioneers at their boarding houses.
Leek Soup
2 tsp. butter
6 leeks, white part only
2 tsp. flour
1 tsp. salt
pepper to taste
4 cups cold water
2½ cups milk
2 egg yolks, beaten
Browned croutons
Melt butter in a deep pot over medium heat. Wash and chop the leeks, then sauté until light brown.
Add flour, salt and pepper, and stir. Next, slowly stir in the water. Simmer for 45 minutes. Then strain the liquid into a stockpot.
Add two cups of milk. Simmer for 10 minutes, stirring frequently. Remove from heat, but keep warm.
Combine the egg yolks with the half cup of milk, and blend well. While whisking, slowly add the egg mixture to the soup. Heat for five minutes. To serve, put croutons in bowls or tureen, and pour soup over them.
Recipe adapted from Rocky Mountain News, of Denver, Colorado, March 13, 1892
Sherry Monahan has penned The Cowboy's Cookbook, Mrs. Earp: Wives & Lovers of the Earp Brothers; California Vines, Wines & Pioneers; Taste of Tombstone and The Wicked West. She has appeared on Fox News, History Channel and AHC.