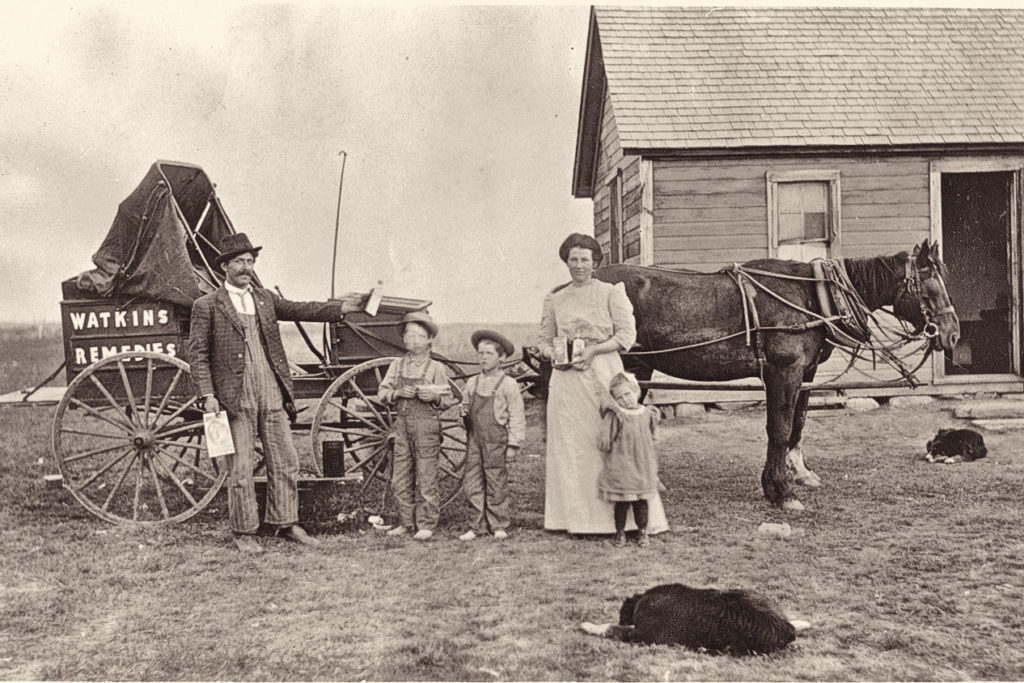 Bitters were cocktail mixers that came in many flavors on the frontier, but they also served another, darker purpose. Because respect-able women didn't dare enter a saloon, they found an alternative way to "get their drunk on" in the 19th century with bitters. The Kansas Coffeyville Weekly Journal explained how women first began developing a thirst for, and later a dependency on, liquor. Since bitters' main ingredient was whiskey, women in the West satisfied their fondness for the popular spirit by drinking medicinal elixirs.
With their Victorian gowns swishing, women walked into the local mercantile store or called on their local chemist and respectfully picked up a bottle of bitters for their "health." Bitters companies knew this and used clever advertising to attract their non-saloon customers. The tonics were sold under the promise that they would ease common female illnesses and were purported to ease or cure mental anguish, feverish lips, cracking pains, weak stomach and scores of other bodily sufferings.
The B.W. Woodward Druggist and Manufacturing company called out the deception of these tonics. It offered a non-whiskey tonic and claimed its competitor's tonics were nothing more than mislabeled whiskey. Its 1860s advertisement read: "A healthful, invigorating tonic, that should commend itself as a proper one to the medical profession, and be free from the objection of pandering to depraved appetite for whisky stimulants, under the specious name of 'tonic bitters,' has long been needed by the public." Directly under this ad was another for Foster's Silurian Bitters which claimed its bitters were the purest and best tonic stimulant ever brought to the market. Another competitor to B.W. Woodward was the maker of Leis' Dandelion Tonic which also called out the tonic-drinking masses: "[It] is not a 'Whisky Bitters' or a 'Fancy Drink' that may lead the user to drunkenness and ruin, but it is a true and reliable medicine which has been used for the past fifteen years and has been prescribed by many leading physicians."
Humorist Robert Burdette was a staff writer for Iowa's Burlington Hawkeye, and his tongue-in-cheek commentary appeared in papers across the West. His fondness for whiskey and temperance bitters was displayed in an 1887 Des Moines Register column where he noted, "I do not fly around and perspire because the government has decided to collect the whisky tax from the temperance bitters. I endorse the action of the government because I have always insisted that the temperance bitters contained the worst whisky, and should be reformed in this respect before they could be considered a proper drink for a prohibitionist. Moreover, it is unwholesome and wrong to mix greens and herbs with liquor."
One of the largest-selling brands of bitters was Hostetter's Stomach Bitters, which was taken to task on April 21, 1887, by the editors of The Times of Clay Center, Kansas, who claimed the bitters caused drunkenness. "It is said that Hostetter, the compounder of that vile decoction known as 'Hostetter's Stomach Bitters,'  has accumulated a fortune of 11 million. We would not become responsible for the wicked and murderous drunks his bitters have produced for ten times his earnings."
Early mixologists like Harry Johnson and Jerry Thomas created their own bitters for cocktails. Today, boutique distillers, like Boothill Distillery in Dodge City, Kansas; Breckenridge Distillery in Breckenridge, Colorado; and Greenbar Distillery, in Los Angeles, California, are keeping the West alive by doing the same. This is Thomas's recipe for bitters.