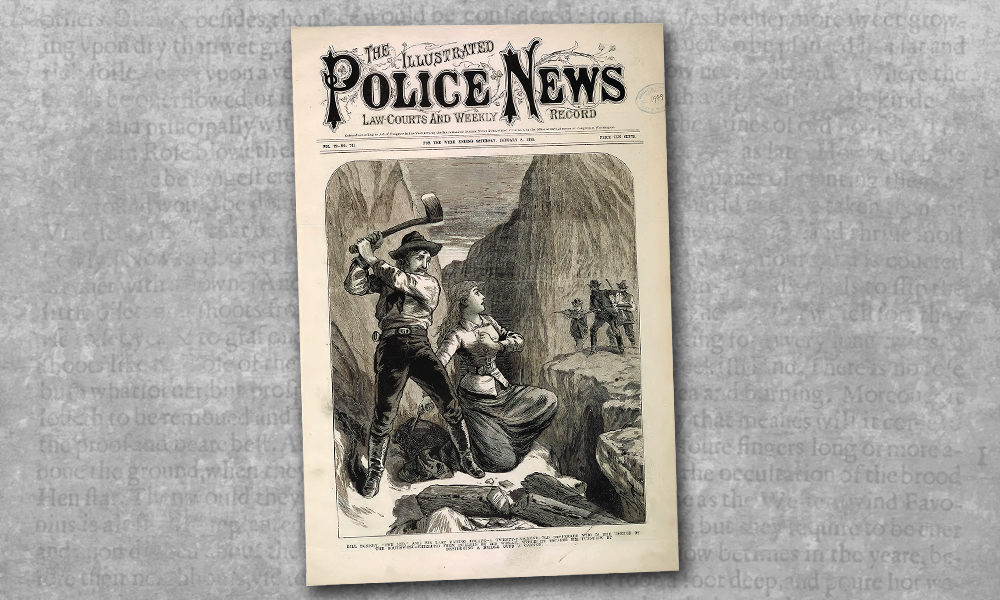 The interview with Billy the Kid in a Santa Fe jail—which appeared on page 4 of the January 20, 1881, edition of the Las Vegas Gazette—was shared by James B. Mills exclusively with True West.
I have been seriously digging into the Billy the Kid story for the past three decades. I have walked where he walked, and I have had the privilege to interview many old-timers and many of the Kid scholars like Fred Nolan, Leon Metz, Nora Henn, Robert Utley, Bob McCubbin, Mark Lee Gardner, Lynda Sánchez and John Sinclair. These Kid historians dug deeper than anyone else and found old newspapers and hidden national archive reports and filled in many of the missing pieces of the puzzle. And yet, somehow, some way, they all missed the newspaper article from the January 20, 1881, Las Vegas Gazette you are about to read that James B. Mills, a young Billy scholar from Australia recently discovered.
Mills says: "Almost 140 years after his death, Billy the Kid is still a wanted man. He is constantly being pursued. It is not Pat Garrett and a posse that are now chasing after him, it is historians like myself. We relentlessly track every hint of his movements and activities. We don't wish to clasp shackles on him; he knew only too well how to slip out of those. We merely wish to understand him better, to get closer to the reality of just who this boy was (and he was a boy, as we sometimes tend to forget)."
How did the intrepid Australian researcher find the lost interview of Billy the Kid? According to Mills, while browsing through online Newspaper Archives, he was fortunate enough to catch a fresh glance of him in the January 20, 1881, edition of the Las Vegas Gazette. "Billy appeared to be in a mostly cheerful mood despite being locked up in a Santa Fe Jail at the time," Mills says. "He certainly wasn't happy with the fanciful illustration of him wielding an ax, saving the life of his beautiful pistol-wielding señorita in the January 8, 1881, edition of The Illustrated Police News. Nor did Billy seem overly thrilled about his reputation as a cutthroat desperado, further evidence that the Kid cared about what people thought of him.
"With the slamming of a jail cell door, my brief glimpse of Billy the Kid ended, but it was enough to make my jaw drop while it lasted. Almost 140 years after he was laid to rest, Billy Bonney had spoken to us once again. Though I doubt it will be enough for us to end our relentless pursuit."
In addition, our editor Stuart Rosebrook, seeking supportive material for Mills' discovery, found an illustration of Billy and untapped stories on the boy bandit in the Library of Congress's digitized volumes of The Illustrated Police News that have eluded historians for decades.
Hang on to your hat. This is good.
—Bob Boze Bell

THE DAILY GAZETTE
Las Vegas, New Mexico
Thursday, January 20, 1881
INTERVIEWING PRISONERS
Visiting "The Kid' and His Partners in the Santa Fe jail
What Rudabaugh says.
A few days ago, a representative of the GAZETTE paid a visit to Billy Bonney, 'the Kid," Dave Rudabaugh and Billy Wilson in the Santa Fe jail. They were all heavily shackled and were lying about on their cots, but rose as the heavy iron door swung back on its hinges. After speaking with them all, the GAZETTE man made some remarks on the tidiness of their cell. "Oh; this is a palace as compared with that place they put fellows in in Vegas," said Billy, "we've been scrubbing up to-day," he continued, glancing around and contemplating their work.
The men all appeared to be in good humor. and the talk passing from one topic to another, "the Kid" said, "I'm getting up a terrible reputation." Allusion [that is how it's spelled] being made to the horrible picture of him in the Police News that has been the laughing stock of the town, Billy made all manner of fun of it.
"I got hold of the paper first when it was brought in," he said, 'but I was ashamed to let the other fellows see it. Wasn't it savage, though?" he enquired.
We gave our unbiased opinion that we thought it was, and were not a little amused at the way the subject of the frontispiece of the super-sensational paper ran on about it.
   "I never had any beautiful Mexican girl with me. It was as much as I could do to take care of myself," was his disposition of the picture. "But," his eyes flashing as he spoke, "she was 'game' though. See the way she stood off the crowd after me," said the admirer of personal courage.
   "I say boss," sang out a fellow lying near the stove. "'haint you got any influence with the U.S. government to get it to give a man a hat," said the fellow swung over his head a paper cap, such as dull scholars in backwoods towns "down east" wear as a symbol of dullness.
   "Have you any other hat?"
    "No, nor I haint had any for sixteen months, ever since I was put in here."
    "He's had hard luck, that fellow has," said one of the boys. "He's been in here for sixteen months waiting trial for something that 'his nibs' did" pointing to Dave Rudabaugh who was lying near the fellow with the paper cap.
"Yes, they've kept him in for what I did," attested Rudabaugh.
We were considerably interested in knowing who this long-time-incarcerated man might be, and found on inquiry that it was "B.S." Jack well known in Vegas and who was accused of robbing the coach near this city.
"None of the men they've got in jail had anything to do with robbing the stage or the train," said Rudabaugh. "I'm in for it now, and might as well tell the truth. The Stokes boys are perfectly innocent, and so are all the men who were mistreated of being mixed up in both affairs. I don't propose to tell who did to either, but they haven't got 'any of the men but me.' There was a general conversation concerning the Stokes boys and all the boys said it was a shame that they were ever arrested.
"B.S." Jack told his story. He said that he was "broke" and was just tied up with rheumatism. "I couldn't have walked as far as where the coach was robbed and back to my room again," he said. "That's the way with some of us poor devils who haven't a friend," said he, "they just pounce down on us because they think no one would believe a word we would say." He was in a good humor like the rest, but he has had nearly a year and a half to brood over his misfortune, and was at times somewhat sour.
   "They've got another innocent man in jail in Vegas," said Rudabaugh. When asked who that might be, he said, "Webb; he ain't any more guilty of killing Kelliher than you are." The "imported editor" came to the conclusion that it his residence in Vegas in March were made a test of Webb's innocence that man was safe.
"I saw the whole affair and if my word is worth anything, I say that; that man didn't do the killing." He stoutly adhered to this and said that if he only had a chance to testify he would say so.
"Well, Billy, what do you think of your notoriety?" we asked of "the Kid."
   "I don't see any money in it. Everything that has been done in that country is laid to me," and he really seemed ashamed of the reputation that he had gained.
"If you got out, you could get up a show like Buffalo Bill; you have had advertising enough."
"If—" was his only comment.
The boys expressed themselves as having nothing to complain of regarding their keeping and keepers and said that Sheriff Martinez and everyone connected with the jail treated them "white." As the GAZETTE man turned to go, "B.S. impressed on his mind his need of a hat and coat and the doors clanged on the prisoners.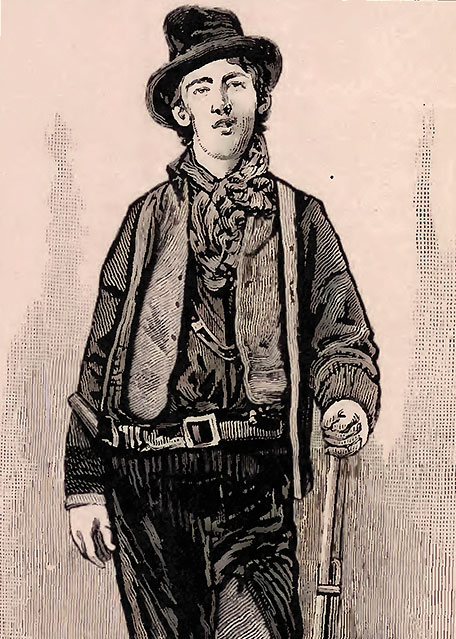 Contributor James B. Mills was born in 1983 and lives in the Illawarra Region of New South Wales, Australia. Possessing a relentless passion for the history of the American West since childhood, he was bitten by the "Billy-bug" around age nine and has remained enthralled ever since. Now a historian and published writer, his passion remains as strong as ever.
No One Home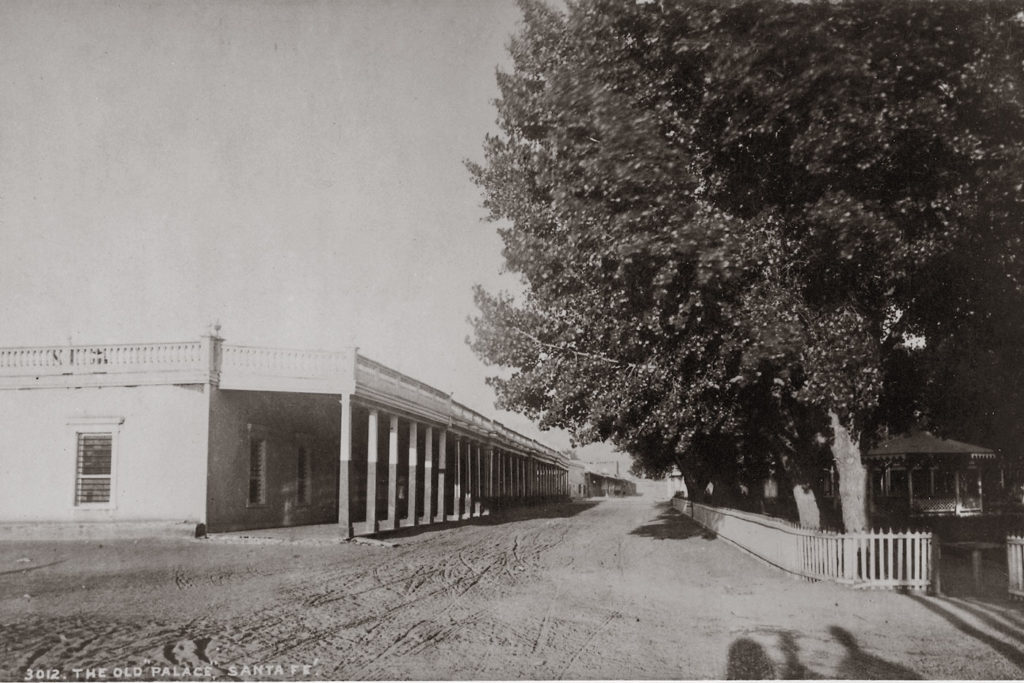 While the Kid was writing his first letters to Wallace at the Palace of the Governors (above), the governor was back East promoting his book, Ben-Hur. Wallace returned to Santa Fe on February 10, but left immediately to look at mining property in Silver City. The latest strikes were big news in the East and the governor couldn't wait to see them. Billy might just as well have saved ink because his notes were piling up on someone's desk and his plight was probably one of the last things on Wallace's mind.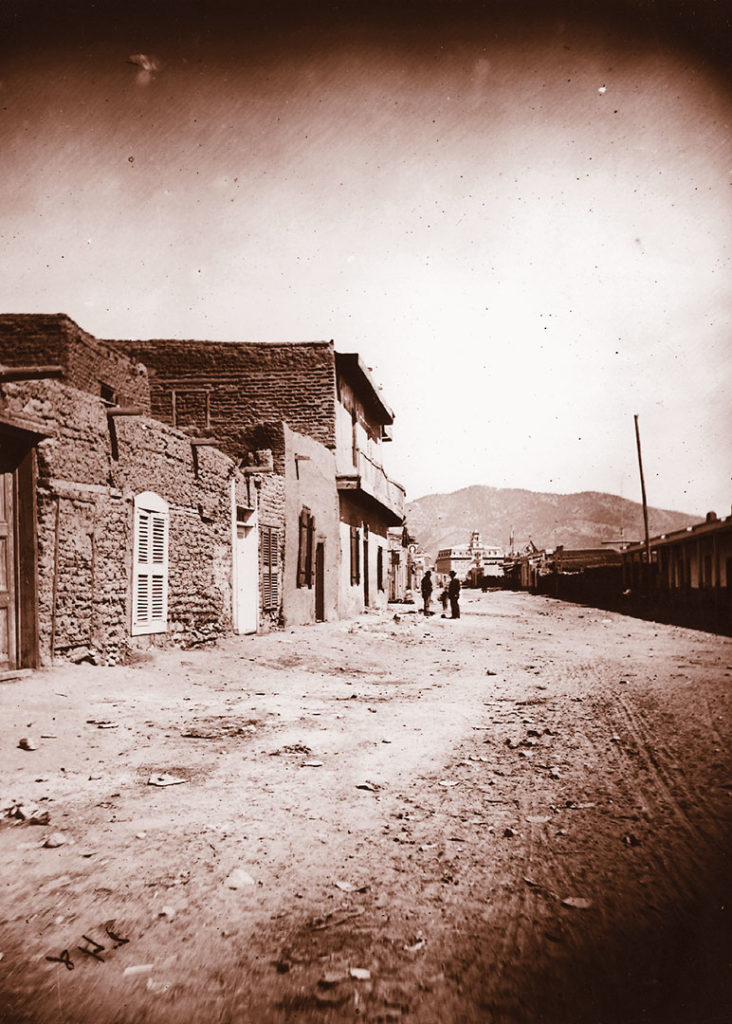 The reporter for the Las Vegas Gazette would have interviewed Billy the Kid and Dave Rudabaugh in the six-cell county jail on Water Street in Santa Fe. Billy's statement to the reporter that "we've been scrubbing up to-day," may in fact be an early reference to their efforts to hide the evidence of dirt from a tunnel they had started much earlier than most historians have considered.
Ticked Off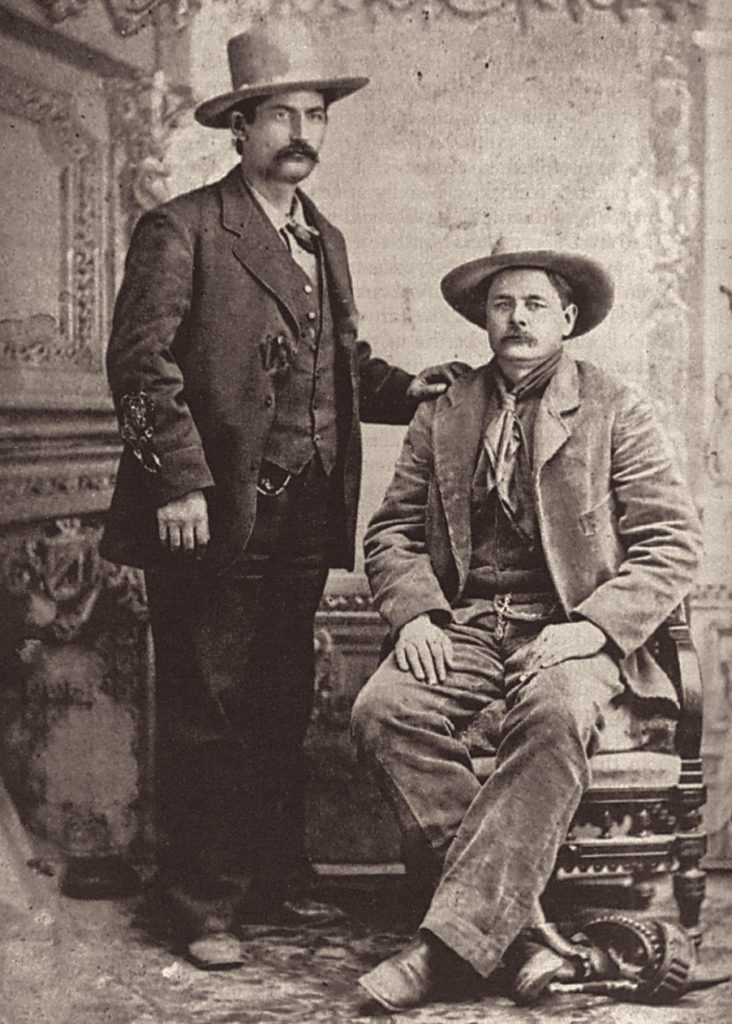 Tony Neis (left) and Robert Olinger celebrated their nomination as deputy U.S. marshals to escort the famous Billy the Kid to his trial in La Mesilla by having their photo made in Santa Fe. The local editors at the New Mexican newspaper dubbed them "a heavy team." A month after the jailhouse interview, Neis and Santa Fe Sheriff Romulo Martinez discovered Billy and the Boys were digging an escape tunnel and hiding the fill dirt in their bed ticking. All the prisoners were separated and Billy the Kid was slapped in solitary and shackled to the floor in a cell "where even the light of day is denied admittance…"
What Historians are Saying About the Discovery of the Lost Billy the Kid Interview
Both giddy and embarrassed at his sudden national celebrity, Billy's likeable carefree nature shines through in this newly discovered interview. From reading it, one would never guess the violence he was capable of, which, of course, was one of the secrets to the Kid's survival. For me, the interview brings to mind what Pat Garrett once said about the outlaw: "There were many good traits about Billy….He wasn't what you'd call a killer. He never made a gun play he didn't mean, and he never shot up a town. I've met worse men than Billy."
What James B. Mills has unearthed may not change the narrative we have for the Kid, but it certainly enriches it. And considering how Billy has been researched to death for decades, that's quite an accomplishment.
—Mark Lee Gardner, author of To Hell on a Fast Horse: The Untold Story  of Billy the Kid and Pat Garrett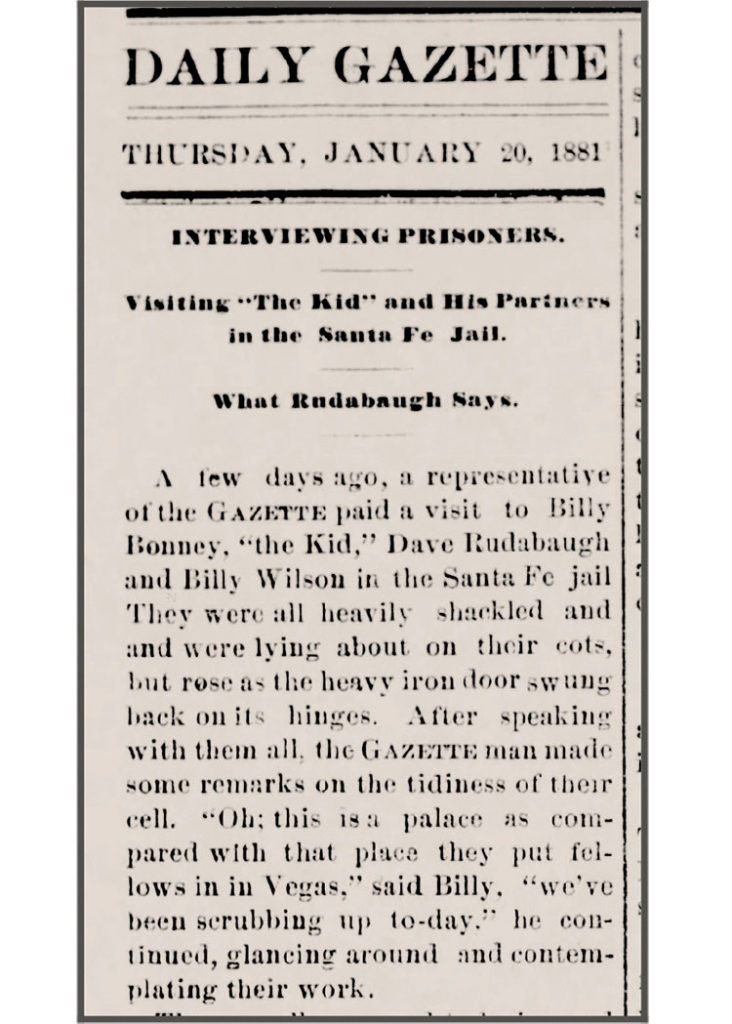 The info James B. Mills has turned up about Señor Billy in the Santa Fe jail, what he's thinking, and his opinions on several topics is of first-rate value. This information "thickens our description" of Billy in the last months of his life. We've not known much about him after he reached Santa Fe and before his jail breakout in Lincoln the following April. Valuable new information, indeed, in this rather obscure segment of outlaw's life.
—Richard W. Etulain, author of two upcoming books on the New Mexico outlaw from the University of Oklahoma Press: Thunder in the West: The Life and Legends of Billy the Kid and Billy the Kid: A Reader's Guide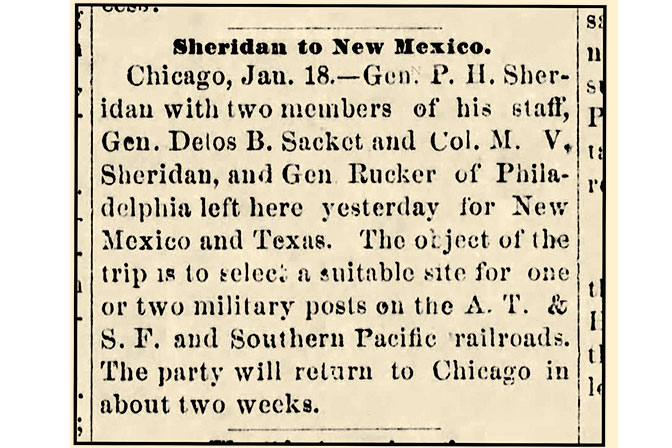 To find anything new about Billy the Kid is amazing. The Santa Fe jailhouse interview of the Kid that Australian historian James B. Mills discovered in the January 20, 1881, edition of the Las Vegas Gazette had been missed by literally hundreds of Billy researchers over many decades. The Illustrated Police News images are terrific too. Additionally, the ending of the "lost interview" of the Kid with the word IF…If only one could project what the Kid was thinking at that time. Makes one wonder how things would have turned out for him with that pardon he never received!
—Lynda A. Sánchez is a contributing editor to True West magazine and a historian of New Mexico and Apache history
The recent discovery by James B. Mills of an old newspaper interview with Billy the Kid and his jailhouse companions offers some delightful insights into the elusive New Mexico outlaw. The Kid's oft-remarked upon charming sense of humor comes across loud and clear in his "savage" comment on his cover story in the garish Illustrated Police News.
His reply to the reporter's comparison of the boy outlaw to Buffalo Bill displays a certain fatalism, as does the remark that there is no money in it. This episode, as well as the publication of an engraving of the famous tintype before Billy's death, makes it clear that he was indeed receiving some national attention while he was alive.
It's also fascinating that Gen. Phil Sheridan is in Las Vegas at this time (below), no doubt to meet with Hatch about the Victorio campaign that's happening at the same time.
—Paul Andrew Hutton, Distinguished Professor, University of New Mexico
Would you like to read more of Bob Boze Bell's stories on Billy the Kid? Subscribe to True West Archives today at TrueWestMagazine.com. Our past awaits you!