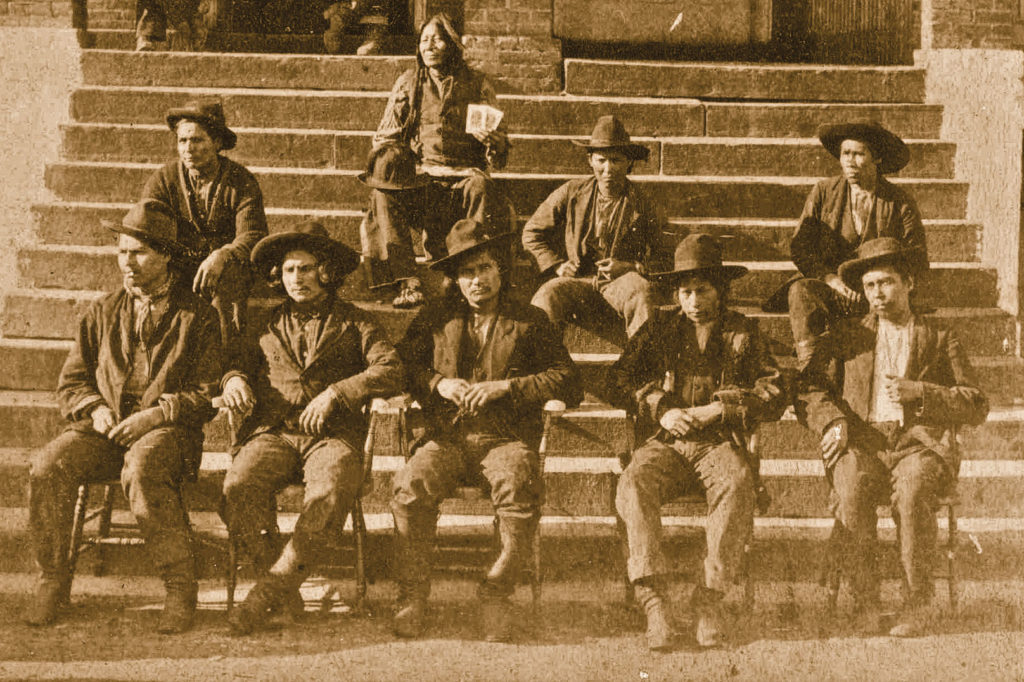 Wyatt Earp, Pat Garrett and Wild Bill Hickok were tough lawmen of the West. But no outlaw ever wanted Bass Reeves on his trail.
"Outlaws tried to avoid him at all cost if they could," Art T. Burton tells me. "Once given the warrant for arrest, if you tried to hide, Reeves would find you; if you tried to run, Reeves would catch you; if you tried to shoot it out, Reeves would kill you."
Burton's 2006 biography, Black Gun, Silver Star: The Life and Legend of Frontier Marshal Bass Reeves (University of Nebraska Press), was a Spur Award finalist from Western Writers of America. And Burton's earlier book that includes a wealth of information on the legendary lawman, Black, Red & Deadly: Black and Indian Gunfighters of the Indian Territory, 1870-1907 (Eakin Press, 1991), has been optioned by actor Morgan Freeman and Revelations Entertainment for a possible TV series. Reeves's character also appeared in HBO's Watchmen last year, and David Gyasi plays him in director Wes Miller's Hell on the Border, released in December.
Now's the perfect time to follow the trail of this black lawman of the West.
Historic Van Buren
Likely born in June 1838 in Crawford County, Arkansas, Bass Reeves and his family were slaves—the property of William S. Reeves. As a free adult, Bass later lived in Van Buren, and when he retired as a deputy U.S. marshal in 1907 at age 69, his mother was reportedly still living in Van Buren at age 87.
Van Buren might be overshadowed by its neighbor Fort Smith—where Bass became famous—but six blocks of the city's Main Street comprise a National Historic District with buildings restored to their late 19th-century/early 20th-century appearance. A one-room schoolhouse sits on the county courthouse grounds. Bass, of course, never attended the school. Teaching slaves to read and write was prohibited in the pre-Civil War South, and Bass would remain illiterate his entire life. The Drennen-Scott Historic Site became the home of businessmen John Drennen and Charles G. Scott and illustrates life in antebellum Arkansas.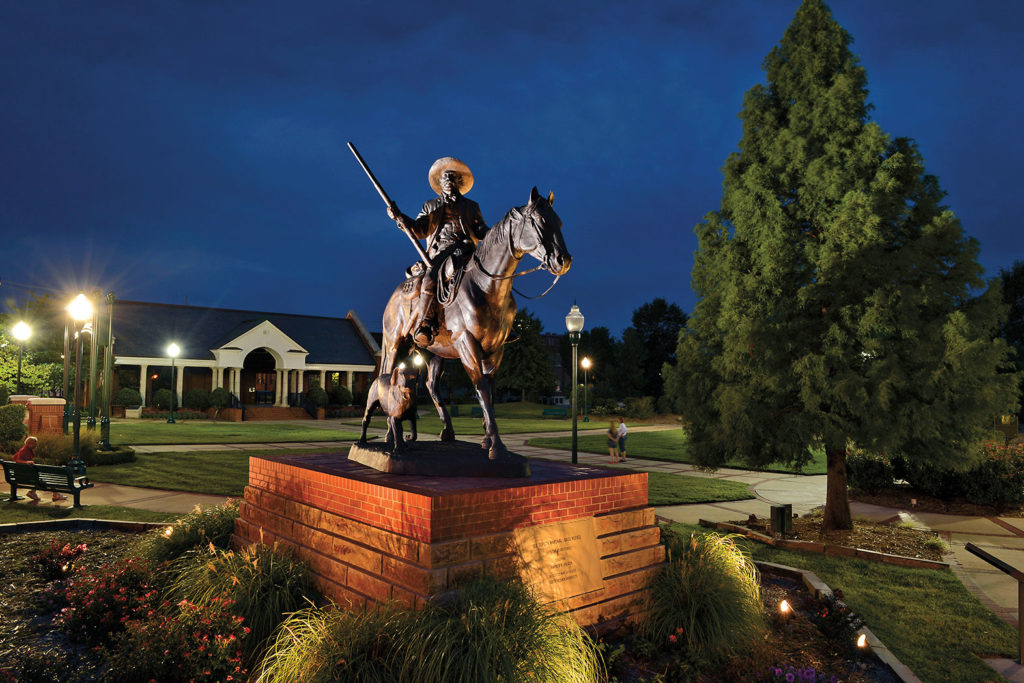 The War Between the States
When Bass was around eight years old, the Reeves family moved to Grayson County, Texas, with six slaves. They settled in Peters Colony northwest of Sherman, where the Sherman Museum, housed in a 1914 Carnegie Library, preserves the region's history. Bass soon became skilled with horses and learned—with support from the white family that owned him—how to handle firearms.
When the Civil War broke out, one of the Reeves sons, George, served as captain, later colonel, in the 11th Texas Cavalry before resigning in 1864 and returning home. In a 1901 newspaper interview, Bass said he served as George Reeves's manservant during the war and was at the battles at Chickamauga and Missionary Ridge. Burton discredits those stories but says that Bass possibly was with the 11th in the December 1861 battle at Chustenahlah, when Confederate forces routed Union-sympathizing Creek and Seminole Indians and sent them fleeing to Kansas. A historical marker
commemorating the battle can be found off state Highway 20 near Skiatook in Tulsa County.
If Bass had been there, that battle might have made him wonder exactly what he was doing riding with white men bent on keeping him in bondage. According to family lore, Bass decked George Reeves in a dispute over a card game and fled into the Indian Territory. He might have served in a Union regiment, but while living in Indian Territory, he learned the Muscogee language, learned the country, learned more about firearms—becoming ambidextrous—and tracking. Seminole Indians also taught the six-foot, two-inch Reeves how to make himself seem smaller in the saddle.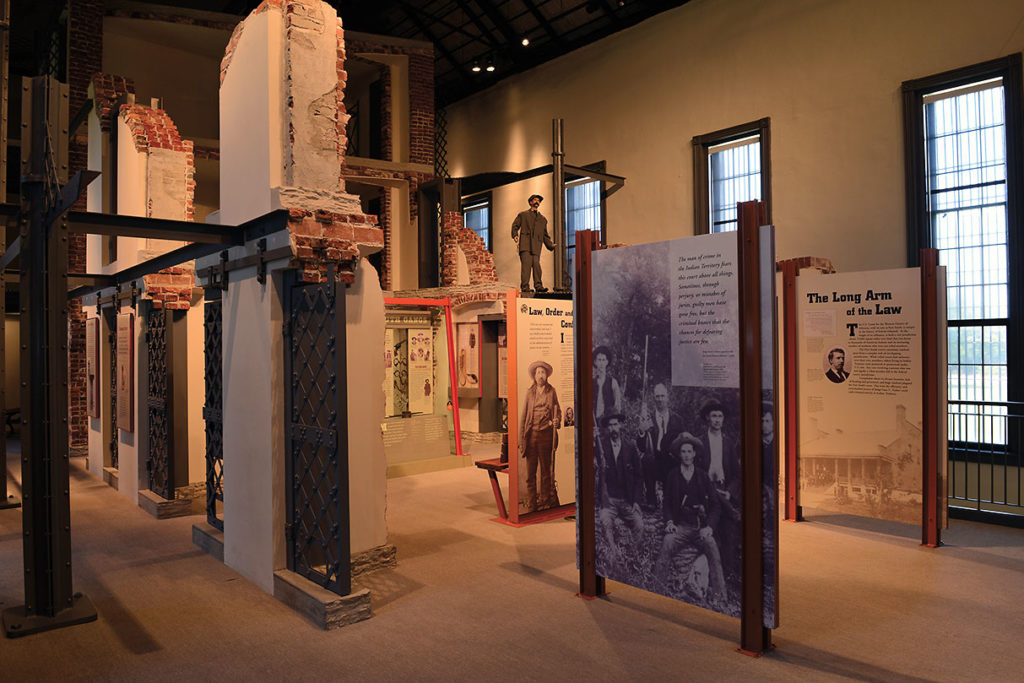 Mostly, Burton says, "he had to learn how to stay alive."
"It was hell," Burton says of Oklahoma during the Civil War. "A lot of people got killed. It was a pretty bad place to be. This was the most ravaged part of the country during that time."
Honey Springs near Rentiesville, Locus Grove, Bayou Menard near Fort Gibson, Webbers Falls, Fort Towson, Fort Coffee near Spiro, Fort Davis near Bacone and other sites reveal just how far west the Civil War raged. Today, the Choctaw Nation Museum (Tuskahoma), Muscogee (Creek) Nation Council House (Okmulgee), Chickasaw Council House and Museum (Tishomingo), Seminole Nation Museum (Wewoka) and Cherokee National History Museum (Tahlequah) are good places to learn about the history and culture of these peoples.
Back to Arkansas
By 1870, with the Civil War over and all slaves freed, Bass and his family—wife, Jennie, and four children—settled in Arkansas. He bought a farm near Van Buren and scouted and tracked for the federal marshal's office. By 1880, he was living in a house on the corner of Second and Vine.  In 1875, after Isaac Parker became the district judge for western Arkansas and the Indian Territory, Bass pinned on a deputy U.S. marshal's badge in Fort Smith. He wasn't the first black federal lawman…but became the most famous.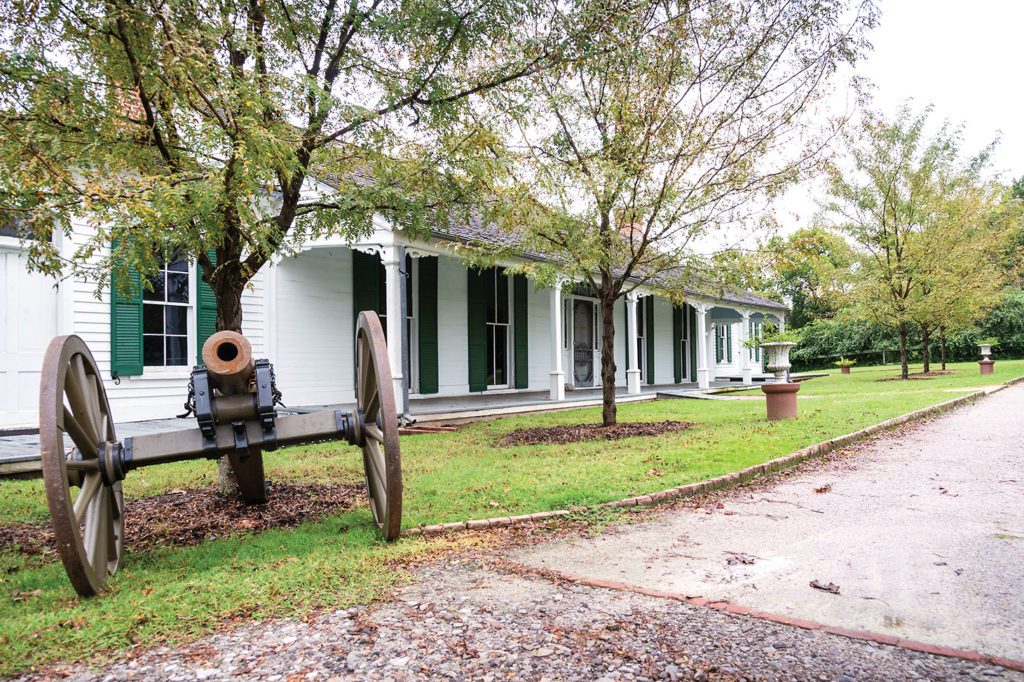 "Reconstruction Fort Smith was under Republican control," Burton says, "and it was a frontier town. It was very diverse —black, Indian, white. Juries were integrated. In the federal courts, guards, cooks, bailiffs—all of them were black until the Democrats regained control."
Fort Smith preserves its history well. A 1906 warehouse is home to the Fort Smith Museum of History, which was founded in 1910. Even the visitor center is housed in a historic building—Miss Laura's Social Club, a former bordello.
Still unfinished, the U.S. Marshals Museum aims to have its interior completed and collections installed by late this year or early next year.
The best place to learn about Reeves and the law of Fort Smith is at Fort Smith National Historic Site, where Parker's courtroom, located in the old Army post's military barracks, and the famed gallows are well-preserved. So is the basement cellblock—"Hell on the Border." Bass spent six months in that dungeon after being charged with shooting to death his cook, William Leech, while rounding up criminals in the Chickasaw Nation in April 1884.
Also visit the Clayton House, the home of William Henry Harrison Clayton, one of Parker's chief prosecutors. In 1887, Clayton helped defend Bass for the 1884 killing. Bass, who said the shooting was accidental, was acquitted.
Bass spent most of his career chasing outlaws. "He was all over the Indian Territory," Burton says. He rode as far west as Fort Sill (Fort Sill National Historic Landmark and Museum), Fort Reno (Fort Reno Visitor Center and Museum) and Fort Supply (Fort Supply Historic Site). "That's quite a long way," Burton says, "especially when you're traveling on horseback."
Contemporary newspaper accounts report Reeves returning with wagons filled with prisoners—Indians, black men, sometimes women and white men. "Reeves is the most successful marshal that rides in the Indian country," the Fort Worth Gazette reported on June 17, 1881. "He is…a holy terror to the lawless characters in the west. …It is probable that in the past few years he has taken more prisoners…than any other officer."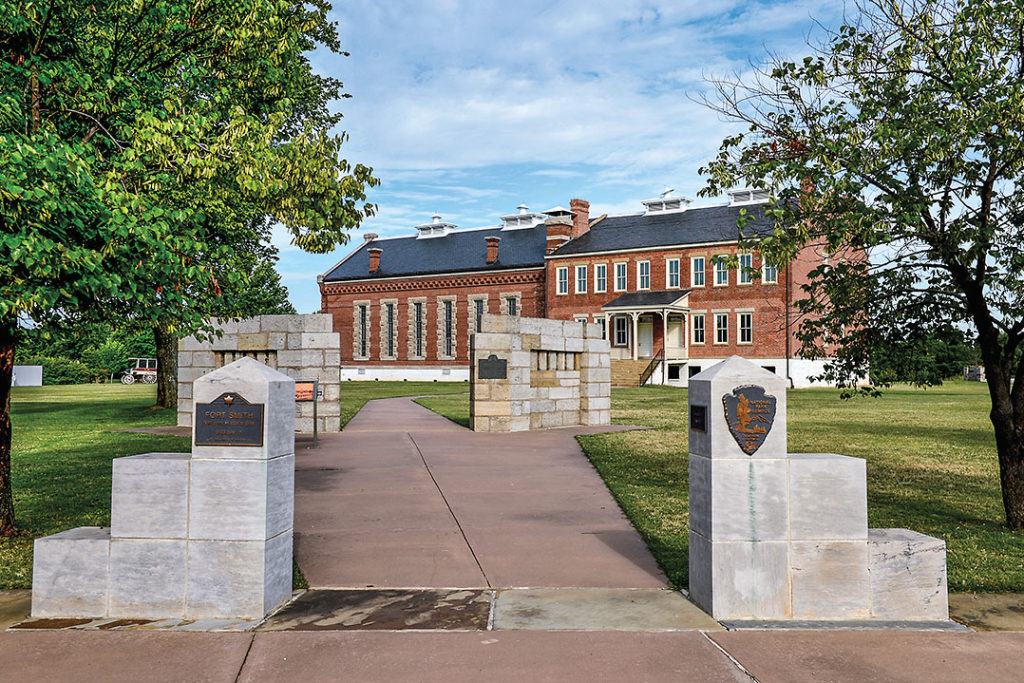 Paris to Muskogee
By 1893, Reeves was riding for the U.S. Court for the Eastern District of Texas in Paris. The Lamar County Historical Museum and Sam Bell Maxey State Historic Site offer good regional history lessons, and Western history buffs might want to check out the grave of cattle baron John Chisum.
Four years later, Reeves started working out of the federal court in Muskogee, where, today,  the Five Civilized Tribes Museum, Three Rivers Museum and nearby Fort Gibson Historic Site are must stops for history buffs.
Another town to visit is Boley, about 80 miles southeast of Muskogee. Founded in 1903, Boley was one of dozens of predom-
inantly black settlements in Oklahoma. In 1905, another black federal deputy, W.R. "Dick" Shaver, the new marshal of Boley, and white outlaw Dick Simmons shot and killed each other. Boley's history and legacy are recalled at the Boley Historical Museum, and the town also holds the Boley Rodeo and BBQ Festival every Memorial Day weekend.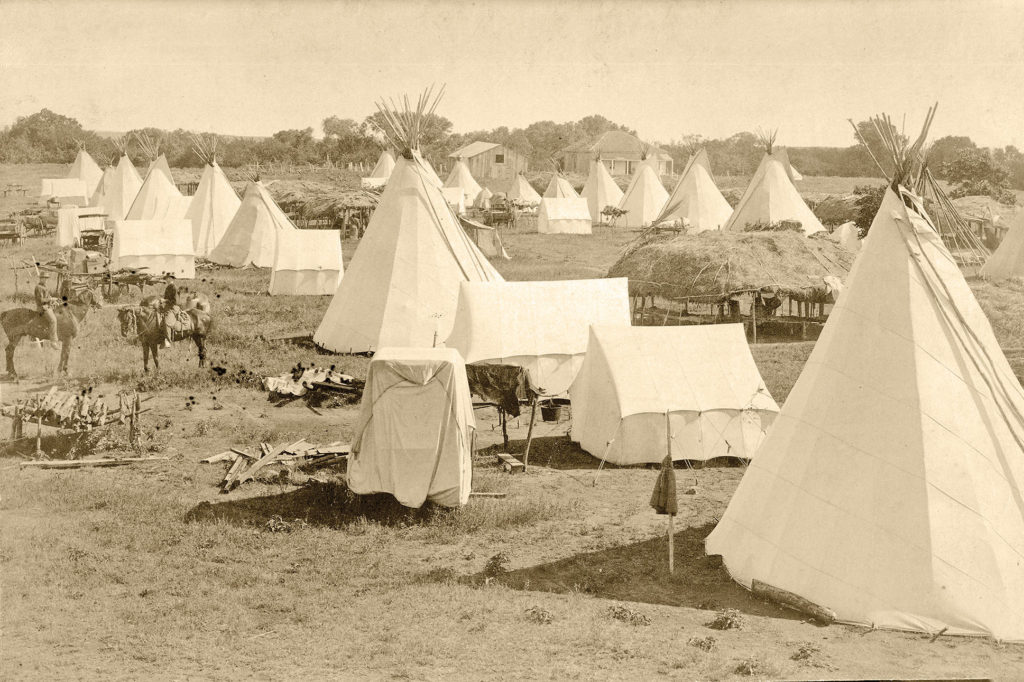 In May 1902, Reeves and a white deputy marshal, David Adams, were sent to Braggs, about 10 miles south of Fort Gibson on Highway 10. A "race war" had reportedly broken out between white and black settlers. Details are sketchy, but the riot seems to have started when whites whipped a black man who allegedly had been caught stealing a hog. On May 20, the two lawmen returned to Muskogee with 24 prisoners, 15 whites and nine blacks. "The deputies," the Dallas Morning News reported, "made the arrests without resistance."
Later that year, one of Reeves's sons, Bennie, shot and killed his wife in a jealous rage. Reeves went out and arrested his
own son after telling Marshal Leo Bennett, who suggested that another lawman bring in the killer: "Give me the writ." Bennie Reeves surrendered, was convicted, and sentenced to the federal pen in Leavenworth, Kansas.
By the time Bass retired, he said he had arrested more than 3,000 felons and shot and killed another 14. After he died on January 12, 1910, of Bright's disease, the Muskogee Phoenix called him "a faithful servant of the law and a brave officer," noting his "courage, honesty and faithfulness to official duty."
But Bass wasn't just mourned and praised in Oklahoma. As far away as Indiana, The Logansport Pharos reported Bass's death, calling him "the most noted man hunter in the territory."
His reputation has grown in the 21st century, thanks to magazine articles, books and finally some notice in Lala Land. It's about time. As Burton says, "Reeves is a role model for men and women in law enforcement today."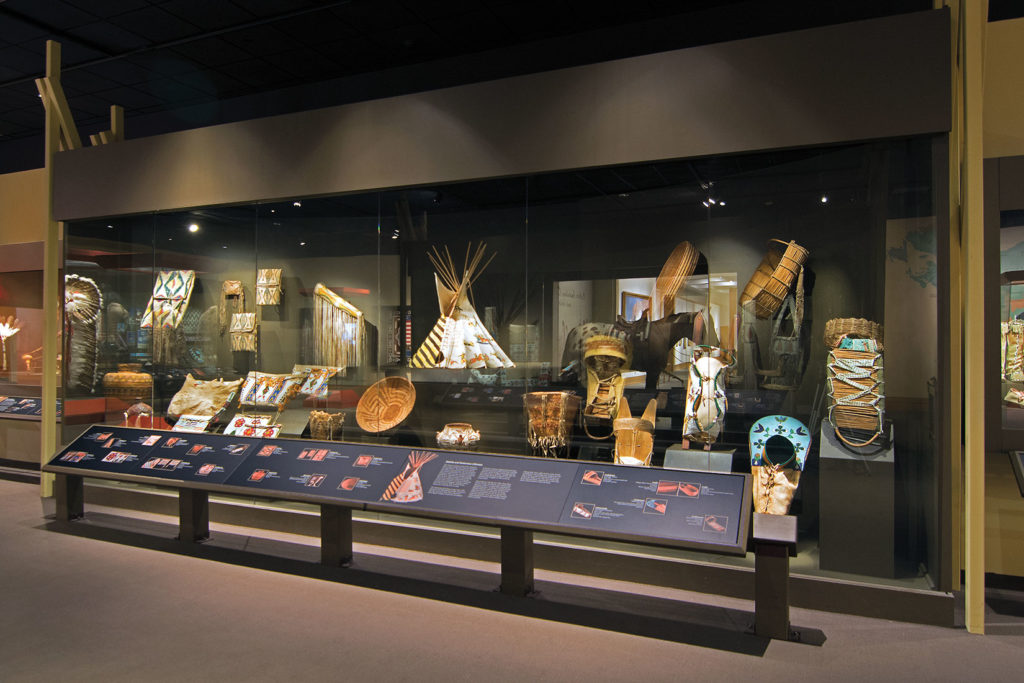 Johnny D. Boggs won a Spur Award in 2012 for his novel about Bass Reeves, Legacy of a Lawman.