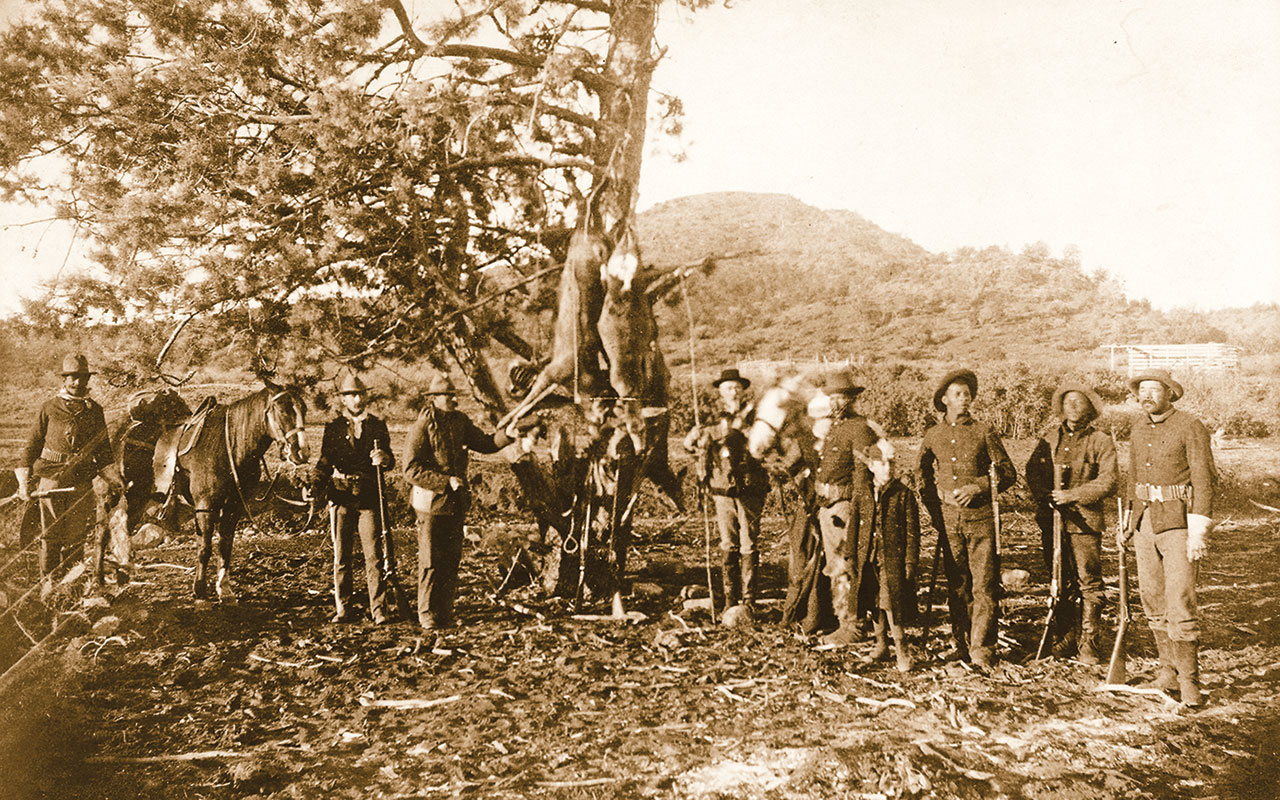 Venison is a word that is synonymous with deer today, but in the 1800s it was considered any wild game. In fact, Webster's 1895 dictionary defined it as, "hunting, game. Beasts of chase. Formerly, the flesh of any of the edible beasts of the chase, also game birds; now, only flesh of animals of the deer kind." The Black Hills Daily Times in Deadwood, South Dakota, noted in 1890, "A load of venison, deer and mountain sheep…Charley Sasse secured the entire lot for his market."
Wild game was often hunted by pioneers, explorers and campers on the frontier, but restaurants elevated a simple piece of venison. They prided themselves on having wild game, and having it was an event or offered for special occasions. Many restaurants in Kansas City, Missouri, offered wild game on their 1871 Christmas bills of fare. The Pacific House offered haunch of venison with game sauce, venison cutlets ala Chasseur and saddle of antelope with currant jelly. The Broadway and the St. Nicholas offered venison steak with currant jelly.
C.H. Imhoff was a young manager of the Commercial Hotel in Lincoln, Nebraska, when he decided to offer an annual game dinner. He knew this was being done back East, but most in Lincoln thought that it was too much of an undertaking. Imhoff didn't think so, and in December 1884 he served game to 300 diners. The dining hall was decorated with taxidermy quail, prairie chickens, pheasants, duck, geese, squirrels, hares and other game. His chef, Jackson Johnson, created delectable meals that included game broth, baked trout, saddle of antelope, black tail deer with sauce Madere, leg of elk, wild goose, duck, quail, pheasant, elk steaks with mushrooms, venison cutlets with sauce piquant and pigeon pie.
To get the game for their meals, local restaurant owners often advertised they were looking to secure wild game for their menus. In Tombstone, Arizona, Isaac "Little Jakey" Jacobs was in charge of the Maison Doree's kitchen, and one of his many duties was to procure meat for the restaurant. He placed ads in the local paper soliciting wild game and was soon preparing delicious meals with it. Farther north in Cooke (City), Montana, the Cosmopolitan Hotel offered wild game to its patrons. Johnny Allen ran the hotel and served local mountain trout, elk steaks and black tail deer stew daily in 1886.
In October 1897 the Brown Palace in Denver, Colorado, offered a variety of ducks on its menu, including plover, teal and mallard. It also offered quail and prairie chicken. Normally having duck on a menu wasn't a bad thing, but instead of being applauded for its grand menu items, the Brown was fined $25 and costs for it. After dining at the hotel, Game and Fish Department Commissioner T.S. Swan filed a complaint that he was served teal duck. He used that evening's menu as evidence citing that it was illegal to have teal duck because it was not in season. Despite the hotel's attorney's efforts, the hotel was fined. The Brown Palace also served a variety of venison including loin of elk and the trendy venison with currant jelly.
Today, you can hunt your own or possibly find game meat locally. If not, you can order a variety of wild game venison raised on historic land at Broken Arrow Ranch in Ingram, Texas, elk and other items from the historic Sayersbrook Bison Ranch in Hermann, Missouri, or elk, bison and wild boar from the Jackson Hole Buffalo Meat Company in Jackson, Wyoming. If you're traveling in the West you can also dine out at the many historic restaurants that offer wild game.
Venison Steaks with Currant Jelly
4 venison steaks, about 5 oz each
bacon fat or olive oil
½ teaspoon salt per steak
freshly ground black pepper to taste
1 teaspoon butter
1 cup beef stock
2 tablespoons red currant jelly
1 teaspoon celery seed
Coat the steaks with a little fat or olive oil and then the salt and pepper. Set aside. Place the butter, stock, jelly and celery seed into a small sauté pan and heat over low. Once the butter has melted, stir and increase the heat to high and bring to a boil. Reduce heat to simmer until the sauce has reduced almost by half. Heat the grill and cook the steaks over moderate heat for 3-5 minutes on each side, turning once. Venison should be cooked medium rare. Allow the steaks to rest for 5-10 minutes and then serve with the sauce poured over them.
Recipe adapted from Benton, Montana's The River Press, May 10, 1882.
Sherry Monahan kicked off her journey into Old West cuisine, spirits and places by authoring Taste of Tombstone. Visit SherryMonahan.com to learn more about her books, awards and TV appearances.