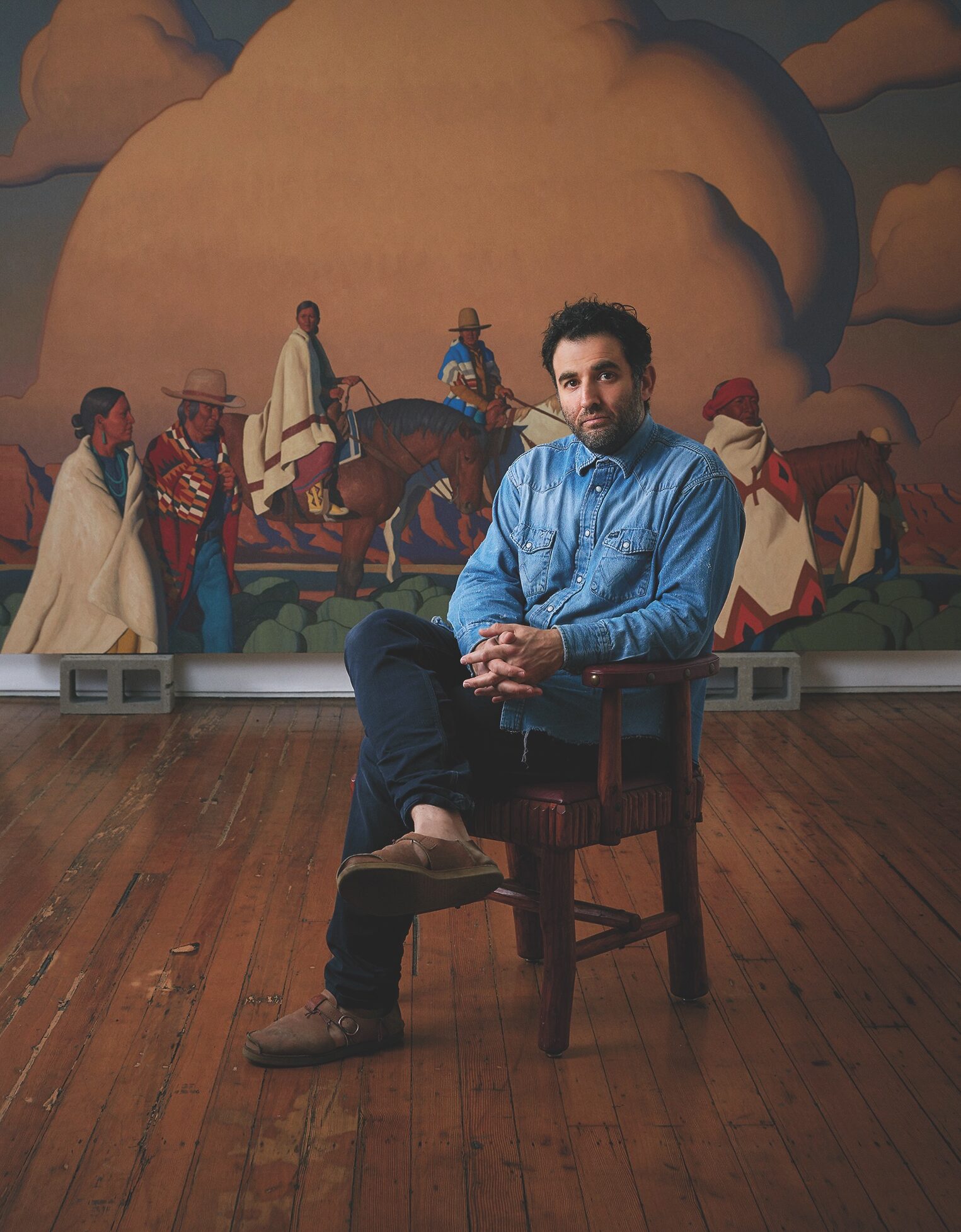 Western Artist
Logan Maxwell Hagege (b. 1980) is a Los Angeles-based contemporary artist with modern visions of the West. Hagege's mature style, which he terms "stylized realism," has made him a master of geometric design where angles and edges are softened by the curve of billowing clouds. His signature clouds often mimic the shapes of the blanketed figures in the foreground, creating visual roadmaps for the viewers, further adding to the design, and narrative of each composition.
I grew up in the San Fernando Valley, in Los Angeles.
My parents were always supportive of my creative pursuits. My early interest in art, learning to play the drums and the guitar, surfing and making surfboards in my parents' garage, were all encouraged. I never felt pressure to take a more "practical" route when beginning my career as a fine artist. 
Going to school was not for me. I felt like I was in prison. As an adult, with children of my own, I am open to the idea that traditional schooling isn't made for all people. 
Los Angeles in the '80s and '90s was a great place to grow up. Playing on our suburban street as a kid with my siblings was my world. As a young kid, I was exposed to the cultures of skateboarding, surfing, music and, of course, art. Seeing that people did all these things as their "professions" shaped who I became. 
Illustrating is fine art and storytelling at its best. N.C. Wyeth, considered an illustrator, is one of my favorite artists of all time. 
A comic book was probably my best training ground as an early artist. All I wanted to do was become a comic book artist. I practiced day and night copying the drawings in the pages of the comic books I collected. Reflecting on my childhood interest, I realize now that I never really read the stories. It was all about the art for me. 
An artist should show you their unique view of how they see the world. When I think of the great artists throughout history, I can instantly envision their take on the world. The most interesting thing is seeing how two artists can look at the same subject and paint them in a completely different way. 
A mentor should be able to guide without putting too much of their own vision into the critiques. 
A summer sky is a playground of the imagination. Crazy cloud shapes, deep blues, dusty horizons, colorful sunsets—all elements I love to include in my artwork. 
Maynard Dixon was a visionary. His unique take on the Southwest showed viewers that the desert was not a boring, brown place. His work was modernistic yet retained a healthy amount of realism. I feel thankful to Dixon and other artists of his era because they have helped me along on my path—just by being able to study their work. 
The Navajo people have an amazingly rich history. Though I like to think of people as individuals and not a group, many Navajo people I have come across have been extremely warm, down to earth, and have very good senses of humor. 
The desert is an endless source of inspiration for me. The dusty dirt roads are so mysterious and inviting. I have a hard time stopping to paint or photograph one location, because I am always curious to discover something new around the corner. 
Monument Valley is one of the icons of the American West. I find it more interesting than the Grand Canyon. It is an amazing place to experience visually. 
A musician is a person I can relate to. We are both creating something out of thin air and hoping someone out there connects to it. 
Stylized Realism is a concept I came up with to describe my artwork. People often ask me "what style" of art I do. I always have a hard time describing it. So, I thought Stylized Realism sums it up. There is an element of realism, but the images are stylized and altered to strengthen my vision of the painting.
What history has taught me is that being peaceful and loving is the best path.