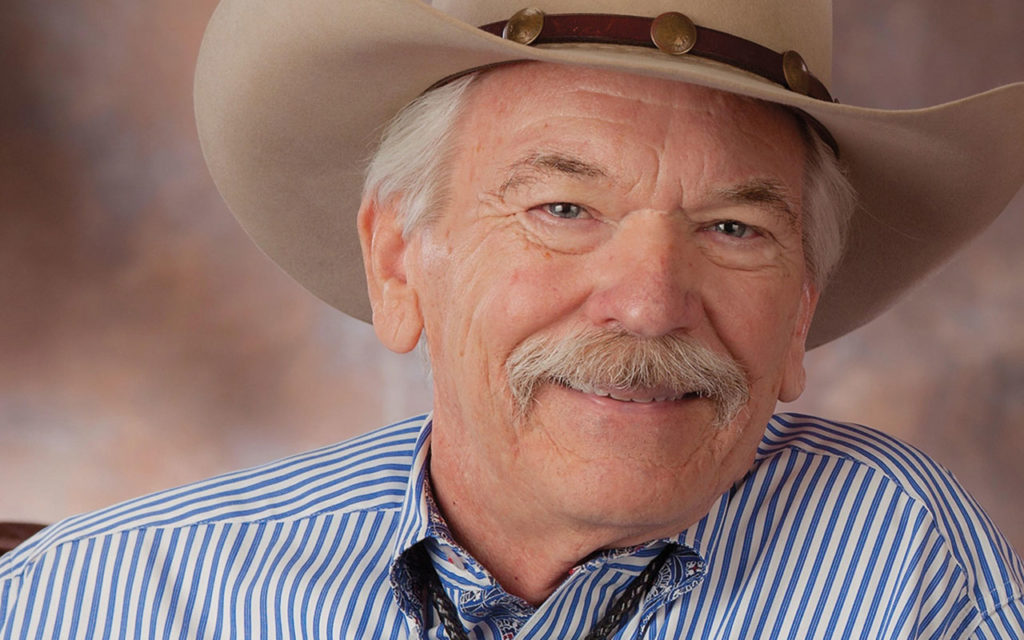 Dennis Gallagher is the founder and CEO of the Prescott Western Heritage Foundation, Inc., a charitable, all-volunteer 501(c)3 nonprofit corporation whose mission is to preserve and promote Western heritage. In 2019, Dennis's vision for a Western Heritage Center on historic Whiskey Row in downtown Prescott became a reality. The center was open for a short ten months before temporarily closing due to the Coronavirus, but volunteers had already greeted visitors from all 50 states and over 30 foreign countries.
I grew up in Arizona always appreciating its beauty and its history. I remember that at a very young age, my dad would drive us around the state to see Prescott, Jerome, Tombstone, Indian ruins, the Grand Canyon and many other historic and scenic sites.
My mom and dad were extremely hard-working farmers in Illinois but moved to Arizona to escape the harsh winters. Since I was the last of seven siblings, I never really experienced the farm life. My dad loved Arizona, and that is undoubtably how I learned to love the beauty and history of the state.
Microelectronics and the semi-conductor industry is the field I accidentally fell into through the help of my provost in the Engineering College at Arizona State University. After I graduated, I continued to work at Motorola for 16 years. I travelled internationally for all those years, which gave me a whole new perspective on history and culture as I visited different countries and ancient sites.
A place in Arizona everyone should visit is the very historic city of Prescott. Established as the first Territorial Capital even before there was a town, Prescott is a haven for historians and authors who document our history, and the artists who provide us with a taste of the Old West and of our Western lifestyle.
Starting the Western Heritage Center has been a dream of mine since I had a life-changing medical experience in 2012. I was determined to leave a legacy that everyone could enjoy at no cost, making as many people as possible aware of the history and heritage of Prescott and Yavapai County.
A Western artist is passionate about what he or she paints or sculpts. There is a connection to the Western way of life, the beauty of the Western landscapes, the images of the Old West and of today's Western way of life.
Arizona history is fascinating and well documented thanks to many of our state's great historians, both from the early days of the territory to the ones who are continuing to research and write about it today.
A good piece of pie can be found at Rock Springs Café in Black Canyon City, the oldest independently run restaurant still operating in Arizona, and it just happens to be in Yavapai County.
Marriage at the age of 19 forced me to become responsible and necessitated that I work hard and graduate from ASU. If I hadn't married when I did, I'm not sure that I would have finished college. After 53 years, MaryAnn and I are still in love and share our love of Prescott with our friends and visitors from all over the world.
The Western Heritage Center has become an important destination in downtown Prescott. With no entrance fee, visitors from all over the world can discover Yavapai County's unique history and heritage.
Sculpture was what brought my wife and me to Prescott, at first part-time to bring my clay pieces to the foundries, then after a couple of years, we decided to move here full-time.
If I could ask Sharlot Hall a question it would be how she had the foresight and the perseverance to not only believe strongly in preserving Prescott's history, but to actually see it through.
What history has taught me is that the only thing constant is change. The deeper we dig and investigate, the more truths come to the surface. Sometimes after reviewing information from different sources about a historic event or time, we have to draw our own conclusion.