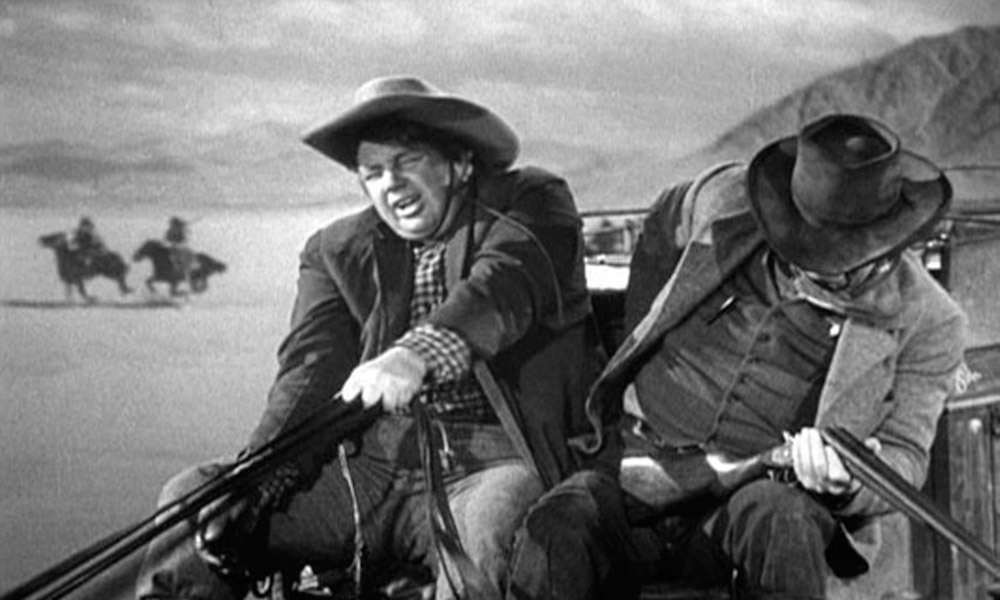 Andy Devine was born in Flagstaff, Arizona on October 7th, 1905 but when he was a year old the family moved to Kingman where he grew up. Thanks to a childhood accident Andy Devine's voice was best described as a "dual-tone wheeze."  Later, when asked if he had nodes on his vocal cords Andy quipped, "I have the same nodes as Bing Crosby but his are in tune."
As a college athlete at Northern Arizona State Teacher College (today's NAU) in Flagstaff and Santa Clara University where he starred in football Andy also picked up a few dollars playing semi-pro using the pseudonym, Jeremiah Schwartz. He got into acting and did well during the silent movie era but it looked like his career was over with the advent in talkies. He told a story about being so depressed that he decided to commit suicide by sticking his head in the oven and turning on the gas. His effort was foiled by his landlady who had turned off the gas because he hadn't paid the rent.
Despite his unique voice Andy still managed to get good roles. His first break came in 1931 with The Spirit of Notre Dame. During the late 1930s his big break came when director John Ford was looking for a stagecoach driver for his 1939 epic western. Ward Bond was designated for the role but he couldn't handle "six ribbons." Andy could and the movie, Stagecoach became his break-through into the big time. It was also the breakout film for John Wayne.
He eventually appeared in more than 400 films, including, The Over the Hill Gang, How the West Was Won and The Man Who Shot Liberty Valance. He was Roy Rogers' sidekick, Cookie, in ten Rogers flicks. From 1951 to 1958 he was Guy Madison's sidekick, Jingle P. Jones in The Adventures of Wild Bill Hickok.
While working for Fox pictures in 1933 he met Dorothy House. They were married that same year and remained together until his death on February 18th, 1977.
https://truewestmagazine.com/arizona-cattle-company-a1-brand/