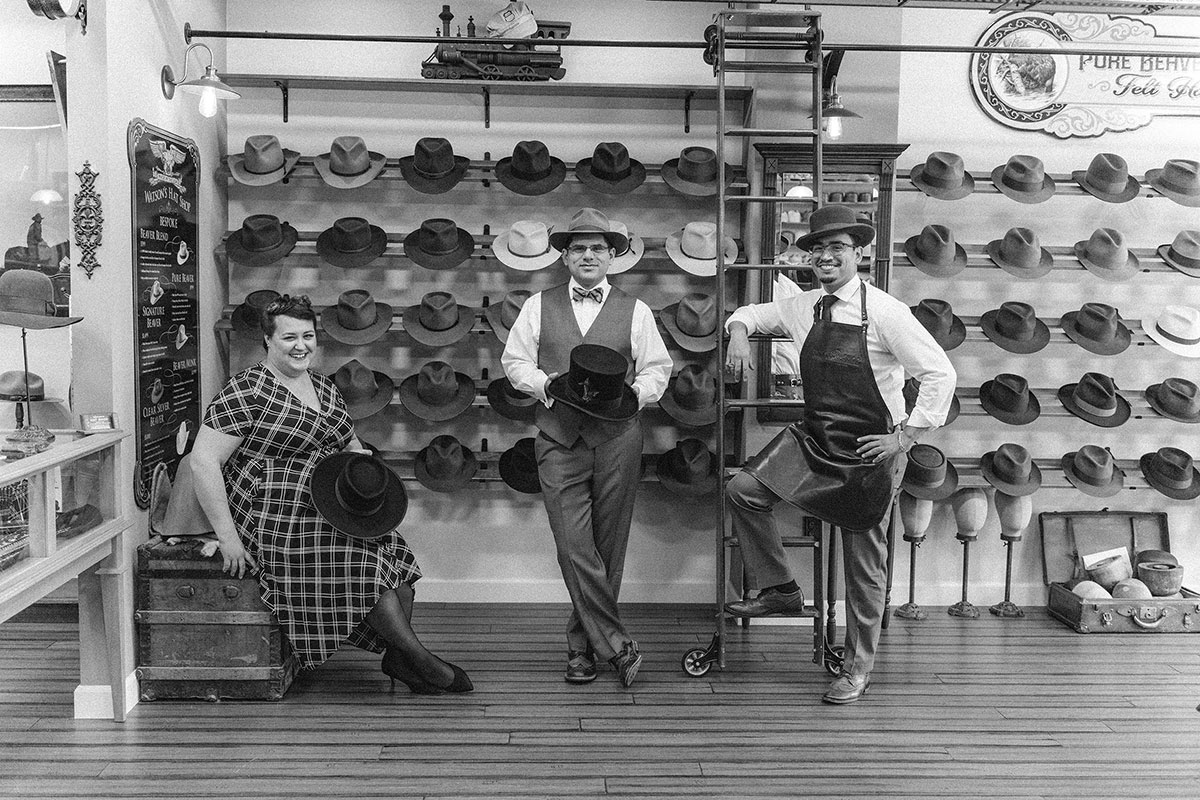 A pioneer steps into a hat shop to buy a hat and stares at wooden hat blocks, presses and other interesting machinery. It's nothing new to him because he knows this is how hats are made. Buying a hat on the frontier meant getting measured and selecting the trendy material of the day, which included beaver, silk, straw or wool.
When first-timers walk into most custom hat shops today they're usually surprised when they see the same thing that their 19th-century counterparts did. Several master hatters are keeping the West alive by making custom hats just like they did back in the day. Stepping into their stores is like walking back in time. Sure, they have some hats on display, but they're mostly for trying on to determine the perfect style for each customer's face and wardrobe.
These modern-day businesses have their roots steeped in history and use techniques and equipment similar to what was used back in the 1800s. Some customers who sit down for a fitting might be surprised when the hatter places a massive French conformateur on their head. After the measurements are secure, customers select from the materials for the hat and band. Let's tip a hat to some of these modern Western hatmakers.
Watson's Hat Shop | Cave Creek, Arizona | 480-595-9777 | WatsonHatShop.com
Master hatter Eric Watson began his quest by restoring vintage hats when he was 12. Not satisfied with the corporate world, Eric sought to start his own hat business to make hats the old-fashioned way. He purchased the inner workings of the one of longest operating hat shops in the country, Hand the Hatter, in business from 1860 until 1989. He also gets help from his wife, Emily, who makes hats and creates designs for women's hats and Alex is his apprentice learning the trade. Eric says, "Back then, people took pride in what they wore because it was tailor-made by a master craftsman. I value the traditional ways and have incorporated antique machinery dating back to the late 1800s. These hat-making machines and tools help make my business a functional working museum. My hope is that you will be transported back in time when you turn the brass knobs, walk through my doors, and gaze at the tin ceilings." Watson's creates each hat with the same precision and respect.

Famous hats: Netflix's Godless series
Greely Hat Works | Greeley, Colorado | 888-367-2428 | GreelyHatWorks.com
Greely doesn't just keep the West alive with its techniques and antique tools—the company is living Western history. The operation has been creating and renovating fine quality headwear since 1909. Trent Johnson bought the company in 1997 after apprenticing for a few years and upholds the traditions of his predecessors. His love of hats dates back to his childhood when after a hard day of cowboying on a ranch, he went into the hat shop and helped out.

Trent says, "Hats are built by hand with elbow grease of a skilled hatter using tools and techniques, and sorcery that have been around since the 1800s. But it isn't just the skill of the hatter that makes a great hat; it also depends on what the hat is made from."
Greely makes hats for just about anyone, but focuses on working cowboys' hats. A conformateur is used to measure each customer's head, and those details go into a long-kept, old-school card catalog.

Famous hats: Paramount's Yellowstone series
Baldwin Hats | Sisters, Oregon | 541-610-9978 | BaldwinHats.com
Gene Baldwin is a retired funeral director turned hat milliner. When he retired to Oregon, he needed a hobby so he started selling cowboy hats. When a friend asked if he was going to just sell them or make them, the creative Gene had a light-bulb moment and visited a nearby hat-maker to see how it was done, bought some antique equipment, got a quick tutorial and started making hats in 2004.
He says, "Cowboys on the frontier and to this day rely on a perfect, well-made hat that shelters them from rapidly changing weather. Once they're out on the range they can't go back and make a switch." Gene says the cowboy hat is his most popular style.
Much of the hat-making equipment Baldwin uses was made in the 1800s by hatmaking companies no longer in business. One of the key challenges he faced was bringing the equipment up to modern, usable standards, using old drawings and photos as guides.

Famous hats: Lead singer Nate Hilts of The Dead South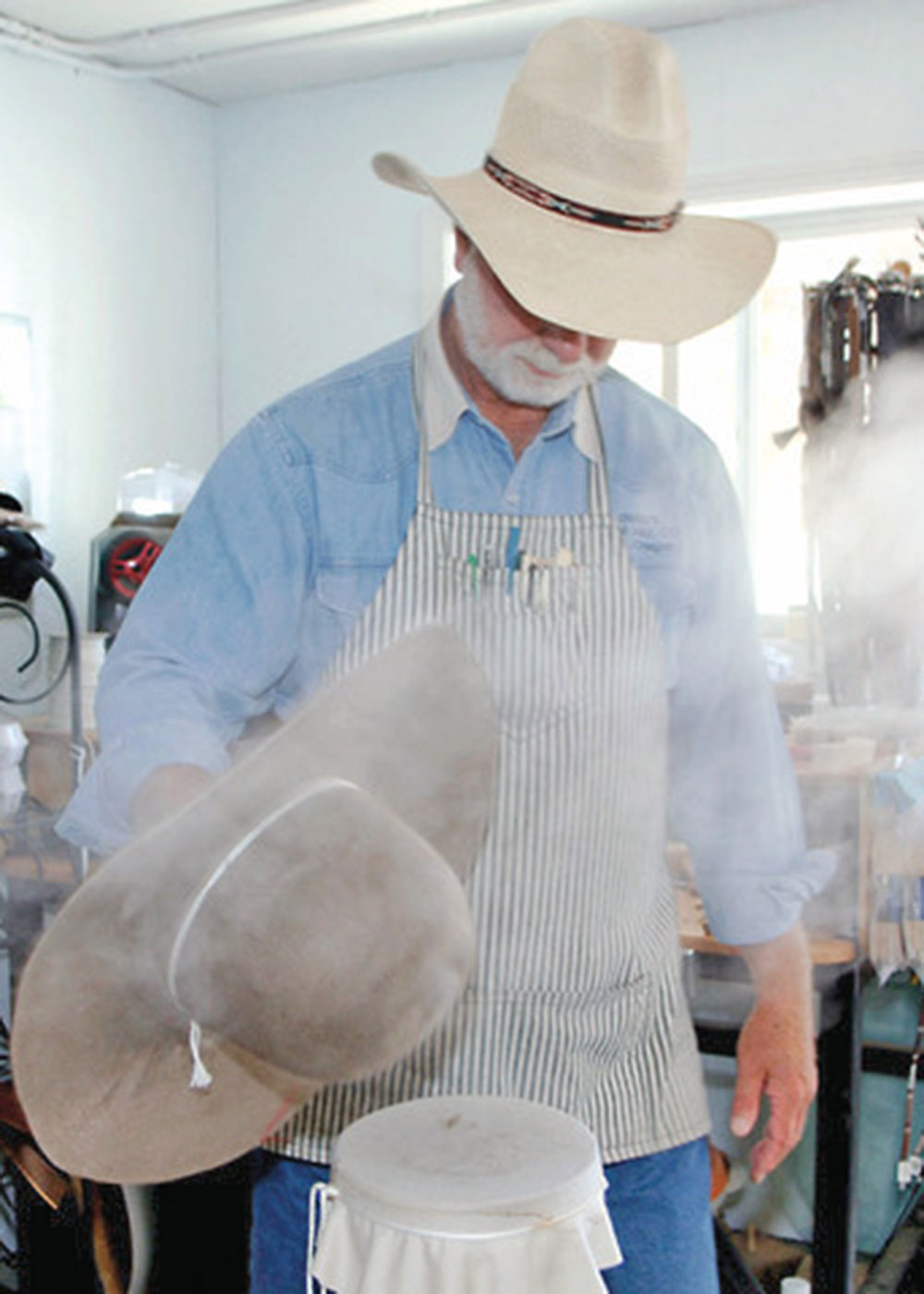 O'Farrell Hat Company | Santa Fe, New Mexico | 505-989-9666 | OFarrellHatCo.com
Kevin O'Farrell started his hat-making business more than thirty years ago. His quest was to learn from the best and he studied with hatters from Oregon to Florida. His mentors were the most respected names in the business, like Jack Waldrip, Grady Nutt, Joe Bishop, "Tex" and Jim Jones. He chose his preferences of technique and design, applied-skill and inventiveness, and honed his ability to "know" the best proportions of crown and brim for each person. His son, Scott, apprenticed with him and is the second generation of the O'Farrell legacy.
The company uses antique equipment like conformateurs and crown irons to make hats the way the pioneers did. Scott says, "I can only keep the spirit of the West alive because my customers do. They want authentic hats, so I make them."
Famous hats: Scott's made them, but he's not telling…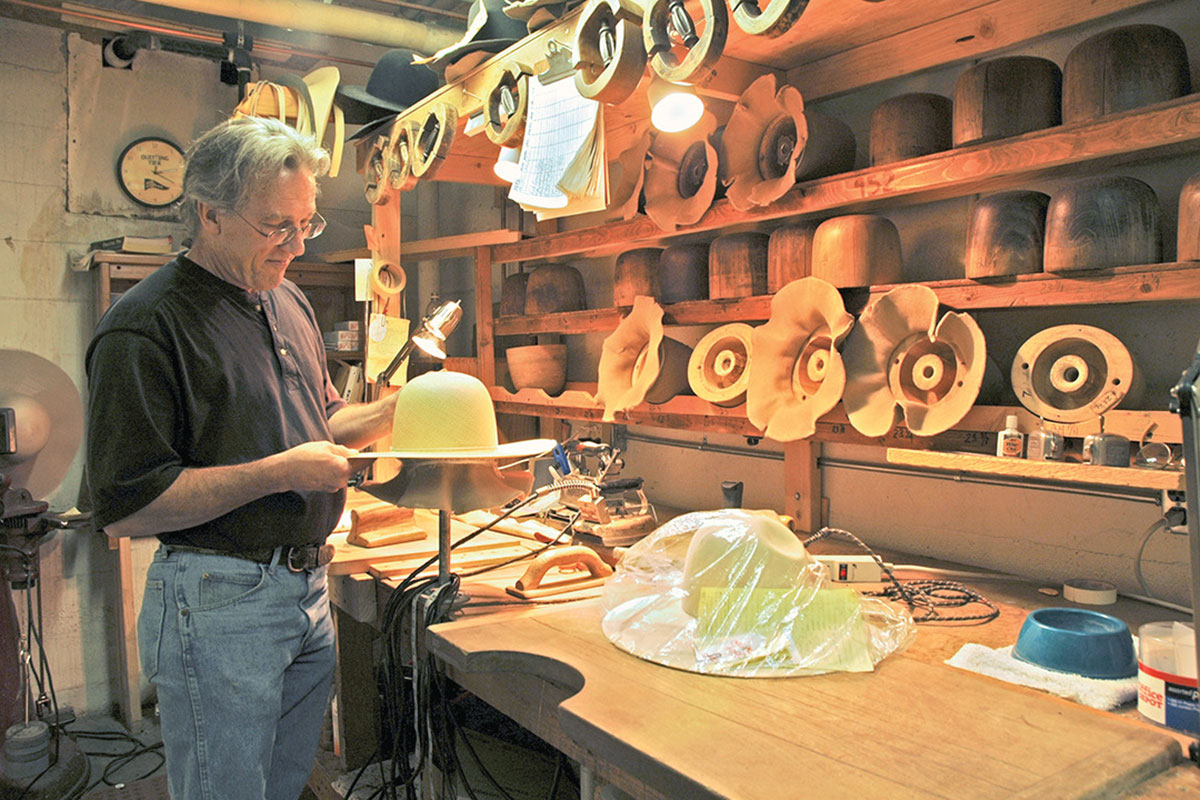 Bronco Sue Custom Hats  | Tularosa, New Mexico | 575-630-1912 | BroncoSue.com
Bronco Sue Custom Hats started in 1997 by making hats using antique machines that were developed in the late 1800s and early 1900s. The company says it has spent six years amassing one of the most complete collections of antique hat equipment around, including its newest machine, which is 65 years old. The company says, "What these machines do cannot be duplicated by hand work. Where these antique machines do the best job, we use the machines. Where hand work is best, we do handwork. Our goal is to produce the finest hat you can buy."

Famous hats: Actors Bruce Boxleitner and Marty Kove
Óptimo Custom Hatworks | Bisbee, Arizona | 520-432-4544 | OptimoHatworks.com
Grant Sergot is a self-taught hatter who discovered the art by accident when he was 22. In 1972 his truck broke down on a snowy night and he found an old, blown-out felt hat on the side of the road. That night he sat by a fire as the snow fell, and as the hat got wetter, the brim slumped. He realized that the moisture made it malleable so he manipulated it to gutter the water off. He threw the hat up on the dashboard (a hat no-no) and in the morning the sun began to dry the hat. The drier the brim became, the less he could work it, but the more it held its form. It was then that he realized, "This is a sculptural form."
His salon studio is laid out like a museum so people can view hats being made using traditional tools and techniques. Grant's oldest piece of equipment dates back to the 1840s. He says, "Our hats are sewn and finished by hand. I love my job."

Famous hats: Actor Tom Selleck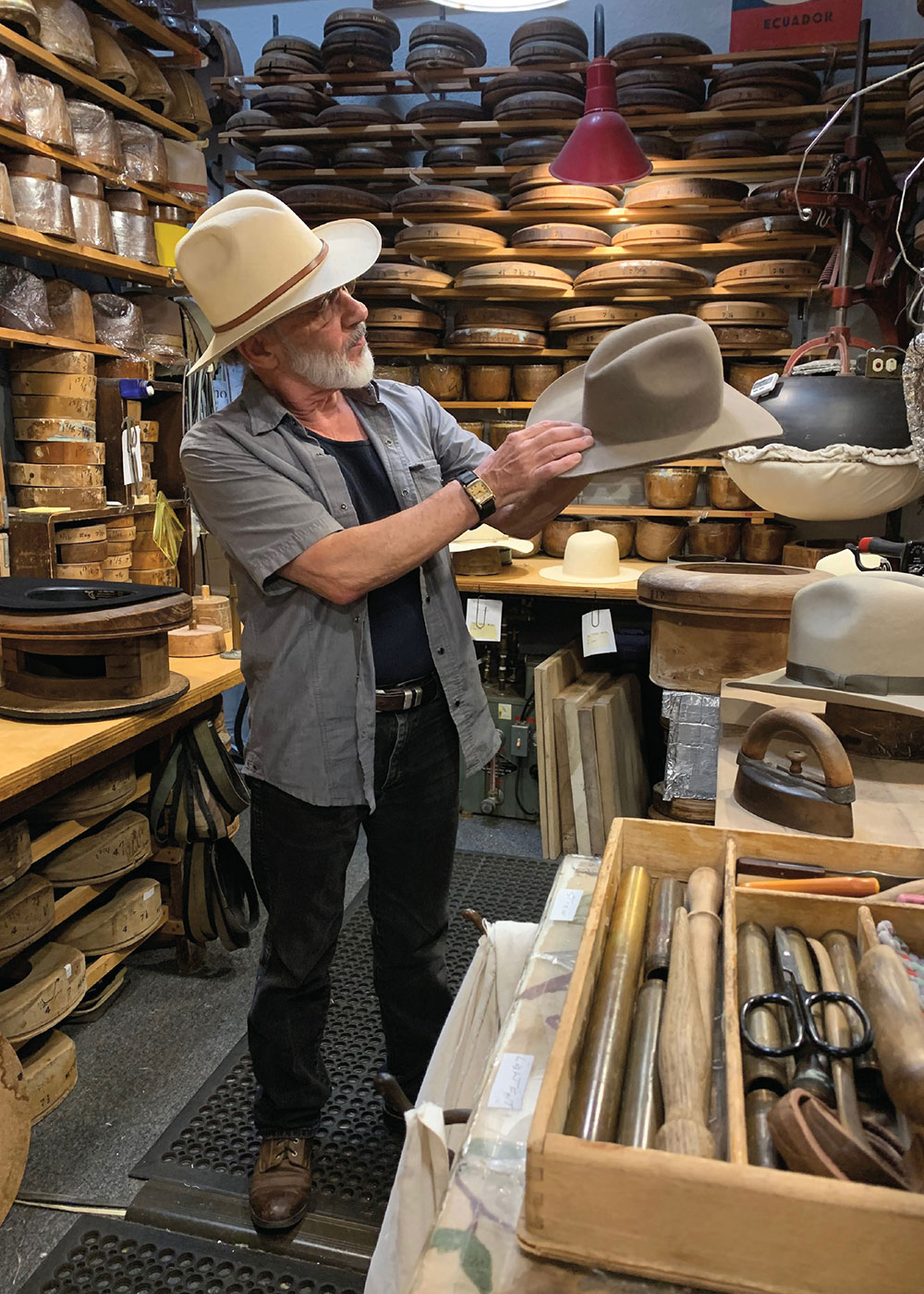 Knudsen Hat Co. | Richmond CA | 510-232-3644 | KnudsenHats.com
Bill Knudsen studied to be a sculptor and in the mid-1980s put that talent to work by making custom hats. He began by selling pre-made hats on Fisherman's Wharf in San Francisco, but wanted something different for himself. That's when he started making custom hats for himself, but people liked them so much that he sold them right off his head! He then opened a Western wear store in Richmond where he specializes in making custom historical and movie character hats and finishes each one by hand.

Famous hats: Actor Bruce Boxleitner and Myth Busters: Myths of the Old West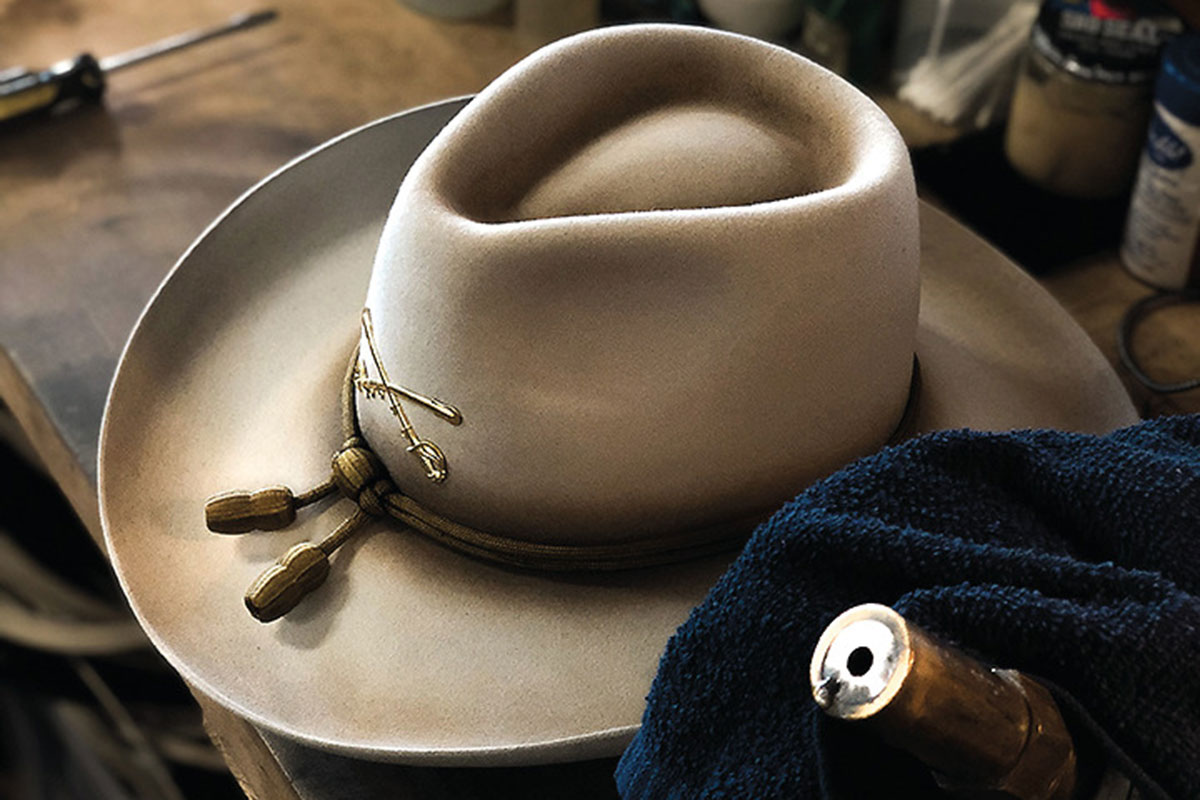 Jaxonbilt Hat Co. Intl | Salmon, Idaho | 208-756-6444 | JaxonbiltHats.com
Roy Jackson is a Master Hatter whose been a dentist, served in the Navy, been a range conservationist and an auctioneer. As a lifelong hat wearer, Roy found his true passion when he began making custom hats when he and his wife wanted to move back to Salmon.
"I needed a job. I apprenticed with Sullivan Hatters in Las Cruces, New Mexico, for three months and finally made the move back to Salmon and set up shop in a garage just off Main Street. I fell in love with hat-making and often wished that I should have made the switch to hatmaker many years earlier. I settled into a small shop with Klemmer Boots and spent time advertising and building up the business. In 2010 an Aussie lass named Bernice "Ben" McNeven apprenticed with him and they became international partners.

Famous hats: Actor Clint Walker and Riders in the Sky band members
Catalena Hatters | Bryan, Texas | 979-822-4423 | CatalenaHatters.com
Sammy and Carolyn bought a Florida hatter's equipment, only after they promised him they would only use it for custom work and not sell out to a larger company. They opened their business in 1983 and began living their dream of owning and operating a custom hat business. Their two sons, Scott and Travis, also work at the shop. Sammy has seen how fashions have changed over the years, from the urban cowboy craze in the seventies to the Gus style of recent years. Scott thinks the neatest thing is that trends may change, but they still use the old equipment.
Scott says, "First-timers walk into the store and wonder why we have so many of the same hat style for sale. I then show them shop in the back of the store where they see hats being customized. They are really amazed and have an ah-ha moment. They're also surprised at how many options they have when choosing their hat."

Famous hats: Singers Willie Nelson and Neal McCoy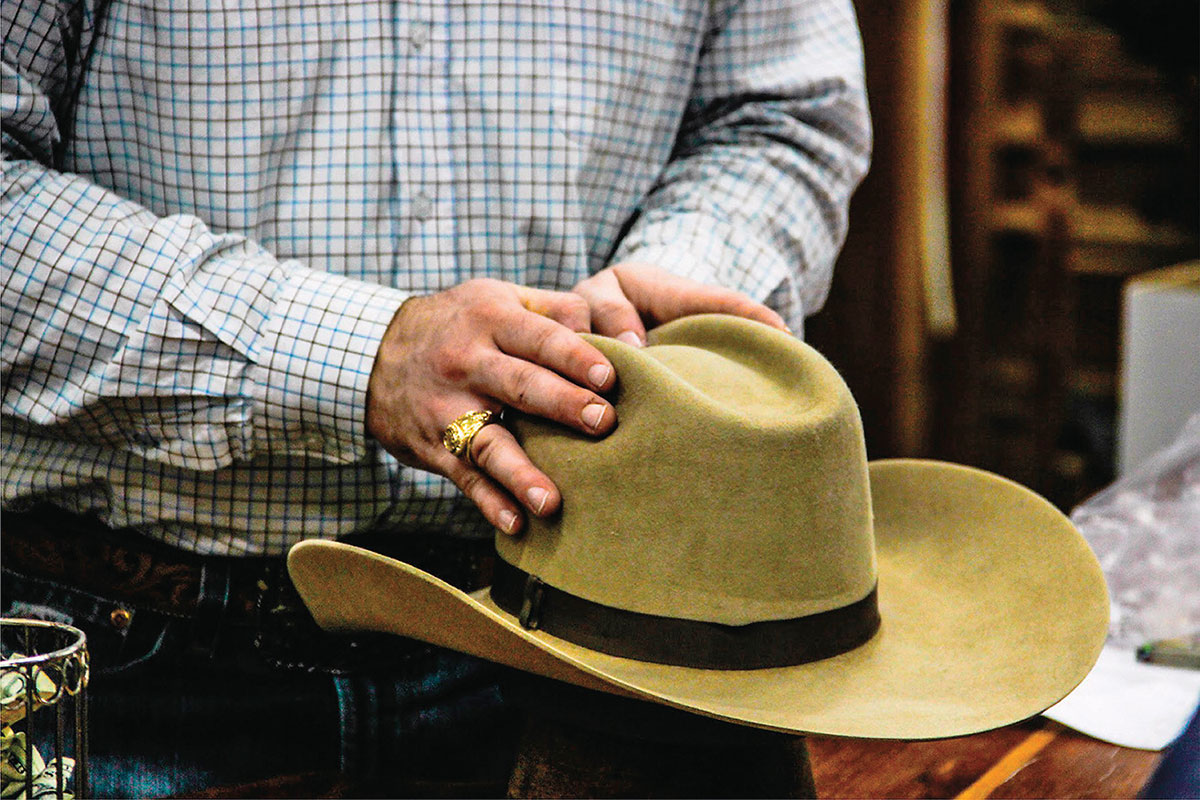 Shorty's Caboy Hattery |
Oklahoma City, Oklahoma |

405-232-4287 | ShortysHattery.com

Lavonna "Shorty" Koger started Shorty's Caboy Hattery in 1990 in the historic Stockyards City neighborhood of Oklahoma City, Oklahoma. Growing up, she had a passion for horse life and was a rodeo cowgirl from the age of fourteen and built a name for herself in the horse industry. Per ShortysHattery.com, she was "determined that nothing was going to stop her, Shorty has the only woman-owned and operated custom hattery in the United States. Shorty grew to love making quality hats that are now worn by many who are well-known in the Western world, including horse show and rodeo winners and even country music stars." Shorty's Hattery takes pride in making hats by hand and using antique equipment like the pioneers did. Their hats are known for their handcrafted stitching, fun designs, colors and impressive detail.

Famous hats: Shorty says, "Everyone who wears one of my hats is a star"


Sherry Monahan's been writing about the pioneers who settled the West for over 20 years. Her witings tell the stories of the men and women who lived and died on the frontier. Each time she pens a story she learns something new about their food, beverages, fashion or daily life.