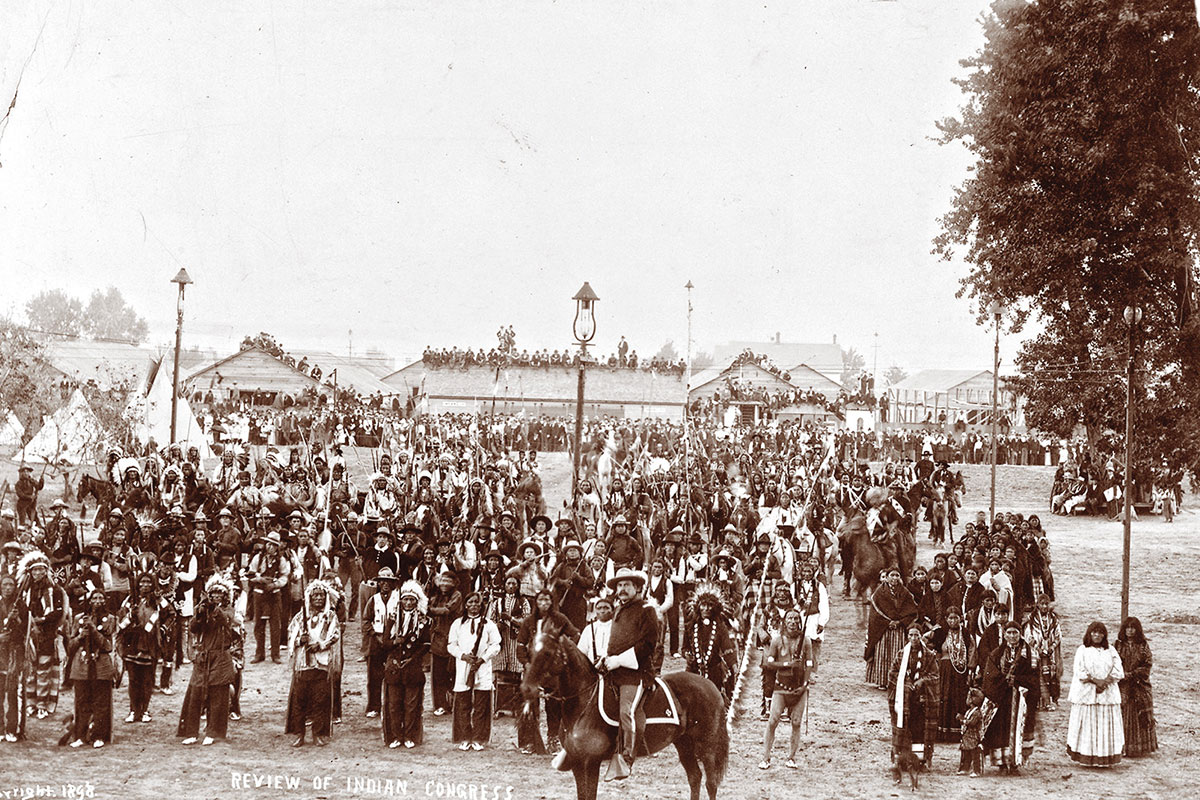 The idea must have seemed glorious—representatives of all the great American Indian tribes, gathered together at the Trans-Mississippi International Exposition at Omaha, Nebraska, in the fall of 1898. Each tribe would have its area to demonstrate its culture, its history, its character.
Indian Commissioner W.A. Jones put it this way in a letter to the tribes: "It is the purpose of the promoters of the proposed encampment or congress to make an extensive exhibit illustrative of the mode of life, native industries, and ethnic traits of as many of the aboriginal American tribes as possible. To that end it is proposed to bring together selected families or groups from all the principal tribes and camp them in tepees, wigwams, hogans etc., on the exposition grounds, and permit them to conduct their domestic affairs as they do at home, and make and sell their wares for their own profit."
Fine ideas. And seemingly headed in the right direction when more than 500 Indians representing 35 different tribes attended. All was in place when the proceedings got under way on August 4, 1898.
But nobody was really happy. Noted Indian ethnologist James Mooney, one of those overseeing the show, thought too much emphasis was given to anomalies of Native culture, like attacks on whites and strange dances. And the Indians? Many of them felt like animals in a zoo, objects of curiosity at best.
Things didn't improve in the nearly three months the program ran. Producers saw the popularity of another exhibit at the Exposition—Buffalo Bill's Wild West—and felt they needed to move in that direction if they were to attract visitors. Daily life activities were de-emphasized if not forgotten. Sham battles, races, games and more were emphasized. A 5,000-seat grandstand was built to hold the growing audiences.
And the government did even more to help boost the numbers.
Officials allowed a special guest to make an appearance. Legendary Apache leader Geronimo was taken from Fort Sill, Oklahoma, where he was held as a prisoner of war, and transported to Omaha. An armed detail accompanied him, although he was no danger to anyone. In fact, the 69-year-old learned an important lesson: there was value in his signature and photograph. He would make a near fortune by selling those at other fairs over the next decade.
Geronimo wasn't the only one who saw dollar signs. The overall Exhibition mission changed from education to entertainment.
So when the fair ended on October 31, the Indians went home. Many would participate in expositions at other U.S. locales in the early 1900s. And many were recorded in remarkable photographs taken by Frank A. Rinehart and Adolph Muhr—one of the most complete and natural Indian portrait collections ever assembled.
Those may have been the only pleasing things that came out of the 1898 Indian Congress.