Highlights from The Russell Auction in Great Falls, Montana.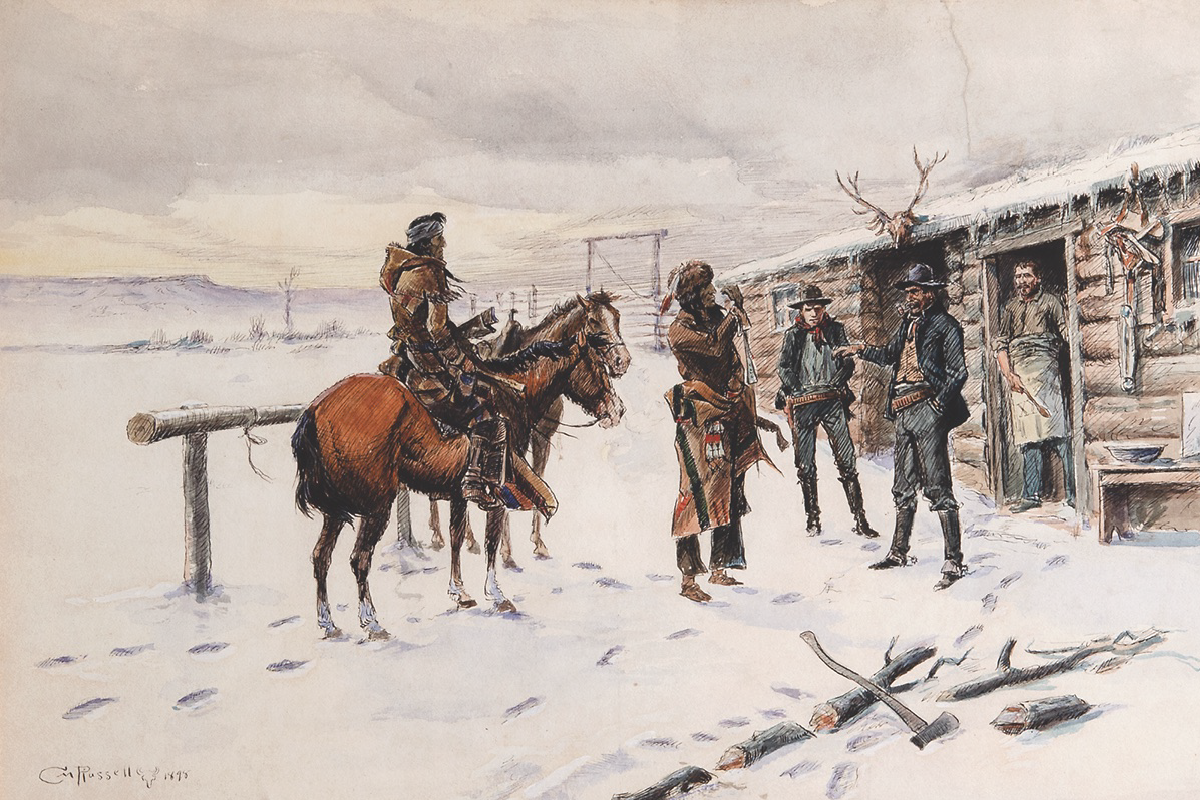 As might be expected, the strongest sellers at the Russell Auction, held at the C.M. Russell Museum on August 19, were works by the artist himself. Charles Russell's painting Drifting, an early work from 1889-90 and based on his experiences as a cowboy in Montana, pulled in $643,500. Christmas Dinner, his pen-and-ink drawing of American Indians arriving at a cabin on the holiday fetched $140,400. The drawing begs the question, were they invited or unexpected guests? A decidedly less peaceable image, Cochran Shot the Indian, effectively captured the Old West action that has made Russell so popular over the years. When the hammer fell at $994,500, the watercolor had taken top dollar at the auction.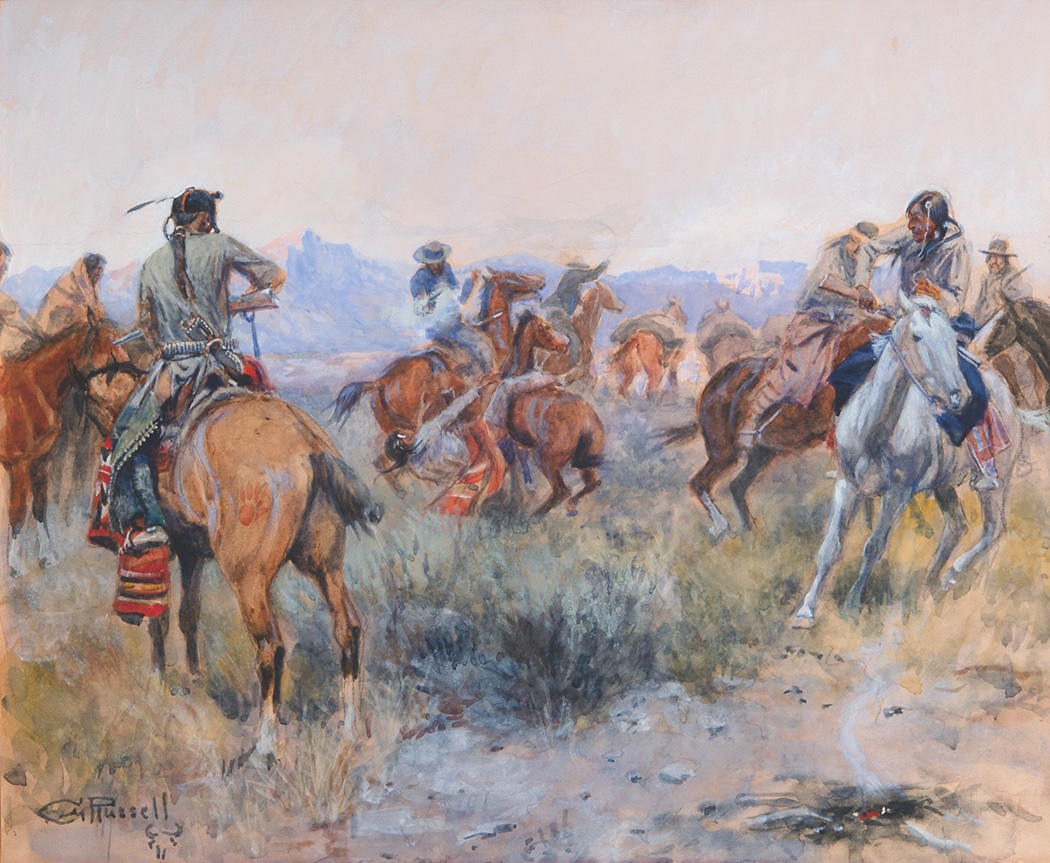 For many years I have been a fan of Charles Russell's illustrations on letters, cards and other correspondence. They often reveal his love of things truly Western as well as his sense of humor. A greeting card, illustrated by him with a stagecoach, went for $40,950 at the Russell auction. Do I Look Like a Piker?, a humorous watercolor, went for $38,025. 
Several of Russell's contemporaries, who carried the Western Art tradition well into the 20th century, were represented. These included Charles Schreyvogel, whose Indian on Horseback commanded $140,400, and Edgar Paxson, whose portrait of a Cheyenne brave gathered $36,270. Most of the pieces at the auction, however, were by living artists, like Russell Skull Society of Artists' member Charles Fritz. When Winter Prayers Are Answered, his rendition of two American Indians hunting buffalo in a winter landscape, went for $23,400. Skull Society member R. Tom Gilleon's Mourning Star, fetched $409,500, the highest price commanded by a living artist at the auction. 
Twenty of the 205 lots offered were pulled because they failed to meet their reserves. These withdrawals included several works by Russell and suggest some sellers may have had unrealistic expectations of the current market. Nevertheless, the annual Russell Auction succeeded this year in bringing in a total of  $3,687,360 plus another $117,527 in an additional "quick draw" auction, with all proceeds from that sale going to benefit the museum. 
Upcoming Auctions
December 3-5, 2021
Premier Firearms Auction #85
Rock Island Auction Co. (Rock Island, IL)
RockIslandAuction.com • 800-238-8022
December 12, 2021
Arms & Armor, Civil War & Militaria
Signature® Auction #6245
Heritage Auctions (Dallas, TX)
HA.com • 877-437-4824
December 14-17, 2021
Collectible Firearms & Militaria
Morphy Auctions (Denver, PA)
MorphyAuctions.com • 877-968-8880
January 21-22, 2021
Friday: Richard Sr. and Daro Flood Family Collection of Art & Ephemera
Saturday: 32nd Annual Mesa Old West
Show & Auction
Brian Lebel's Old West Events (Mesa, AZ) 
OldWestEvents.com • 480-779-9378