Sweet treats were greatly anticipated and appreciated at Christmastime on the American frontier.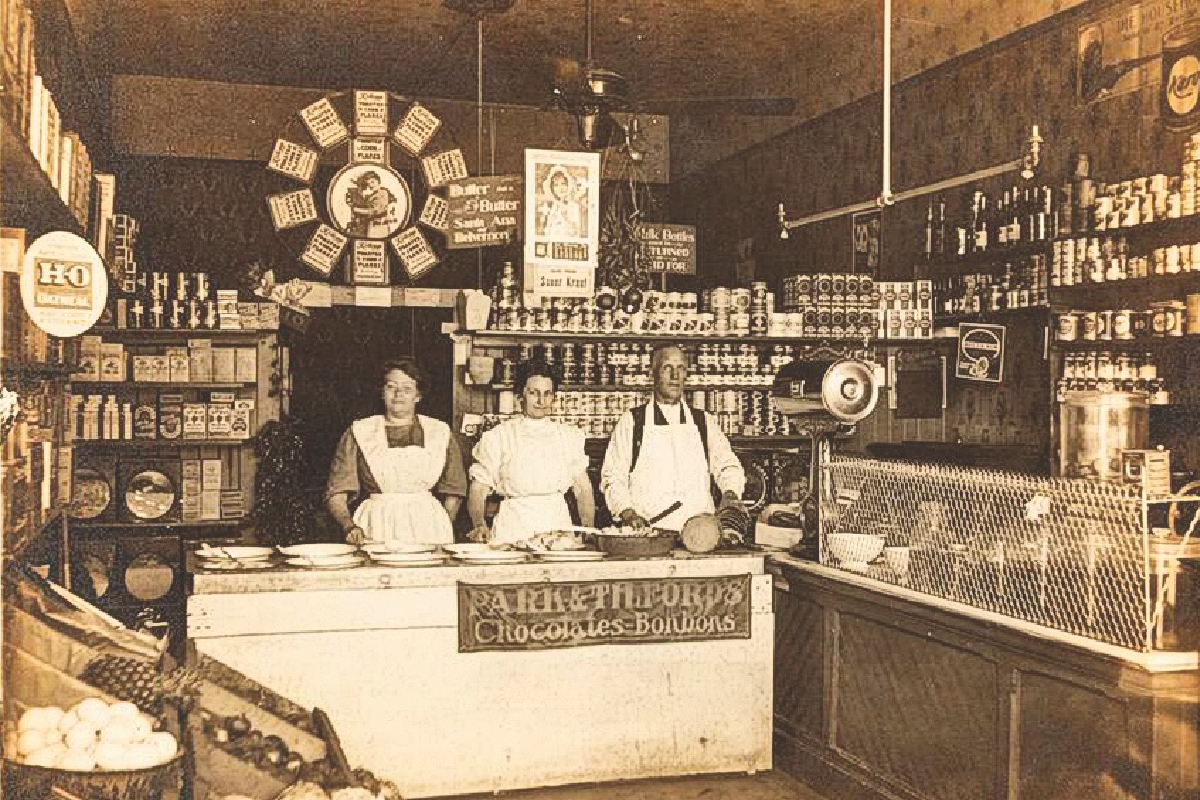 Allie Earp recalled how much her husband, Virgil, loved candy at Christmastime. She recalled, "We'd had a right good Christmas dinner. We still had some nuts left over and some of the peppermint candy Virge liked." She recalled that fond memory from when they lived in Tombstone, Arizona Territory, in the early 1880s. It's hard to imagine Virgil Earp, Annie Oakley or Jesse James sitting down to a plate of peppermint candy during the Christmas season, but many a pioneer did.
Nebraska resident Ella Oblinger penned a letter to her grandparents in 1880 and she wrote, "I must tell you how I spent Christmas eve we all went to see a Christmas tree on Christmas eve. I got a new red oil calico dress I will send you a piece of them [and] each one of us girls got a doll and uncle Giles put a book on for Sabra and me & each one of us girls a string with candy and raisins on it."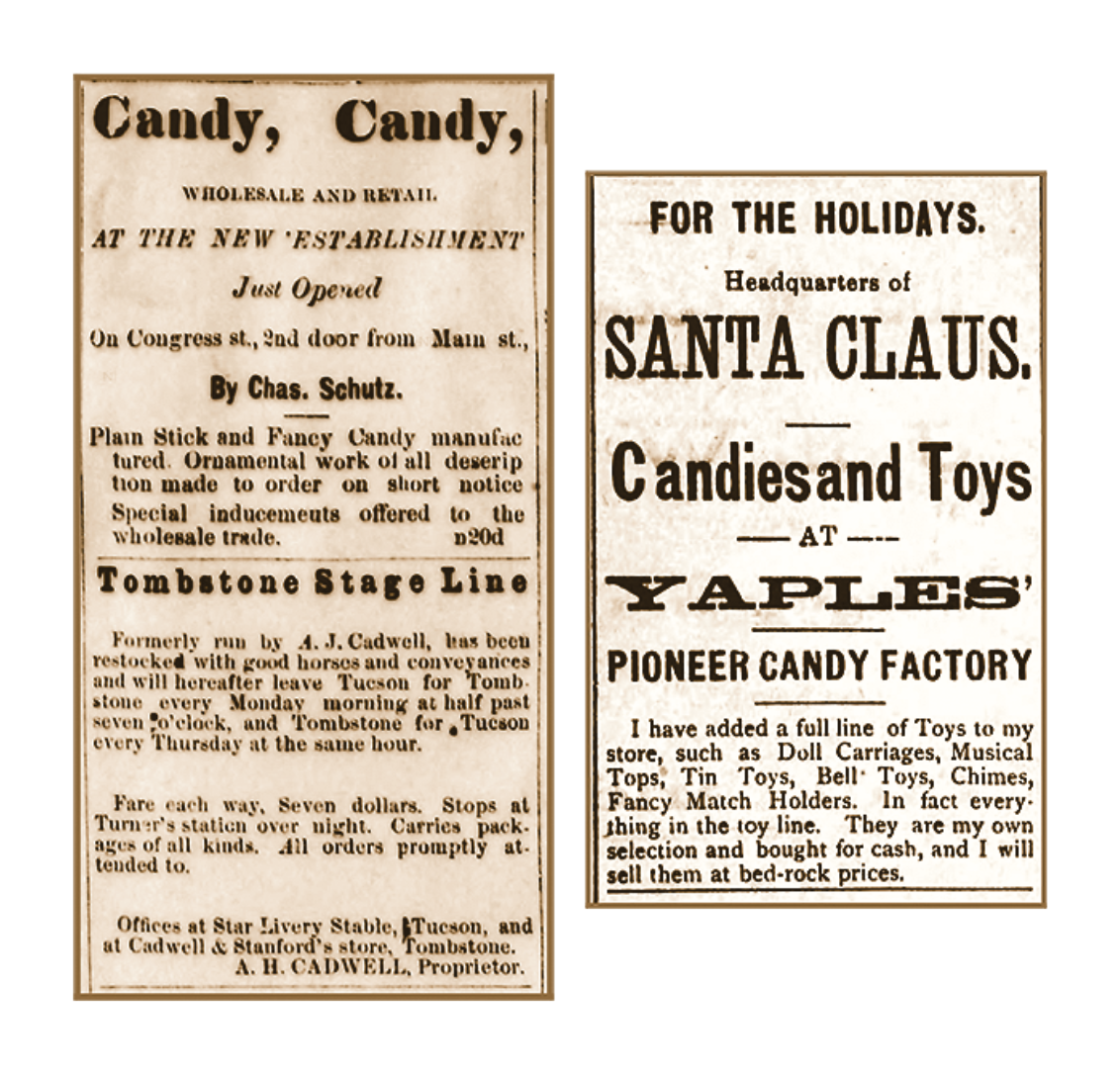 St. Louis, Missouri, native Ellinor Dale Runcie went to live with her Aunt Ellie and cousin Ellinor in San Francisco and remembered the 1900 Christmas fondly. She wrote home to her mother, "My darling Mother…But now for our Christmas. Monday morning, I ran to the grocers, for cranberries and popcorn, which I proceeded to pop, string etc., and was busily occupied all morning, Ellinor being gone to deliver presents, and other matters. After lunch, I got all the trimmings together and began my very enjoyable task of decking the little tree, while [cousin] Ellinor rested up in my room on the reclining chair, in her warm, crimson dressing gown, and strung popcorn and berries with lightning rapidity. I gave Miss M. a heart-shaped fancy box of candy."
Candy, nuts, popcorn and fruits were sold by mercantile stores, bakeries, confectionery shops and other locales. A store called John Jeffries & Company in Ottawa, Kansas, advertised that it had fine mixed Christmas candy at 10 cents per pound. It even offered discounts to Christmas tree committees, teachers and others who wanted 20 pounds or more. It also sold fancy "paper sacks" to hold the candy, nuts, oranges, lemons, popcorn or other treats. The Kandy Kitchen in El Dorado, Kansas, advertised itself as "the place where Old Santa Claus suggests at which to buy pure Christmas candies." They offered creams, chocolates, caramel, peanut and coconut bars, taffies, butterscotch, horehound, peppermint drops, nuts and sugar-coated popcorn.
The Dragon Drug Store in Los Angeles, California, offered "all kinds, from old-fashioned taffys to the finest French chocolates." In 1899, the French Drug Co. in Tacoma, Washington, offered a fine assortment of tasty holiday treats including glazed fruits, assorted creams and chocolates, bonbons, chocolate almonds, peppermint chocolate, Italian walnut cream bars, handmade wafers and a variety of nut brittles.
Candy canes, considered a real treat, were often given to children by Santa Claus and were hung on Christmas trees. They were sometimes given as prizes in contests like the popcorn string one in Salt Lake City, Utah. A couple threw an informal party and challenged attendees to make popcorn strings to decorate the tree. The person with the longest string won a candy cane. In 1882 the mining town of Chloride, New Mexico, had a Christmas ball at the Monte Christo. The building was decorated with evergreens and Merry Christmas signs. Twenty-five ladies attended and they sold lottery tickets for 25 cents. Mr. Jim Blain held ticket #17 which entitled him to a candy cane, and lesser prizes included sacks of flour.
We don't know what kind of peppermint Christmas candy Virgil Earp enjoyed, but give this historic recipe a try.