Some of the most memorable roles in Western cinema history were portrayed by Bruce Dern during his long and storied career.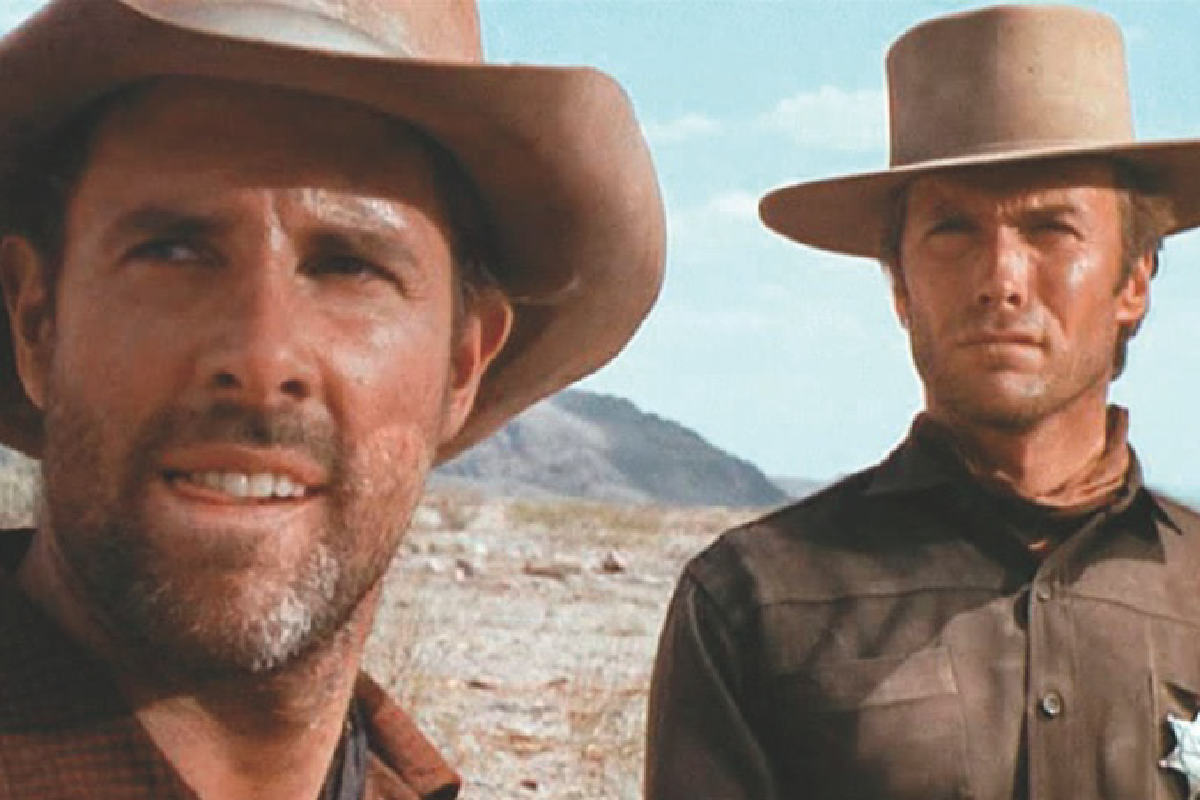 It's no surprise that INSP, a TV network specializing in Westerns, has occasional John Wayne festivals. But when, this June, they celebrated Bruce Dern's birthday with a "That Dern Villain" marathon, it gave one pause. Has any other screen villain received such an honor? Of course, Dern hasn't only played villains. He's been Oscar-nominated twice, as a troubled officer returned from Vietnam in Coming Home (1978), and as an addle-brained senior who believes he's won a sweepstakes in Nebraska (2013). 
Despite the down-at-the-heels characters he often plays, Dern was perfect casting in The Great Gatsby as Gatsby's rival, because "I am Tom Buchanan." Dern grew up in Illinois, a scion of two prestigious families: "My great-uncle Archibald MacLeish won Pulitzer Prizes as a poet and playwright." Dern's father was a very successful lawyer, "and partner of Adlai Stevenson." Bruce had no interest in law; his passion was running. "I was national high school champion at 800 meters. I went to Penn for two years, basically because my dad had gone there. My sophomore year, 1956, was an Olympic year. And I was very discouraged that I did not qualify for the Olympic team. So I quit college." 
He'd never thought about acting before, but he started going to a lot of movies, "and they were touching me. I said, I'd like to be able to do that. So I looked for a dramatics school."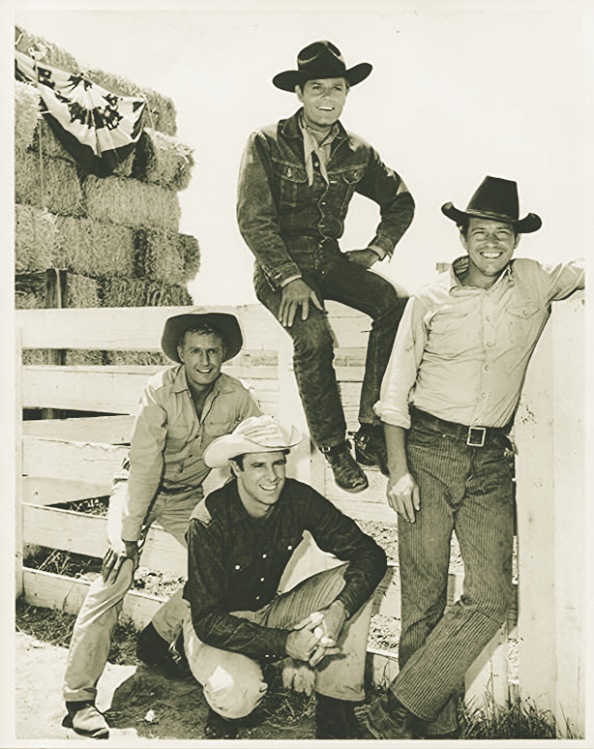 He was admitted to The Actor's Studio, and under the tutelage of "Gadj" Kazan and Lee Strasberg, they finally deemed him ready for Hollywood. "In the limo on the way to the airport, Gadj said, 'When you get out there, nobody's going to know who the hell you are, so your roles are going to be the fifth cowboy from the right. Just make sure you're the most honest, unique fifth cowboy from the right, because you're an original.'" 
After Dern guested in 10 different series, in 1962 he sidekicked for Jack Lord in Stoney Burke. He had greater success when he formed a secret alliance with fellow strugglers Jack Nicholson, Warren Oates and Harry Dean Stanton. "If I read a Gunsmoke script and Jack would be perfect for it, my agent would call his agent, then Harry Dean's agent, saying these guys could play brothers in this episode."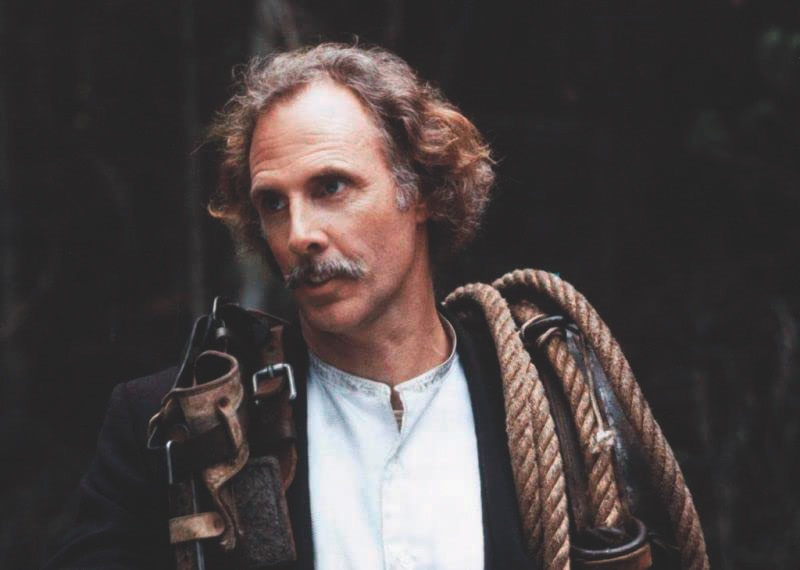 Dern appeared on all the major Western series, hoping to get killed. "If you were killed in an episode, you could come back the next year and play another character. If you were not killed, they couldn't have you back, because the residual had just come in, and they didn't want to pay you for showing that episode and continuing you for another year." About shooting one memorable Gunsmoke episode he said, "I look over and sitting there is Bette Davis, playing my mother." In those days, a star doing episodic TV meant their career was over. "Honestly, I cried. She sees the tears, and she said, 'Bruce, what's the matter with you?' I said, 'Bette, it's a Gunsmoke.' She said, 'Who's going to pay for my cigarettes? That's why I'm here.'" 
"In one episode of The Big Valley, Barbara Stanwyck slapped me as hard as I've ever been slapped in my life. I knew it was coming, but I said a 60-year-old woman is not going to clean my clock! She hit me, I went, 'Ow, that hurt!'" The director called Cut! That's not in the script. Stanwyck said, "Keep it—that's just what he'd say. I slapped the shit out of him!"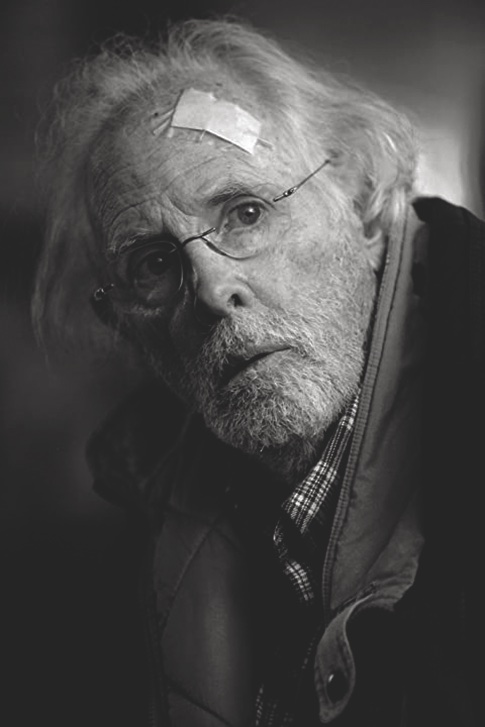 Dern is famous for saying and doing things that are not in the script, lines or gestures that are startlingly real. Jack Nicholson calls them "Dernsies." For Once Upon a Time in Hollywood, Tarantino wrote the part of George Spahn for Dern because he knew George Spahn. "I shot at least five episodes out at the ranch," Dern said. In the pre-Manson days, he and Robert Conrad visited blind and largely deaf Spahn. When Brad Pitt's character comes to check on Spahn, after confronting the Manson "family," Spahn doesn't know who Pitt is, but he says, "But you did something very nice for me today. You touched me, because you came to see me." Not in the script. Nor is Spahn's response when Pitt wants to be sure Squeaky Frome is not abusing him, and Spahn says Squeaky loves him. "So suck on that!"
Over the years, Dern has worked with most of the important Western filmmakers of his time: Hang 'Em High with Clint Eastwood; Support Your Local Sheriff for Burt Kennedy; Posse for Kirk Douglas; unforgettably for Mark Rydell in The Cowboys, in which he kills John Wayne. "And he insisted on me. They'd cast Vince Edwards, and John Wayne said, 'No, I don't want a damned TV doctor to be the guy killing a legend.'"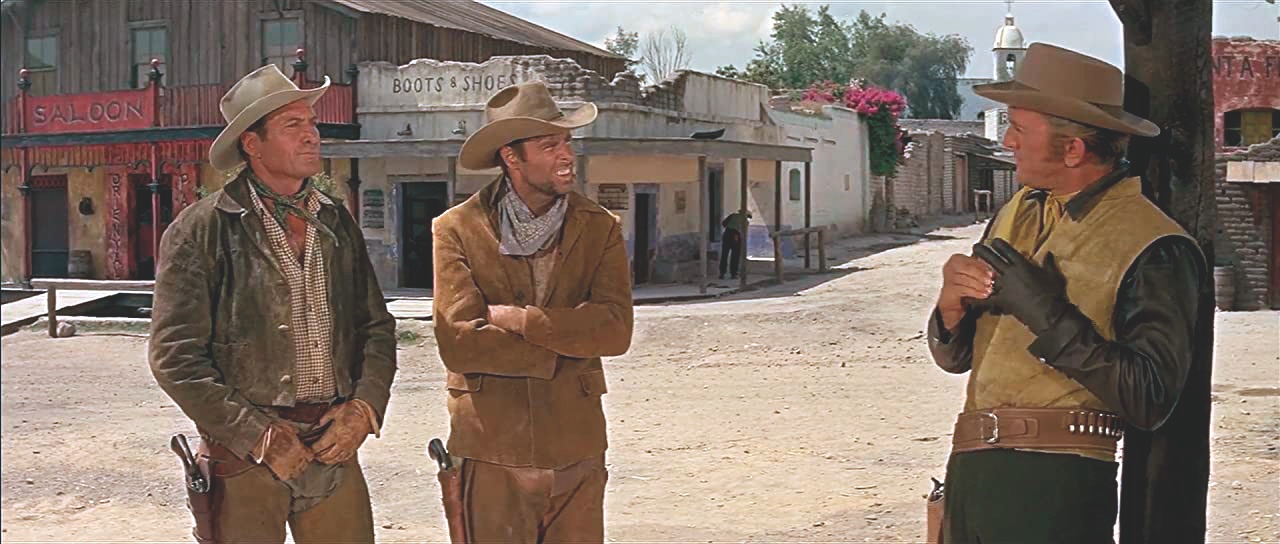 There were disappointments. Dern didn't get to star in the series about Western painter Frederic Remington for Dick Powell. The Michael Cimino film about the Donner Party never happened. But Dern remains optimistic, and busy. He's made several Westerns this year. And he still runs. "I'm 85. There were nine of us last Saturday, 800 meters, and I was second in that race for people over 75."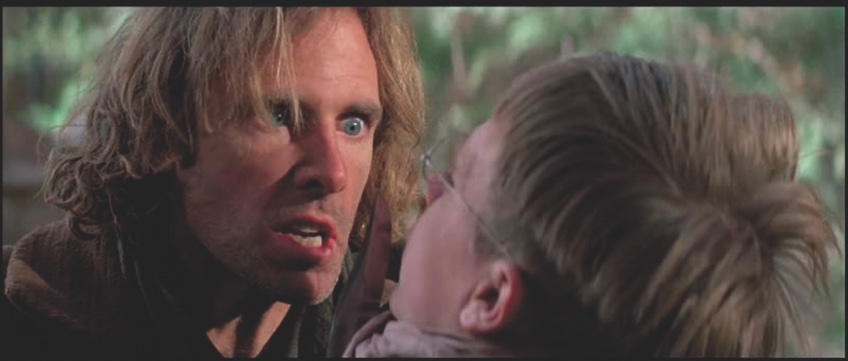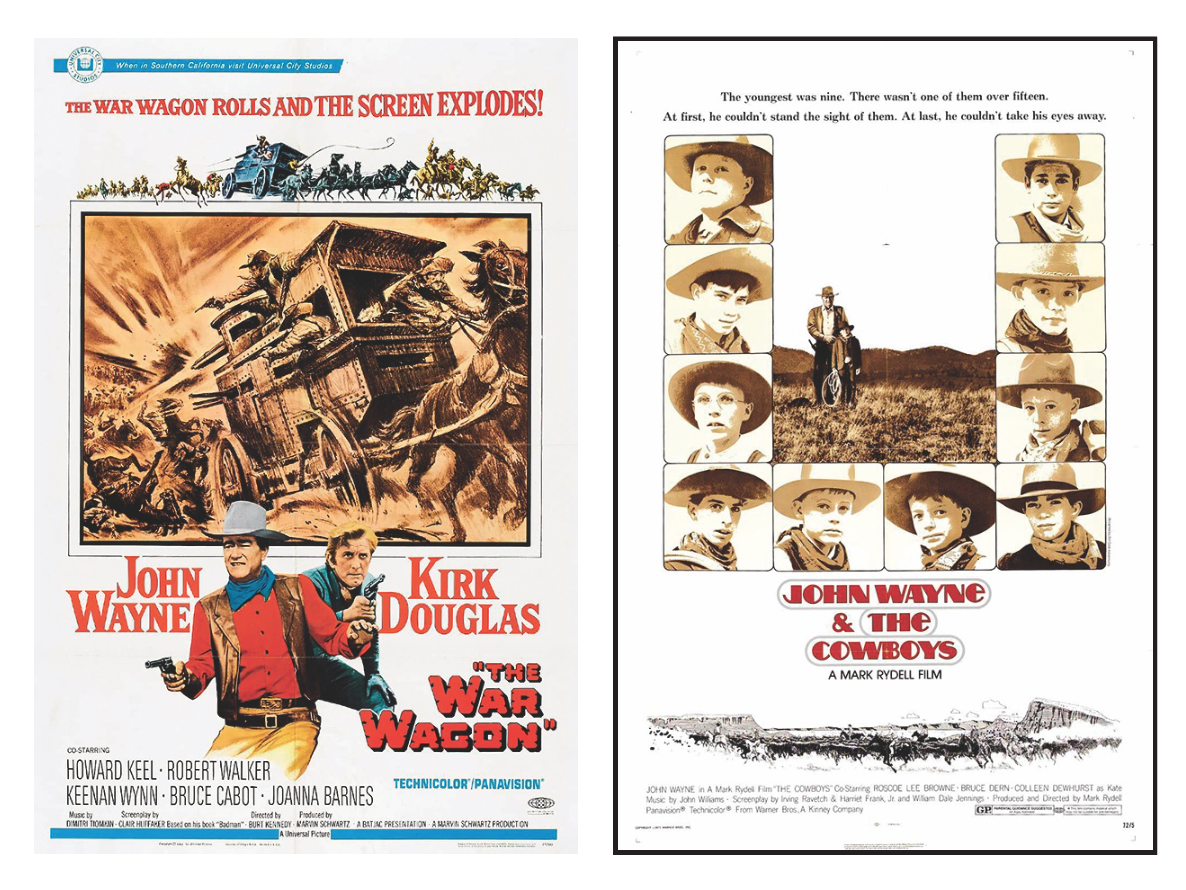 Bruce Dern's Dirty Half Dozen — His Best Westerns
All of these films are available on DVD or from various streaming services.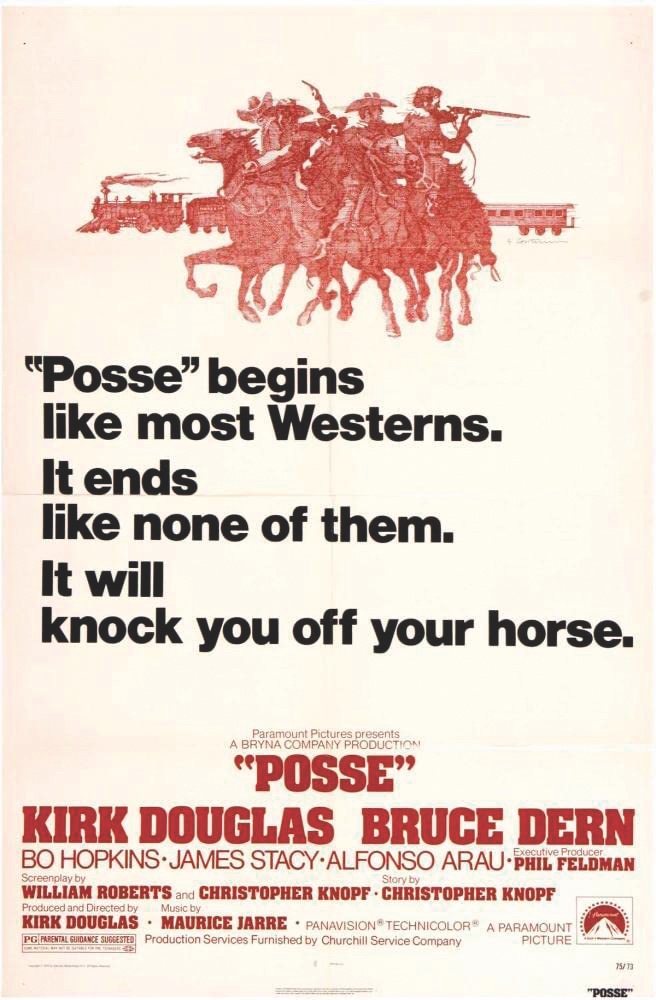 The Cowboys (1972)–Dern set a hateful high-watermark in this classic Western, terrifying small boys and murdering John Wayne.
Harry Tracy: The Last of the Wild Bunch (1982)–Dern finally gets a romantic lead, opposite Helen Shaver, in this turn-of-the-century story of the last member of the Hole-in-the-Wall Gang.
Posse (1975)–Ruthless lawman-turned-politician Kirk Douglas stakes his career on the promise to bring in outlaw Dern.
Hang 'Em High (1968)–Dern is part of a posse that makes the mistake of lynching Clint Eastwood, but not killing him.
Support Your Local Sheriff (1969)–Dern does a great comic turn as an outlaw flummoxed by clever James Garner. 
Wild Bill (1995)–Just a cameo, but a beauty, with Dern as a crippled man with a grudge against Hickok (Jeff Bridges).
Henry C. Parke, Western Films Editor for True West, is a screenwriter, and blogs at HenrysWesternRoundup.blogspot.com. Parke first profiled Dern for True West in the July 2017 Western Movies column titled "I Killed John Wayne."