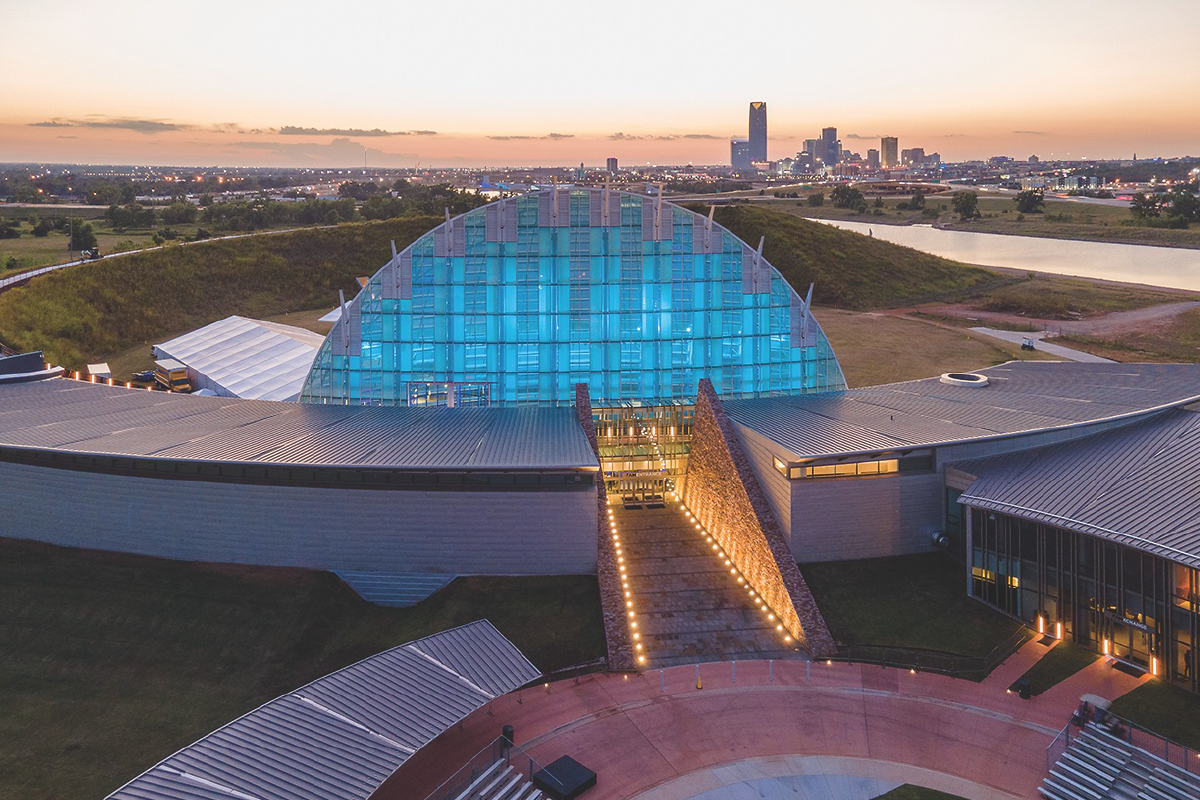 With the boom of a cannon at Fort Reno at noon on April 22, 1889, more than 50,000 settlers rushed into the former Indian Territory of Oklahoma. They came in wagons, on horseback and on foot to stake their claims to two million acres of land.
The state's present-day capital grew to 10,000 people in a single day, and Oklahoma City, the so-called Big Friendly, was born.
"Oklahoma City has a welcoming spirit with so many new places to explore," said Lindsay Vidrine, vice president of destination marketing at OKC Convention and Visitors Bureau. "We embrace our roots and offer fresh experiences and flavors that embody the Modern Frontier."
Through its collection of art and exhibits, the National Cowboy & Western Heritage Museum explains all aspects of Oklahoma City's history, and the frontier West in general. Walk through an 8,000-square-foot gallery of cowboy artifacts like saddles and bits and spurs, from Spanish Colonial times to today.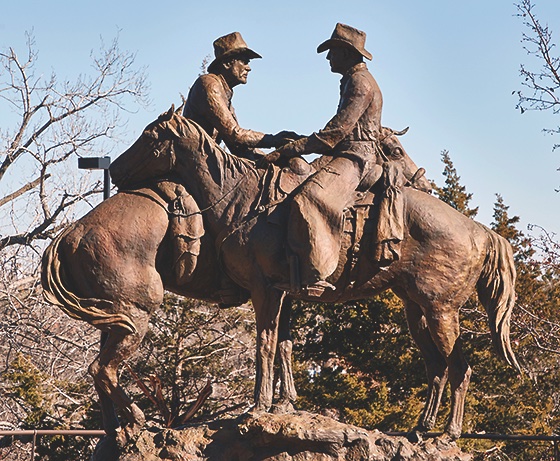 The firearms gallery has beautiful displays of rare and historic weapons like the Colt 1860 Army revolver or a breech-loading 1866 Winchester rifle.
Another gallery explores the influence of performers like Roy Rogers and John Wayne on our perception of the West and includes a narration by actor Sam Elliott.
Don't miss a brand-new attraction called Liichokoshkomo'—Chickasaw for "Let's play" —a hands-on interactive exhibit to teach kids about the Old West.
Head next to the Oklahoma History Center to see the Trail of Tears mural by Elizabeth James, created in 1939, or a replica sod house. Unconquered, a bronze by eminent Indian artist Allan Houser, depicts two Chiricahua Apache warriors armed and prepared to fight.
Oklahoma's vibrant art scene comes alive once a week during First Friday, when 25 galleries and businesses in the Paseo Arts District stay open late to greet visitors. The 45th annual Paseo Arts Festival takes place over Labor Day weekend 2022. 
Oh, that 197-foot sculpture over I-40? It's the Sky Dance pedestrian bridge, named one of America's 50 best public art projects. It resembles the scissor-tailed flycatcher, the state bird.
Stop at Bricktown, the former warehouse district now hopping with restaurants, clubs and the popular Bricktown Brewery. Don't be put off by their web page declaration: "Brewers are ham-fisted weasels that live in caves."
Jokes like that don't matter when you can sip a Single String Stout made with a hint of roasted chocolate and coffee. Yum! Take a narrated tour in a water taxi along the mile-long Bricktown canal or see a show at Michael Murphy's Dueling Pianos.
Downtown in December features stage performances, including Lyric's A Christmas Carol at Lyric Theatre, romantic carriage rides and a can't miss display of Christmas lights. "Automobile Alley drapes eight blocks in holiday lights, creating a festive and beautiful experience," says Vidrine.
In September, a ribbon-cutting ceremony celebrated the opening of the Oklahoma State Capitol Visitor Entrance and a seven-year, $275 million renovation of the state Capitol building. Schedule a tour to see its beautiful interior, historic paintings and murals.
At historic Stockyards City, visitors can watch a real cattle auction every Monday or get fitted for a handmade beaver hat at Shorty's Caboy Hattery. Shorty Koger operates the country's only female-owned custom hattery, and she's a character.
The Cattlemen's Steakhouse has been the place to go since 1910. Feeling mischievous? Order the lamb fries for a friend and don't say what they are until they slide down the hatch. They're lamb testicles. Double yum!
If the kids feel adventurous, spend the night in a Conestoga wagon or teepee at Orr Family Farm. If they're downright brave, visit the OKC Rattlesnake & Venom Museum. Say hello to a 25-foot, 260-pound python. His name is Jakarta.
On September 18, 2021, the First Americans Museum (the name was changed from American Indian Cultural Center & Museum) opened after decades of planning and is considered one of the world's premier museums dedicated to America's Indigenous People.
Fun Fact:  Combos Snack Foods once named OKC the manliest city in America. 
Where History Meets the Highway
FIRST STOP 
To plan your visit, stop at Oklahoma City Convention & Visitors Bureau, 123 Park Ave.
VisitOKC.com
Overholser Mansion
Tour this 11,700-square-foot home built by Henry Overholser, father of Oklahoma City. See original furniture and remarkable architectural design. A year after its 1903 opening, the Daily Oklahoman called it an ennobling work of art.
OverholserMansion.org
End of the Trail
This magnificent statue depicts a weary Indian slouched on a horse. He holds a spear to show the fight still in him. Artist James Earle Fraser, whose father was among the men sent to recover the bodies of Custer's men, said it represented Indians being pushed off their land all the way to the Pacific.
NationalCowboyMuseum.org
Footsteps of the Boomers
On the 89er Trail, read 28 historical markers describing downtown's growth after the Land Run. During the town's first winter in 1889, the tallest building was a five-story grain elevator.
89erTrail.com
Museums Galore
The American Banjo Museum displays 400 instruments, the world's largest collection. Oklahoma City National Memorial Museum remembers the 1995 bombing of the Murrah Federal Building. Ride an historic coach at Oklahoma Railway Museum. Discover the history of the people who define the Sooner State's history from its first days and its Native people to the present at the Oklahoma Historical Society's Oklahoma History Center. 
VisitOKC.com
Leo W. Banks is an award-winning writer based in Tucson. He is the author of the mystery novels, Double Wide and Champagne Cowboys.